If you've ever planned a kid's birthday party then you will know how important it is to come up with an activity to keep the guests entertained.
The Mummy Wrap game is one activity that you can try – a hilariously fun game where your kids take turns dressing one another as a mummy.
As long as you do a little preparation in getting the supplies you'll be all set. The game requires very little setup and is easy to explain.
If you agree that your kid would love to play this game, read our guide on Mummy wrap game which will give you everything you need to play.
What is Mummy Wrap?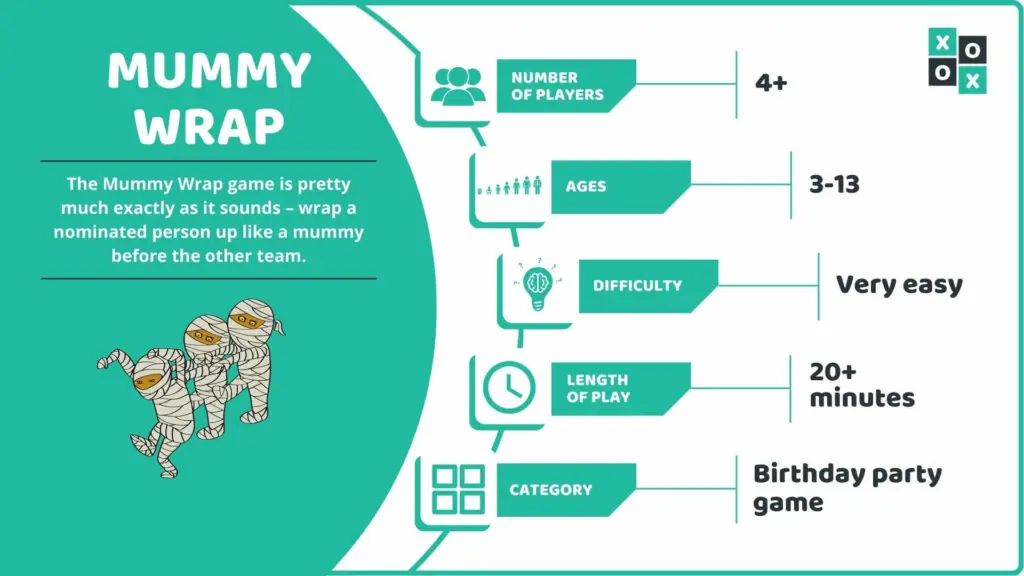 The Mummy Wrap game is pretty much exactly as it sounds – wrap a nominated person up like a mummy before the other team.
Number of Players Required: At least 4.
Who Can Play It: Best leaving this one for the kids.
Difficulty: Very easy.
Main Objective: Be the first team to wrap up a team member like a 'Mummy'.
Why we love it: Although you can play at any time of the year, it is absolutely perfect for a Halloween party. Designed mainly as a fun way to keep the kids occupied, adults may also decide to join in on the fun as well.
What do I need to play Mummy Wrap?
Usually, you would use toilet roll and if you choose this option you'll need a lot of it. Don't go for anything too fancy as it could get expensive.
If you were planning on playing this at a Halloween party then consider fitting the theme with streamers in typical Halloween colors.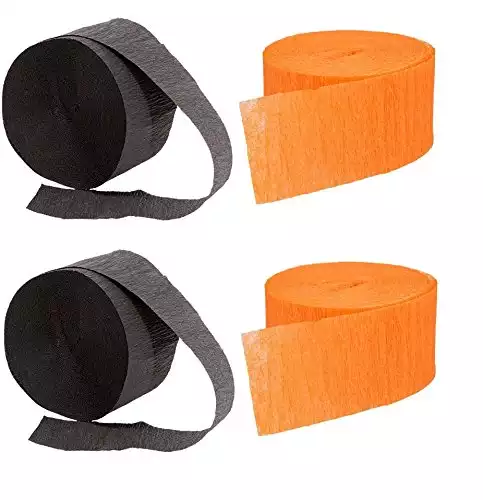 How to Set Up Your Game
Set up in this game is incredibly straightforward which makes it perfect for kids to play.
Divide everyone up into at least two teams and make sure you have a timer.
Make sure that both teams have an even amount of paper so that it is a fair contest. 
That's all you will before you can start playing.
Mummy Wrap Rules and Gameplay
Play some relevant spooky songs while playing to really get into the Halloween spirit of Mummy Wrap.
Starting the game
Decide how much time to give teams to wrap up their Mummies first and make sure that all teams are ready to begin.
How to play Mummy Wrap
Have teams choose someone to wrap as the 'Mummy' in the paper of your choosing.
Start the timer and have teams start wrapping up their 'Mummy' for the duration of the designated time.
The aim is for players to wrap their designated 'Mummy' as quickly as possible without tearing any of the paper.
Have players stop wrapping as soon as the timer hits 0. The team who have managed to cover their 'Mummy' the most are the winners.
Keeping Score in Mummy Wrap
As the game is so straightforward and simple, there shouldn't be any real need to keep score.
You can however keep track of how many victories each team accumulates.
Or you can change the rules slightly and have the winners be the team who manages to use the most paper/toilet rolls in covering their 'Mummy'.
Frequently Asked Questions
Is there anyways that you can make Mummy Wrap harder?
As the game is so easy and doesn't have many rules, there are certainly ways that you can mix up the gameplay.
Playing the game in the dark is one hilarious way that you can make things more challenging for participants.
Is Mummy Wrap safe for kids to play?
Like many games that involve physical activity, you will need to exercise some caution as kids can get a bit over excited.
Wrapping someone up in paper though is completely harmless so there are no worries to be had there.
Alternative Games to Mummy Wrap
Mummy Wrap is a game that is ideal for a kid's birthday party as it includes everyone and is great fun.
If you were looking for more party games that are perfect for kids, check out our guide on The Water Balloon Toss game.
This is another game that kids love and can involve multiple participants which would go down well at parties.