What comes to your mind when you think of pool games? Clinking drinks, chill vibe, and a solid game of patience and strategy, perhaps?
Billiards or Pool games have been a club favorite across the world for generations now, so much so that several variations branched out of the parent 15 ball game and found places in international tournaments. 
10-ball pool is one of the more complicated versions of the game, recognized by the World Pool-Billiard Association as an internationally acclaimed game with its own tournament called the World Ten-Ball Championship.
If you have been curious about this game and are looking for upskilling your command over pool in general, the ten-ball pool can be a good start. 
What Is ten-ball Pool?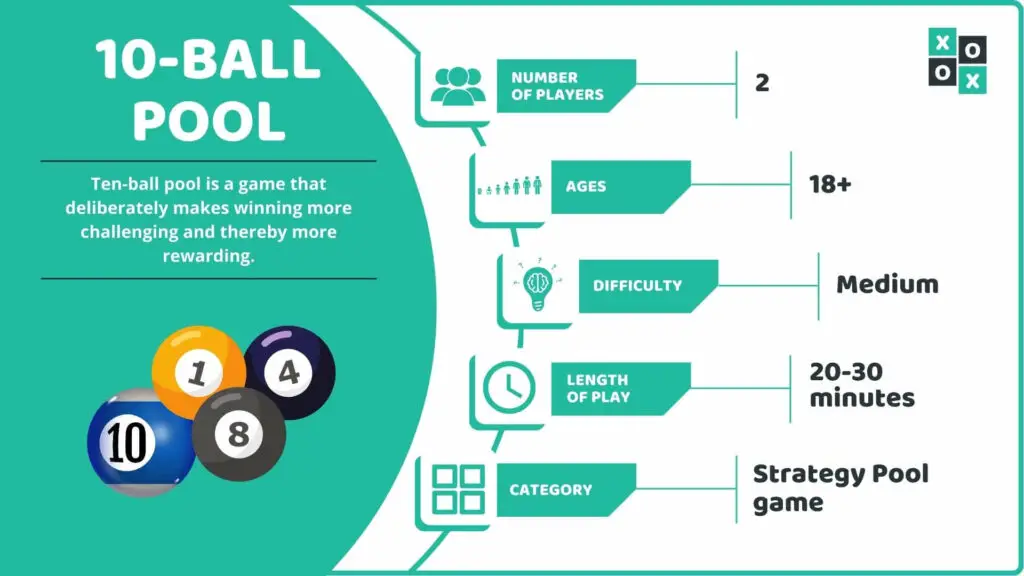 An interesting one on one rotation game, the Ten-ball pool is meant for the pros. At its core, it was developed to raise the bar of difficulty by adding the call-shot factor. That, along with a highly defined set of ten-ball pool rules, make it a sought after challenge to crack, and a favorite pool game among all formal and informal settings.
Number Of Players: 2
Ages: 18 years and above
Difficulty: Medium
Main Objective: Pocketing the ten-ball in a legal, called shot.
Why We Love It: Ten-ball pool is a game that deliberately makes winning more challenging and thereby more rewarding. The call-shot factor of the game makes every pocketed shot feel like a milestone.
History Of Ten-ball Pool
Ten-ball Pool is one of the more recent versions of the pool games family that historically dates back to the 15th century. Its ancestral versions were played as a part of royal recreation and leisure activities and consisted of no more than three balls. 
Over the past centuries, the game shifted from outdoors to indoors, the 'shove' techniques transformed to 'strikes,' sophisticated cue sticks replaced wooden sticks, and the number of balls along with the rules of the game increased.
Ten-ball Pool originated from Eight-Ball Pool that was invented in 1900. However, unlike its primitive version, Nine-Ball Pool, it is a product of conscious modifications to increase the international standards of the game and was popularized only during the later part of the 20th century. 
In 2008, the first-ever World Ten-Ball tournament was played in the Philippines and four more championship tournaments have followed since.
If this has got you wondering about what makes Ten-ball pool a tad bit more challenging and globally revered, find out all about it below!
Ten-ball Pool: Things You Need To Get Started
Now that you are introduced, let's quickly have a look at what you need to get started with the game. 
Pool Table
First things first, what's a pool game without its table? 
Make sure you have a sturdy, well-dimensioned pool table. 
Dimensions technically differ as per requirements and preferences. 
Your average bar or at-home pool table would be no more than 8 ft in size. 
However, the standard regulation pool tables are generally 9 ft long (100" x 50"). 
You can either opt for a flexible and easy on the wallet table and pool set like the one by Homcom or go for a sturdy, professional pool table set like the one from Barrington Hatherly.
Budget Pick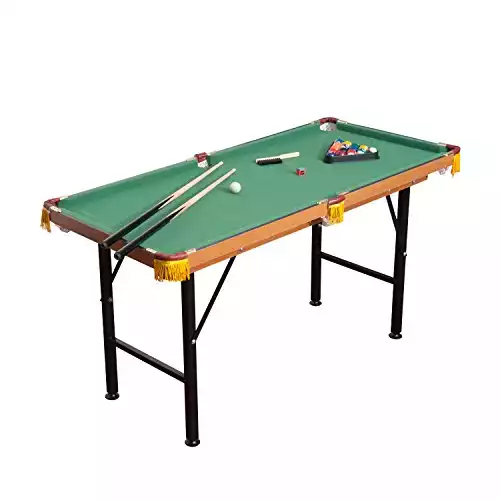 Balls 
You need 10 balls for the game, preferably numbered 1 to 10, besides the cue ball.
The blue 10 ball is the final target that decides the winner. 
Rack
Despite having basic rules similar to the Nine-Ball Pool, the ten-ball game requires a rack similar to the one used with 8 balls.
You need a triangular rack about 11-12 inches per side. 
The 10 ball is placed in the center of the rack and the apex ball at the foot spot.
Cue Stick 
The weapon in your war, a cue stick is the most important equipment in your game. 
Make sure to choose a sturdy yet light-weight cue. 
Generally, these are about 58 inches in length and the professionally preferred weight is around 19 ounces. 
Buying in packages helps save money. 
You can go for a set of four like the one offered by Billiard Depot for a complete package of quantity and quality.
Our Pick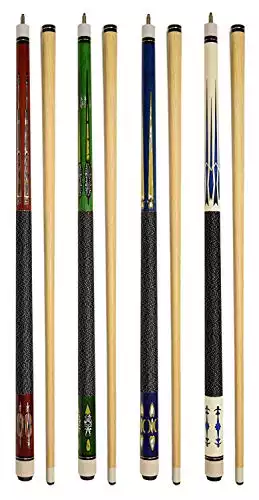 Now that we have the essentials covered, what's there to wait for? Let's delve into the details and go about easily understanding the game.
Ten-ball Pool Rules And Guidelines: How To Play?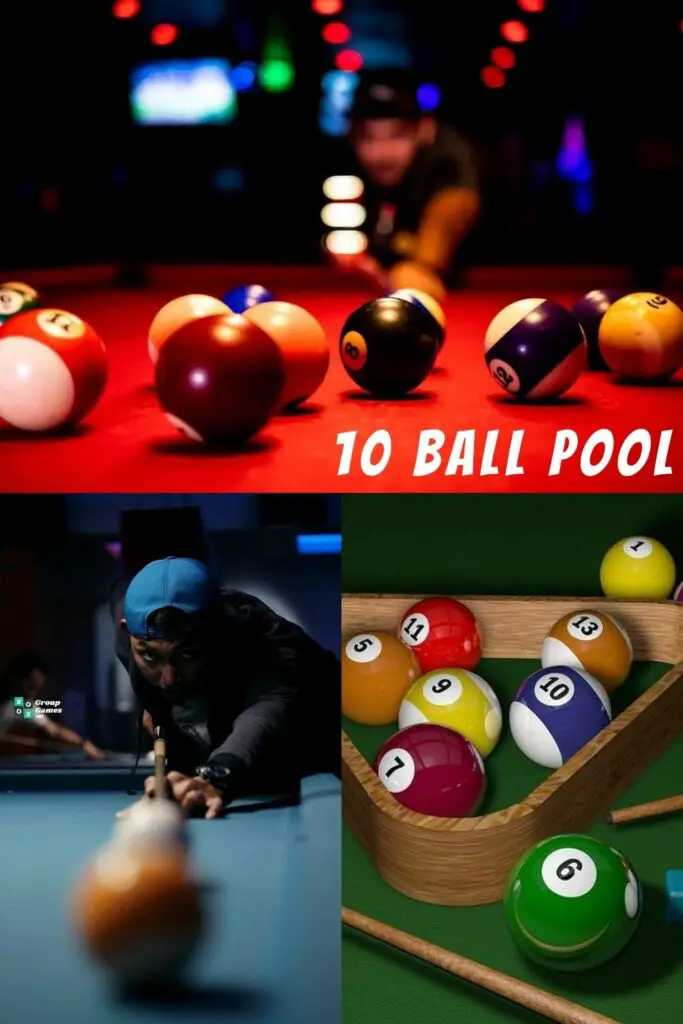 The basic framework of ten-ball Pool game rules is similar to the 9 balls version, except, every pocketed shot is worthless unless it's called. Let's break the game up to understand better.
Breaking And Starting The Game 
A legal break follows the conventional rule — either an object ball is pocketed, or three balls hit the rails. If one of the two requirements is not met, the balls are reracked, and a break is reattempted. 
Once an object ball is pocketed during the break, it stays down, and the game begins. However, you must also note in principle that if the 10 ball is pocketed during the break, it is spotted. The standard requirement for starting the game is hitting the lowest value ball first. 
Calling And Pocketing The Shots
What sets this game apart is the rule to call the shots. For a pocketed ball to be included in your score, 
You need to have called the number as well as the pocket beforehand. 
During the same turn, any ball that accidentally gets pocketed without being called gets respotted.
Let's say player A calls the ball 5 for the nearest pocket. If A pockets ball 6 in that pocket instead, the turn is missed, and the ball is respotted. Now, if player B calls the ball 7 for its nearest pocket and manages to score it along with accidentally pocketing ball 5 as well, both the balls are added to B's score. 
Winning The Game
The innings continues in the same way until the 10 ball is called for and pocketed. Remember, the 10 ball is an exception, and pocketing it during the break or accidentally when along with another called number gets it respotted.
How Are Scores Calculated In 10-Ball Pool?
Scoring is as simple as it can be in the game of the Ten-Ball pool. Every ball contributes to a single point, and there is no deduction of points in case of pocketing wrong balls in wrong pockets. However, three fouls can lead to a penalty in the form of the opponent getting an extra point.
Although these guidelines might suffice to get you started, clearing all doubts and queries about the game is a prerequisite for a good kickstart. Head down to have all your questions answered.
Frequently Asked Questions
How Is Ten-Ball Pool Different From Nine-Ball Pool?
There are two primary factors — the number of balls and the pocketing rule. A Ten-Ball game consists of 10 balls and requires calling the number and pocket before one makes the shot, in contrast to the nine-ball pool that only focuses on pocketing any ball.
What Are The Most Common Foul Plays In The Official ten-ball Pool Rules?
Pocketing the cue ball and double-hits are the most common fouls for beginners. Slow Play and Bad Play from behind the headstrong are fouls that even pros end up making frequently. 
Why Is The Call-Shot Format Of Ten-Ball Pool Controversial Among Elite Players?
While appreciated by many for the challenge it poses upfront, the call-shot rule stands in conflict with the expert players' strategies to hit multiple shots in a single turn and has thereby stirred up controversies and criticism.
Alternative Games That You Might Enjoy
In case this exhaustive guide to playing the Ten-Ball Pool has piqued your interest in trying out more indoor games, here are a few options that you might like exploring.
Air Hockey is for those of you who are looking for something similar to pool, but far more technologically advanced and fun. You get to pocket discs here as well. However, it is more of an instinct-driven game. If you're looking for something more mentally stimulating and that draws on your competitive spirits, then darts might be a better option, in which case you should try out the Shanghai Darts game.
Finally, there are always games like Twister that you can have loads of fun with, without intervening rules and complications. The only thing that gets complicated in this game is your posture!
Are you pepped up already? Pick your cues and get ready to shoot!