Recently adult card games have been a welcome addition to the party scene, and by reading our guide to the Disturbed Friends rules, you can join in with this trend as well.
The moniker of Disturbed Friends is 'This Game Should Be Banned'.
And after playing for about 5 minutes, you may agree with this, but you'll also be having too much fun to care.
Playing Disturbed Friends isn't about who wins or loses either, but rather starting embarrassing conversations.
Or finding out grotesque or obscure facts about your pals.
So if you're curious to find out who in your friend's group is the most disturbed (it could even be you!), continue reading to learn how to play Disturbed Friends.
What Is Disturbed Friends?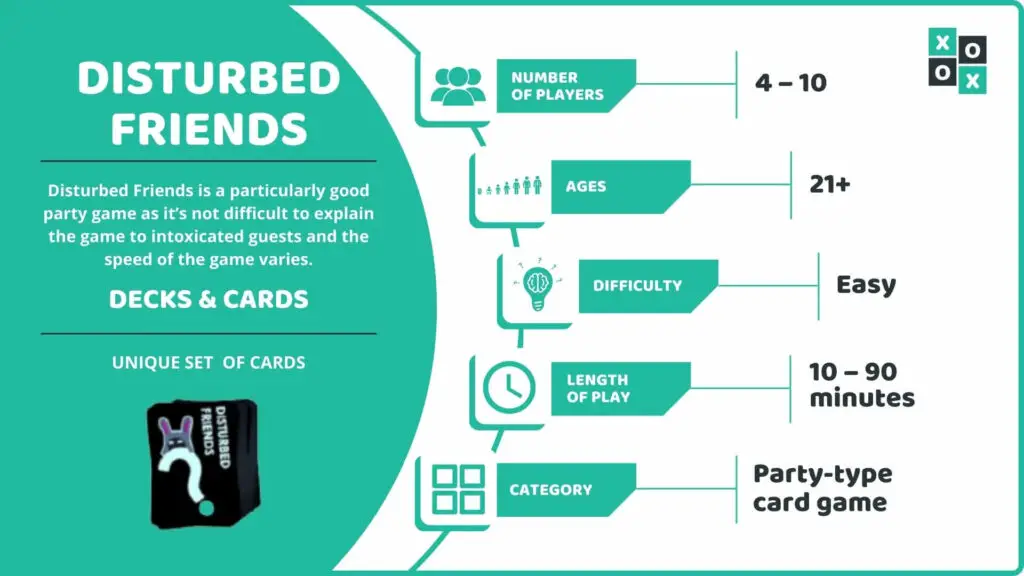 Disturbed Friends is an NSFW card game where players need to answer adult-themed or grotesque questions with 1 of 3 answers provided. 
The game was first launched on Kickstarter, smashing its goal by almost 14x what it originally needed to make the game a reality.
The game also has a 'Suicide deck', which some considered so disturbing that it is no longer available to buy from any outlet.
Number of Players Required: 4 – 10 players.
Who Can Play It: Recommended for ages 21+.
Difficulty: Easy to play.
Length of Play: 10 – 90 minutes, depending on players.
Similar to: Cards Against Humanity; Unstable Unicorns; Exploding Kittens
Main Objective: Become the player to get 10 'Winning Cards' first.
Why We Love It: Any adult party or gathering isn't truly complete until a crude card game gets added into the mix. Disturbed Friends is a particularly good one as it's not difficult to explain the game to intoxicated guests and the speed of the game varies.
Playing Disturbed Friends – What You'll Need.
All you'll need to begin playing Disturbed Friends is the card game set, which will include the following items:
250 Question Cards
100 Winning Cards
10 Sets of Player Voting Cards
Our Pick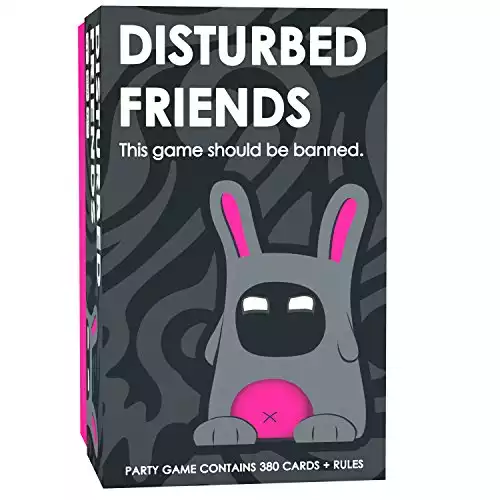 And that's everything that you'll need! The minimal amount of gear that you need makes it ideal to be able to slip into your pocket if you're not the host of card game night or a gathering.
And like the other adult card games like Unstable Unicorns, Disturbed Friends also released an expansion pack to add if you're bored of the questions from the base game.
Related: How to Play Unstable Unicorns
Our Pick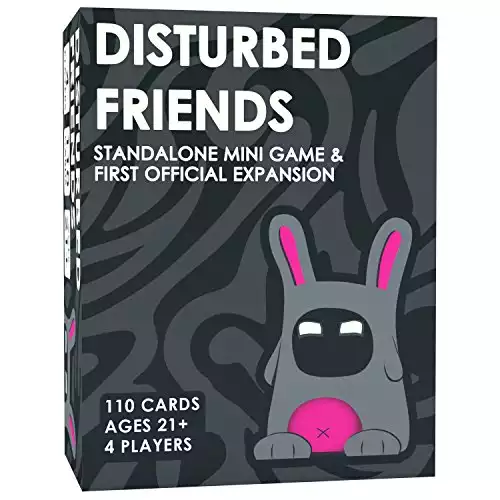 How To Set Up Disturbed Friends
Hand out each player their own voting cards that display either A, B, or C, which they will use throughout the game.
Shuffle the question cards and place them and the winning cards in the middle of the table as draw piles. 
Ensure everyone playing is sat in a circle formation so nobody can see anyone elses cards.
Disturbed Friends Rules
There are not too many rules that you'll need to worry about with Disturbed Friends, but it's worth knowing about the few rules that the game does have.
The game's purpose is to offend, so prepare yourselves for some offensive topics to come up throughout the game.
Starting the Game.
Use whichever method you would like to decide on who begins the game. Try to keep in the spirit of the game by picking the player who last had sex or who last had a dump, for example. 
Once players decide who starts the game, they pick a question card from the pile and read it out to the group.
How to Play Disturbed Friends
Players take it in turns to read out question cards that display rude and grotesque questions with 3 possible answers.
All players pick which answer the player who read the card out is going to pick which they feel most accurately answers the question.
They do this by picking either A, B, or C with their voting cards and placing them face down on the table.
The nominated player then reveals what answer they pick, with everyone else who guesses correctly getting a winning card.
Scoring In Disturbed Friends
Scoring in Disturbed Friends is easy to work out. Simply the first player to gain 10 winning cards wins the game.
If you're planning on playing multiple rounds, count up the number of wins that each player has, and see who has the most at the end of the play.
Frequently Asked Questions
Is there an SFW version of Disturbed Friends for a younger audience?
At the moment, no. There is only the version recommended for ages 21+ due to the game's adult content.
When did Disturbed Friends come out?
Disturbed Friends got released to the public in 2015. 
Alternative Games to Disturbed Friends
Hopefully, Disturbed Friends is exactly the card game that you've been looking for.
But if you're looking for something else, then we'll be happy to point you in the right direction.
If you're after more of a drinking game to play with your adult pals, then take a look at the Cops and Robbers card game or 21 Questions Game for a game that should suit the occasion nicely.
Alternatively, if you're looking for longer games and require more strategy, don't miss out on our guides to the Dragonwood rules or the Resistance rules either.