If you're anything like us, there's nothing you love more than getting together with friends and to play some of the best war based board games around. Yet after playing the same games for so long, even you have to admit that those which were once your favorites no longer spark your imagination nor give you the same kind of enjoyment that they used to.
That's where we come in.
We spent over 45 hours playing 35 of this year's best-selling war based board games to determine the 5 very best of the best.
Axis and Allies Europe 1940 2nd Edition was hands-down our favorite because it offers such a captivating and epically immersive experience, with gameplay that is challenging without being too complicated for first-time players.
If you've already played that one to death, don't worry. In this guide you'll find games based on modern conflicts, those that offer detailed, historical accuracy, as well as those set in a galaxy far, far away.
5 Best War Board Games in 2023
With so many options to choose from, determining the 5 absolute best war based board games on the market was no easy task. In the end, we made our picks based on the things that matter the most when playing board games:
Theme, complexity, and the overall playing experience, with game time, artwork, and attention also taken into account.
Below, we've provided detailed reviews of our top five games in which we outline how each one fairs in those key categories, but if you don't have time for that right now, you'll find our quick comparison table below.
Finally, we'll finish up with a comprehensive buyer's guide to help you decide which one of these five games -or any of the countless others out there- is right for you.
1. Editor's Choice – All-Round Best War Based Board Game – Axis and Allies Europe 1940 2nd Edition 
Age: 13+
Players: 2 – 4 
Game Time: 2 -8 hours
Includes: 35″ x 32″ game board, 550+ game pieces
It's hard to believe that the original Axis and Allies game is now over 40 years old, meaning it enjoys the same all-time classic status in the war-themed RPG genre that other games such as Candyland enjoy in the world of family-friendly games. 
Set at the height of World War II, Axis and Allies Europe 1940 2nd Edition's enduring popularity is thanks in no small part to its utterly captivating gameplay. 
The mechanics are comprehensive and detailed enough to provide hours of engaging play for experienced players, yet are still accessible enough so that beginners won't be overwhelmed or put off by the complexity of the whole thing.
All in all, this makes for a truly immersive experience for players of all abilities.
What We Like: 
There's a lot to love about Axis and Allies Europe. First of all, the spectacular artwork and attention to detail, especially on such an expansive, 550+ piece game, is impressive and really helps make the game world come alive. 
Then there's the room for expansion. Fans of the popular Axis and Allies Pacific 1940 game will enjoy combining the two games to create one huge 1940 global game.
Finally, we love how easy it is to set up. Despite taking several hours to play, you can have your game up and running in under 15 minutes.
What We Don't Like:
Although Axis and Allies is newcomer-friendly, novices may find that their game runs between 6-8 hours, so if you're looking for a shorter game this may not be the one for you.
2. Best War Based Board Game With a Sci-Fi Theme – Star Wars Rebellion 
Age: 13+
Players: 2 – 4 
Game Time: 3 -4 hours
Includes: 1 game board, 170 plastic miniatures, 25 leaders (with stands), 10 custom dice, 170+ cards, 1 How to Play guide, and rules.
If you love war-based games but you're also a big fan of the Star Wars franchise, Star Wars Rebellion is pretty much essential. 
A vast game for 2-4 players, Rebellion pits the Rebel Alliance against the Empire in an epic battle with the very fate of the galaxy at stake.
Divided into two teams, players decide which side they're on, with both forces having their own unique missions and objectives.
As the Rebel Alliance, your goal is to form a hidden base from which you build your fleet and journey to other planets hoping to persuade others to join your cause.
As the Empire, your mission is simple: Find the hidden rebel base and destroy it, annihilating anything that gets in your way.
What We Like:
Whichever side you choose, you'll enjoy reliving the epic Star Wars saga in tremendously rich detail, with a beautifully designed board and playing tokens lending to an overall captivating playing experience.
Fans of lengthier strategy games will like getting swept up in the story of the game for several hours at a time, while the added complexity of the mechanics makes it a worthwhile choice for strategy game pros.
What We Don't Like:
Star Wars Rebellion has limited replay value and maybe a little too overwhelming for beginners.
3. Best Beginner-Friendly War Based Board Game – Memoir '44 
Age: 8+
Players: 2-8
Game time: 30-60 minutes
Includes: Guide book detailing the 17 historical scenarios, double-sided board map, 144 playing pieces, 60 command cards, 9 summary cards, 8 dice, 36 obstacles, 44 terrain tiles, and rules.
So, you're eager to play your first war-based board game, but since you're more familiar with classic family games like Trouble and Sequence, you find that the complex rules and multi-hour player requirements to be seriously off-putting.
If that's the case, Memoir '44 may be a perfect choice.
This historically accurate game allows 2-8 players to recreate 17 different battles and scenarios from the second world war, all in rich, vivid detail thanks to the large game board and well-crafted figures. 
The best part is that you can recreate these battles and complete the game from start-finish in around an hour (minus set-up time), making it a great choice for anyone looking for an option with shorter gameplay.
What We Like:
Apart from the short gameplay time, what really sold us on Memoir '44 is how easy it is to play. Fans of the game report that it's a great choice for playing with their children, with kids as young as 8 finding it both easy to understand and even educational. 
What's more, it's pretty inexpensive as far as this genre goes, so you might like this if you're put off by the high price tag of other games.
What We Don't Like:
Some scenarios can take over 20 minutes just to set up, which is almost as long as they take to play.
4. Best War-Based Board Game for 2 Players – Twilight Struggle 
Age: 13+
Players: 2
Game Time: 3 hours
Includes: Mounted map, 228 counters, 110 event cards, 2 six-sided dice, rules, and instructions
There are some excellent war-based board games out there that deliver the best gaming experience when played in groups of four or more. 
That's great if you've got the whole group over, but if it's just the two of you, then some of those titles can feel a little underwhelming.
That's one of the reasons why we love Twilight Struggle so much. The cold-war themed historical simulation game is specifically designed for 2 players and 2 players only, with one side taking on the role of the United States and the other playing as the USSR as you recreate the epic 40+ year conflict between the east and west.
What We Like:
If you like your war-games to be more about strategy and planning than simply blowing everything to smithereens, you'll probably get a lot of satisfaction out of Twilight Struggle.
Each side has a few key goals, including influencing other nations, competing in the space race, and building up your military assets, all while trying not to wipe out the whole world with nuclear warfare. This keeps things interesting and ensures that every move you make matters, with every action having potentially major consequences on the overall outcome of the game.
We also love how deeply immersive this game can be. Though a typical play-through may take you up to 3 hours, the time flies by very quickly
What We Don't Like:
The biggest downside to this game is that the rules and set-up instructions can be pretty complicated. So, if you're looking for a simple, easy game you can get to grips with quickly, you might be better off with a different option from this list.
5. Best App Companion War-Based Board game – U-Boot 
Age: 12+
Players: 1 – 4
Game Time: 30 minutes – 2 hours
Includes: 3D foam board submarine companion app, detailed sailor, equipment, and artillery figures, strategy cards.
One thing we love about board games is that they give us the perfect opportunity to entertain ourselves without relying on technology or staring at a screen.
Yet even we have to admit there's something very cool about a board game that uses a companion app to enhance the playing experience.
While several war-based games do just that, few come with a better app than U-Boot, the WW2-themed strategy game in which you and up to three friends take control of a type VIIC U-boat.
The app is highly detailed and very well designed which adds a certain sense of realism that you just don't get with other games.
What We Like:
The app also makes U-Boot one of the most versatile games around. 
Suitable for 1-4 players, you can easily take on a solo campaign as the submarine captain, or get friends involved to take on the roles of First Officer, Navigator, and Chief Engineer.
From there, you can decide whether to play a quick 30-minute skirmish, spend an hour or so completing one of the multiple missions included, or go all-out with a full campaign.
Whichever you decide on, you'll find the setup, instructions, and overall mechanics relatively straight forward. This is despite the fact that -in terms of equipment- U-Boot is one of the most expansive games in our guide.
What We Don't Like:
Sadly, the app doesn't work on Apple devices running iOS 9.3.5 or earlier. That may not be a problem if you've bought your iPhone or iPad in the last few years, but if you're still hanging on to your 1st Generation iPad you may be out of luck when it comes to this game.
Buyer's Guide: How to Choose the Best War Based Board Game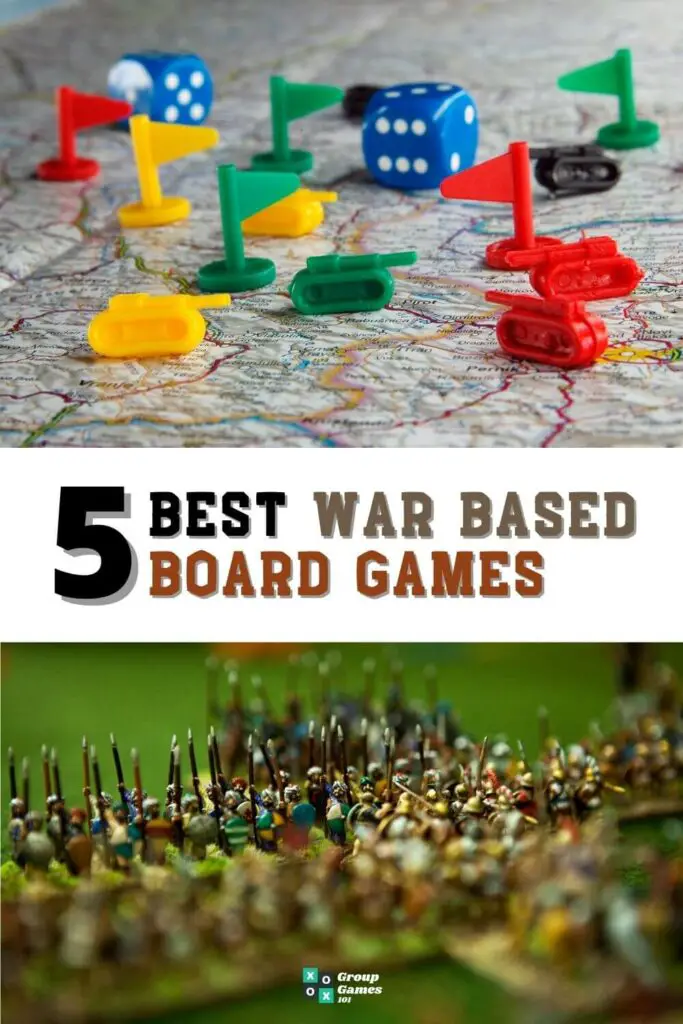 At the start of this guide, we mentioned that aspects such as complexity, theme, game time and playing experience helped us determine our pick of the top 5 best war based board games, but what we didn't tell you is exactly how these aspects influenced our decision, nor how they might influence yours when it comes to choosing the right game for you.
Below, we'll discuss what a difference each one can make when it comes to selecting the perfect game.
Complexity
There's a lot to consider when it comes to the complexity of a war based board game. Of course, the more complex the game mechanics are, the more of a challenge that game is to play, but that in itself isn't necessarily a bad thing.
If you're an experienced board gamer, you'll find relatively simple games too easy and unfulfilling, so you'll get much more enjoyment out of a more complex game.
On the other hand, if you're getting set to play your first war genre board game, anything too complicated can be just as off putting. In that case, look for a game that's fairly straightforward to learn. You can always upgrade to more intense games once you've gotten the hang of things.
Game Time
Again, this all comes down to personal preference and your level of experience. Newcomers to war board games can find that a multi-hour campaign is just too much, while for ardent boardgamers, a lengthy playing time can be a game's biggest strength.
If you're looking for something you can get through quickly to pass a short half an hour or so, games like Memoir '44 are generally a good idea. Either that, or skip the war genre altogether and stick to more basic games like King of Tokyo or Guess Who.
On the other hand, if your idea of a great board game is one that you can easily get lost in for an entire day, our top-ranked pick, Axis and Allies Europe 1940 2nd Edition, may be more up your street.
Theme 
War may be a board game genre unto itself, but even within that you'll find a number of different themes. 
Those which aim to simulate real-world historical events such as the aforementioned Axis and Allies or the popular Twilight Struggle always prove to be hugely engaging as well as educational, though if you play board games to escape to forget all about the real world for a while, fantasy or sci-fi themed titles may be more up your street.
Immersive Gameplay 
Finally, this is one aspect of choosing a game that players of all abilities can agree on. When we talk about immersive gameplay, we're talking about how engaging and captivating it is. If you find yourself completely absorbed by the gameworld and so utterly compelled by the story that time passes by unnoticed, then that's the sign of a good game.
If you find yourself so bored that you break out the cards and play Chase the Ace in between turns, that's a sign you'll be better off packing up and playing something else. 
RELATED: Risk board game rules
Frequently Asked Questions About War Based Board Games
What Constitutes a War Based Board Game?
Sometimes known as a board wargame, or simply just a wargame, a war based board game is a strategy-style game based on a real or fictional conflict.
Some can be focused on a single battle while others encompass entire wars. 
Are War Based Board Games Suitable for Children?
Most war based board games have a recommended age of 12 – 13+, making them suitable for teenagers and older children. That said, games like Memoir '44 can prove popular with younger children if played with an adult. Games such as these are also invaluable as an educational tool for teaching about real-world history.
What is the Most Challenging War Based Board Game Out There?
The 1979 title The Campaign For North Africa is largely regarded as one of the most complex war games of all time, taking over 1,000 hours to complete. 
In modern times, Advanced Squad Leader is usually mentioned in any conversation about the most challenging or difficult board wargames. In fact, it's so demanding that we ruled it out when choosing our selection.
Final Thought: Choosing the Best War Based Board Game For You
If you've read this far, you've probably come to the same realisation that we did: When it comes to board wargames, it's incredibly difficult to name which one is the absolute best.
If you're a sci-fi fan, for example, then Star Wars Rebellion is sure to be a hit, though if you can't tell your wookie from your ewok, you're unlikely to find it all that entertaining.
If you're a new player, fairly simple games like Memoir '44 will hold more appeal than the somewhat complicated Twilight Struggle, though if you've an experienced board gamer, the latter's high complexity may be just the thing you need to feel sufficiently challenged.
Still, even with all these great options, it was Axis and Allies Europe 1940 2nd Edition that topped the list for us simply because it scored high marks in just about every category, offering enough of a challenge for experienced players while still being pretty newcomer friendly.
Combine that with spectacular artwork and attention to detail, and what you've got with Axis and Allies is a truly immersive gaming experience that will appeal to just about every type of wargame fan.