All fun aside, Cranium Cadoo rules allow kids to think and act outside of the box. It's a super exciting indoor group game for kids but equally fun to play with family. You can bring out your Cadoo kit at any family gatherings, Christmas, or birthday parties. 
Cranium Cadoo most certainly helps to improve kids' cognitive skills more like Pictureka, also an ideal game for developing children. 
Here's our complete instruction guide to learn how to play Cranium Cadoo. 
What is Cranium Cadoo?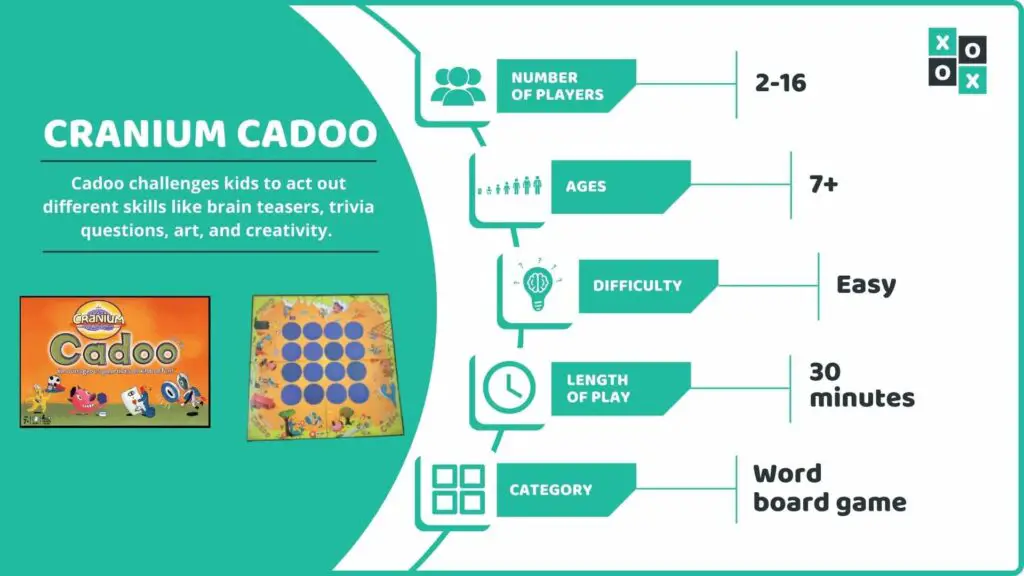 Cranium Cadoo from Winning Moves Games has been a popular kids' party game staple for years. Kids get to engage in both creativity and intelligence as these activities involve drawing, acting, code-cracking, brain-teasers and more to win a Cadoo. 
Number of Players: 2-16 (Ideally 4)
Ages: 7+
Length: 30 minutes or less
Difficulty: Easy
Similar To: Pictureka, Cranium Hoopla, Pictionary
Main Objective: Be the first one to land four tokens in a row to win a cadoo. 
Why We Love It: Cadoo challenges kids to act out different skills like brain teasers, trivia questions, art, and creativity. 
A Brief History of Cranium Cadoo
Cadoo is a kid's version of the 1998 party game Cranium, created by Whit Alexander and Richar Tait. Damon S. Brown did the artworks of this game, and Cranium Inc published it.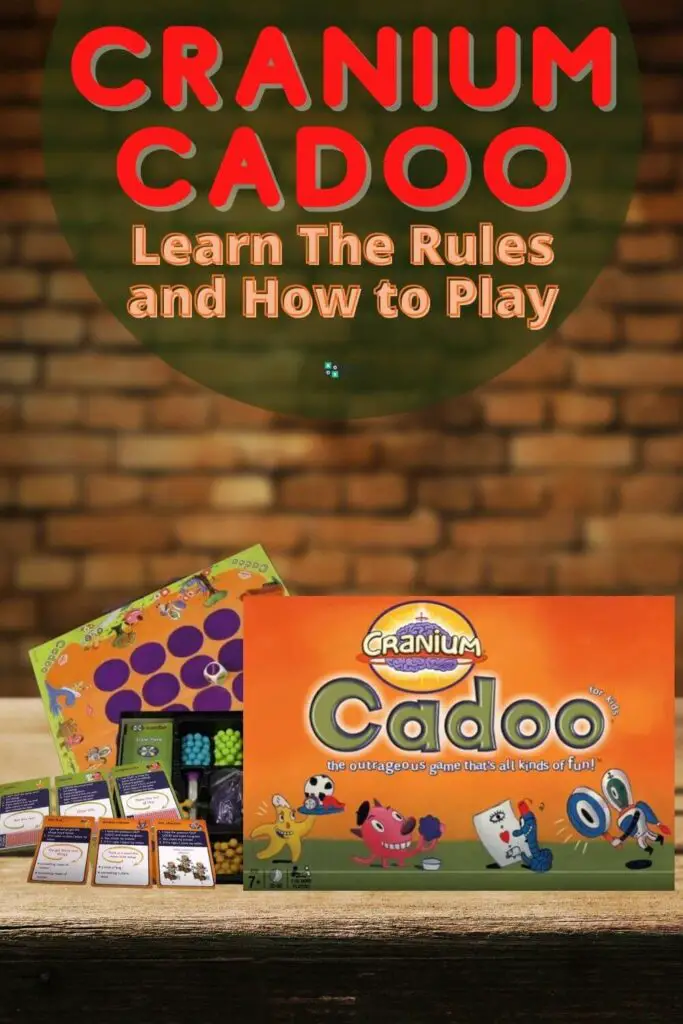 What You'll Need to Play Cranium Cadoo
All you need to start playing is a game kit of Cranium Cadoo. A complete kit of Cranium should contain the following items :
Game board
2 decks of challenge cards solo and combo
One six-sided custom die
Sketch pad
40 colorful plastic tokens
Two secret decoder masks
Cranium modeling clay 
Sand timer
Pencil
Instruction 
The cool red decoder masks in such kits turn out to be very exciting to kids.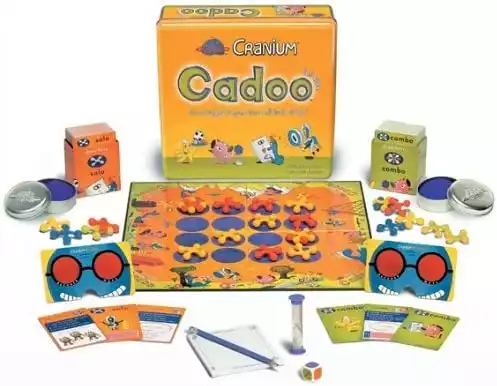 Cranium Cadoo Game Setup
It's fairly simple to set up this game. Take all the goodies out from the kit and place them on a surface. 
Ask each player to pick one color and collect all the tokens of that color. 
There you go—all set to play Cadoo. 
Cranium Cadoo Rules and Gameplay
Who takes the first turn?
The youngest player in the group gets to take the first turn. 
On your turn:
Roll the die and see which card you get to play – Solo or Combo. Draw a card accordingly. 
If it's a Solo card:
Read the card out loud so that everyone can hear the task written on that card. It's an independent task. Start the timer before you begin. If you beat the timer, place one of your tokens on any open spot on the board. 
A Solo card includes tasks like :
Double meanie
Fast find
Code cracker
Ace observer
If it's a Combo card:
A Combo card involves a group effort. Read the secret word on the card using a decoder mask. Start doing the activity while everyone else tries to guess what you are doing. The player who shouts it right also wins a token. 
Place your token on a spot and the player who made the right guess puts a token on top of that. You both can count this spot for your four-in-a-row. If nobody guessed it, you might not place a token. 
A Combo card includes three different activities:
Cameo – Act this out
Cloodle – Draw this
Sculptorades – Make this out of clay
Cranium Rules for more than four players:
For more than 4 players Cranium Cadoo rules are still the same. In such cases, the players can team up and finish the activities as a team.
Win a Cadoo to End the Game:
Whoever places four tokens in a row first (horizontally, vertically, or diagonally across) wins. According to Cranium Cadoo rules, you can win a cadoo only on a Solo card. If you roll a Combo for your fourth token, you can play the card. But you cannot select the winning spot to complete your four-in-a-row. 
How to Play Cranium Cadoo – Video Tutorial 
Cranium Cadoo Instructions – PDF Version
Frequently Asked Questions
What is Cadoo?
To win you have to win a Cadoo which means place your tokens four-in-a-row. 
What if nobody gets a Cadoo?
This may happen sometimes. You can keep playing until the board is full. Whoever has the highest no of tokens at the end, wins. 
How long is the timer for Cranium?
Cadoo comes with a 1-minute sand timer. 
Alternative Games You Might Like 
If your family had a good time playing Cranium, you should definitely try other classic board games like Pictionary or Hoopla. They also involve similar skills such as sketching, acting, solving brain teasers and other challenges. 
Beat the Parents is another trivia packed board game that creates a healthy competition between adults and kids. Check out our guide on Beat the Parents: Rules and Instructions.
If you love playing card games, you should definitely check out our guide for Monikers rules.