Blink is a self-proclaimed fastest game in the world. Besides that, it is also entirely simple and lots of fun. Learn the Blink card game rules and enjoy it with your friends or family. 
Blink, also known as Speed, is a game that can be played literally anywhere, anytime, and with anyone. Its rules are straightforward and can be learned in a few minutes, making it an ideal game for playing with smaller kids (find more group games for preschoolers).
Similar to some other family-friendly card games like Happy Salmon (see Happy Salmon rules for comparison), there are no turns in Blink. The players play simultaneously instead, making the gameplay even more dynamic, unpredictable, and fun. 
This Blink Card Game rules guide will cover the following: 
What is Blink Card Game?
What you'll need to play Blink Card Game
Blink Card Game rules
How to play Blink Card Game (video tutorial)
FAQs
Other similar games to Blink Card Game (our guides)
Continue reading for detailed instructions on how to play Blink the card game.
What is Blink Card Game?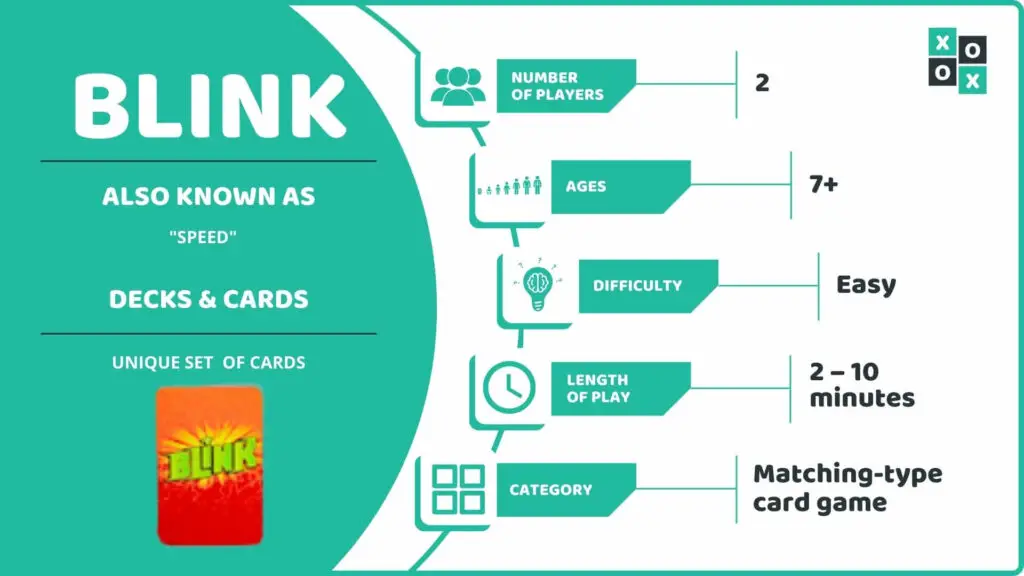 Blink is a popular card game created by Reinhard Staupl, a famous German creator of numerous award-winning games, including Don Quixote and David & Goliath. 
The game is designed for two players, and it will mainly test your visual perception and eye-hand coordination.
Number of Players: 2 
Ages: 7+ officially (unofficially, it is worth trying even with smaller kids from 5 years)
Difficulty: Easy 
Length of Play: 2 – 10 minutes
Category: Card matching game
Similar to: Quixx, SkipBo, Classic Uno
Main Objective: Be the first to get rid of all cards in your draw pile and hand.
Why We Love It: Blink is a super-easy game that will brighten your day regardless of how little time you have.
Related: 2 Player card games
What You'll Need to Play Blink Card Game 
Blink is a card game that requires a special set of cards designed particularly for this purpose. The original Blink card game set includes:
60 cards with large matching symbols (10 of each shape and color; 12 of each number from 1 to 5)
Our Pick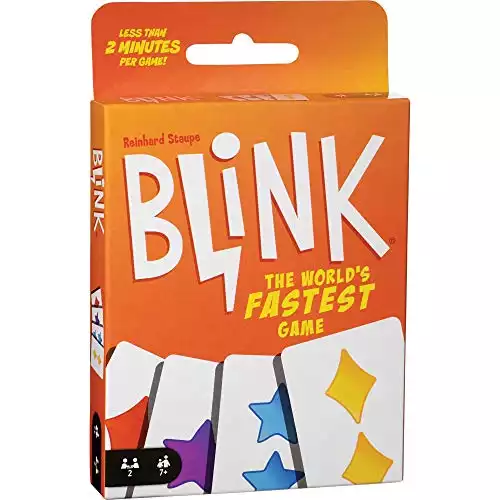 Blink Card Game Rules and Gameplay
Blink doesn't involve any strategies or tactics. More or less, it is all about focus, good matching skills, speed, and luck. 
Starting the Game
Shuffle the cards and deal them all, one by one, among the players. Then:
Each player will form a down-facing pile of cards in front of them. This will be their personal draw pile. 
The players pick top cards from their decks and place them side by side face-up in the center.
Players draw three cards, each from their pile. They keep them in their hands.
When the players are ready, they flip their central cards to reveal their faces. These will be two central piles. The game can now begin.
How to Play Blink Card Game
As I've already mentioned earlier, players take turns simultaneously in Blink. They do so by placing their cards on either of the two central piles if they match any of the following attributes:
Whenever a player plays one of his cards, he must refill his hand from his draw pile with another so that he always has three cards in hand (but no more). Other specific rules:
A player cannot play more than one card at a time.
If neither of the players can match any of their cards to the piles, both players take one top card from their draw piles and place it on one of the central piles.
If one player doesn't have the draw pile anymore, each player uses cards from their hand instead. 
If any player has only one card in hand, the game ends. 
Blink Card Game Scoring 
Blink is a simple game that doesn't involve any scoring scheme. The winner is whoever gets rid of all the cards first.
How to Play Blink Card Game – Video Tutorial 
Blink Card Game Frequently Asked Questions
Is Blink a fun card game?
Thanks to its simplicity, fast pace, and unpredictability, Blink is a hilarious and joyful card game. Moreover, it is also very inclusive since you can play it even with people who do not usually play complex card games. 
How many players can play Blink?
Blink is officially recommended only for two players – no more and no less. Nevertheless, you can also quickly adapt this game for three or four players with minor adjustments.
How many cards does each player get for the game Blink?
Altogether, the Blink card deck contains 60 cards. All the cards are dealt to the players, so each receives 30 cards in the case of two players.
Other Similar Games to Blink (Our Guides) 
Would you like to try some other fast-paced and straightforward family games? Here are our guides to some attractive Blink alternatives: 
SET rules (guide coming soon)
Zangle rules (guide coming soon)