Bounce Off may not be an award winner, but it is a popular and widely loved party game. Sold by Mattel, Bounce Off encourages players to bounce small ping-pong style balls strategically onto a playing surface shared by all players. 
Gather your friends and limber up! 
It is time to use fine motor skills and strategy and aim to Bounce Off!
This Bounce Off rules guide will cover the following:
What is Bounce Off?
What you'll need to play Bounce Off 
Bounce Off Rules
How to play Bounce Off (Video Tutorial)
FAQs
Similar game guides
Read on to learn how to play the Bounce Off.
What is Bounce Off?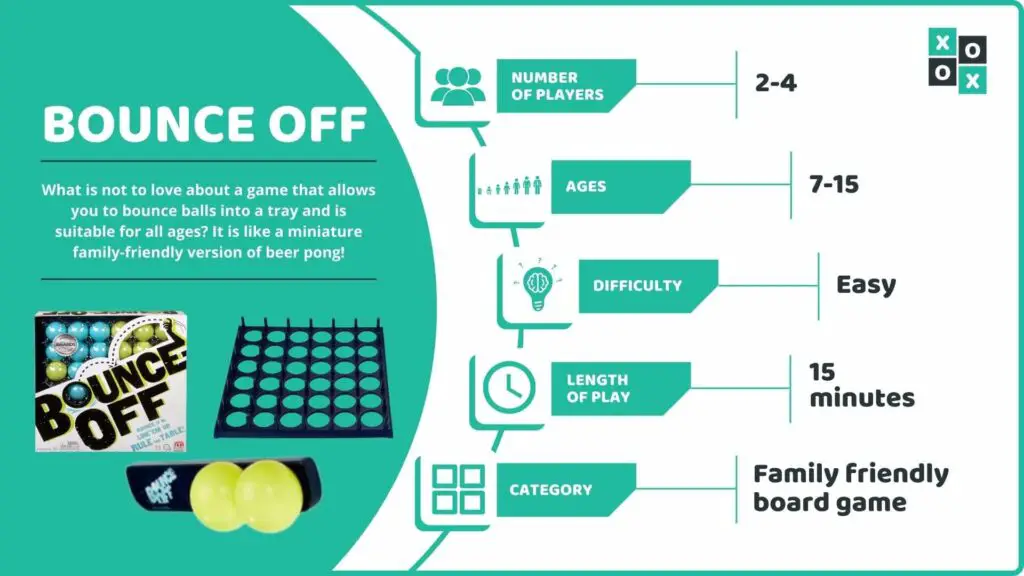 This family-friendly game is quick and easy to learn. Players of all ages can gather around the board and begin playing within just a few minutes.
Each team or player uses a set of balls, green or blue, and tries to bounce them so they will land on the grid in a specific layout. 
Number of Players: 2-4 players
Ages: 7-15
Difficulty: Easy
Length of Play: 15 minutes
Category: Family game, party game
Similar to: Blokus, Kerplunk, Ladder Ball
Main Objective:  The first player to complete three challenge cards wins!
Why We Love It:  What is not to love about a game that allows you to bounce balls into a tray and is suitable for all ages? It is like a miniature family-friendly version of beer pong!
What You'll Need to Play Bounce Off
Everything you need to play is included in this boxed set. 
Our Pick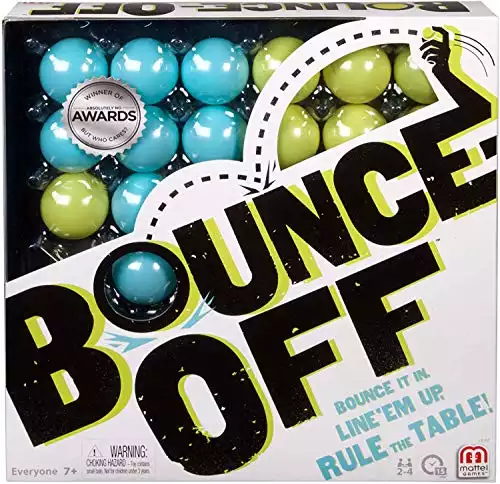 The complete game box contains: 
16 balls
4 ball holders
1 game tray
9 challenge cards
1 rulebook
Area of Play
Set up your area by placing the game tray between players. 
If you are playing a 2-player game, each player gets 8 balls of the same color. If you are playing with 4-players, each player receives 4 balls only.
Shuffle the challenge cards and place them beside the game board. 
Bounce Off Game Rules
To start, you flip a challenge card. Cards come in two colors, blue and green. The blue cards are more complex. 
The game's object is to bounce the balls so they land on the tray in a specific formation matching the image shown on the challenge card.
For example, the challenge card might show 4 balls positioned in an L-shape, with 3 balls in a row and the fourth ball beside the end, making the letter "L."
Option 1: All players bounce their balls off the table simultaneously to land strategically on the board. 
Option 2: Players take turns bouncing a ball onto the game board. 
While one player or team is trying to accomplish the challenge card, the other team uses their balls defensively to hinder the other team. 
The ball must bounce on the table at least once before landing on the board. 
Continue playing until someone completes 3 challenges. 
How to Keep Score in Bounce Off 
The first team or player to complete a challenge card claims the card. Whichever team collects 3 cards first is the winner! 
How to Play the Bounce Off Game – Video Tutorial
Frequently Asked Questions 
What happens when you run out of balls on Bounce Off?
If you have bounced all of your balls without completing a challenge, you can simply remove a ball from the grid and bounce it again. 
How do you play Bounce Off Rock? 
Bounce off Rock A'round follows the same game rules as the original Bounce Off game. However, players must bounce the ball off a small board. Imagine using a small level to catapult your ball onto the playing surface!
Other Games Similar to Bounce Off (Our Guides)
Try out these other fun games at your next game night or party. Your friends will have a blast!
Wink (Guide coming soon)
Pit (Guide coming soon)
Table Tennis (Guide coming soon)
Bounce Off Bullseye (Guide coming soon)