KerPlunk was first introduced in the 60s, and it definitely has the correct name, as it's the exact noise it makes when you lose! But what are the KerPlunk rules? Read on to find out how to play KerPlunk.
KerPlunk is one of the most iconic kid's games of the 60s, and it's likely your mom or dad may remember it well. With the plastic parts' bold and bright colors, they'll surely remember the excitement and enjoyment they got from causing their rivals to make that iconic 'Kerplunk' noise. 
But how do you play KerPlunk? It's pretty straightforward! The end goal is to skillfully remove the sticks from the tube, dropping the fewest marbles while trying to cause your opponents to have their marbles 'kerplunk' to the bottom of the tube. 
However, there's more to KerPlunk than meets the eye. Let's take a closer look at KerPlunk and the KerPlunk rules.
What is KerPlunk?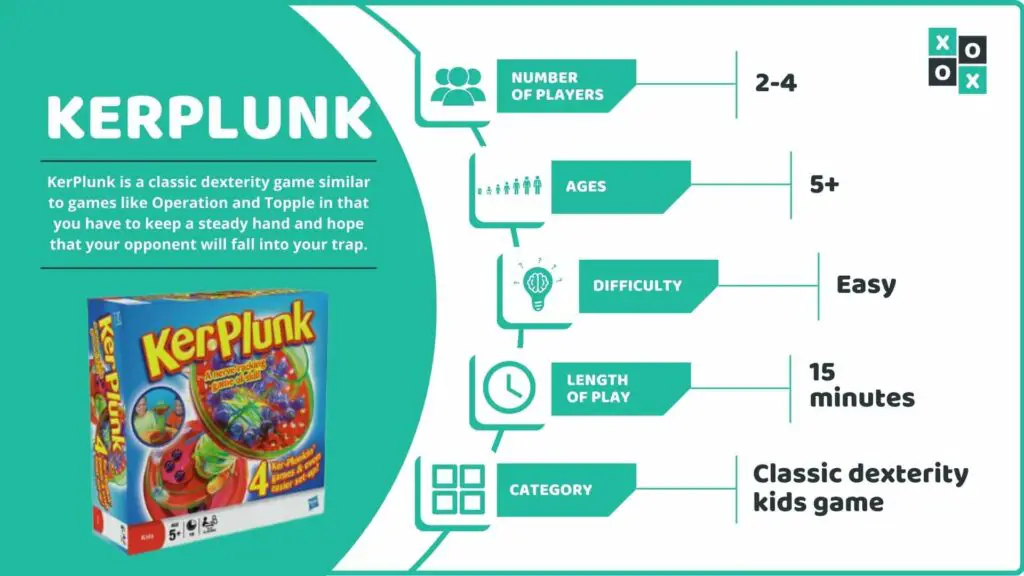 KerPlunk is a classic dexterity game similar to games like Operation and Topple in that you have to keep a steady hand and hope that your opponent will fall into your trap.
With up to 4 players being able to play at any one time, KerPlunk is a good edge-of-your-seat game that will be sure to cause hilarity when your opponent gets 'kerplunked.'
Number of Players: 2 to 4 players required for play.
Ages: 5+
Difficulty: Easy and straightforward to play.
Length of Play: Approx. 15 minutes per game.
Similar to: Operation; Topple; Monopoly Jenga; Crokinole.
Main Objective: Undermine the foundation of sticks hoping that it fails on your opponents rather than you. The player with the most marbles in their dish is the loser.
Why We Love It: Kerplunk will have you on the edge of your seat and falling about with laughter as you see your opponents desperately trying not to let any marbles fall. Fast-paced, fun, and able to play over and over, KerPlunk is a game that has stood the test of time.
A Brief History of KerPlunk
KerPlunk first hit the stores way back in 1967, after being invented by Eddy Goldfarb and his co-designer Rene Soriano. This dynamic duo also designed air hockey, and Eddy is also in the Toy Hall of Fame for his many inventions!
Eddy and Rene eventually sold their idea to the Ideal Toy Company – one of the world's biggest toy manufacturers, and it has been produced ever since. 
Along with the likes of Twister, KerPlunk marked an important development in games that were simple but required children to consider their options when playing. So not only is it fun to play KerPlunk, but you could also be training your brain and dexterity!
Playing KerPlunk – What You'll Need
To play KerPlunk, you'll need to get your hands on a KerPlunk set which comes with everything you need to play KerPlunk. The set will include:
A game base 
2 tubes (the bottom and the top cups)
The Tube Connector
30 sticks
32 marbles
Space for a maximum of 4 people to play
KerPlunk comes in all different shapes and sizes, including a handy portable travel version, as well as a Toy Story-themed version, and even a Star Wars-themed edition!
It could also be worth your while getting some extra marbles, as they can easily roll away and get lost. Plus, you could make the game much trickier with some extra marbles too.
How to Set Up KerPlunk
The first thing you want to do is to set up the game tube. This is where all the magic happens, after all. 
Take the tube bottom cup and stand it up on a flat surface. 
Line up the little tabs on the Tube Connector with the slots on the bottom tube, and snap the Tube Connector onto the bottom cup. 
Take the top tube cup, making sure that the opening is at the top, and snap the top cup onto the Tube Connector.
That's the tube made. Now, you need to turn to the sticks and the marbles.
Take the fully-made tube and slot it into the game base. 
Then, insert all of the sticks into the Tube Connector – simply put one end of a stick through a hole and push it through, so it comes out a hole on the other side. Make sure you place the sticks randomly and that they criss-cross each other too.
When all the sticks have been inserted, it's time to put the marbles in. Drop them through the opening at the top of the tube. They should rest on the sticks – if any fall through to the bottom, just reload them until all the marbles are in the tube.
Now you're ready to play KerPlunk. First, let's go through the KerPlunk rules.
KerPlunk Rules and Gameplay
Gather your players. You can have between 2 and 4 players for each KerPlunk match. Each player selects a numbered compartment corresponding to the game base – there are 4 in total.
Once you're all sitting comfortably, it's time to determine who will go first. Play will then pass to the left.
How To Play Your Turn
Slowly rotate the entire tube so that the window opening cut out of the bottom tube faces your number and compartment. You'll want to do this carefully, so you don't move any of the marbles!
Choose any stick and carefully pull it all the way out of the Tube Connector. The first stick you touch is the one you have to pull out, so make sure you choose carefully. You can hold the tube steady as you pull your stick out of the hole as well. 
Once you've successfully removed the stick from the Tube Connector, put it to one side. A player's turn is not entirely over until the player to their left either touches the tube or touches a stick. When they are ready, the player to your left repeats this process.
Marbles
The aim of the game is to try and not let any marbles drop down into your compartment or try and set it up so that the marbles drop into your opponent's compartment. 
Any marbles that drop will fall into your compartment with a very satisfying 'kerplunk' sound, which gives the game its name. Leave any marbles in your compartment alone until there are no marbles left in the tube.
The Winner
When there are no more marbles left, count the number of marbles each player has in their compartment. The player who has the least amount of marbles in their compartment is the game's overall winner.
How to Play KerPlunk – Video Tutorial
Frequently Asked Questions
We'll take you through some of the more frequently asked questions about KerPlunk and KerPlunk rules.
If I play KerPlunk a lot, can I get better at it?
KerPlunk is mostly a casual luck game, which means that there could be a different outcome every time you play it. However, you might be able to figure out some tactics for giving your opponents more marbles.
Can you play KerPlunk with more than 4 people?
Unfortunately, there are only 4 compartments, so you can only fit 4 players around the KerPlunk tube. You might be able to double up with a friend, though!
Are there any KerPlunk rules that you can add or change?
Some versions of KerPlunk come with a golden marble. If this marble falls into your compartment, you can choose whether it adds 5 marbles to your final score or subtracts 5. This gives the game even more of a sense of jeopardy.
Alternative games to KerPlunk
If you love the dexterity and hilarity when you play KerPlunk, then you're in luck. Many games also tap into the same sense of trepidation and contemplation but are suitably different from KerPlunk.
We mentioned Monopoly Jenga, Topple, and Operation earlier in the article, and Twister, which are all games that require thought and a fair bit of luck. You can also try your hand at Bounce Off, Ladder Ball, Don't Break The Ice and Klask, which are fantastic games where dexterity is key.