Hungry Hungry Hippos is a game ideal for kids with a clear objective – eat the most marbles with their Hippo.
Hippos may not be the most obvious animal to base a board game around, but they take center stage in this game, with players using the animal's wide mouths to go head-to-head to compete to win. 
And with up to 4 players playing simultaneously, the game can get hectic very quickly.
So read up on the Hungry Hungry Hippos rules, and we're sure that you'll agree it's a game your kids will love to play. 
What Is Hungry Hungry Hippos?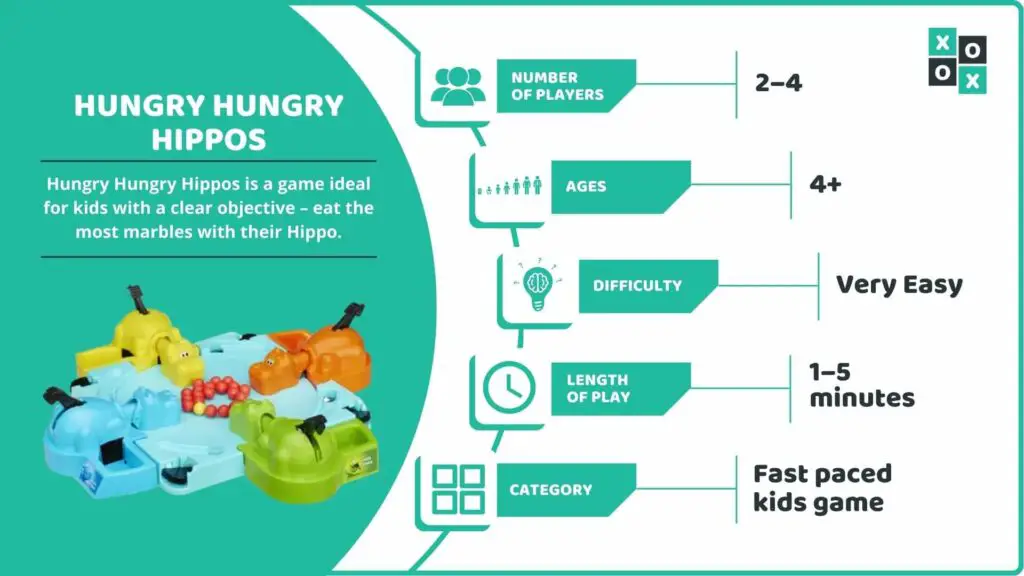 Perhaps surprisingly, the game Hungry Hungry Hippos has been around since the 1970s, with the first version of the game launching in 1978.
And it's a testament to both the design and the rules that the game has barely been adjusted since then.
It can also help in a young child's dexterity development, as pressing the Hippo's lever as quickly as possible is the only thing needed to succeed in this game. 
Number of Players Required: 2 – 4 players. 
Who Can Play It: Recommended for ages 4+. 
Difficulty: Very Easy
Length of Play: 1 – 5 minutes per game. 
Similar to: Elefun; Mouse Trap; Gator Golf; Hungry Frogs
Main Objective: Be the player whose Hippo manages to eat the most marbles at the end of the game. Score the most points across multiple games to be the winner. 
Why We Love It: With its fast and furious gameplay, kids will enjoy their hippos quickly chomping down to grab the most marbles. With its highly competitive gameplay and easy-to-understand rules, it's clear to see why it's such a hit with kids. 
Playing Hungry Hungry Hippos – What You'll Need.

All you'll need to start playing Hungry Hungry Hippos is the official Hungry Hungry Hippos game set.
Our Pick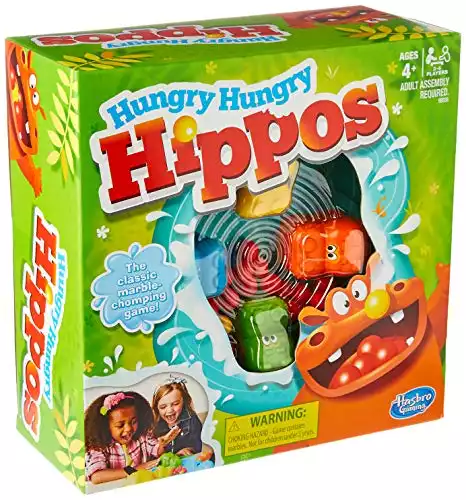 Hungry Hungry Hippos
Buy Now
We earn a commission if you click this link and make a purchase at no additional cost to you.
10/29/2023 11:22 pm GMT
Each game set comes with:
4 hippo heads
4 hippo bodies
4 marble launchers
19 regular plastic marbles
1 golden marble
And that's everything you'll need to play! 
Alternatively, if you're after a smaller set with just 2 Hippos, then consider the Hungry Hungry Hippos travel set instead. 
Our Pick
You could also purchase the Hungry Hungry Hippos Unicorn set if your children preferred playing with Unicorns instead, too.

How To Set Up Hungry Hungry Hippos.
Setting up Hungry Hungry Hippos is relatively easy. All you'll need to do is place the game set on an even surface so that there are no unfair advantages.
For the first-time set-up, you'll need to assemble the Hippos. 
Slide each Hippo's head into the body by sliding the front tabs into the pond. Lock it in place by pressing it down. 
Ensure each Hippo is functioning correctly by holding down the tail and pulling the neck out and downward. Press the tail a few times to ensure it works. 
Place the 20 balls on the set, start with 4 balls in the middle, with the other 16 balls in the slot in between the Hippos big enough to fit 4 balls each. 
Hungry Hungry Hippos Rules
The overall objective of Hungry Hungry Hippos is to accumulate points by eating marbles. All players play simultaneously, so games are over quickly, but this means you can get many rounds in with each game session. 
Starting the Game.
Nominate someone to announce when the game starts. Pick any metric that works for whoever's playing; a good example is picking the host of game night or the youngest player. 
That person's role is to shout 'GO' when players can start chomping their Hippos. Wait for everyone to confirm that they're ready, then yell 'GO' to begin the game. 
How to Play Hungry Hungry Hippos.
Player's compete to gather as many marbles as possible by 'eating' them with the Hippo they control.
Each player has a button next to their Hippo, which releases the marbles when pressed. Players release these at any point they wish to while playing. 
When the player presses the Hippo's tail, it controls the mouth and is how the Hippo gathers the marbles. 
Once all the marbles get eaten, the game is over, and players count up the number of marbles that they have. 
Scoring In Hungry Hungry Hippos
Use a scoring system if you're planning on playing multiple rounds of Hungry Hungry Hippos. 
For every marble, a player scores 1 point. The player who gets the golden marble gains 5 points.
The player with the most points at the end wins the game overall. 
Frequently Asked Questions.
Are there any alternative Hungry Hungry Hippos rules that players can follow instead?
There are a couple of ways you can adjust the Hungry Hungry Hippos rules.

You can either dump all of the balls into the middle and have everyone go crazy trying to chomp up as many as possible.

Or you can have a rule where whoever manages to grab the golden marble wins the game, with the other balls being irrelevant.
Would a child under the age of 5 be able to enjoy Hungry Hungry Hippos?
Although the recommended age is 5+, that's because the marbles are relatively small and may be a choking hazard.
Kids under the age of 5+ would enjoy playing and wouldn't struggle to control the Hippos, but they would need to have adult supervision the whole time.
Alternative Games to Hungry Hungry Hippos
If your kids enjoyed Hungry Hungry Hippos, then be sure to check out some of our other recommended kids games too. 
Check out the Greedy Granny board game rules, Mousetrap game rules or the Don't Wake Daddy board game rules for a kid-friendly board game experience. 
For a board game that's a little more advanced for slightly older kids, be sure to have a look at our guide to the Clue Junior rules as well.