Once you've learnt the Don't Wake Daddy board game rules you'll have a board game you can add to your collection to bust out at any moment. 
Don't Wake Daddy has a simple premise of sneaking around the gameboard while avoiding having to press the alarm that may wake the main character. 
So continue reading to learn how to play Don't Wake Daddy, including how to properly set the game up, as well as a video tutorial.
What Is Don't Wake Daddy?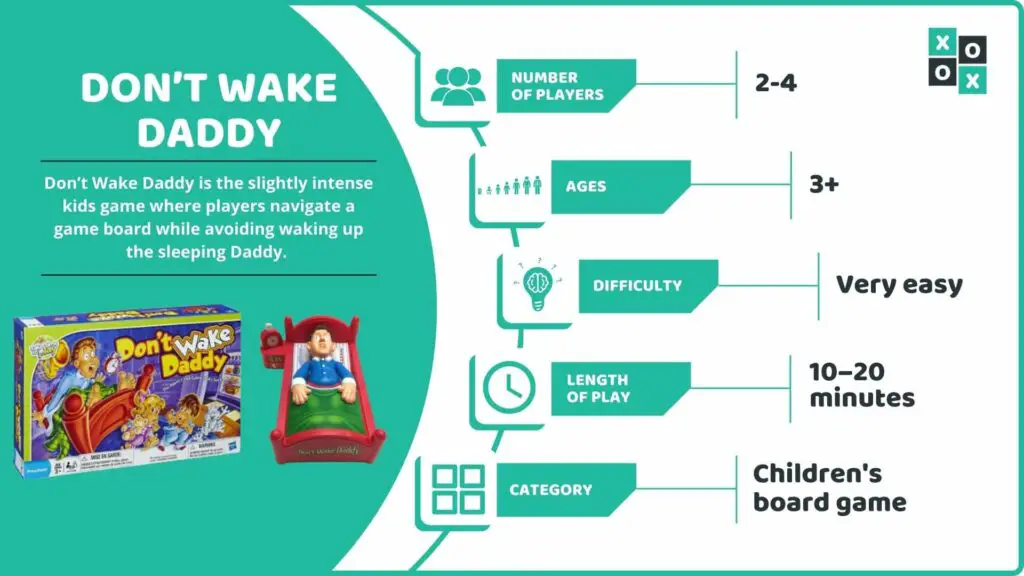 Don't Wake Daddy is the slightly intense kids game where players navigate a game board while avoiding waking up the sleeping Daddy. 
Similar to games such as Pop the Pig (see our guide for Pop the Pig rules), Don't Wake Daddy is most recommended for preschool aged children. 
Related: Group Games for Preschoolers
Number of Players Required: 2-4 players. 
Who Can Play It: Ages 3+.
Difficulty: Very easy. 
Length of Play: 10 – 20 minutes per game. 
Similar to: Greedy Granny; Don't Break the Ice; Grouch Couch; Pop the Pig
Main Objective: Be the first player to get a midnight snack from the refrigerator without waking Daddy. 
Why We Love It: Don't Wake Daddy is the ideal game to introduce to young children to get them interested in board games. The game is quick to learn and simple to play, while also being short enough to hold young children's focus. 
Playing Don't Wake Daddy – What You'll Need.
Naturally, what you'll need before playing is the official Don't Wake Daddy board game, which should include:
Game Board
3-part Bed: Bed, Headboard and Daddy
Daddy's Nightcap
Deck of 24 Cards
4 Movers
Mover Bases
Spinner
Our Pick
How To Set Up Don't Wake Daddy.
Be sure to help the kids set up Don't Wake Daddy as you'll need to push the Daddy contraption properly down for the game to be able to work as intended. 
Make sure you place his nightcap on his head too.
Each player will need to choose their own color mover and will need to place it on the bed which matches their color as well. Everyone playing will need their own colored mover. 
Remove the movers that players aren't using from the deck, shuffle the cards that remain and deal them out to players face up. 
Players should have an equal number of cards. If playing with 3 players, remove the extra card that's leftover from the game. 
Don't Wake Daddy Board Game Rules.
Starting the Game.
Decide who starts the game, a good way of deciding this is starting with the youngest first but pick what works best for you.
Play moves round to the left, beginning with the starting player spinning the spinner.
How to Play Don't Wake Daddy.
Whatever the needle on the spinner lands on determines what action the player can take on their turn. 
If it lands on a color, then the player can move their game piece to the closest space on the board which matches the color. 
If it lands on the purple star, that player gets to move their piece to the space that is in front of the player in the lead. 
Players can land on either a plain colored space with or without a picture and number. If a player lands on one without then they're safe.
If they land on a space with a picture and number, then players will need to look at their cards to see if they have 1 that matches the tile that they are on. If so, they can use the card to end their turn immediately.
If they don't, they will need to press the alarm clock on Daddy the number of times displayed on the game board. 
If Daddy wakes up, players must collect the card that matches the game tile on the board from the player who owns the card, and must also go back to their starting bed. 
If he doesn't wake up though, count yourself lucky and continue the game with the player on the left. 
The winner is the first player who gets to the rainbow refrigerator at the end of the game board. 
Scoring In Don't Wake Daddy.
There isn't a dedicated scoring system in the Don't Tell Daddy rules, but games are over relatively quick which means players can get plenty of rounds in.
Tally up individual player victories to see who is the ultimate Don't Wake Daddy champion. 
Frequently Asked Questions.
Does Don't Wake Daddy need batteries?
Fortunately, you won't need batteries before you start playing Don't Tell Daddy. 
Can children older than pre-school age play Don't Tell Daddy?
The recommended age is to be seen as a minimum age required to enjoy Don't Tell Daddy, so there's no reason why older kids or even adults can have fun playing as well.
Can you change the Don't Tell Daddy rules if the 'Daddy' breaks in anyway?
Unfortunately the 'Daddy' is an important part of gameplay so if anything happens to the game set then there aren't any official ways to play in this instance. 
Alternative Games to Don't Wake Daddy.
If Don't Tell Daddy seems like a game that you think your kids will enjoy, why not take a look at our other board game suggestions ideal for kids. 
Check out the Operation game rules for a timeless classic, or learn how to play Candyland for another board game that is ideal for young gamers.
Alternatively, for other kids games that you can introduce to the little ones in your life, check out guides to the Hi-Ho Cherry O rules or the Eye Found It card game instructions.