There are plenty of examples of companies adapting classic games into kid-friendly versions. One of these is Sequence for kids which keeps the same basic gameplay of 'Sequence' and gives it a makeover suitable for children.
Sequence targets children slightly younger than other board games for kids.
Considered a viable starting point if you were looking to introduce young children into your family's board game night.
As the name suggests, the goal is for players to make a sequence of four playing chips going in any direction.
Read on to learn how to play Sequence for kids.
Related: Sequence rules
What is Sequence for kids?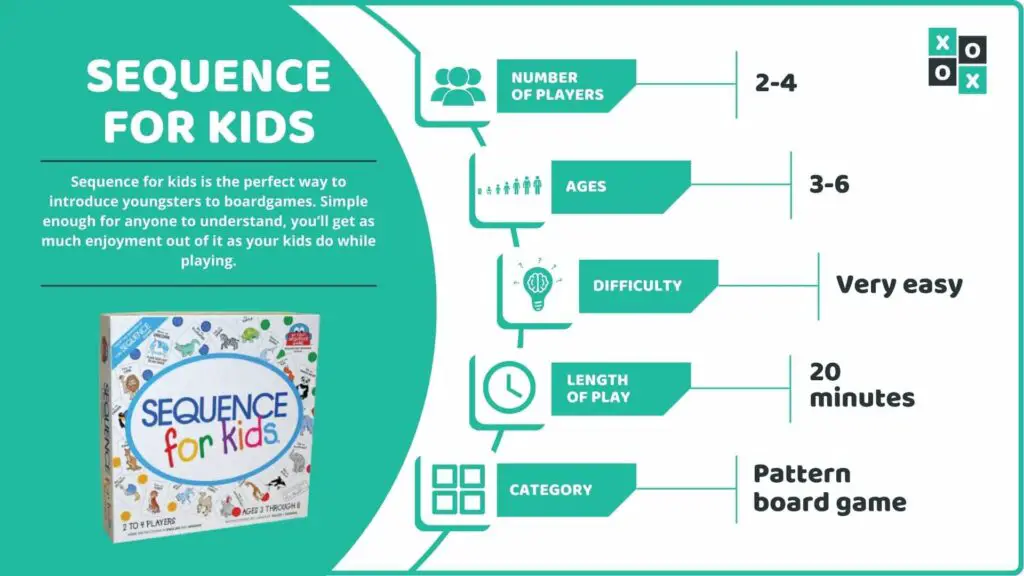 The game Sequence comes with colorful chips and plenty of animals for your kids to enjoy. It will keep their interest if you do decide to use this game to teach your kids how to play board games.
Number of Players Required: 2-4 players.
Difficulty: Very easy.
Who Can Play It: Recommended for young children aged from 3-6.
Main Objective: Become the first player to make a 'Sequence' with their chips.
Why we love it: Sequence for kids is the perfect way to introduce youngsters to boardgames. Simple enough for anyone to understand, you'll get as much enjoyment out of it as your kids do while playing.
What do I need to play Sequence for kids?
Like all board games, the only thing that you'll need to get started is the board game itself.
This 'Sequence for kids' set from popular game developers Jax fits the bill nicely. 
Our Pick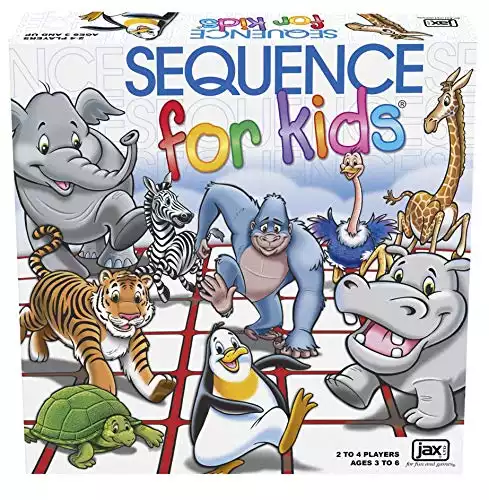 The set comes with a game board, animal-themed cards, and different colored game pieces. Be wary of playing with kids as these pieces are small and can be a choking hazard.
How to set up your game
Place the game board in the middle of all players. Every player will need to choose game pieces of a certain color and place them in a pile next to them. 
A player needs to shuffle all the cards and deal out each player 3 cards. Give these cards to players facedown.
Place all remaining cards facedown near the board. This will become the 'drawer deck'.
Sequence for kids – Rules and Gameplay
Once set up has been complete, the game can begin.
Starting the game
Each player will need to create their own 'discard pile' next to their game pieces as the game progresses.
Sequence is a turn-based game that is perfect for teaching young children about discipline.
And also for kids to fairly wait for their turn.
Start with the player to the left of the dealer. Gameplay will be in a clockwise direction.
How to play Sequence for kids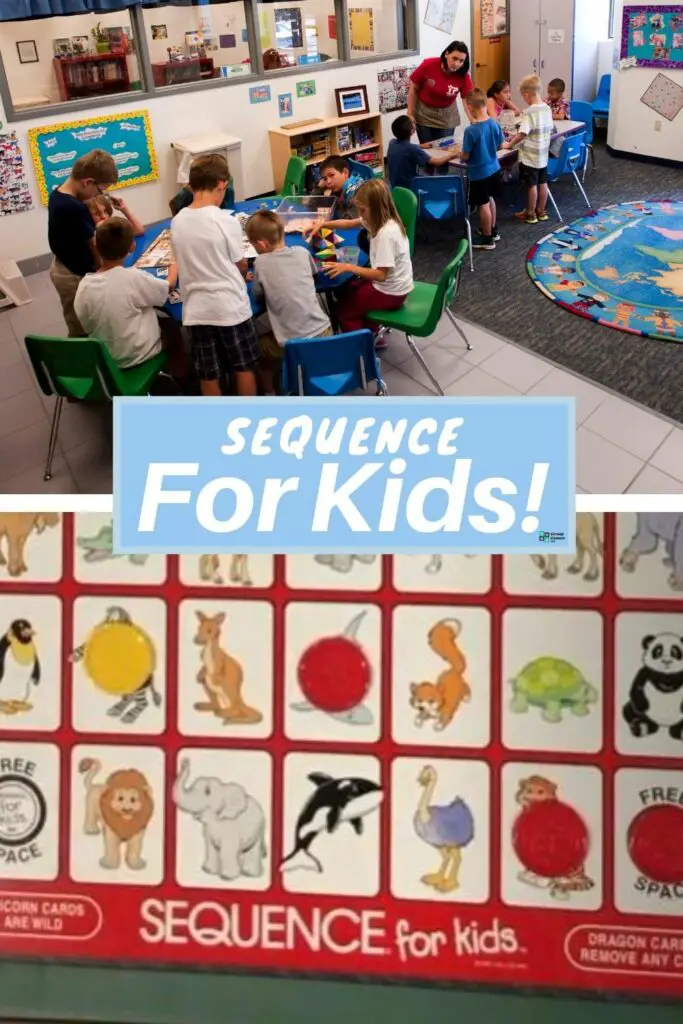 The starting player picks one of their 3 starting cards and places it face-up on their own 'discard pile'.
The player then places one of their game chips on the picture on the board that matches the picture on the chosen card.
Choose another card to replace the used card – players must always have 3 cards in their hand at the end of their turn.
The next player can now begin their turn.
They cannot place one of their chips on a picture that already has another player's chip on it if they have a card that matches that part of the board.
If a player has a card they cannot play as the appropriate space is already taken then this goes onto the player's own 'discard pile'.
The player will have to draw a new card.
Each corner of the game board has a 'Free Space' icon on it. Use instead of a player's chip, so treat them as if a player's colored chip is already in this place.
More than one player can use the 'Free Space' at the same time as part of their Sequence.
The game continues until a player manages to make a 'Sequence' of 4 chips in a row.
Unicorn and Dragon cards
As part of gameplay, you may notice that there are a couple of animals that do not have spaces on the game board – Unicorn and Dragon cards.
Having one of these cards means that players can use a 'special' move. It helps in developing your kid's strategic thinking.
The Dragon card enables a player to remove another player's chip from the game board. To use it, just add it onto the discard pile and return a chip back to the relevant player.
Players use the Unicorn card in the same way as the Dragon card. This card lets the player use it to place their game chip on any free space on the board.
Keeping score in Sequence for kids
Other than ensuring that a 'Sequence' of 4 chips is on the board to declare a winner, this is as complicated as scoring gets in Sequence.
The game can go by relatively quickly so it may also be an idea to jot down player's individual victories to declare a winner.
Frequently Asked Questions
What difference is there between the standard version and the kid's version of 'Sequence'?
The standard version of 'Sequence' uses 2 standard decks of cards rather than colorful animal cards.
The board is also larger in the standard version. Players need a sequence of 5 rather than 4. Other than that, the gameplay is similar to the kid's version.
What skills can kids develop whilst playing Sequence – Adapted for kids?
There are many skills that young children can develop when introduced to board games at an early age.
The math involved encourages counting to four which is a good number for kids to work with before they are of school age.
Recognizing sequences can also be beneficial. It encourages children to develop critical thinking skills when they are looking for a path to victory.
Alternative Games to Sequence for kids
Sequence is a wonderful game to introduce your kids too and can be easily swapped for the standard version once they get older.
If you're looking for similar kid-friendly games that can offer an opportunity to aid with your children's development, Pitty-Pat, Spot It and Disney's Pictopia are worth a try.
A simple game that involves pairing cards up, it's fast-paced and fun and can also help with kids thinking skills while playing. 
Otherwise learning how to play Payday game rules is another great alternative board game for teaching children the importance of money management
If you want a game for kids that the whole family will enjoy though consider checking out the rules to the Water Balloon Toss Game.
If you don't mind getting a bit wet!