The ultimate party game. Hedbanz combines fashionable headwear and critical thinking skills in this classic game.
Created in 1991 by 'Spin Master', the game requires players to guess what is on their card by utilizing their quick thinking abilities.
The game can get hectic as many people will be speaking at once but the game is the perfect icebreaker with pals or entertainment for your kids.
Different versions are available depending on who you are planning on playing with. This varies in topics although the fast-paced gameplay does stay the same.
If you're looking for more information on this game including Hedbanz rules, game setup and scoring then read on to find out. 
What is Hedbanz?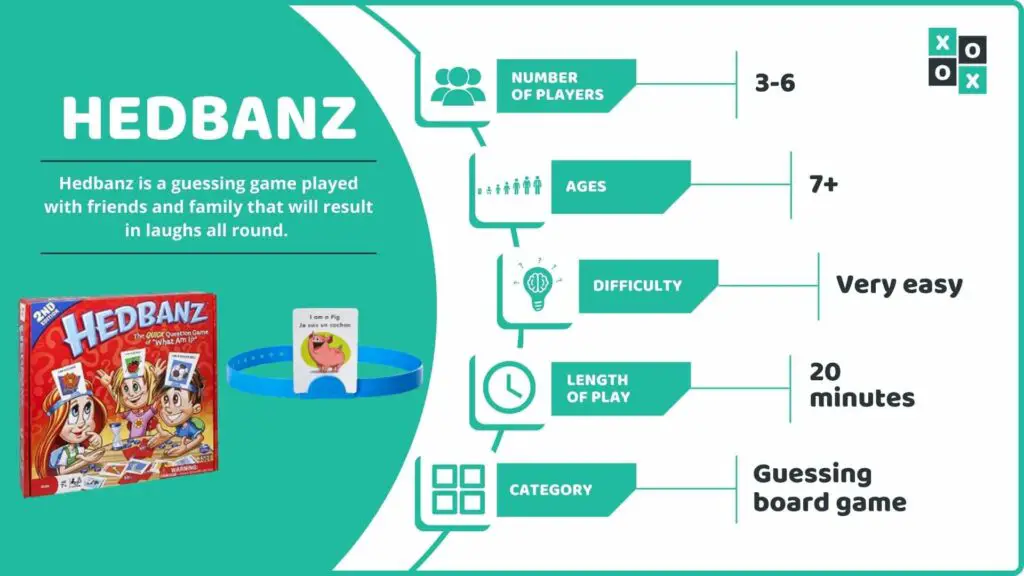 Hedbanz is a guessing game played with friends and family that will result in laughs all round. 
Introduce Hedbanz to your kids as it can encourage quick on-the-spot decision-making skills.
Number of Players Required: 3-6 players.
Who Can Play It: Suitable for everyone 7 and older. Vary the topics depending on who's playing to adjust the difficulty.
Difficulty: Very easy.
Main Objective: Be the player or the team to correctly identify the most answers written on their 'Hedbanz' and get rid of their game chips first.
Similar To: Mad Gab | What's Yours Like
Why we love it: Most people may have already played a version of 'Hedbanz'. The game is simple to understand and accessible to all ages. Prioritizing teamwork and critical thinking skills while also being great fun too.
What do I need to play Hedbanz?
Hedbanz is available in a game set which includes everything that you'll need to begin playing immediately.
This set from developers Spinmaster includes the hilarious headbands where the game gets its name from.
Our Pick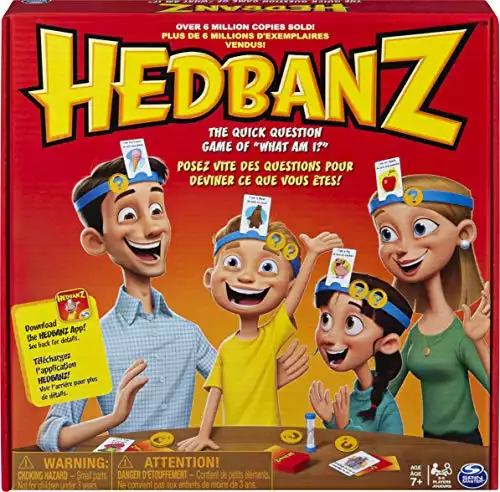 There's even an app that you can download as part of this set which can add to your friends and families enjoyment.
How to set up your game
Start the game with all participants putting on their fashionable headgear.
Give players a card face-down in front of them.
Participants should have three chips each as well to start with. Players place these chips in the 'bank' when they identify a card.
The game comes with some sample questions included to help players who may be stuck.
Hedbanz Rules and Gameplay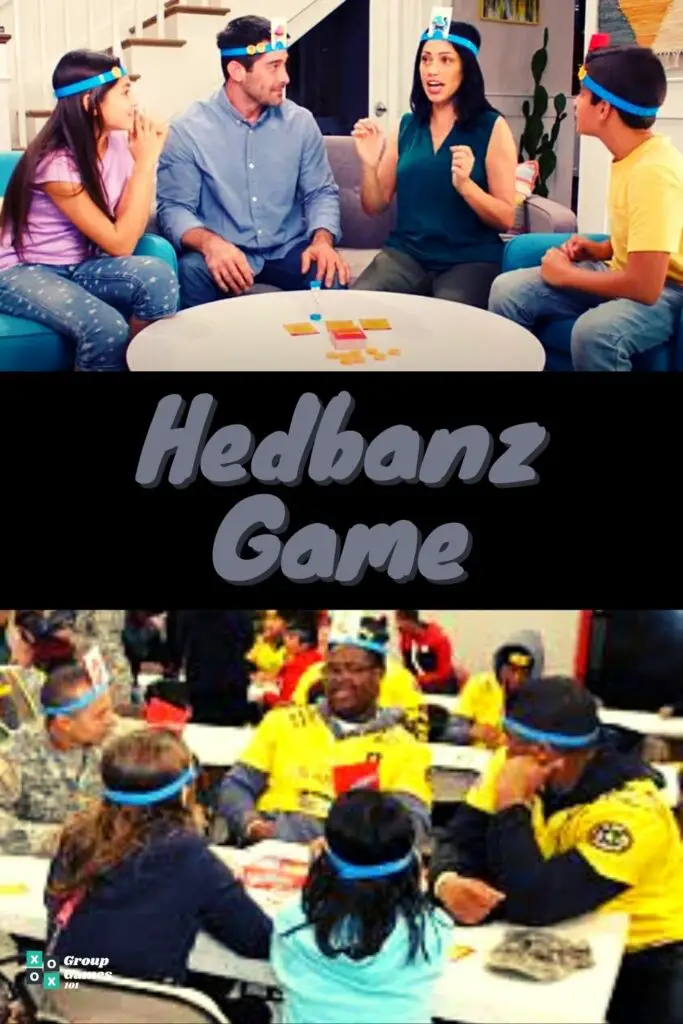 The rules of 'Hedbanz' are simple to follow and young children can easily pick up the gameplay.
Starting the game
All players wearing a headband place their facedown card in the slot at the front of their headgear.
It's very important that players do not peek at this card. It is their job to identify what is on the card by asking questions.
Place the rest of the deck of cards in the middle of the participants.
Start gameplay with the youngest player going first.
How to play Hedbanz?
Flip the included timer over once the player confirms they are ready to start asking questions.
With the youngest player starting the game, they will need to ask questions about what is on the card.
Once they've managed to correctly identify what is on the card, that player can pick another card from the deck without looking to ask questions on that.
This continues until the timer runs out which signifies the end of that player's turn.
If a card is correctly identified then the player who is correct places one of their chips into a designated area which is the 'bank'.
The first player who manages to get rid of their three-game chips is the winner.
Keeping Score in Hedbanz
Chips are a way to keep score whilst playing this version of Hedbanz.
Depending on how well participants do at guessing what's written on their card, gameplay can go by fairly quickly.
Use a pen and paper to tally up victories to decide who the winner is.
The chips are also optional for gameplay. Consider awarding players the card that they guess and tally up who has the most cards at the end of the game.
Frequently Asked Questions
What is an example of questions that players can ask while playing Hedbanz?
Players ask questions that depend on what is on the card.
Start simple with questions such as 'Am I an object?' or 'Am I a person?'. Then consider asking more specific questions as the game goes on.
Don't forget that the game set does come from sample questions for players who do get stuck.
What skills do players develop while playing Hedbanz?
To be successful at Hedbanz it requires players to be good at quick thinking as they are competing against a timer.
Some sets of Hedbanz have cards written in English and another language. This means you can use the game to help grasp foreign language skills also.
Alternative Games to Hedbanz
Hedbanz is a family-friendly game that covers a variety of different topics. This means that different skill levels and ages can partake and still enjoy the game.
Other games recommended for family fun include the Water Balloon Toss Game. This is an outdoor game that your kids will also love.
Another game that can aid in younger children with their development whilst also being tonnes of fun is Sequence for kids as well as Who am I? game.