This guide will show you how the Azul game rules work and everything that is entailed in this deeply layered game. Players will get to experience the ins and outs of crafting their very own designs.
Discover a game that is rich in culture and history. Giving you the sensation of building a glorious palace with an innovative, interactive board system. Collect various tiles of beautiful patterns to create your very own, winning temples. 
The game's full name is Azulejos, originating from its Portuguese craftsmanship. Azul hopes to gain the player's assistance in creating wonders that rival such a sight. Designing the walls of the Royal Palace of Evora. 
In this guide, an explanation will be given on the different sets that can be used, the standard rules, how it progresses and how to come out as the best Moorish designer in the world. Become awestruck as the beauty of Moors will be ingrained in the player's mind by playing a true game of arts and crafts. 
What is Azul?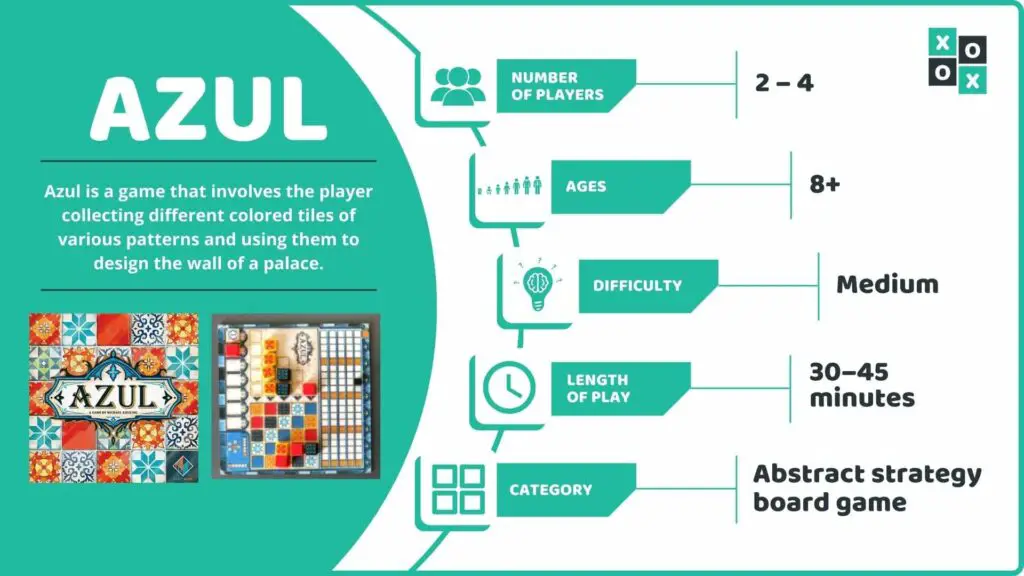 Azul is a game that involves the player collecting different colored tiles of various patterns and using them to design the wall of a palace. By fulfilling different rows on the wall, players will earn points based on how many rows they fill and what types of tiles they have used. The key is in the aesthetic. 
Number of players: 2 – 4 players
Ages: Suitable for children years 8 and over
Difficulty: Medium, with many rules to memorize for first timers. 
Main objective: To completely fill up their 5×5 grid and win the most points. 
Why we love it: The game involves careful planning and coordination. As well as an eye for style and aesthetic. Lovers of all thing's textile will find it especially enjoyable, discovering all the nice patterns and shapes that can create some pleasing walls fit for a king. 
Playing Azul: What You'll Need
When it comes to Azul, the game can be found in different variations that are accustomed to a different number of players. As an official branded board game, they can purchase these sets from trusted sources such as this one.
Our Pick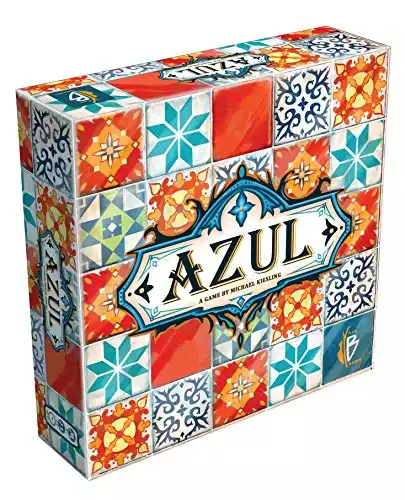 Here is a checklist of what you'll need to play the game of Azul:
Player Mats
Each player should be given a mat to place their tiles. They can use any type of mat, but it is recommended to use the 5×5 grids from the Azul set. 
Black cube
Every player should be given a black cube. This is used to keep scores on the scoring track. 
Circular mats
These will be used to keep the factory tiles. The amount depends on the number of players. 5 for 2 players, 7 for 3 players and 9 for 4 players. 
Tiles
A total of 100 tiles used for the grid. 20 of each pattern. 
Scoring track 
Used to keep a tally of the scores. This is where the black cube will be placed. 
First player marker
This is a square market which has the number 1 on it. Used to keep track of active players.
How to Play Azul: Setting Up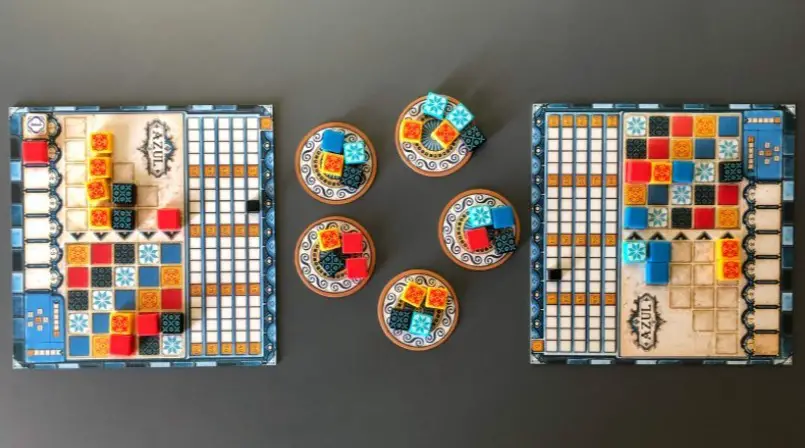 Once the players have all that they need, they can begin setting up their first game of Azul. The first matter will be to hand everything out. This includes their own player mat with a 5×5 grid, their black cube and scoring track to keep up with the tally. 
As for the tiles, the 100 will be placed into a plastic bag and shaken up to mix them together. Players will then choose four of these tiles and put them on their circular mats. These will be at random. The First player marker will then be placed to whoever is the first active player. 
Azul Rules and Gameplay 
Once everything is set up, you are ready to start playing. Below is a step by step guide on how to play Azul in its entirety. Follow the rules carefully and gain as many points as you can. 
The first active player will pay a visit to one of the factories, represented by the circular mats. The player will take all the tiles from that factory that are the same color. All the remaining tiles are then placed into the middle of the table, next to the first player marker. 
The player will then proceed to place the tiles on any of the horizontal rows of the 5×5 grid. The highlighted positions of the tiles will be in the shape of a staircase. The top line of the palace wall will have one space while the bottom line will have all five. If you are placing tiles on a row, they must be placed on only that one. They cannot be split into different rows even if you have more than one colored tile. 
If you pick up a tile of the same color on your next turn, you then have two options. You can place these colored tiles on a different row or place them on the same row as before. A singular line or row is only allowed to have one color on it. 
If you have any tiles that cannot be placed into any rows due to the rules above, these will be "dropped" at the end of your turn. In terms of the fantasy, you have basically smashed these tiles so they can no longer be used. These will be placed on the extra row below the grid, the ones that have minus numbers on them. 
If enough extra tiles are placed into the middle of the table, this will be classed as a factory and can be used as an extra stock on someone's turn. 
Once all tiles have been claimed or dropped, the round will end, and the scores will be calculated. If the player fills an entire line with a single-color tile, they will then move one tile across the wall to the end. If the row or line is only partially filled, nothing will happen, and they will remain to be filled in the next round. 
Scoring will be calculated based on the number of tiles placed on the grid. Each tile is worth one point. Move the black cube on the scoreboard to the number of points gained. Any dropped tiles that appear in the bottom row will be deducted from the total score. 
Azul will end once a player has successfully filled an entire tow with tiles. This is done by matching all the colored tiles so that each one is moved to fill all spaces, not just highlighted ones. A bonus of 10 points will be given to an entire row filled with one color. 
Hints and Tips
Azul will take some time getting used to, with the player constantly keeping track of how many tiles they have, what colors they need to use and to figure out how to beat the other players by making sure they have the tiles they need. 
It will be much easier to focus on one color at a time. This is the fastest way to fill up a row so that the player can start a new row full of color that much sooner. If they try filling up too many rows with colors too quickly, this will limit the options later in the game as they will be running out of colors to find to fill those last few spaces. This will result in more dropped tiles which means losing points. 
The middle factory that gets filled with spare tiles should be a last resort. A last-ditch effort to get the missing tiles out before the game ends with a player filling an entire row. 
Other Variations
You can find other games like Azul that work in a similar fashion, matching together colors and rows. Games like Qwixx use the same concept of matching different colored dice to a row by adding together numbers. This mixes math into the game as well, allowing for strategic thinking and number additions as well. 
Frequently Asked Questions
Who invented Azul?
The game was invented by Michael Kiesling in 2017. The name is based on the azulejos tiles used in Portuguese architecture. 
Has Azul won any awards? 
Azul has won a total of 8 awards including Golden Geek Best Family Game of the Year and the Best Family Game at Dice Tower Awards. 
Are there other games related to Azul?
Azul had a sequel after its release called Azul: Stained Glass of Sintra. This new addition adds clear tiles and two-sided window panes to create complex situations on the grid. 
Verdict of Azul
Azul is an inspiring game that is filled with an aesthetic not found in most board games. The touch of culture from Spain and Portugal bring you another world right onto your doorstep. The use of tiles and patterns make the game feel as though you are visiting another country. A clever board game that uses both tactics and artistry in a tapestry of color.
Other Similar Games to Azul (Our Guides)
If you enjoyed reading about Azul, take a look at these similar games: