If you're looking for a fun and simple game for preschoolers, Chutes and Ladders could be the perfect board game to try. This guide will explain all the Chutes and Ladders rules and instructions. 
Chutes and ladders takes no time at all to learn and can be enjoyed by children of all ages looking for fun indoor games to enjoy during a rainy day, as well as being a good choice for family game nights. 
There are so many things to like about this board game; it's simple to learn, quick to play, and people of all ages and abilities can enjoy it, making Chutes and Ladders one of the most inclusive games on the market. 
Read on to find out all you need to know about how to play Chutes and Ladders.
What is Chutes and Ladders?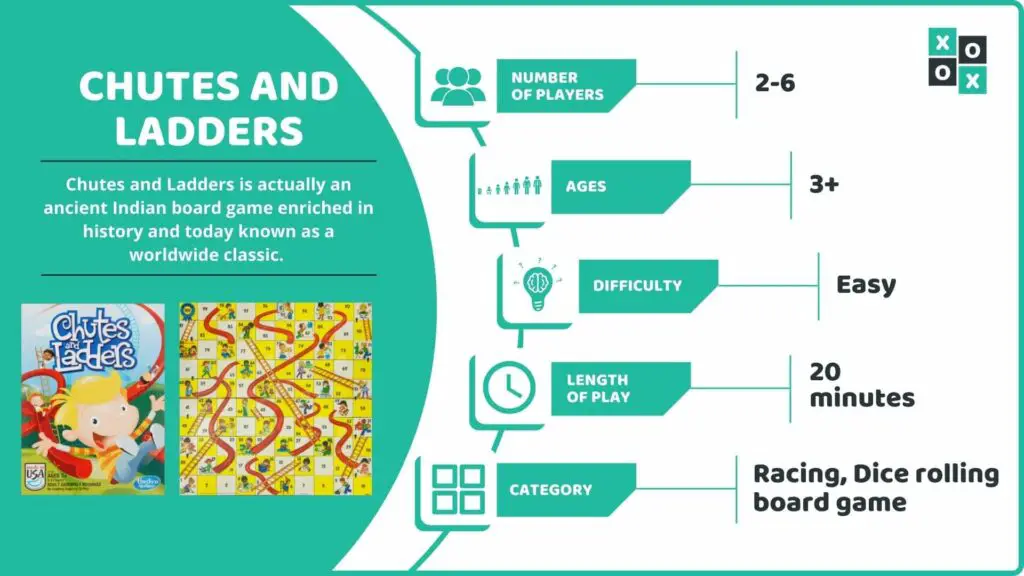 Chutes and Ladders is actually an ancient Indian board game enriched in history and today known as a worldwide classic. Chutes and Ladders is played on a game board and features gridded squares that are numbered. 
The game board has an equal number of chutes and ladders that players can land on and either move up or down the board depending on where they land – up for ladders and down for chutes. This makes it a game of chance, with no strategy or planning involved. 
However, Chutes and Ladders can be educational because counting, observation, patience, and sharing are all required skills that children can help develop during play. 
Number of Players: 2 to 6 players.
Ages: Recommended 3 Years and Over 
Difficulty: Easy
Length of Play: Around 20 Minutes 
Similar To: Candyland, Sequence for Kids, Trouble, Mousetrap
Main Objective: To get to the #100 square first.
Why We Love it: It's simple to learn and play and a great gateway into the world of board games for very young children. It teaches patience, turn-taking, counting, and observation and is a game of chance, so a gaming expert Dad has the same chance of winning as a newbie Tot.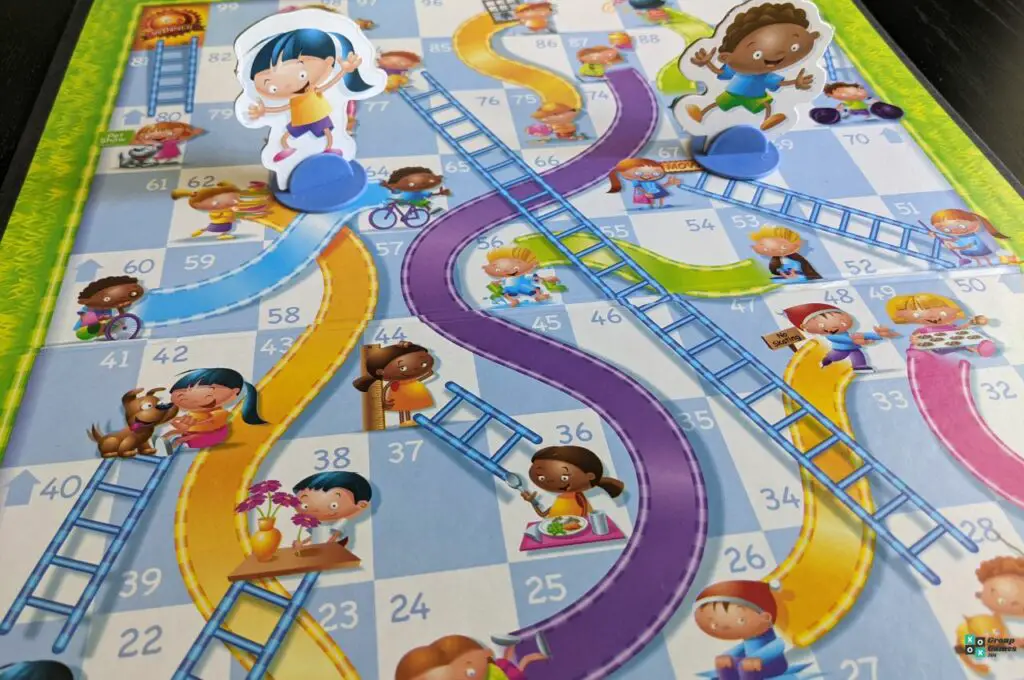 A Brief History of Chutes and Ladders
Chutes and Ladders originated in ancient India, where it was then called Moksha Patamu, or Mokshapat. It isn't known precisely who or where the game was invented, but it is estimated to have been around the second century BC. 
Chutes and Ladders began with a moral meaning for children, with the ladder squares standing for value and the then snake squares representing evil. The snake squares outnumbered the ladders in its beginning. 
Colonial rulers transported the game from India to England in the 19th century, with some modifications such as equalizing the number of snakes and ladders and stripping the game of its moral and religious aspects. 
In the US, Milton Bradley remodeled the game further and published it under the name of Chutes and Ladders in 1943. Today, there are many versions of the board game, such as Disney Princesses, Marvel Heroes, and children's favorites TV series. 
Chutes and ladders can be played using dice or a spinner. The Hasbro Gaming original game that we're reviewing is played with a spinner. 
What You'll Need to Play Chutes and Ladders 
Everything you need to play Chutes and Ladders is included in the box. 
Our Pick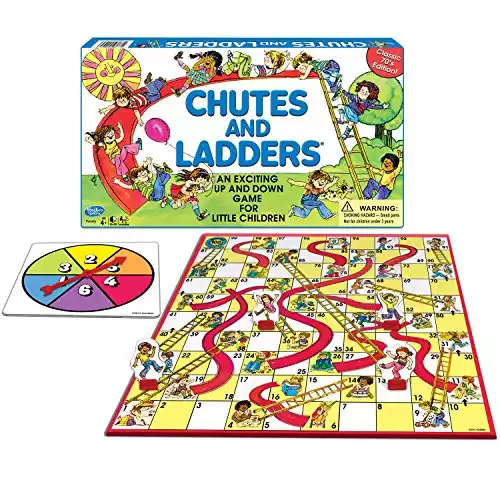 The box includes:
A Game Board 
A Colorful Spinner
4 Cardboard Characters (You can use other counters, or tokens, to add more players to the game)
How to Play Chutes and Ladders 
Layout the game board on the tabletop and give each player a character or token to represent them on the board. Each player then spins the spinner to see who goes first; if 2 players get the same number, then those 2 will spin again. 
Gameplay goes clockwise around the table, and each player begins on the number 1 square.
A player will spin the spinner on each turn to see how many spaces they move forward on the board. 
If a character lands on a grid at the bottom of a ladder, they will climb the ladder to the grid at the top of it. If a character lands on a grid at the top of a chute, they will slide down the chute to sit on the grid at the bottom of it.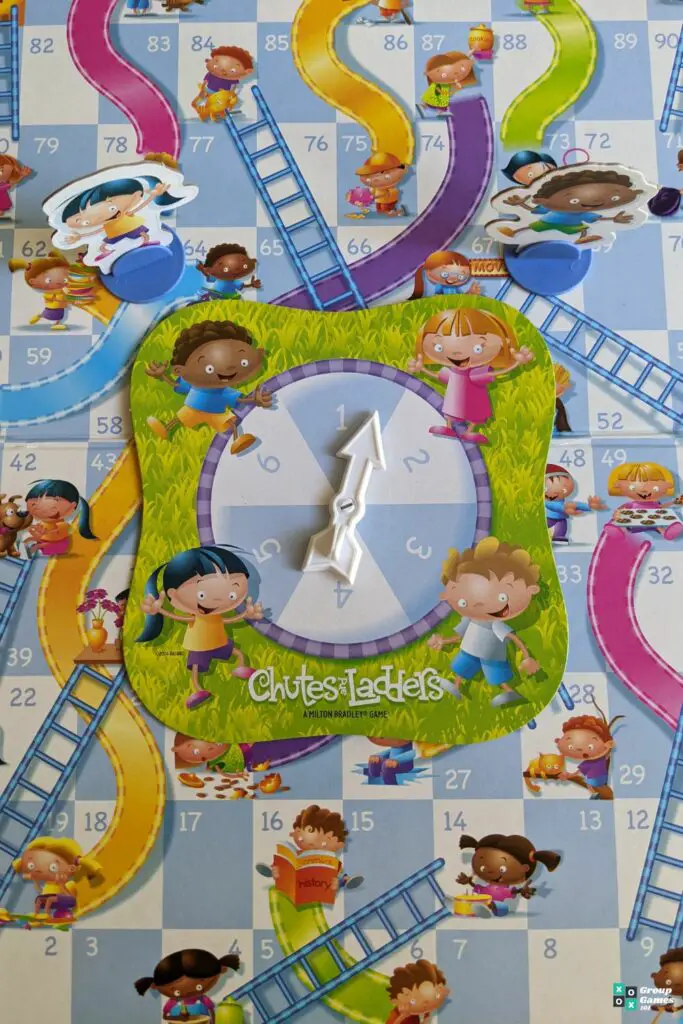 Chutes and Ladders Rules
Chutes and ladders is a straightforward game to play, with no real strategy in place. Everyone has the same chance to win, making this a game of luck. 
However, there are a few rules to follow, and these are:
#1 A player only gets one spin of the spinner per go 
#2 Gameplay is clockwise around the board 
#3 If your turn takes you past #100, you must wait to get it exactly and try again on your next go. 
The rules above are the standard rules for Chutes and Ladders; however, many families tweak the rules a little, such as ignoring rule 3 and letting the winner be the player who passes #100. 
Frequently Asked Questions
Can Children Under 3 Play Chutes and Ladders?
Chutes and Ladders is an excellent game for preschool children, and as long as children have the attention span to sit around a table and can wait for their turn, almost any age group can play this game. 
It would be beneficial if children knew their colors and how to count, but this isn't essential under parental guidance and a great way to help teach these things. 
Is Chutes and Ladders One of The Oldest Board Games in the World?
Although old, Chutes and Ladders don't even make it into the top 10 oldest board games we play today. These games include the highly popular Mahjong, Checkers, Kubb, and Chess. 
Can You Play Chutes and Ladders Online?
There are many free downloads and paid-for versions of Chutes and Ladders online. However, with the premise being family interaction, this is sidelined with an online solo game. 
Alternative Games to Chutes and Ladders
Another game that focuses on spinning and moving across a board is The Very Hungry Caterpillar. This is a firm favorite of many kindergartens as it helps to teach the alphabet, observation skills, and with its highly illustrated board, there are nice visuals to help with engagement. 
The Ladybug Game is an award-winning board game, very similar to Chutes and Ladders. Players have to help their ladybugs find their way home, ensuring they stay clear of the praying mantis. This game helps with counting and reading skills and is great fun to play. 
Learn how to play Candyland if you're not sure whether Chutes and Ladders is the game for you. Candyland is a super-fun game where children can learn color recognition and have the same chance as every other player of being the winner!