Do you have a kid at home? Zingo is an ideal game for early readers that is not only fun but informative.
Zingo is a pair matching game inspired by Bingo which Thinkfun first published in 2002. While made for tiny tots, you'll love to play it no matter what your age is.
To win, can you match the card with the tile quickly?
What is Zingo?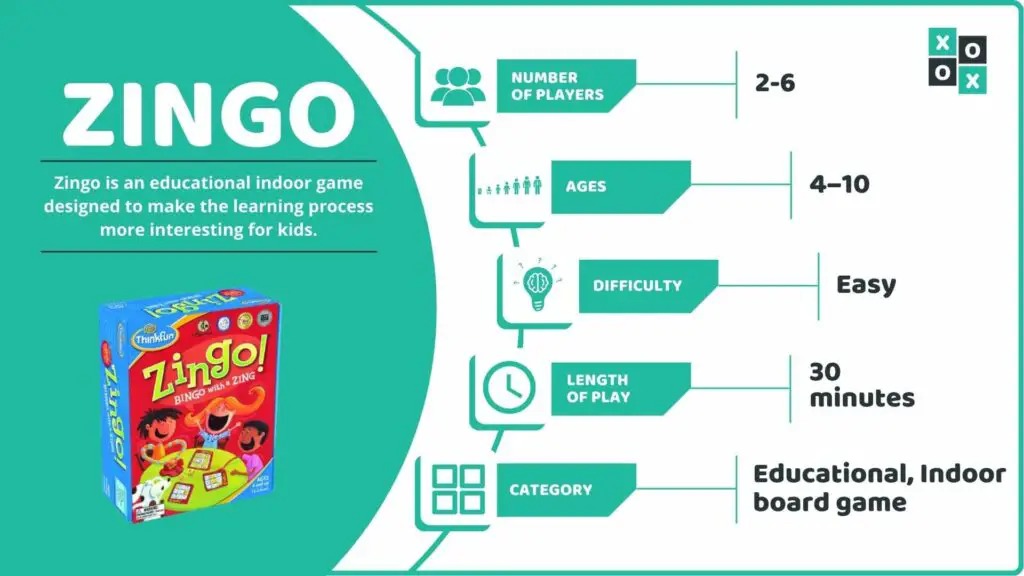 Zingo! is an educational game for kids that will encourage them to learn new words quickly.
An award-winning game that is best suited for kids above three years of age.
Middle-aged and older people can also enjoy this game at family gatherings. Though the game is meant for kids, adults will get a kick out of this game as well.
Fill up your Zingo before everyone else to win the game!
Number of Players: 2 to 6
Ages:  4 – 10
Length: 30 minutes 
Difficulty: Easy
Similar to: Bingo and Connect 4
Main Objective: Try to match your card with the Zinger tiles and fill up your Zingo before others. 
We Love It: Zingo is an educational indoor game designed to make the learning process more interesting for kids.
What You'll Need to Play Zingo
To play Zingo, you will need a Zingo game set, a few players and some vacant area to set up the game components. You may also want an instructions book to check the rules of the game.
For better gameplay, grab the Zingo Game Set by Thinkfun.
This kit includes:
6 double-sided Zingo cards
72 double-sided Zinger Tiles
Zingo! Zinger
Guidebook#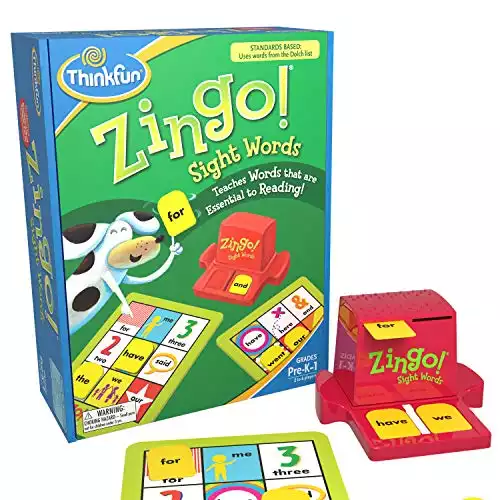 Zingo Game
Buy Now
We earn a commission if you click this link and make a purchase at no additional cost to you.
01/30/2023 10:54 am GMT
Game Setup
Setting up Zingo is a simple process. First, keep the rules book handy, and scatter all the tiles on a plane surface.
Then, put all the tiles into Zinger and divide them into a pair of equal piles.
Next, make sure all the players can get a clear view of the Zingo Zinger before starting a game.
Each player will pick up a Zingo card. Ensure that all the players have the same side of the card facing up.
The side of the cards will determine the level of the game.
The green side represents the basic level of play. Kids will be more comfortable on this level.
The opposite or red side indicates a harder level of play, which involves more images and runs faster than the other.
How to Play Zingo?
It would be best to choose a dealer before starting the game whose role is to operate the Zingo Zinger. Or else, players can decide to operate the Zinger themselves.
Whoever operates the Zinger has to slide it forward and back so that two tiles are revealed.
Once you recognize a tile that matched any of your Zingo cards, you shall shout out the name of the image on your matching card. Then you must take the tile and cover the image on your card with it.
Now, the dealer will take the unclaimed tile and load it back into the Zinger.
Zingo Scoring and Winning the Game
Zingo does not have a scoring system. Here, your objective is to cover all the images on your card. When you can spot a tile with an image the same as one of your cards, you can claim that tile. Use it to cover the matching picture. You are now one step closer to victory.
The first player to cover all the images with matching tiles wins the game!
How to Play Zingo – Video Tutorial
Frequently Asked Questions About Zingo
Can we play Zingo in teams?
There is no point in having teams for playing Zingo as there will be an individual winner.
Is Zingo fun for adults?
Yes, Zingo is an exciting game for adults as well. We recommend playing with the red side of the cards for adults. That way, Zingo will be more challenging and fun.
Is there any strategy to fill up Zingo cards faster?
There is no such strategy that will help you to match tiles with an image on your card. You shall concentrate on the Zinger so that you do not miss a matching tile when it appears.
Similar Games to Zingo
There are so many indoor group games for kids that will help kick-start their learning process engagingly.
If you have played and enjoyed Zingo, no doubt that you will love Bingo as well, launched by the same publisher. In fact, your favorite Zingo is inspired by this game.
You might also like to play Goat Lord. It is a unique board game that will require you to outsmart your opponent. Be the first one to collect 1000 goat points by developing the largest herd.
Want to know about more games for young kids that will help them to learn and play? Check out our collection of group games for preschoolers.