Hi-Ho! Cherry-O is the perfect game for kindergarten kids to spend countless hours of fun and joy. 
Cherry-O is a popular and exciting board game for elementary kids. The game, designed by Herman Wernhame, is currently published by Hasbro. And it's pretty old, too – being released in 1960 by Whitman Publishers for the first time.
Similar games, like the Mastermind Game, are also quite popular among tiny tots. 
In this game, you can have as little as two or as many as four players taking a spinner and then spin it to collect cherries from their tree.
What is Hi-Ho! Cherry-O?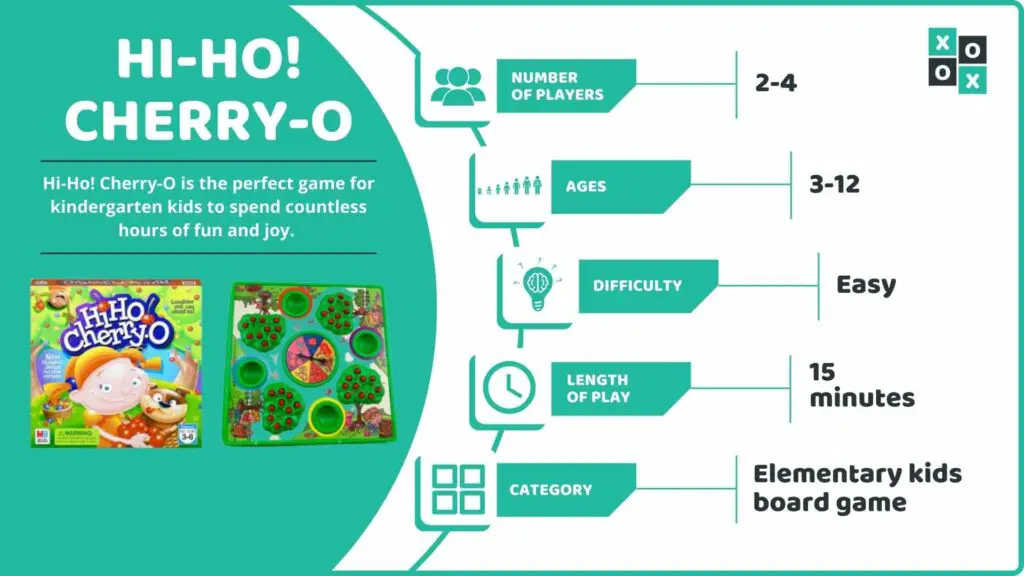 Hi-Ho! Cherry-O is an elementary kids' board game that helps them to learn counting and turn-taking. Two to three players spin a central spinner one-by-one to pick cherries from their tree and fill them into their buckets.
Hi-Ho! Cherry-O rules are simple and easy to remember.
Fill a bucket with ten cherries, then shout Hi-ho! Cherry-O to win the game!
Number of Players: 2 to 4
Ages:  3 – 12
Length: 15 minutes 
Difficulty: Easy
Similar to: First Orchard, Diggity Dog and Mastermind Game
Main Objective: Try to collect ten cherries to fill your bucket 
We Love It: It is a light strategy game for toddlers that helps them learn counting while playing an interesting game.
What You'll Need to Play Hi-Ho! Cherry-O
Cherry-O does not require too much equipment. You will need a game board with a spinner attached to it, four different-colored buckets, and 40 cherries.
You may grab the Hi-Ho! Cherry-O Game Set, which includes all the components you will need to play:
1 plastic game board with four trees and four buckets.
44 plastic cherries (only 40 are used in a game).
Fully assembled spinner.
Guidebook with illustrated instructions.
Gather the players and game components and start playing.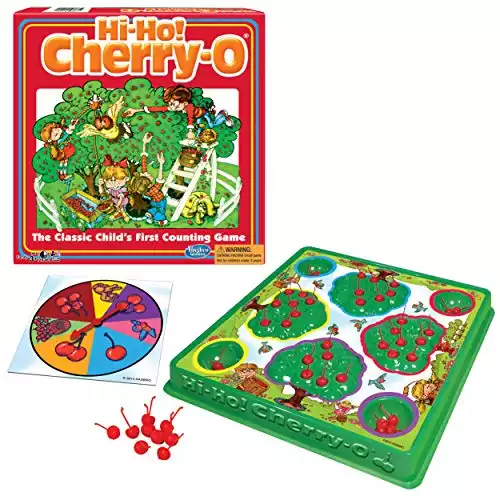 Game Setup
The game setup cannot be any easier. You will need to follow some simple steps to set up a Hi-Ho! Cherry-O game.
Carefully assemble the central spinner according to the steps given below: 
You have to break out the arrow and spinner base.
Insert the base through the hole. 
Snap the arrow and spinner base together. 
Next, each player will choose a tree for themselves and put ten cherries on it.
Now, you are ready to start a game of Hi-Ho! Cherry-O.
Hi-Ho! Cherry-O Rules and Gameplay Instructions
Gameplay
The player who is the youngest starts the game by spinning the central spinner. The round will move in a clockwise direction.
Players will have to pick cherries from the tree or put them back on it after seeing the spin result.
There are six possible results of the spin, which are as follows:
If the arrow stops at one 1-cherry, you can pluck one piece to put in the bucket.
Similarly, for 2- cherry, you can take two pieces.
The same goes for 3 and 4-cherries.
Another possible result is Dog or Bird, which makes you put two cherries back on the tree.
The last is Spilled-bucket which would require the player to empty their buckets and put all the cherries back on the tree.
Depending on which option the arrow has stopped, the player has to count and place cherries appropriately.
Final Scoring and Winning the Game
In Cherry-O, scores are determined by how many cherries there are in each players' bucket, and one cherry has one point. Each player will have to earn 10 points by filling the bucket with cherries.
Players try to score one to four cherries; otherwise, they will be at a disadvantage if they have to put their cherries back on the tree.
The first player to score 10 points that fill their bucket with ten cherries shouts Hi-Ho! Cherry-O to win the game!
Frequently Asked Questions About Hi-Ho! Cherry-O
Can we play Hi-Ho! Cherry-O with more than four players?
No, the game board comes with four trees and buckets that is ideal for as many as four players.
Can we use more than forty cherries to make Hi-Ho! Cherry-O more fun?
There are four trees on the gameboard with a capacity of ten cherries each. So you cannot put more than forty cherries on the trees.
How can we avoid spilled-bucket in Hi-ho! Cherry-o?
You cannot really help it. The result of a spin can be any of the provided options. 
Other Games like Hi-Ho! Cherry-O
People who have enjoyed playing Cherry-O are recommended to play Mastermind Game. They are quite similar in nature and also meant for the same age group. You may also enjoy games like Ludo (check out the Ludo Game rules), The Sneaky Snacky Squirrel and Trouble.
Otherwise, don't forget to check out the latest collection of indoor games for more exciting gaming ideas.