Break up the monotony of your usual party game by playing the game that has it all: Cranium! Trivia, acting, drawing, and word puzzles are just a few challenges the game offers. Learn more by reading these Cranium rules!
Cranium was developed while the creator was on vacation with his friends and family. They wanted to play a party game, but everyone wanted to play something different. That gave him the brilliant idea to form a game that will satisfy everyone's interests!
By combining popular games like Pictionary, Charades, Trivial Pursuit, and Scrabble, Cranium was born and has been a worldwide success since then!
This Cranium rules guide will cover the following:
What is Cranium
What you'll need to play Cranium
Cranium rules
How to win Cranium
FAQs
Similar game guides
Find out how to play Cranium by reading more below!
What is Cranium?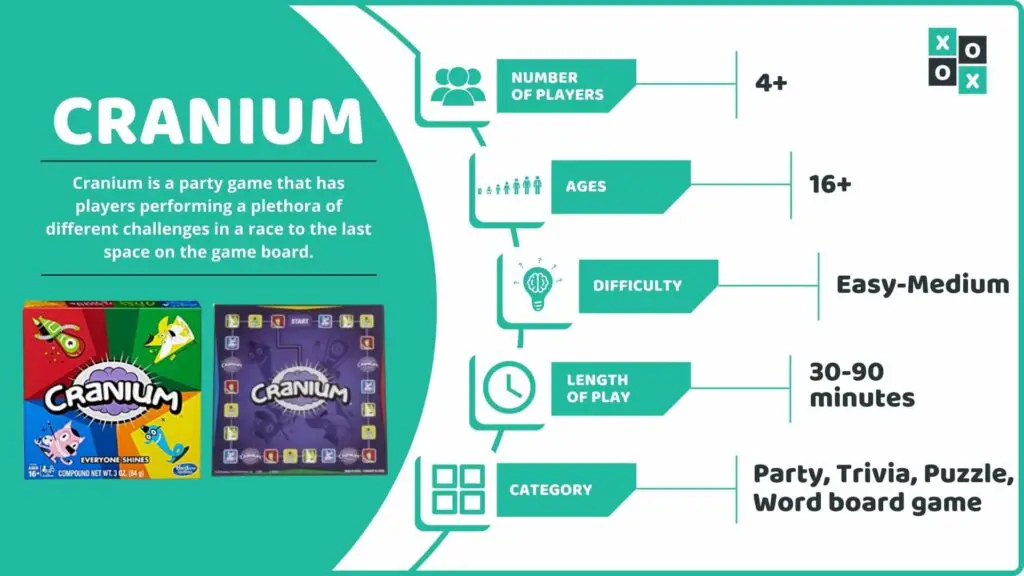 Cranium is a party game that has players performing a plethora of different challenges in a race to the last space on the game board.
Number of players: 4+
Ages: 16+
Difficulty: Easy-medium
Length of play: 30-90min
Category: Board, party, trivia, puzzle, word
Similar to: Guesstures, Trivial Pursuit, Pictionary
Main Objective: Be the first team to land on the big purple cranium space and resolve a card correctly.
Why We Love It: We love that it allows players to show their strengths in different categories rather than just one!
What You'll Need to Play Cranium
Everything you need to play Cranium can be found in the box:
Our Pick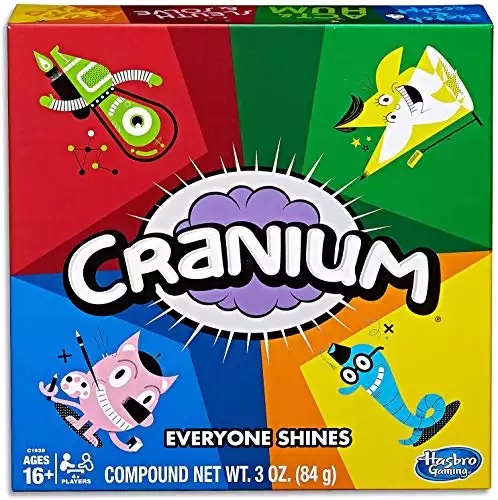 Cranium Game
Buy Now
We earn a commission if you click this link and make a purchase at no additional cost to you.
11/15/2023 12:52 am GMT
Each game contains the following components:
600 Cards
4 Movers
Cranium clay
Timer
Die
Notepad
Gameboard
Instructions
Cranium Rules
Game Setup
Decide how many teams you will be playing with. There must be at least 2 players per team.
Place the gameboard on the table. Place all 4 decks of cards around the gameboard next to their matching colored section. Provide each team with their own pad of paper and a writing utensil.
Each team chooses a colored mover and places it on the "start" space on the gameboard.
You are now ready to start a game of Cranium!
How to Play Cranium
During a game of Cranium, teams will take turns performing tasks provided by the card that is picked up on their turn. Please note that teams roll the die at the end of their turn only.
The team who has the player with the nearest upcoming birthday goes first.
The "Start" space is considered a purple cranium space. These spaces allow players to choose which colored card they would like to resolve. All other spaces are colored and require you to pick up that colored card if your team is located on that space.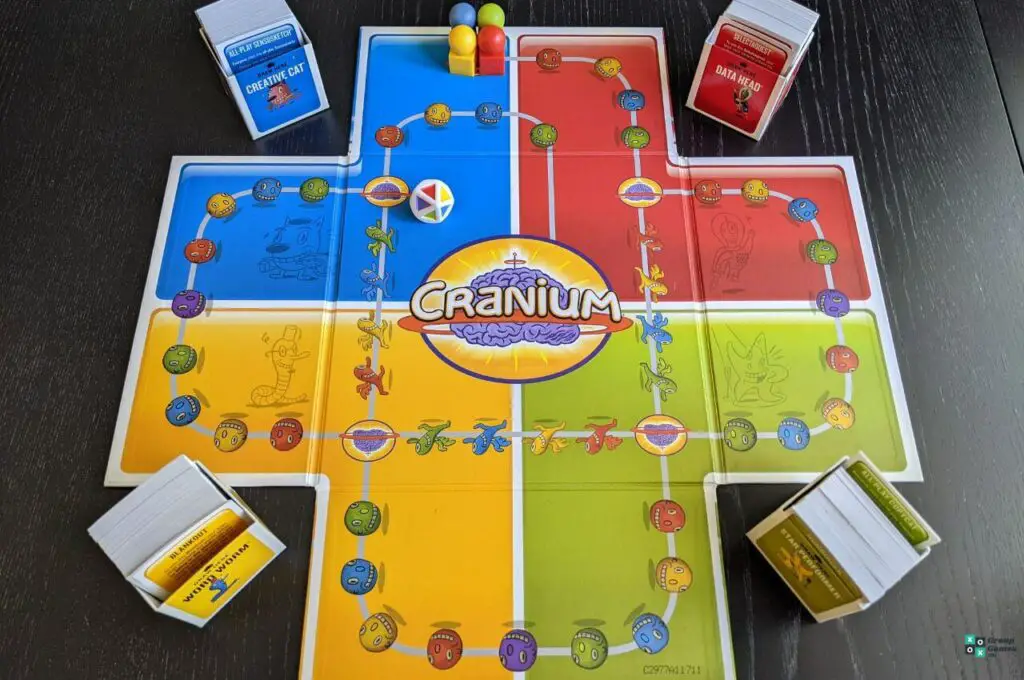 When a team needs a card on their turn, the team to their right will draw the card for them and read it aloud. They will then start the timer, and the team must complete the card before the timer runs out.
NOTE: Answers are found on the back of the card. Make sure that your hand is covering the answer when reading a card, so the other team doesn't see it!
After a team correctly resolves a card, they roll the die and move to the next available space matching the die color that was rolled. If they roll purple, they automatically move to the next available purple cranium space on the track.
If they fail to resolve a card, they will not roll the die and remain in their current space. On their next turn, they will pick up a card matching the colored space they are on.
NOTE: Teams must stop at ALL purple cranium spaces they come across on the track, even if your roll would take you further. 
On purple cranium spaces, teams get to choose which color card they would like to perform. If they resolve the card correctly on the first try, they can move along the "fast track" when they roll the die.
If they fail their first attempt at resolving a card, they must stay in this space until their next turn. Then, when they roll the die, they must move along the regular track, also known as the "scenic route".
NOTE: There are two popular versions of Cranium: One contains a gameboard with both a fast and scenic route, but the newer version contains only one regular track. These rules can be applied to both games, minus the fast track.
Whichever team gets their mover to the large purple cranium space at the end of the track and correctly resolves a card before the other team wins the game!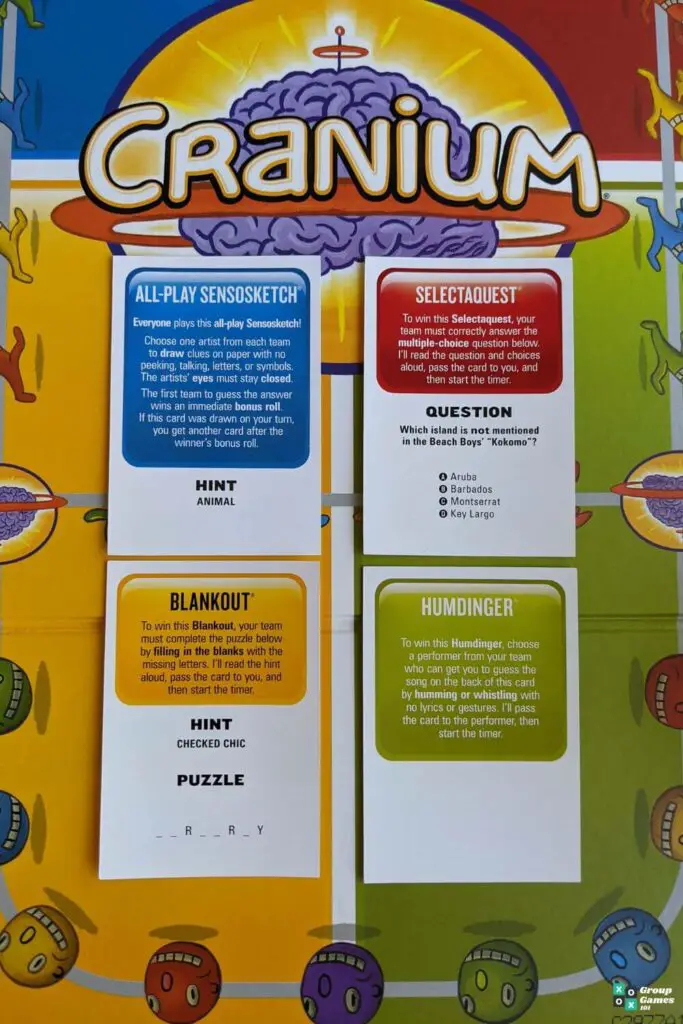 Here are the different card categories you can choose from while playing Cranium:
Blue/Creative Cat: Sculpting and drawing
Yellow/Word Worm: Spelling and word puzzles
Green/Star Performer: Acting and humming
Orange/Data Head: Trivia and questions
All Play Cards: If an All Play card is drawn, the game pauses, and ALL teams are required to compete against each other. The team who wins this card gets a bonus roll and can move on the track.
Then, the game continues where it left off. The team who drew the All Play card picks up another card and continues their turn.
NOTE: This card does not affect a team's chance of moving down the fast track if they failed to resolve this card.
How to Win Cranium
Be the first team to arrive at the large purple cranium space at the end of the track AND resolve a card correctly before the timer runs out. You are allowed to pick any card category since you are on a purple cranium space.
If you do not resolve a card on your first try, you can try again on your next turn. 
Video Tutorial for Cranium
Frequently Asked Questions
How long does it take to play Cranium?
Depending on which version you have, you may be able to adjust your board to determine how long you would like a game to last. Some boards can convert into 3 different sizes that offer game durations of 30min, 60min, or 90min sessions.
What is the easiest card category in Cranium?
This differs per team! Some players may have more success in categories that involve acting or drawing, while others may show strength in the categories with word puzzles and trivia.
Can you play Cranium with an odd number of players?
Yes. One team will have an extra player. You can decide which team gets this extra player or choose at random.
Other Similar Games to Cranium (Our Guides)
If you enjoyed reading this guide on Cranium, check out these other similar game guides (if we have covered them):
Cranium Dark rules (coming soon)
Wits and Wagers rules (coming soon)
Hoopla rules (coming soon)