This is an easy to follow guide on how to play Qwixx. A unique and interactive game that involves numbers, puzzle solving and some colorful dice. Compete against your family and friends to show off your serious math power. 
Introducing the game Qwixx
Qwixx is all about mixing together numbers and colors in a fun, score-based challenge. A touch of mathematical addition will help you get the hang of it in no time. 
Qwixx is often known by its full name, Qwixx Gemixxt, or from other alterations Qwantum. It also can be called by its original German name, Nürnberger. But Qwixx certainly has that snappier ring to it.  
Below is our guide on how to play Qwixx and all the dice rolling entertainment that comes with it. 
What is Qwixx?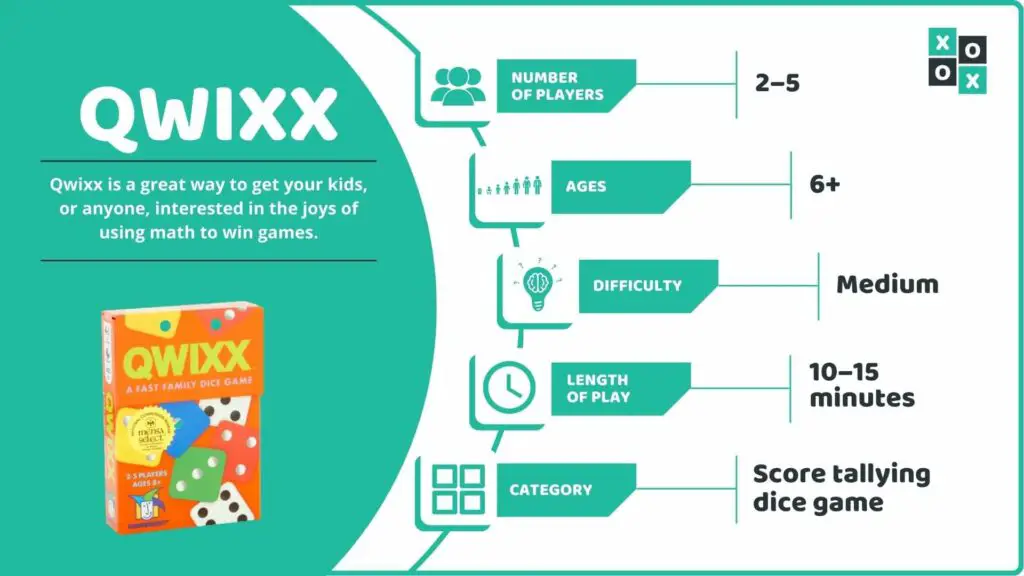 Qwixx is a basic score tallying game where an active player rolls the dice, and you must cross off a number on your board. You must start from left to right and can't go backwards either. You can also choose two different combinations of dice to find your number to cross out. If you can't cross a number, you're one step closer to being thrown out of the game. 
Number of Players: 2 – 5 players
Ages: Children and adults
Difficulty: Medium difficulty with different problem-solving skills
Length of Play: 10 – 15 mins
Main Objective: To have the most points tallied from the number of crosses on your score board. Penalties get reduced points. 
Why we love it: Qwixx is a great way to get your kids, or anyone, interested in the joys of using math to win games. It involves quick thinking, strategic placements and creative solutions. It also has fun-colored dice to use and score boards to stimulate a child's mind. 
Playing Qwixx: What You'll Need
Most Qwixx games will come in packages of what you will need in order to start playing. A highly rated set can be found on Amazon here.
Our Pick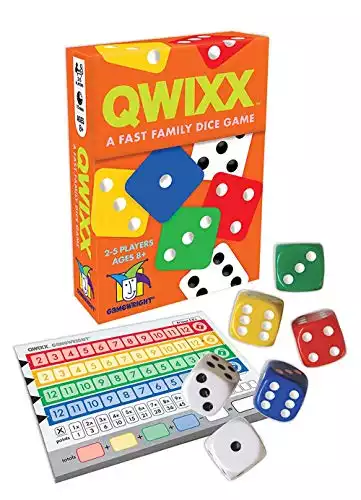 Nevertheless, here is a quick checklist of what you'll need to play Qwixx:
Six Dice (four colored – two white)
Make sure you have six dice with you. Four of them must match the colors on the scoreboard while the remaining two are completely white. 
Scoreboards/Tally Sheets
A scoreboard with four rows of numbers between one and ten. The four must each be different colors, matching the color of the die. A penalty box is also located below. 
Removable marker
A pen/marker which you can use to mark the board. Must be able to remove the marker for next games. 
How to Play Qwixx – Video Tutorial
Setting Up
The first thing you must do is hand out a board to each player in the game. They must each have their own board as well as markers to write on them. The active player is the one who is given the dice. This is decided by having every player roll a dice and the one who lands highest is first to go. 
Qwixx Rules and Gameplay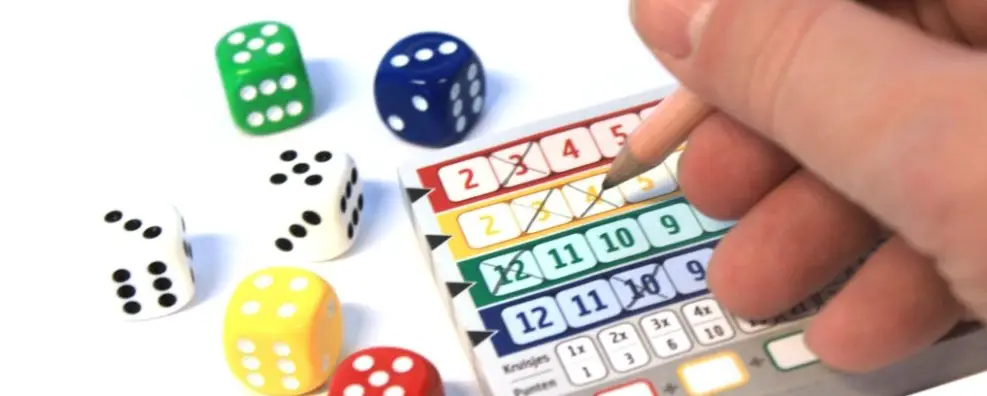 Here is the step-by-step guide on how the game progresses and what you need to do in order to win:
The active player (one chosen by the dice roll) will roll the six die in front of the players. One they have been rolled; the active player can choose two options. 
They can add up the two white dice and announce the number out loud to the players, or they can add up one white die and any one of the colored dice and announce that number. 
The players will then cross out the number that is announced on any row of their board, including the active player. If the active player announces a number from a colored-white die addition, then the players must cross out that number on the colored row that matches the color of the die chosen. 
Players can only cross out numbers from left to right. They cannot cross out a number that comes before a number that is already crossed. For example, if the number 5 is crossed out, then they can no longer cross out any number to the left of it, even if that number has been announced. 
A penalty is issued to the player if they are unable to cross out a number after the announcement. 
Once all the players have checked and crossed their boards, the player next will be the new active player and re-roll the dice. Proceed with the same rules above. 
A special number is located next to the row separate from it. This is known as the lock number. Red and Yellow rows have the number 12 while green and blue rows have the number 2. This number will only be available to cross once they have crossed five different numbers on that row. Once the lock symbol has been crossed by a player, the die that matches the color of that row will be removed from the game. 
The game itself will come to an end once a player has received four penalties or at least two dice have been removed from lock symbols. 
Qwixx Scoring, Tallying and Winning
Once the game ends, the results from everyone's board will be tallied up. The scoring results are located on the ScoreBoard below the colored rows. Scores will be added together accordingly on every row. Then the score on every row will be added together. 
If you have received a penalty, this will be a minus five points from your score for every penalty.
Whoever has the highest score will be crowned the winner of the Qwixx game. 
Alternative Games to Qwixx
If you enjoy games that involve collecting colors and items to score points, then you will love Azul. Another game where instead rows of numbers, its rows of patterns. The more colored tiles you earn on a row, the more points you get. You will also lose points if you don't use the tiles, just like with the numbers in Qwixx. 
Frequently Asked Questions
What is the most helpful tip?
The active player gets to choose which dice to add up. This can give you an advantage on which number you want to cross out and which number will most likely give another player a penalty. 
Who created Qwixx?
Qwixx was invented by Steffen Benndorf, in 2012. He is a famous dice and card game author who has created both Qwixx and "The Game". Both were nominated for the Game of the Year Jury Prize. 
What if the Qwixx package I bought doesn't have enough scoreboards?
Qwixx packages come in different variations and will naturally have different numbers of scoreboards. When purchasing a Qwixx set, make sure to pay attention to the contents of the package to see if it has enough. 
Verdict of Qwixx
Qwixx is certainly a game that has been put a great amount of thought into. It provides a lot of rules but easy to follow once you get into the rhythm of it. It also involves a lot of calculations on your end, pushing the player to use math to maximize your point gain. Throw is some RNG elements with the luck of the die and you have a game that is full of surprises.