If you have young kids just starting to play games, be sure to look at the Eye Found It card game, a colorful game that is perfect as a starting point for kids.
The gameplay is simple for kids to understand but is also quick to play, so it is ideal for those moments where you need a group game for pre-schoolers or an indoor group game for kids to play.
So take a look at the Eye Found It card game instructions to learn all about this kids card game, including set-up and the fundamental rules.
What Is Eye Found It?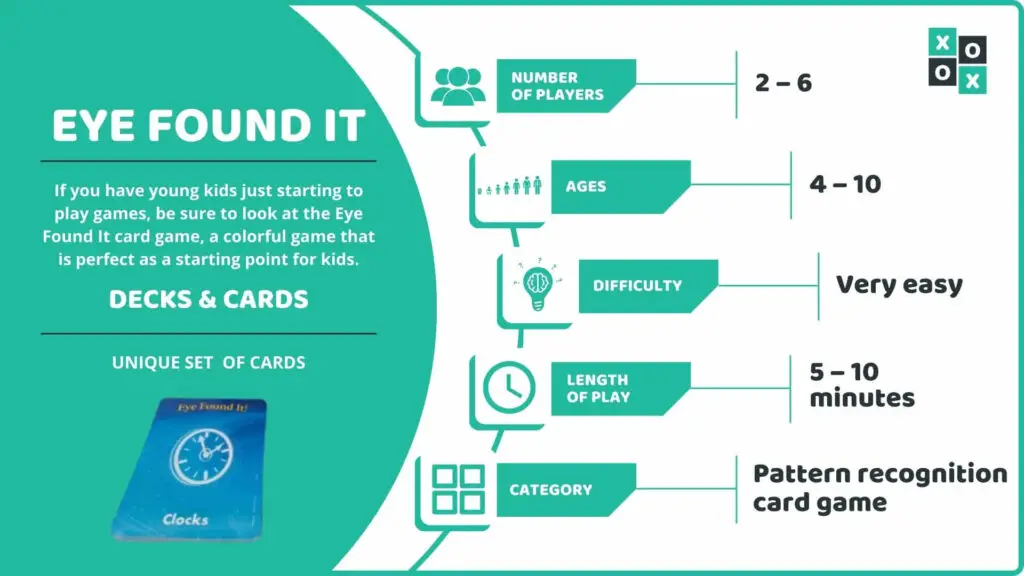 Eye Found It is a competitive pattern recognition game designed especially for younger kids, and as there is no reading involved, even kids below reading age can join in.
Using bright colors like the Candyland board game so that it is pleasing to look at, Eye Found It aids kid's concentration levels like other games such as Memory.
Number of Players Required: 2 – 6 players recommended.
Who Can Play It: Kids ages between 4 – 10 will enjoy this game.
Difficulty: Very easy.
Length of Play: 5 – 10 minutes.
Similar to: Sequence for kids; Memory; Scavenger hunt; I Spy Travel
Main Objective: Become the first player to get rid of all their cards by finding the items displayed on the cards.
Why we love it: If you're able to find a suitable card game for your kids, then you would agree that they are a great way to aid their developing young minds. We believe that Eye Found It is one such game while also being a lot of fun. 
Playing Eye Found It – What You'll Need.
The Eye Found It card game has everything you need in a handy pack making it ideal for travel.
Most kids enjoy Disney, so an Eye Found It card game pack featuring Disney characters is an excellent choice to make as it features easily recognizable characters.
The set includes:
12 location cards.
45 object cards. 
Also, be sure that you have a 1-minute timer to hand as well.
Our Pick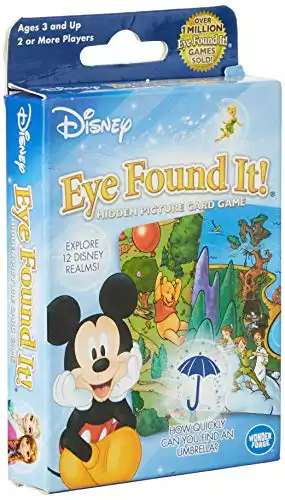 How To Set Up Eye Found It
There is barely (or barely if you're looking at the 100 acres wood card!) any setup needed, meaning that kids can set the game up by themselves if required.
Simply shuffle the object cards and deal out 5 object cards to players, pick a location card, and you are all set to go.
Place the remaining object cards in a draw pile, scene side up.
Eye Found It Rules and Gameplay
The Eye Found It card game instructions are like the setup as they are minimal and straightforward to follow. Make sure that your children are aware of the rules before playing.
Starting the Game
Decide on the fairest way on who gets to start the game, do this by picking the youngest player or who has their birthday next.
How to play Eye Found It
Each player has 1 minute to find what is on their cards; once the picture has been located, the player puts their card into a discard pile.
After 1 minute, the player's turn ends, and the next player in the circle then has their turn to attempt to get rid of their cards.
The first player who can get rid of all 5 of their cards wins the game.
Scoring In Eye Found It
There is a version of the Eye Found It card game instructions that make use of a scoring system.
Follow the same rules to the game; only use all of the cards, including the 5 dealt at the game's beginning.
Once a player finds an object in the time limit, they place that card into a discard pile and gain a point.
Ensure that players always have 5 at least cards in their hands until the draw pile gets used.
Count the scores up at the end of the game by counting each player's discard piles. The player with the most discarded cards winning the game.
Frequently Asked Questions
Are there any other Eye Found It card game instructions that you can adjust?
Tailor the game to how your kids like to play games; for example, you can turn it into a cooperative game instead of a competitive match.
With such straightforward rules, then it's easy to adjust the instructions as you see fit.
Alternative games to Eye Found It.
Hopefully, if you do decide to introduce your kids to Eye Found It, they'll see that the game is fun and easy, and they can play pretty much at any time.
Are you looking for another card game suggestion for your kids? Then learn how to play Garbage for a game using a standard deck that is slightly more difficult.
For board games designed especially for kids, check out the Trouble rules and the Pop the Pig rules for examples of games that children are sure to enjoy.
Also, be sure to have a look at games that kids play outdoors. The Stuck in the Mud game is a great way to ensure that children get some exercise while laughing as they do as well.