Relative Insanity is a hilarious party game developed by comedian Jeff Foxworthy. It is wild and cheeky, so it is best to be enjoyed only with adult opponents. This Relative Insanity rules guide will teach you how it's played.
I am a great fan of classic card games. So whenever I get to choose the activity for the evening, I certainly pick something intriguing and complex like Canasta or Pinochle (check our Canasta rules or Pinochle rules if you're not familiar with these games yet.)
Nevertheless, I've learned to accept that not everyone is as enthusiastic about challenging games as I am. So, to accommodate my friends and relatives who prefer simpler fun, I've gathered a collection of undemanding party games – including Relative Insanity.
What is this game about? Your goal will be to suggest a funny punchline for the given setup. Forget about strategies and tactics – you only need your sense of humor here!
This Relative Insanity rules guide will cover the following: 
What is Relative Insanity
What you'll need to play Relative Insanity
Relative Insanity rules
How to play Relative Insanity (video tutorial)
FAQs
Other similar games to Relative Insanity (our guides)
If you want to learn how to play Relative Insanity, read on for step-by-step instructions.
What is Relative Insanity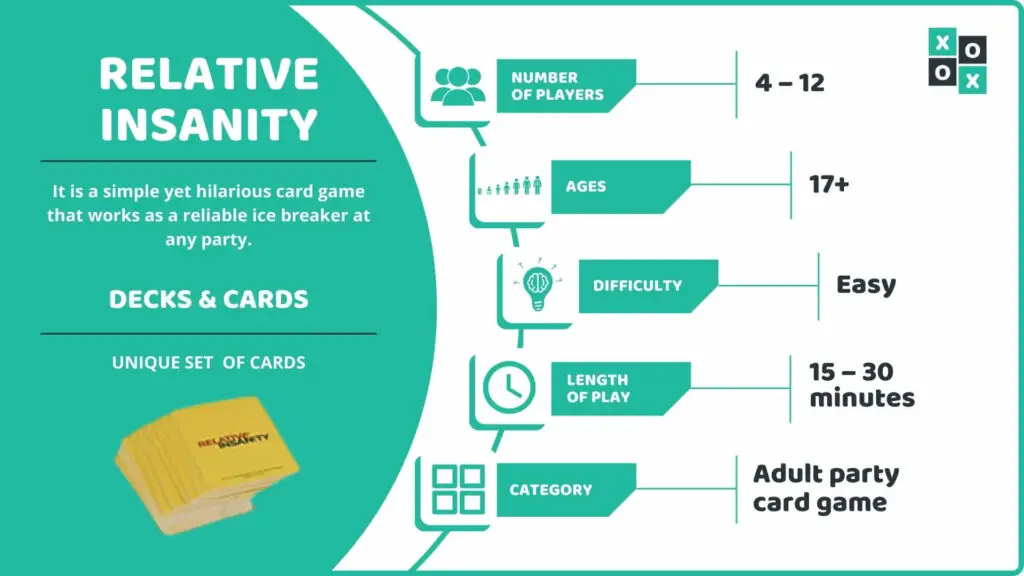 Relative Insanity is a crazy adult party game based on verbal humor. It is very easy, so you can play it even without any skills or experience.
Number of Players: 4 – 12
Ages: 17+
Difficulty: Easy 
Length of Play: 15 – 30 minutes
Category: Adult party game
Similar to: New Phone, Who Dis?, Never Have I Ever, What Do You Meme
Main Objective: Collect the most setup cards awarded by the judge in each round.
Why We Love It: It is a simple yet hilarious card game that works as a reliable ice breaker at any party.
What You'll Need to Play Relative Insanity
If you want to play this game, you will need the original Relative Insanity card set.
Our Pick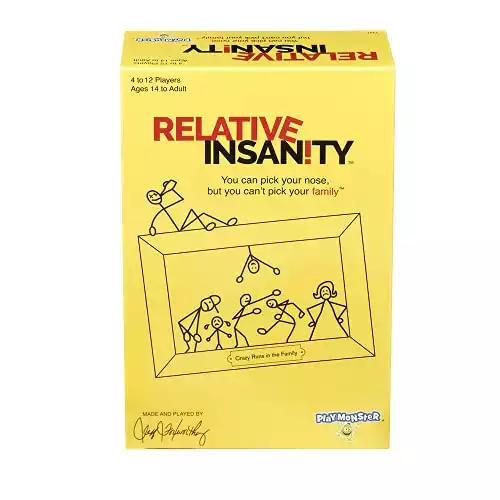 The set includes:
100 Setup cards 
400 Punchline cards 
Set of Instructions
Relative Insanity Rules and Instructions
When you're throwing a party and need to break the ice between guests who don't know each other yet, nothing works better than a simple and fun game that can be set up in a matter of seconds – which is precisely the case of Relative Insanity. 
This is how you prepare the gameplay.
Starting the Game
As you'll see immediately after unboxing the game, Relative Insanity consists of two types of cards: Setup cards and Punchline cards. 
Setup cards are placed at the center of the table in a down-facing pile. Then deal seven Punchline cards to each player.
Next, pick the judge for the first round. It is usually the player who owns the game, but you can agree otherwise. 
How to Play Relative Insanity?
First, the judge flips over one Setup card and reads it aloud. It can be something like:
"Halfway through my grandmother's funeral, my uncle leaned over to me and said…"
"While walking past my sister's bedroom, I heard her say…"
"Last Christmas, Mama pulled me close and whispered…"
As you can see, these are all unfinished lines open for hundreds of possible interpretations. When you flip your Punchline cards over, you'll find various funny or cheeky phrases that can complement it, including:
"I used to be young and fun; now I am just old and fun."
"You're the worst thing that ever happened to me."
"Well, she's never going to win the beauty contest, but she's sweet," and so on.
In each round, all players pick one of the Punchline cards that they believe suits the Setup card the best. Of course, your goal is to be as funny as possible. 
Place your selected Punchline cards face-down in front of the judge. He shuffles them, so he has no clue which came from which player. Then he reads them aloud and picks the funniest one based on his individual opinion.
The player who came up with the winning Punchline card earns the Setup card. Collect your awards somewhere on the side so that you can compare your successes with the opponents when the game ends.
In the following round, the role of the judge moves clockwise to another player. Shuffle the cards and deal them identically as in the beginning.
Relative Insanity Game Scoring 
Continue playing for as many rounds as needed until one of the players accumulates five setup cards (meaning that he won five matches already). 
This player wins the game.
How to Play Relative Insanity – Video Tutorial 
Relative Insanity Frequently Asked Questions
Is Relative Insanity appropriate?
Relative Insanity deals with some adult topics, so it should not be played with kids younger than 17 years.
Can you expand your Relative Insanity deck with new cards?
Yes, there are several expansion packs available, including the Family Gatherin' Expansion and the Yes, guuurrrlll! Expansion.
Can Relative Insanity be played by two players only?
No, this game is suitable for 3 – 4 players minimum.
Other Similar Games to Relative Insanity? (Our Guides)
Looking for more hilarious party games? We have plenty of guides to great Relative Insanity alternatives for your inspiration: 
These Cards Will Get You Drunk (guide coming soon) 
What's Your Sign? (guide coming soon)