If you're a fan of simple yet smart family games, you certainly know UNO – one of the most popular card games for all ages. But do you know how to play UNO Swap Hands card? Let me teach you how to take advantage of this funny new addition to the game. 
Classic UNO rules are pretty straightforward: You get a few cards, create a draw pile and a discard pile, and try to get rid of all your cards in turns with your opponents by matching them by color or number. 
Aside from the standard cards, you also get a few special or action cards with various functions, including reversing the direction of the gameplay, skipping the next player's turn, or forcing a player to draw a few extra cards.
The Swap Hands card is one of the newest additions to the bundle of action cards. From my experience, it can genuinely spice up the game if you know how and when to use it. I will explain all the details below.
This UNO Swap Hands card guide will cover the following: 
What is the UNO Swap Hands card?
How does the Swap Hands card work?
What you'll need to play Swap Hands card
UNO Swap Hands card rules
FAQs
Other UNO games (our guides)
Continue reading to learn how to play UNO Swap Hands card.
What is the UNO Swap Hands card?
UNO was originally developed in 1971 by Merle Robbins, a barber-turned-inventor from Cincinnati, Ohio. Funnily enough, his goal at the time was only to resolve a dispute with his son over the rules of another card game – Crazy Eights (see our Crazy Eights rules).
UNO became a massive worldwide hit, and there are many variations, alternative versions, and spin-offs of this game that are worth trying (I'll list some of them towards the end of this article – just FYI, my favorite is UNO Flip).
The Swap Hands card UNO was added to the ever-growing family of UNO games in 2015 as part of the Get Wild 4 Uno campaign, which included the release of customizable wild cards.
To explain quite a common misconception, the Swap Hands card UNO is not an entirely new version of UNO. It is more like an enhancement or upgrade of the original concept with an additional action card that can change the course and even an outcome of the gameplay.
How does the Swap Hands card work?
Swap Hands card has a pretty self-explanatory name: Whoever gets this card is allowed to swap a whole hand with his opponent. If more than two people play, you can choose which opponent you want to trade your cards with.
As you've probably assumed, this can be either a life-saver OR a total disaster. Everything depends on whether you use the Swap Hands card at the right moment and choose the right person to swap cards with.
When is the right time to use the Swap Hands card?
The Swap Hands card can come in extremely handy when you have to draw many cards in the previous turn and you need to get rid of them fast (remember that your ultimate goal in UNO is to get rid of all your cards first). 
If, for example, the player to your right used the Wild Draw 4 card (which means you as the next player had to draw four cards), and especially if you already had quite a few cards in hand before, swapping your cards with this generous opponent might be nice revenge.
Moreover, taking advantage of this card towards the end of the game can change everything. In short, no one can be sure of anything anymore with the Swap Hands card in play.
When is NOT the right time to use the Swap Hands card?
If you're not desperate to get rid of your cards fast (see the example in the previous section), playing the Swap Hands card can be a precarious move. Why?
Shortly, you never know what cards you will get from your opponent. Although you instinctively aim to have as few cards as possible in your hand, sometimes getting rid of a good combination of more cards is easier than discarding a few incompatible ones.
For the abovementioned reason, I highly recommend saving the Swap Hands card for the right moment and avoiding the urge to play it just to mix things up during some of the first rounds of the game.
What You'll Need to Play UNO Swap Hands card
It probably won't surprise you that you'll need a deck of UNO cards to play the UNO game. But can you play the Swap Cards UNO with just any UNO set?
If you're buying your set of UNO cards now (or you bought it only recently), there's a good chance your set already includes the Swap Hands card since this enhanced set is now widely considered "the classic UNO."
However, to be 100% sure, look for the following writing on the box: "Now with customizable wild cards." You can find a suitable UNO set with the Swap Hands card here.
The complete content of the set goes as follows:
19 Green cards
19 Red cards
19 Yellow cards
19 Blue cards
4 Wild cards
1 WildSwap Hands card
4 Wild Draw Four cards
3 Customizable Wild cards
Our Pick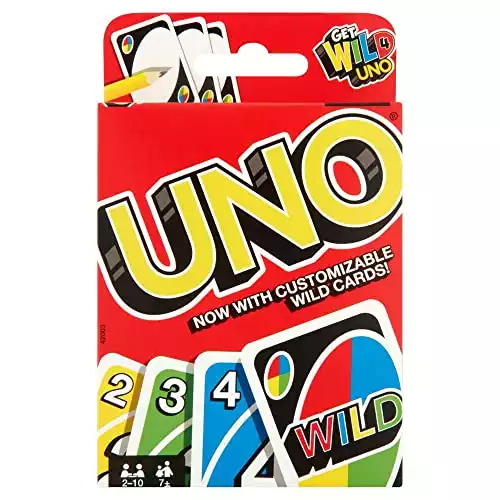 UNO Swap Hands card Rules
As I have explained earlier, Swap Hands card UNO is not an entirely new game, just a slightly upgraded version of the classic UNO. Therefore, I will not go into details on how to play UNO here – after all, you can find a complete guide in our Classic UNO rules article. 
I believe that you might have already understood everything necessary about how to play UNO with the Swap Hands card from the previous sections, but let me mention at least a few essential details in this section that can still be unclear.
You do not have to use the Swap Hands card if you don´t want to.
In some situations, swapping your cards with the opponent may be the last thing you want to do. But you still have to get rid of ALL your cards, including this one, right? 
According to the official UNO rules, in such cases, a player can choose not to use this card for its intended purpose but play it as a standard Wild card instead. 
Of course, you can agree with your mates that you do not want to allow this freedom of choice, too. I did this on a few occasions with experienced opponents, and it was rough and ruthless but still great fun. 
You can use the Swap Hands card even as your last card.
When Mattel introduced the Swap Hands card in 2015, people complained that it could not be used as the last card in your hand (your "UNO") since playing it would mean swapping your "empty hand" with the cards of your opponent.
Logically, this would keep you in play longer than you were supposed to and probably even rob you of the chance to win. 
Nevertheless, Mattel resolved this smartly. As I have explained above, you can opt to ignore the function of this card and use it as a regular Wild card. This way, you can win even though your last card was Swap Hands.
Swap Hands can be used to improve your position or slow your opponent.
You can try various strategies when you have the Swap Hands card in your hand. In general, however, there are only two main approaches: 
You can either use the card to improve your position (i.e., get rid of too many cards) or slow down your opponent, who seems to be getting dangerously close to winning. Whichever you choose, remember that there is only one Swap Hands card in play.
UNO Swap Hands Card – Funny Demonstration Video
Swap Hands card Frequently Asked Questions
Can you stack Swap Hands cards in UNO?
No. UNO rules explicitly forbid players to stack the action cards. However, there is only one Swap Hands card in the deck anyway, so stacking is not an option unless you play with more decks.
Can you use customizable cards to make the Swap Hands card in UNO?
Yes! UNO with customizable cards provides three cards you can use to create your own rules and actions. Adding more Swap Hands cards is undoubtedly an option.
Is the Swap Hands card used in other versions of the UNO game?
No. Swap Hands card is officially included only in the classic game.
Other UNO Games (Our Guides) 
If you´d like to try more games like Swap Hands card UNO, here are some alternatives:
UNO Showdown (guide coming soon)
UNO Extreme (guide coming soon)