Are you looking for a game that doesn't take itself too seriously? Joking Hazard is a silly card game allowing you to become a comic writer and blow your friends' minds with your sense of humor. These Joking Hazard rules will teach you how it works.
Joking Hazard by Cyanide & Happiness is a modern party game for those who don't get offended easily and are always up to a bit of naughty fun. 
The game was inspired by Cyanide & Happiness Random Comic Generator, emulating the process of a spontaneous story-telling with absurd plots and unexpected resolutions. 
Similar to What Do Your Meme (see What Do You Meme rules), the game also uses visual humor and works very well at parties and game nights (explore more game night ideas). 
This Joking Hazard game rules guide will cover the following: 
What is Joking Hazard?
What you'll need to play Joking Hazard 
Joking Hazard rules
How to play Joking Hazard (video tutorial)
FAQs
Other similar games to Joking Hazard (our guides)
Read on and learn how to play Joking Hazard with these simple instructions. 
What is Joking Hazard?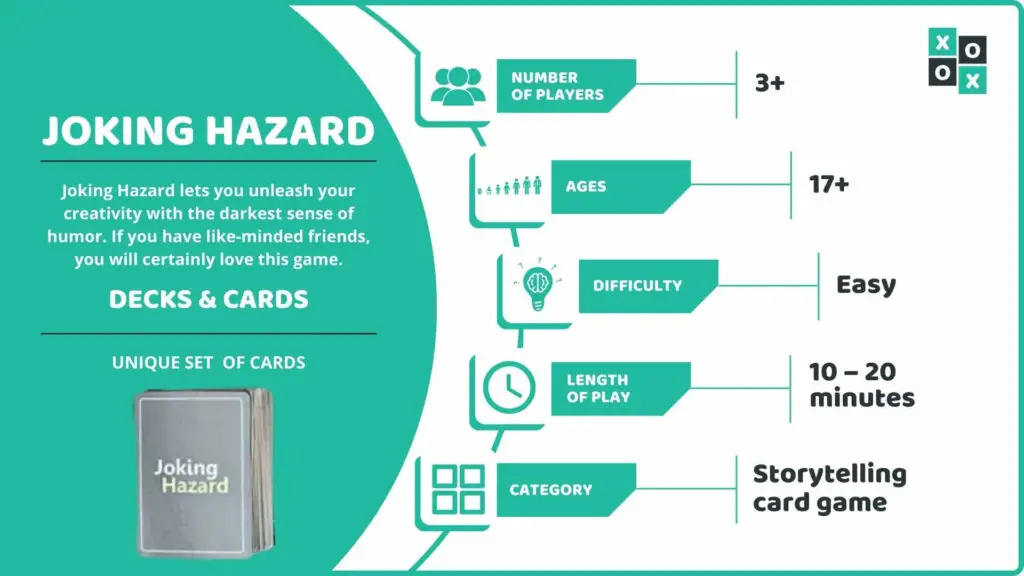 Joking Hazard is a just-for-fun game that doesn't require special skills or efforts. All it takes is a willingness to act silly and enjoy a great laugh with your friends. 
Joking Hazard is not the game you'd play with your small kids or elderly mother-in-law since it contains adult language and a fair share of inappropriate humor. On the other hand, it also promotes creativity and imagination.
Number of Players: 3+ players
Ages: 17+ 
Difficulty: Easy 
Length of Play: 10 – 20 minutes
Category: Storytelling card game
Similar to: Cards Against Humanity, Fun-Employed, That's What She Said
Main Objective: Pick the best punchlines for graphic jokes and be the first to earn 3 points. 
Why We Love It: Joking Hazard lets you unleash your creativity with the darkest sense of humor. If you have like-minded friends, you will certainly love this game.
What You'll Need to Play Joking Hazard
Joking Hazard can be played only with the original Joking Hazard Card Deck, including:
360 cards with comic sketches
10 write-your-own-words cards
1 set of instructions
Our Pick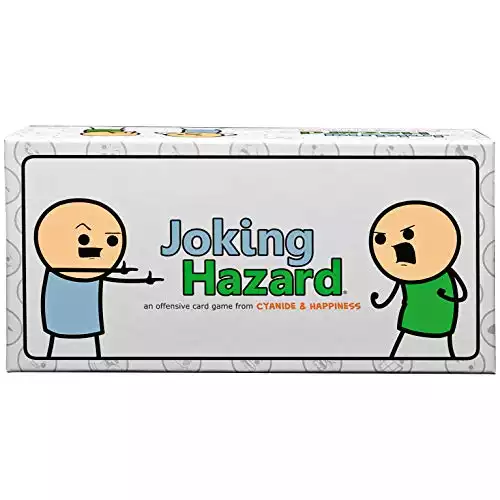 Available expansions: For even more hazardous joking fun, you can also get the Toking Hazard add-on with 50 new comic cards. 
Joking Hazard Rules and Gameplay
The Joking Hazard game is all about creativity and humor. You can learn how to play this game in a minute, and it's guaranteed fun regardless of whether you win or lose.
Starting the Game
First, shuffle your deck of Joking Hazard cards thoroughly. Before you start, get to know the different types of cards in the deck:
318 Black Border cards: They can be played anywhere
32 Red Border cards: They are used only as punchlines and open a Bonus Round
10 DIY cards: These can be creatively modified with a permanent marker. They are used as Black Border cards in the game.
Deal seven cards to each player and set the remaining pile aside. Then pick a judge – it can be, for instance, the player with the earliest birthday. 
How to Play Joking Hazard
In Joking Hazard, you have to build panels of three cards forming a simple comic strip. This is how the gameplay proceeds:
The judge goes first, flipping over the top card from the draw pile. He places it in the center of the table. This is the starter panel. 
If the first card from the deck has a black border:
The judge finds another suitable black border card in his hand and places it face-up either before or after the starter panel. This is a two-card setup – a foundational combination that should, ideally, make some sense.
Now other players take turns, placing one face-down card each at the end of the panel. They can pick both black border and red border cards, trying to find the best (funniest) punchline for the evolving story.
The judge shuffles the face-down cards and then picks the one he likes the most. 
The player whose card was chosen wins this round. 
If the first card from the deck has a red border:
You're playing a bonus round for extra points!
The judge skips his turn this time. 
Instead, players pick their suggestion for a two-card panel right away.
Again, the judge picks the best without knowing which card belongs to which player.
The owner of the selected card wins the bonus round.
After each round, players draw one more card each. They should always have seven cards in hand. The next player (clockwise) becomes the judge, and another round begins.
Related: 28 games like Cards Against Humanity
Joking Hazard Scoring 
Joking Hazard scoring is straightforward:
The winner of the standard round earns 1 point
The winner of the bonus round earns 2 points
Whoever gets 3 points first WINS the game.
How to Play Joking Hazard – Video Tutorial 
Joking Hazard Frequently Asked Questions
How many players can play Joking Hazard?
The game was designed for 3 to 10 players. However, Joking Hazard rules are pretty flexible, so you can easily adjust it for more or fewer players.
What is a 'marathon' in Joking Hazard?
If you find the classic gameplay too short, you can continue playing Joking Hazard until you run out of all cards in the deck. Obviously, this will take very long, so this alternative version of the game is called marathon.
Is there a way to play a Joking Hazard game that is child friendly?
You can theoretically sort out all 'problematic' cards dealing with sex, violence, and other explicit topics. The game remains perfectly playable, even with fewer cards.
Other Similar Games to Joking Hazard (Our Guides) 
Would you like to try some other amusing party games? Here are our guides to several outstanding Joking Hazard alternatives: 
Psycho Killer (guide coming soon)
Stupid Deaths game rules (guide coming soon)
What If You Had To (guide coming soon)
Bad People (guide coming soon)