The What Do You Meme rules are so easy to understand; if you've ever seen a meme, then you are basically halfway there to playing the game.
Memes are everywhere – if you have a Facebook, Twitter, or Instagram account, then you would have seen a meme at some point.
And What Do You Meme? takes the concept of a meme, adds in hilarious random captions that are adult in nature, and encourages players to create their very own memes.
Are you ready to meme like you've never memed before? 
Then learn how to play What Do You Meme? and prove to your friends you can out meme them once and for all. 
What Is What Do You Meme?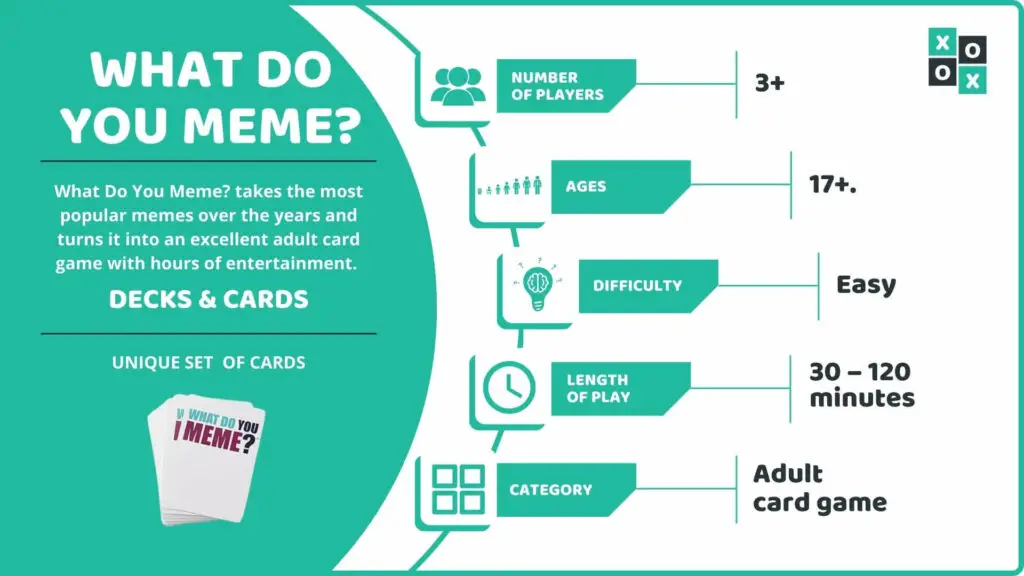 In What Do You Meme? players get given a well-known meme such as Success kid or Trollface and 7 different captions to pick from.
They must then combine the meme with the funniest caption out of the 7 to win a point. The person with the most points at the end of the game becomes the ultimate Meme Lord. 
What Do You Meme? was another card game that started out as a Kickstarter campaign, amassing a total of $229,579 to get the game launched off the ground. 
It has since turned the company that made the game into a multi-million business, with What Do You Meme? itself becoming the 9th most popular game on Amazon. 
Number of Players Required: 3+ players required.
Who Can Play It: Ages 17+.
Difficulty: Easy.
Length of Play: 30 – 120 minutes. 
Similar to: Cards Against Humanity; Superfight; Disturbed Friends
Main Objective: Successfully have the best meme caption as voted for by other players; the player with the most at the end becomes the new Meme King or Queen. 
Why We Love It: What Do You Meme? takes the most popular memes over the years and turns it into an excellent adult card game with hours of entertainment. 
Playing What Do You Meme? – What You'll Need.
What Do You Meme? has everything you'll need for gameplay in 1 handy game set, which includes:
360 Caption Cards;
75 Photo Cards;
Easel to Display the Meme Cards.
Our Pick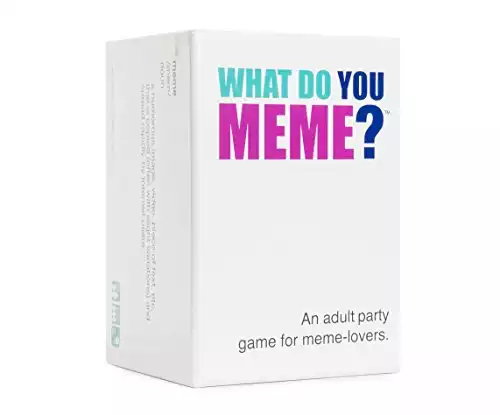 So as you can see, there's not a lot of parts to this card game, so it's easy to bring to parties and when away from home.

Just like other adult card games such as Exploding Kittens (see our guide to the Exploding Kittens rules), What Do You Meme? has plenty of expansion packs in case you want to add fresh memes to the game.

Or if you're looking for a group game to play with kids, What Do You Meme? family edition is a great alternative that takes out the adult themes and risque topics.

Related – 45 Fun Indoor Group Games for Kids
How To Set Up What Do You Meme?
Setting up the game could not be more simple; start by placing the easel in a place where all players will be able to see it.
Players will also need to receive 7 caption cards each to use throughout the game, with the rest getting placed in the middle as a draw pile.

Also, leave a space on the table next to the draw pile for players to place the cards which they have used; this will become the discard pile.
What Do You Meme? Rules
If you've ever played Cards Against Humanity or are already familiar with the Funemployed rules, then What Do You Meme? follows a similar pattern.
Starting the Game
Typically, the player who starts the game is the player who has the most Instagram followers but choose a social media platform that everyone uses instead if you need to.
Alternatively, choose other methods that work best for your friend group if you don't want to go with most social media followers.

The player who starts the game gets to be the first judge, after every round, the person on the left becomes the new judge going around the circle.

The judge sorts through the photo cards, which display a meme, and picks one they would like other players to caption, placing the photo on the easel for everyone to see. 
How to Play What Do You Meme?

Once the remaining players know what meme they need to caption, they will need to look through their 7 caption cards and hand their favorite one to the judge.
Once everyone has handed a caption card to the judge, the judge reads them all out and must consider how funny the caption is and how well it goes with the meme.
The judge picks which card is their favorite, the person who provided that card wins the photo card to add to their pile.

All players will need to draw a new caption card from the draw pile; players must always have 7 cards in their hands throughout the game. 
Occasionally, a Freestyle Card will get played; this means that all players must caption the next meme with a statement that they have thought of themself.
Players may also trade one of their earned photo cards for 7 new caption cards at any point, with their previous 7 caption cards getting placed onto the discard pile. 
This continues until an undetermined amount of time – there isn't any specific number of memes you need to caption before the game ends, so continue as long as you please. 
Scoring In What Do You Meme?
Once your group decides that they are all memed out, end the game and have all players count up the number of photo cards that they have won throughout the game. 
1 photo card is worth 1 point each, if there is a tie, then have a neutral player pick a photo card and play 1 last round with the players who have the most photos.
Whoever wins the last tie-breaker round wins What Do You Meme?. 
Frequently Asked Questions
How many cards do you deal in What Do You Meme?
In the base rules of the game, players receive 7 caption cards each, no matter how many players are playing. 
As there are 360 caption cards, this means you can have up to 51 players playing at once, although we wouldn't recommend playing with this number of players.

6 is a good number to play with as a rule of thumb as this would ensure getting plenty of rounds in per sitting. 
Why is What Do You Meme 17+?
Some of the caption cards have certain topics which are considered adult in content, so minors aren't exposed to such subjects we cannot recommend for anyone under 17.

However, there is the family edition that is suitable for those under 17 and who aren't a fan of adult humor. 
What do the What Do You Meme rules say to do if you run out of caption cards while playing?
If this happens, the game doesn't have to end there.
Simply take the discard pile, give them a good shuffle and turn them face down and resume the game with those cards as the new draw pile. 
Alternative Games to What Do You Meme?
Looking for more adult-themed games? Then look no further than our guides to the Llama Unleashed rules, Monikers rules and Fun-Employed rules for some more great card games for adults. 
If you're someone who loves a drinking game and would like ideas for some great games to play at your next party, be sure to read the Horse Race game rules and the Cops and Robbers card game. 
If it's board games that are for adults is what you're after, we've got you covered there as well.
Take a look at our detailed guide to the Secret Hitler game rules, the game where you either need to get Hitler to power or eliminate him from the game.