New Phone, Who Dis? is an excellent addition to your party games collection if you prefer fun matches to serious competitions. This game is fast, easy, and allows you to show off your humor. These New Phone, Who Dis? rules will teach you how to play it. 
Are you looking for a great big group game for a party or a team-building event? I definitely recommend trying New Phone, Who Dis? a silly yet hilarious card game where players compete in choosing the funniest responses to unexpected messages.
The game comes from the creators of What Do You Meme (check our What do You Meme rules if you don't know this game), and in my opinion, it's even funnier and more dynamic. Moreover, I also love that it's suitable for up to 20 players, so everyone is welcome to play.
This New Phone, Who Dis? rules guide will cover the following: 
What is New Phone, Who Dis?
What you'll need to play New Phone, Who Dis? 
New Phone, Who Dis? rules
How to play New Phone, Who Dis? (video tutorial)
FAQs
Other similar games to New Phone, Who Dis? (our guides)
If you want to learn how to play New Phone, Who Dis?, continue reading these step-by-step instructions.
What is New Phone, Who Dis?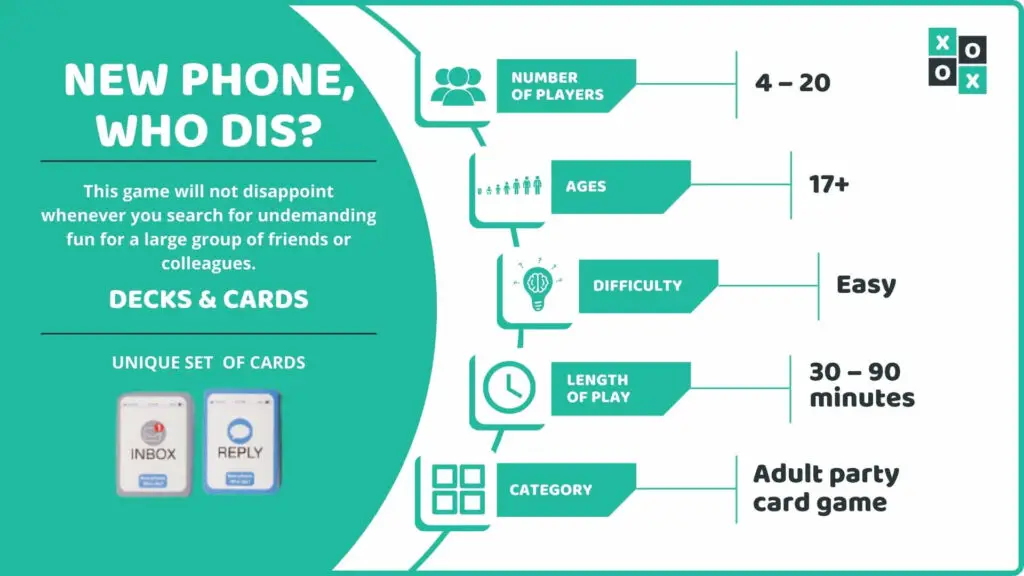 New Phone, Who Dis? is a classic adult party game based on verbal humor depending on the players' creativity and goofiness. Its original concept revolves around the phenomenon of texting. Can you come up with the funniest responses and win? 
Number of Players: 4 – 20
Ages: 17+
Difficulty: Easy 
Length of Play: 30 – 90 minutes
Category: Adult party game
Similar to: I've Never Bar Cards, Never Have I Ever, What Do You Meme
Main Objective: Collect the most points by creating the funniest text combinations.
Why We Love It: This game will not disappoint whenever you search for undemanding fun for a large group of friends or colleagues.
What You'll Need to Play New Phone, Who Dis?
Playing New Phone, Who Dis? requires the original New Phone, Who Dis? game set.
Our Pick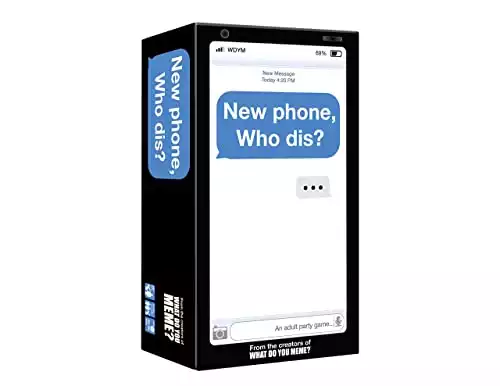 The set includes:
240 Inbox cards 
300 Reply cards 
1 Set of Instructions
New Phone, Who Dis? Rules and Instructions
One of the things I love about this game is how fast and easy it is to set things up and start playing. It literally takes only about 3 minutes.
Starting the Game
To prepare the gameplay, sort Inbox cards from Reply cards and place them in two separate down-facing piles side to side.
Next, pick the judge for the first round. Typically, this will be the oldest player. Now each player (except the judge) takes seven Reply cards from the pile.
How to Play New Phone, Who Dis?
This is how the game proceeds:
The judge takes one Inbox card and reads the text aloud. 
These cards represent text messages you have supposedly received on your phone and can include all sorts of ridiculous ideas like: "Wanna go do karate in the garage?" or "Don't freak out, but I just got a tattoo of your name on my lower back."
Remaining players now check their Reply cards and search for the funniest/best matching response to the Inbox card. Once they're ready, they pass the selected card face-down to the judge.
When the judge receives all the cards, he shuffles them so that he does not know which came from which player. Then he reads them all aloud and selects the one he finds the funniest.
Are you the lucky owner of the selected Reply card? Congratulations, you collect the Inbox card and store it with your winning reply in a separate pile.
Next, players draw back up to seven Reply cards in preparation for the new round.
The role of the judge moves clockwise to another player.
New Phone, Who Dis? Game Scoring 
Unlike most other games I know, New Phone, Who Dis? does not have a strict number of total rounds or a score threshold to achieve. 
Play for as long as you like (or set an optional goal of five/ten/fifteen rounds). Then, count the score by assigning one point to each collected Inbox card.
The player with the highest score wins the game.
How to Play New Phone, Who Dis? – Video Tutorial 
New Phone, Who Dis? Frequently Asked Questions
Is the New Phone, Who Dis? game inappropriate?
Some Inbox/Reply cards contain adult topics, so New Phone, Who Dis? is only suitable for adult players.
What does it mean when someone says "new phone, who dis"?
The name of this card game comes from a humorous slang phrase that implies that the recipient of a text message does not know the sender of the text, indicating that the sender is somewhat forgettable.
How to play DIY mode in New Phone, Who Dis?
DIY mode is an alternative way to play the New Phone, Who Dis? game. Each player gets four Inbox and four Reply cards in this mode, creating unique combinations of messages and responses. The judge then evaluates the pairs and picks the funniest.
Other Similar Games to New Phone, Who Dis? (Our Guides)
Looking for more adult party games? Here are our guides to some New Phone, Who Dis? alternatives you should try: 
These Cards Will Get You Drunk (guide coming soon) 
What's Your Sign? (guide coming soon)