When Monopoly meets the traditional Jenga game, you get a game mashup like no other.
This family favorite was released around the early '90s. Apart from its inspiration, the Classic Jenga game, Monopoly Jenga rules play quite similar to another block balancing dexterity game called Topple. (Check out the Topple rules).
Learn how to play Monopoly Jenga by following our guide below, and build Jenga blocks on your monopoly properties – a fun fusion you probably didn't expect. 
What is Monopoly Jenga?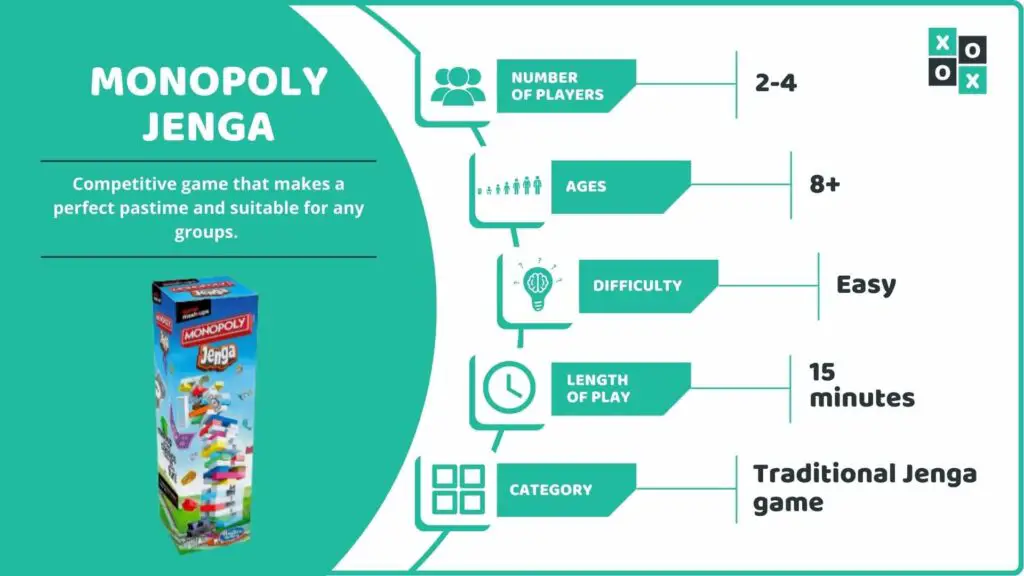 This exciting stacking blocks game is similar to the traditional Jenga but comes with a thrilling twist. The blocks are painted and represent different properties. 
Some of the blocks do not have any point value; however, they possess special abilities.
When the tower falls, the player to have maximum points is the winner!
Number of Players: 2 to 4
Ages:  8+
Length: 15 minutes 
Difficulty: Easy
Similar to: Classic Jenga, Topple, Tumble Tower.
Main Objective: Try to pick out blocks without breaking the tower. 
Why We Love It: Competitive game that makes a perfect pastime and suitable for any groups. 
What You'll Need to Play Monopoly Jenga
There are a few things that you will need to play Monopoly Jenga. The main game components are the fifty-four painted Jenga blocks. Besides, you will need a loading tray to build the tower.
Now, get a partner to play with, and you are good to go!
You may like to get the official Monopoly Jenga set.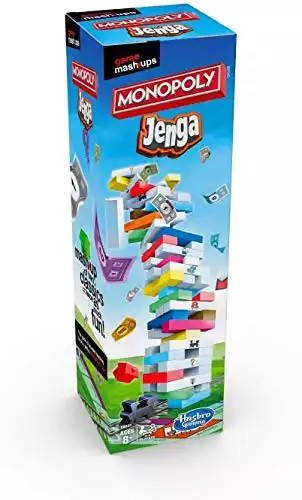 Or you could opt for this Jenga Set, which consists of 54 colorful Jenga Blocks.
Game Setup
Get all the players ready with the game components. Choose a player to build a tower with all the Jenga blocks, using the loading tray.
The builder must create alternate horizontal and vertical stories on the tower. Three blocks are placed side-by-side to create one story. Therefore, your tower shall be 18 stories tall.
Once the tower is ready carefully remove the loading tray.
Now, you are ready to play Monopoly Jenga!
Monopoly Jenga Rules and Gameplay
Rules
There are a few rules to play this unique Jenga game:
Players can pick out or stack only one block per turn.
You can use either one of your hands to stack or remove blocks. You cannot use the other hand even to support the tower.
You cannot remove a block from the topmost story.
You can touch several blocks to check how intact they are before attempting to remove a block.
Gameplay
Similar to the traditional Jenga rules, players will alternatively remove a single block from the tower from any story except the top floor.
Players may also add blocks on top of the tower to build new stories. However, they have to complete one story to move to the next one.
The Monopoly Jenga blocks are divided into six sets.
The first set is called property blocks which includes eight colored blocks with two pieces of each color. These blocks carry one point each. If two same color blocks are drawn together it will award four points to the player.
The next set is of real-row blocks whose value depends on the number of pieces you have. If you have one of the real-row blocks it will be worth one point. If you get two of them it gives you three points. 
In case you manage to get three real-row blocks, it will award you six points. And finally, if you get all of the four blocks you will earn ten points.
Then you have the chance set, which consists of four blocks with a question mark symbol. If you pick out any of these blocks it will force you to put one of your blocks back into the tower. Besides, you will have to replace the chance block with another kind.
Next, we have the steal blocks set which also includes four pieces. If you remove one steel block, it will allow you to steal one property block from any of your opponents. 
Then, there is a pair of jail blocks which does not have any value or ability. Getting one of them simply means you lose your turn, and you have to place it back into the tower.
Finally, there is a set of plain blocks that consists of fifteen pieces. These blocks do not have any value but you can use them to remove other blocks.
Monopoly Jenga Scoring and Winning the Game
The scoring system of Monopoly Jenga is quite simple.
Each player will get a turn to remove or stack blocks to the tower and look to earn as many points as they can for that round.
The game will continue until the tower falls. When that happens, the player with maximum points will win the game!
How to Play Monopoly Jenga – Video Tutorial
Frequently Asked Questions About Monopoly Jenga
Can we play Monopoly Jenga with the classic Jenga blocks?
Though both these games involve the same number of blocks and patterns, the monopoly blocks are somewhat different. If you wish to play Monopoly Jenga with regular blocks you have to mark them separately.
How many players can play Monopoly Jenga?
You can play this game with any number of players but we would recommend you not to have more than four players.
Can we play Monopoly Jenga in teams?
Ideally, the game is played individually but dividing the players into two teams might be a good idea. You can definitely try this.
Other Similar Games to Monopoly Jenga
People who enjoy playing Monopoly Jenga will love to play similar stacking games such as Topple, UNO Stacko (see UNO Stacko rules) and Pandemic.
You can check our latest collection of board games for more dexterity game ideas.