Would you like to try a new Rummy game? Then, Liverpool Rummy is a great choice. Whether you're an absolute beginner or an experienced player, these Liverpool Rummy rules will provide you with all the information you need to play the game.
Games from the Rummy family are some of the most popular card games in the world. You can also find numerous guides from this category on our website – from Shanghai Rummy rules to Conquian rules and several others. 
They are among my favorites, too, and Liverpool Rummy (also known as Contract Rummy) is a variation I like in particular thanks to its fast pace (it's played over fewer rounds) and some funny additions like buying cards out of your turn. This game can also get pretty tricky.
Nonetheless, learning how to play Liverpool Rummy is no rocket science. Its rules are logical, and its principles are mainly derived from other classic card games. In my experience, it shouldn't take you more than just a couple of rounds to get into it.
This Liverpool Rummy rules guide will cover the following: 
What is Liverpool Rummy?
What you'll need to play Liverpool Rummy
Liverpool Rummy rules
How to play Liverpool Rummy (video tutorial)
FAQs
Other similar games to Liverpool Rummy (our guides)
Continue reading for detailed instructions on how to play Liverpool Rummy.
What is Liverpool Rummy?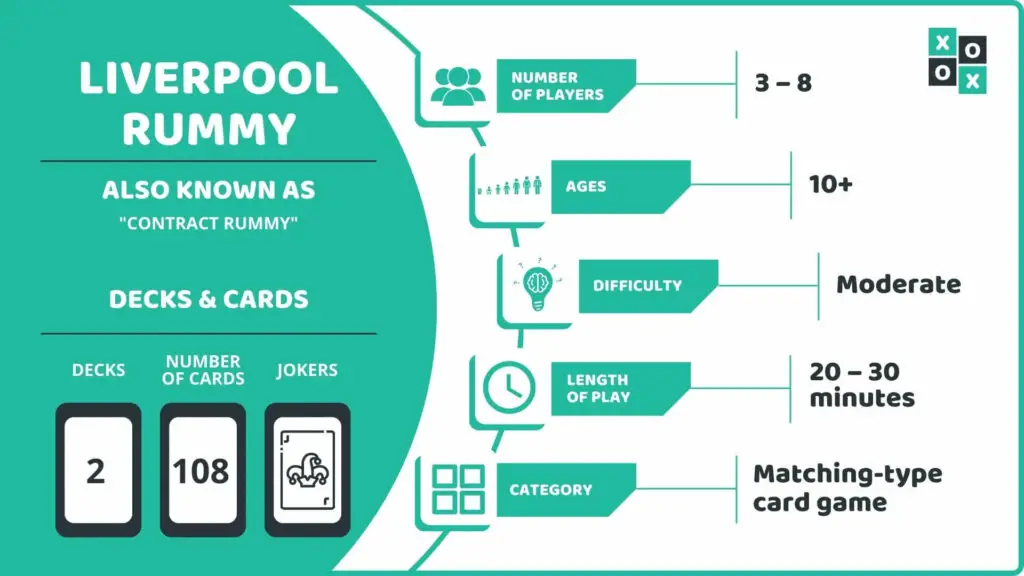 Liverpool Rummy is a complex but not too difficult game that will suit mainly somewhat experienced adult players. But I know a few older kids who play it regularly, too, so it also works as a family game. 
Number of Players: 3 – 8 
Ages: 10+
Difficulty: Moderate
Length of Play: 20 – 30 minutes
Category: Matching-type card game
Similar to: Rummy, Continental, Shanghai Rummy, Canasta
Main Objective: Complete the required melds, get rid of your remaining cards, and have the lowest score after seven rounds of play. 
Why We Love It: There are never enough Rummy games, this version is particularly exciting due to its improved dynamics and a few added features.
What You'll Need to Play Liverpool Rummy
Liverpool Rummy requires two classic decks of 52 playing cards. 
Nevertheless, if you play with more than four players, add another deck of identical design.
Liverpool Rummy Rules and Gameplay
If you know some other versions of Rummy, Liverpool Rummy will undoubtedly feel very familiar to you. Nevertheless, the following instructions will guide you through the gameplay step-by-step to ensure that even a beginner can follow them and enjoy the game. 
Starting the Game
First, let's discuss a few key terms you will use during the game of Liverpool Rummy frequently. 
Melds
There are the two different types of card melds you will aim to form from your cards:
Set (sometimes also called 'books' or 'groups'): Any three (or more) cards of the same ranking (e.g., three kings or sevens)
Run (also known as 'sequence'): At least four cards of consecutive order and same suit (e.g., 2, 3, 4, 5 of clubs).
Rounds
Like other Rummy games, Liverpool Rummy is played over a firmly given number of rounds. To pass them, players must complete certain melds, i.e., combinations of sets and runs, that I have already described above. 
Some sources claim that Liverpool Rummy is played over six rounds, but I believe it's more commonly played over seven rounds, so I'll stick to this version in my guide. Here are the requirements for the respective rounds:
Round: 2 sets of three cards
Round: 1 set of three + 1 run of four cards
Round: 2 runs of four cards
Round: 3 sets of three cards
Round: 2 sets of three + 1 run of four cards
Round: 1 set of three + 2 runs of four cards
Round: 3 runs of four 
Note that the total number of cards you must meld in each round grows by one (from 6 in the first round to 12 in the final seventh round). In the last round, you must finish with empty hands, and there is no final discard.
Card Ranks & Wild Cards 
Cards are ranked from 2 (lowest card) to Ace (highest card). 
You can replace any card with a Joker, which serves as Wild Card in Liverpool Rummy. However, all sets must include at least two and all runs at least three natural cards. 
Dealing
One of the players will serve as a dealer who must shuffle the cards and deal 10 to each player during the first four rounds of the game and 12 cards for the remaining three rounds. 
Once everyone has their cards, the dealer flips one more card and places it on the table as a discard pile. 
Whoever sits on the left of the player plays first.
How to Play Liverpool Rummy
This is how the game proceeds:
In each turn, a player draws one card from the draw pile OR the discard pile. 
If he decides on the draw pile card, his opponents can take the discard pile card immediately despite its not being their turn (so-called buying). 
As a penalty for taking a card out of turn, they must also draw one card from the draw pile. The game then returns to the first player. (note that there is no penalty for drawing a discard card when you are on your turn)
After drawing, the first player can lay out a meld if he has one. The first meld must correspond to the requirements of the round. 
Each turn ends with discarding one card face-up on a discard pile. 
The game proceeds clockwise. Again, another player makes a choice between drawing a card from the discard or draw piles.
Once you've melded all the demanded sets and runs for the round, start adding cards to your older melds or the melds of others (from your next turn). You aim to get rid of as many cards from your hands as possible.
The round ends when one of the players discards his last card
Now it's time to count your scores and move to the next round. The role of the dealer moves clockwise to another player.
Liverpool Rummy Scoring 
At the end of each round, players count the value of any remaining cards in their hands. For this purpose, use the following scoring: 
2-10 = face value (e.g., 3 is worth 3 points, 6 is worth six points, etc.)
King/Queen/Jack =10 points 
Aces/Jokers = 15 points 
Record all the scores and count the totals after finishing all seven rounds. The player with the lowest score at the end of the game becomes a winner.
How to Play Liverpool Rummy (aka Contract Rummy) – Video Tutorial 
Liverpool Rummy Frequently Asked Questions
When do you call 'Rummy' in Liverpool Rummy?
Calling Rummy is an optional rule that penalizes a player who already completed the meld requirements for the round for discarding a card that would fit into another meld on the table. If his opponents notice it, they call out 'Rummy!" and the player must draw a penalty card.
Who gets to buy a discard card out of turn in Liverpool Rummy?
If more players want to buy the same discard pile out of their turn, it will belong to whoever first calls out "Me!". Alternatively, it can also be the closest interested player clockwise to the one who's actually on his turn.
Can you create separate additional melds in Liverpool Rummy?
No, you can only create the melds prescribed for the round and later add additional cards to the existing melds. You cannot start an entire new meld at any point in this game.
Other Similar Games to Liverpool Rummy (Our Guides) 
Do you like this game? Here are our guides to some great Liverpool Rummy alternatives for you to try next:
Rummy rules (guide coming soon)
German Rummy rules (guide coming soon)