Parcheesi (or Pachisi / Pahrcheesi, as you can also spell the name) might sound strange and exotic, but once you know it, you will surely find this board game familiar. Want to learn how to play it? These Parcheesi rules explain the gameplay in detail.
Parcheesi is an old Indian game that inspired some of the famous Western board games you undoubtedly already know, such as Sorry or Ludo (see our Ludo game rules if you need to refresh your memory).
Why do I think you shouldn't settle with Ludo and try Parcheesi too? In my opinion, Parcheesi deserves recognition for being more complex, intricate, and sophisticated. 
While Ludo is perfect for small kids (check more great group games for preschoolers), this game can satisfy even seasoned players.
I discovered this lovely board game during my travels and thought it was something I wouldn't find at home. Luckily, I was wrong. If this guide inspires you to try Parcheesi, rest assured that you can get your hands on the game wherever you live.
This Parcheesi rules guide will cover the following: 
What is Parcheesi?
What you'll need to play Parcheesi
Parcheesi rules
How to play Parcheesi (video tutorial)
FAQs
Other similar games to Parcheesi (our guides)
Continue reading for easy-to-follow instructions on how to play Parcheesi.
What is Parcheesi?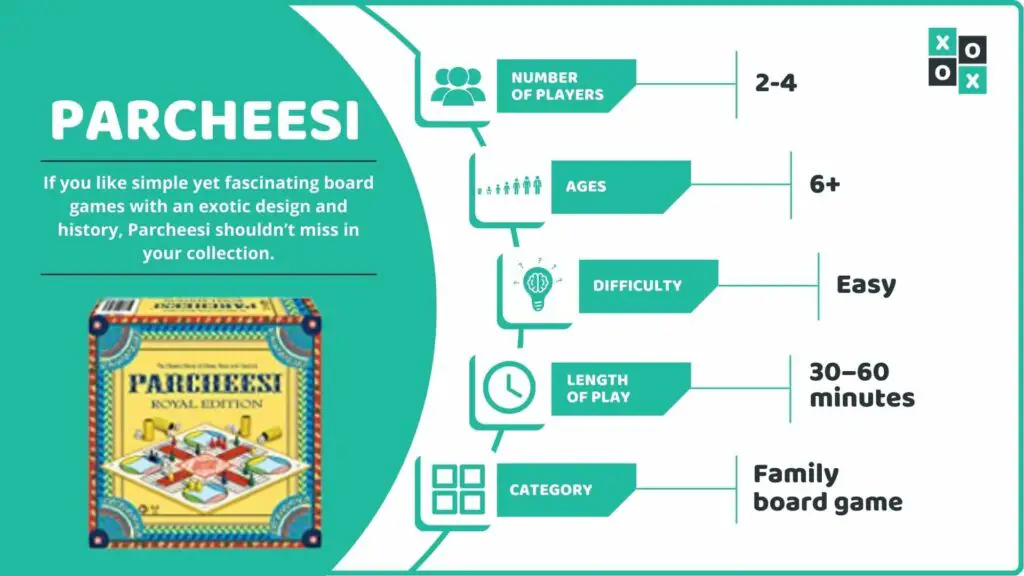 Parcheesi is also widely known as the Indian game of Twenty-Five, referring to the highest score you could throw with the cowrie shells used in the past instead of the modern dice. Despite many modern variations, this ancient game remains very popular worldwide. 
Number of Players: 2 – 4 
Ages: 6+
Difficulty: Easy
Length of Play: 30 – 60 minutes
Category: Family board game
Similar to: Ludo, Sorry, Aggravation
Main Objective: Get all four pieces to safety faster than your opponents.
Why We Love It: If you like simple yet fascinating board games with an exotic design and history, Parcheesi shouldn't miss in your collection. 
What You'll Need to Play Parcheesi
Playing Parcheesi requires the original Parcheesi game set. You can find it in many different styles and designs. My personal favorite is the eeBoo's Fancy Pachisi – I love its stunning graphics and original oriental details. It's also made of recycled and sustainable materials. 
While the style of your set may differ, any classic Parcheesi game should contain the following:
2 dice
16 playing pieces (four different colors/styles)
Playing board
Our Pick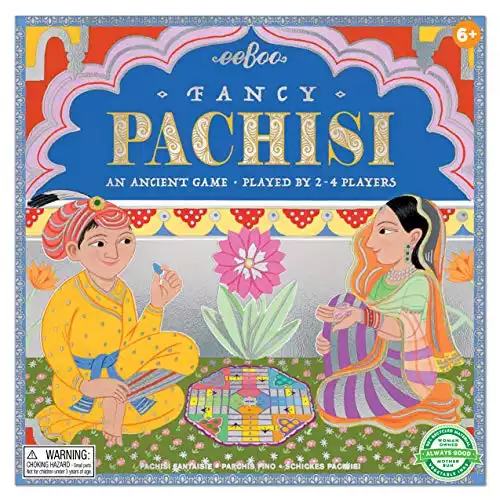 Parcheesi Rules and Gameplay
Parcheesi is a simple game with clear rules and no demands on previous experience or skills. Of course, if you've already played Ludo, you have the advantage of knowing most of the Parcheesi rules already. Still, you should pay attention to some important differences.
Starting the Game
First, players must decide which color or style they are willing to play with. Then they take the four corresponding playing pieces and set them into their respective starting areas. You can put any remaining pieces back in the box.
Each player now roles both dice together. The player with the highest total goes first. Later on, the gameplay proceeds clockwise.
How to Play Parcheesi
This is how the game of Parcheesi proceeds:
When you're on turn, roll both dice together. To put one of your pieces on the Start (the first field on your route around the board), you must roll five on one of the dice or a total of five on both (e.g., two on one die and three on the other).
If you roll two fives, you can place two pieces on the Start side by side. However, two is the maximum capacity of the Start field. Therefore, if you already have two pieces on the Start, you must move them first to add some more. 
This capacity rule applies to all the fields on the board: No more than two pieces of the same color can share any space.
Once you have some pieces on the board, you can move them forward (clockwise) by the rolled number at any of your turns. You can move one piece by the total count of both dice or two pieces each by the number on one of the dice.
If you roll a double(e.g., two fours or two fives), you move your pieces accordingly and then roll again. There is no limit for such repeated rolls – as long as you roll doubles, your turn does not end.
If you pass any of the opponent's pieces or land on the same field, you eliminate the opponent's piece, and it must return to the home area – UNLESS the opponent's piece stands on a special 'safe' field(it usually bears a grey mark/circle).
If your piece would pass or land on any field with two pieces (maximum capacity), such a move is forbidden and blocked. This includes blockage by your own pieces.
Players can build such a blockage on purpose to keep their pieces safe from their opponents. You can keep the blockage in place as long as you can legally move with your other pieces. You cannot pass a turn voluntarily in Parcheesi.
Players take turns, aiming to get their pieces safely around the whole board until they reach the final field (the one before the Start field). Then their pieces enter the finish line marked in their color/style. 
Once your piece is at the finish line, it is safe from your opponents since they cannot enter the home area of another player. 
Parcheesi Scoring 
After entering the finish line, the players must move their pieces by the exact number of fields to reach the home in the center of the board. The first player who manages to get all four of his pieces here wins the game of Parcheesi.
How to Play Parcheesi – Video Tutorial 
Parcheesi Frequently Asked Questions
Is Chaupar and Parcheesi same?
Chaupar is another traditional Indian game. In principle, it is very similar to Parcheesi, but you should play it with a different-looking game board and small shells instead of classic dice.
When was Parcheesi invented?
It is not known precisely, but historians assume that Parcheesi first spread across India around the 4th century A.D. However, the game was first introduced to Western players only in the late 19th century.
Can you block home in Parcheesi?
There are numerous alternative blockade rules in Parcheesi. Discuss with your opponents whether you allow players to block each other from entering their homes. If not, agree on the number of spaces before the finish line that cannot be blocked.
Other Similar Games to Parcheesi (Our Guides) 
If you enjoy this simple yet exciting board game as much as I do, check out some of the following guides to the best Parcheesi alternatives:
Sorry rules (guide coming soon)