If you're someone who is looking for a fresh take on a classic game of Scrabble or Boggle, then Bananagrams may be the ideal game for you.
Bananagrams is a wordplay game which is mainly aimed at younger kids, but there is no reason why older kids and adults won't enjoy it either.
Created by the Nathanson family, the game became available to the public in 2006.
The aim of the game is to be the first player to get rid of all their tiles by spelling out words. All players are playing head to head making gameplay frantic yet tense.
Before playing though, it is vital to know Bananagrams rules including instructions on how to set up your game.
Keep your eyes peeled as we explain exactly what players need to set up a game of Bananagrams.
What is Bananagrams?
Bananagrams is similar to the more well-known word game 'Scrabble', except playing it requires you to be slightly more bananas.
Becoming 'top banana' is simple – and it is also great fun to play with the family.
Number of Players Required: 2-8 players.
Who Can Play It: Suitable for all ages, especially younger players. Be wary of small game pieces, however.
Difficulty: Easy. The rules could not be easier to pick up.
Main Objective: Be the first person to get rid of your letter tiles and shout at 'Bananas. We encourage players to actually go bananas but this is optional.
Why we love it: An entertaining spin on the classic game of 'Scrabble', Bananagrams is more family-friendly. It encourages players to potentially step outside of their comfort zone when joining in with the games more quirky rules. 
What do I need to play Bananagrams?
The game does require you to own a specific game board before playing, although there are different varieties to choose from.
If you're looking for the standard game which is being covered, try out this game pack from the official makers of the game.
Our Pick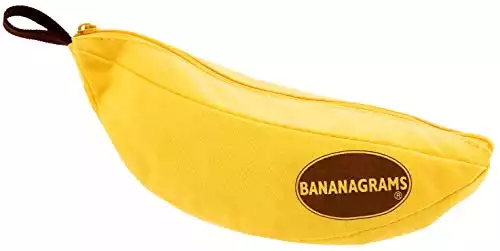 Bananagrams
Buy Now
We earn a commission if you click this link and make a purchase at no additional cost to you.
09/21/2023 01:52 pm GMT
For those looking for a quick game to take on their travels, this travel edition of Bananagrams may be exactly what you're looking for.
Great for Travel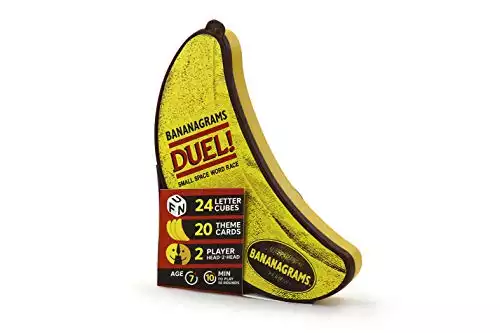 And if you have young children who are just starting to read then Bananagrams comes in a junior edition which you may find aids in the process.
Junior Pick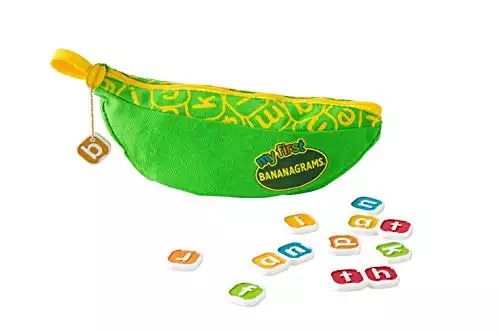 It may also be an idea to have a dictionary to hand to check on words, although a phone app should be able to do this also.
How to set up your game?
Bananagrams come with 144 tiles. Place all of these faces down in the middle of the table. This is the 'Bunch'.
Each player takes their initial starting tiles from the bunch, adjusted according to how many players.
2-4 players start with 21 tiles.
5-6 players start with 15 tiles.
7-8 players start with 11 tiles.
Once all players are ready with the correct amount of tiles, the game can begin.
Bananagrams Rules and Gameplay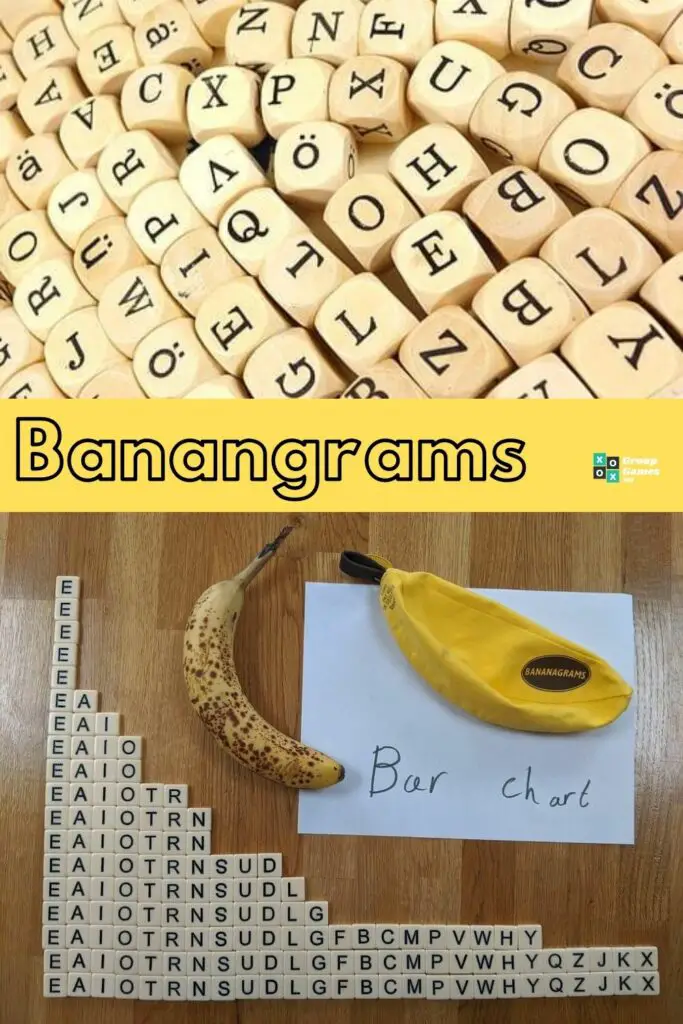 Fortunately playing Bananagrams could not be simpler to pick up, meaning that it won't be driving you bananas. 
Starting the game
Everyone should have the necessary amount of tiles face down in front of them.
Once everyone is ready to go, a player needs to shout 'SPLIT' before all players turn over their tiles.
This begins the game.
How to play Bananagrams: Rules
Players will use their initial tiles to try to spell out words, intersecting them to make a crossword pattern.
All players do this simultaneously until all potential variations have used up their starting tiles.
Once one player has used up all their existing tiles they shout out 'PEEL' to take a letter from the 'Bunch'. All players also take a letter from the 'Bunch'.
If a player has a letter that they cannot use, they can return it facedown to the 'Bunch' by shouting out 'DUMP' and replacing their tile with three more.
After all the player's letters are gone, the first player who has gotten rid of all their tiles shouts out 'BANANAS''.
Players can only shout out 'BANANAS' to declare victory once the tiles in the 'Bunch' are less than the number of people playing.
The other players will then inspect the crossword to make sure that the words are acceptable and aren't misspelled or a name etc.
If a player finds a word that they don't think is legit, they yell out 'ROTTEN BANANA'. Disqualify the guilty party from the round.
If this happens, return the 'Rotten Bananas' back to the pile.
Resume the game is until the next player calls out 'BANANA'.
See Also: Chicken Foot game rules
Keeping Score in Bananagrams
If you're playing the standard game of Bananagrams then there aren't many scores to keep.
All that players need to do is to tally up the number of wins each player has across multiple rounds.
The game is fast and frantic so declare whoever wins the most rounds as the Top Banana!
Frequently Asked Questions
What other games do people play with a standard set of Bananagrams?
The best part about Bananagrams is that as it's a simple game, there are many ways to play it.
'Banana Smoothie' is a version where players play in the normal way except there isn't any 'Peeling' or 'Dumping'.
The first player to use up all their tiles and yells out 'BANANA' is the winner. If the game is a tie or no player can use up all their tiles then award the prestigious 'Top Banana' to the player with the longest word.
Is there a way to add a scoring system to Bananagrams?
Although the Bananagram rules listed above are one way to play Bananagrams, you can adjust the game accordingly that suits you.
One way that you can do this is by adding values to the tiles similar to Scrabble to reward players who can make more complex words.
If playing for educational reasons then this can be a great way to encourage new words as well.
What difference is there to gameplay if you have a travel edition with fewer tiles?
The travel edition is ideally played with fewer players. Having fewer tiles available means the game stays relatively the same whilst also being fast-paced.
More people can still play the game but the number of tiles available may mean you struggle to come up with words.
The travel edition does come with a travel bag and fewer tiles mean less chance of losing them too!
Alternative games to Bananagrams
After playing a few rounds of Bananagrams we hope that you agree that it is easy, frantic, and most importantly a lot of fun.
Bananagrams is a kid-friendly game. If you were looking for more recommendations on games that your kids will love, consider reading our guides on word games like Wordle, Upwords, Sequence and Hedbanz.
Bananagrams is a perfect game to help with your literacy skills. If you want a game that can also help refine your math skills then check out Qwixx.