Qwirkle is an interactive family game. Players of all ages and experience levels can gather around this tile-placement game to build a web of blocks categorized by shape and color. Read on to learn the Quirkle rules and scoring. 
With over 4 million copies sold, Qwirkle has increasingly gained popularity, and rightly so! It is such a versatile game- not only fun and easy to learn, but Qwirkle requires some intellect and strategy to win, making it simultaneously educational and engaging. 
Pull up a chair, and read on to learn all the Qwirkle rules. 
This Qwirkle rules guide will cover the following:
What is Qwirkle?
A brief history of Qwirkle
What you'll need to play Qwirkle
Qwirkle Rules
How to play Qwirkle (Video Tutorial)
FAQs
Read on to learn how to play Qwirkle.
What is Qwirkle?
Qwirkle is a tile-placement game similar to other domino games. Arrange tiles strategically to form a Qwirkle, a line of six tiles coordinating by color or shape, earning points along the way. 
Number of Players:  2-4 players
Ages: 6+
Difficulty: Easy
Length of Play:  30-60 mins. 
Category: Tile Placement
Similar to: Dominoes, Blockus, Othello
Main Objective: Players compete to obtain the highest score by placing tiles in specific arrangements. 
Why We Love It: Qwirkle was first introduced to me by our family friends on a game night. It was an instant hit with the adults as well as the children. This quick-moving game is entertaining from start to finish!
A Brief History of Qwirkle
Qwirkle is one of the best-selling educational games on the market today from the creative game and toy company, MindWare. Mindware was initially established in 1990 and has since grown into a global marketing brand. 
Qwirkle also comes in a travel-sized edition that makes it a fantastic grab-and-go companion for vacations, play dates, and more. 
As a mom and an educator, games like Qwirkle make learning fun for children of all ages. Unlike some of the youth-specific games and toys sold by Mindware, Qwirkle is just as enjoyable for adults as it is for children. 
What You'll Need to Qwirkle
Everything you need to play comes included in this boxed set. 
Our Pick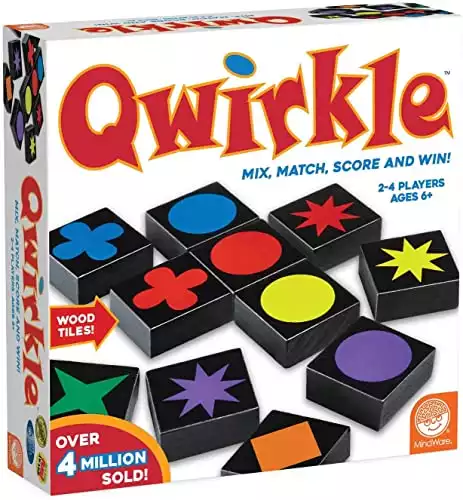 Qwirkle Board Game
Buy Now
We earn a commission if you click this link and make a purchase at no additional cost to you.
10/16/2023 11:52 pm GMT
This original box contains: 
Instruction manual
108 wooden tiles
Drawstring bag
Area of Play
Place all the tiles in the drawstring bag as players gather around the table to begin. Keep a notepad and pencil handy to keep track of scores throughout the game. 
Before starting the game, pass the bag around so that each player can draw 6 tiles to create their hand. No peaking! Keep your tiles hidden from other players. 
MindWare sells a bonus pack to accompany the Qwirkle game that includes tile racks making it easier to keep your tiles out of view of the other players.
Qwirkle tiles come in six different colors and six different shapes. You can only place a series of tiles together in a line if they are the same color or the same shape. You cannot duplicate a shape or color in these lines. 
Colors: 
Blue
Red
Orange
Yellow
Green
purple
Shapes: 
Square
Circle
Diamond
4-sided Star
8-sided Star
Flower
There can only be a maximum of 6 tiles per line; this is called a Qwirkle. For example, if you have a square of each of the six colors, those six squares can be placed together in a line. 
Once each player has their hand of tiles, they look to determine who can create the longest single line of any one color or any one shape. They will start the game by laying out the group of tiles in the center of the table. 
Example: 
In the example hands described below, player A only has options of playing a maximum of 2 tiles from his hand in a line. The red circle and the red square, or the green star and the green flower. 
Player B would be the first player to go because he has an option to lay 3 tiles down to form the start of a line- the purple diamond, the purple star, and the purple circle. 
Player A has the following tiles: 
Red square
Red circle
Yellow diamond
Green 8-sided star
Green flower
Player B has the following tiles: 
Purple diamond
Purple 4-sided star
Purple circle
Green circle
Red square
Blue flower
If the players have the same number of tiles in their lines, the oldest player goes first. Gameplay continues clockwise from this point.
Qwirkle Rules
Once the first player places his or her group of tiles down to begin, the game continues, and players each build on to the existing line.
You can play multiple tiles, but you can only establish or add on to one line at a time per turn. For instance, if you play a red circle in a line beside a red diamond and a red star, you cannot also play a blue square to a separate line of varying squares. 
After a player places tiles down, they need to reach into the bag and replenish their hand, always maintaining six tiles until there are no more tiles left in the drawstring bag. 
The gameplay continues in a clockwise rotation until all the tiles have been taken from the bag and a player has no tiles left.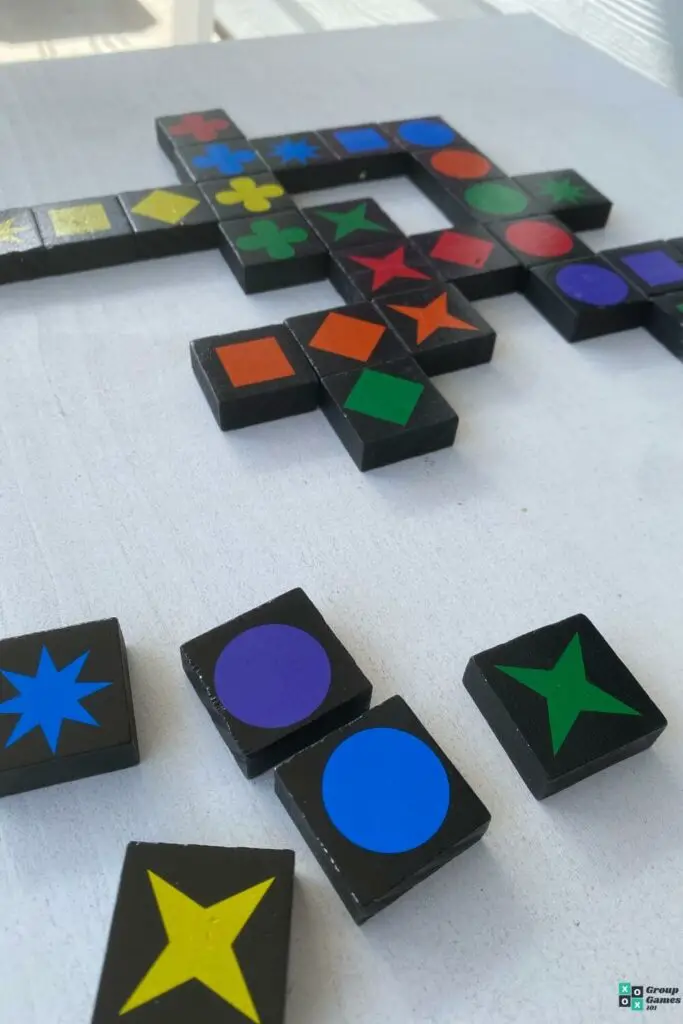 How to Keep Score in Qwirkle
Throughout the game, you need to keep track of your points every time you place tiles. 
Each player earns one point for each block played with additional points for blocks next to or beside the block played. 
If you complete a Qwirkle, you gain six points, one for each of the six blocks, plus an additional six points for completing a Qwirkle. 
The player who plays all of his or her remaining tiles when the bag is empty signals the end of the game. This player receives six points for playing all of his or her tiles. 
To determine the overall winner, players add up all the total points for the game. The player with the most points wins! 
How to Play Qwirkle – Video Tutorial
Frequently Asked Questions 
What age is Qwirkle good for? 
This game is recommended for players ages 6 and older. Younger children may be able to pick up the concept at an earlier age with help from an adult. 
Qwirkle is a game that is suitable for all ages. I can imagine residents in a nursing home enjoying this game, a group of college kids playing at the pub, or even school children gathered around the picnic table playing Qwirkle at recess. 
Can you play Qwirkle alone? 
Qwirkle is recommended for 2 to 4 players; however, I think you could easily play this game independently. Much like Solitaire, you could simply draw tiles and work to create Qwirkle lines building from a single starting point. 
MindWare also sells a Qwirkle Rummy game if you prefer cards to tiles while playing. 
Other Games Similar to Qwirkle (Our Guides)
Be sure to play some of these tile-placement games that are just as fun: 
Qwirkle Cubes (Guide coming soon)