Sometimes if you're hosting a party with a lot of kids, you need a game that is fun but is also perfect to tire out the kids. One such game is Fruit Salad, a question and answer game with an entertaining twist.
A classroom classic best introduced to younger children, the game is similar to musical chairs although without the music.
If this is a game that you think would interest your group of kids (perfect group game for preschoolers for example), we've got you covered with everything you'll need to know to play 'Fruit Salad'.
What is the Fruit Salad Game?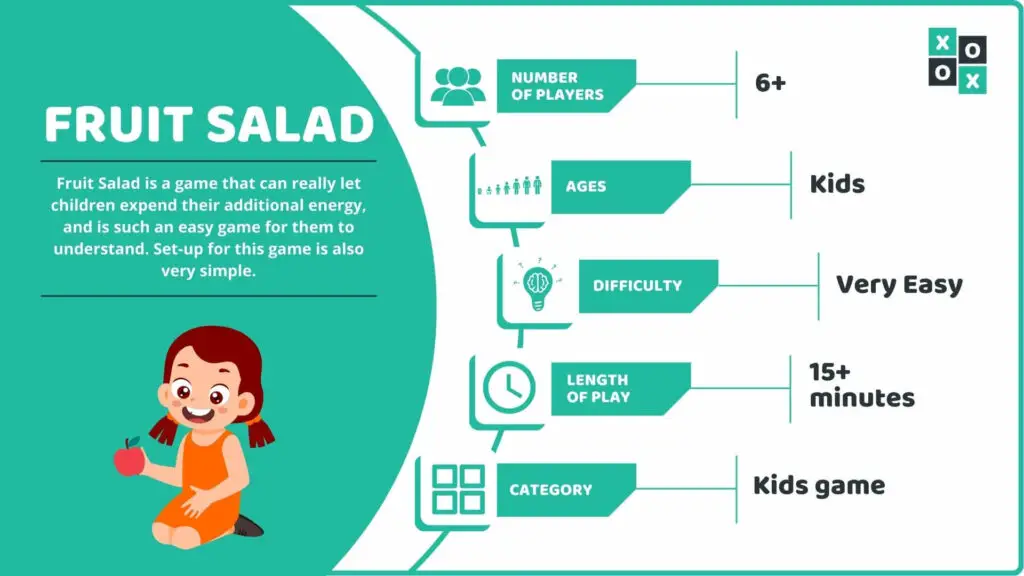 The Fruit Salad game is the ideal big group game for rainy days – especially if your kid's party gets interrupted by the rain.
Number of Players Required: 6+, it may be harder to play with less than 6 so not recommended.
Who Can Play It: Perfect for younger children, especially to help them burn energy.
Difficulty: Very Easy.
Main Objective: Avoid being the person without a chair and gets stuck in the middle.
Why we love it: Fruit Salad is a game that can really let children expend their additional energy, and is such an easy game for them to understand. Set-up for this game is also very simple.
What do I need to play the Fruit Salad Game?
The most important part of Fruit Salad is to have a large area in which you can set up the game.
The only other thing that you'll need is chairs. Each participant will need a chair for the game to work.
If you don't have enough chairs or have more kids playing then anticipated, consider using training cones instead as a cheap alternative.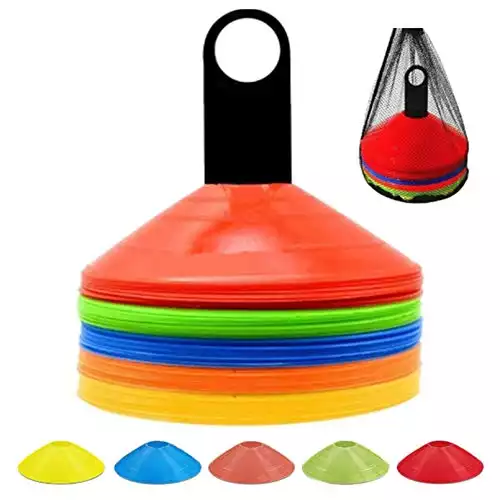 How to Set Up Your Game
Set up is very simple, simply get all participants to place their chairs in a circle.
Pick someone at random to be the person who starts in the middle and remove their chair from the game.
Fruit Salad Game – Rules and Gameplay
Fruit Salad involves asking easy questions to the group, try to have a list of these questions before starting so that you don't get stuck.
Starting the game
Once everyone is sitting in a circle and one player is ready to start the game in the middle, the game can begin.
How to play Fruit Salad Game
The person in the middle asks a question such as 'Does anyone have a dog?'.
Anyone who answers the question with a 'Yes' has to leave their seat and swap with someone else who also answered the questions with 'Yes'.
At any point, the player in the middle can yell out 'Fruit Salad'. When this happens, all players must swap seats.
The person in the middle also tries to sit down in a vacated chair, the last one to find a seat gets eliminated from the game.
This continues until there is only 2 people left. At this point, have just one chair available and ask a question that will apply to both remaining players.
Make sure that players don't simply take the seat directly next to them in order to make gameplay fairer.
Keeping Score in the Fruit Salad Game
If you didn't want to eliminate participants from the game, then consider coming up with a scoring system instead.
Decide on how many rounds you want to play, and give any player caught in the middle a point. The player or players with the least points takes the win.
The best part about Fruit Salad is that it's not about winning, it's about having fun!
Frequently Asked Questions
Are there alternative ways that you can play the Fruit Salad game?
Rather than have questions, you can instead assign each participant a different fruit, and shout out a random fruit every round.
Everyone assigned that fruit then gets up and switches seats, doing it this way means that you won't have to think of questions too.
Alternative Games to Fruit Salad Game
Fruit Salad is certainly a game that involves a lot of running and will certainly provide entertainment if you choose to introduce it to a party.
If you chose to play outside and are looking for more outdoor activities, have a look at our guide to 'Stuck in the Mud'. This game involves the same level of running about required.
If it's summertime and the kids are looking for a fun way to cool off, we have just the game. The Water Balloon Toss Game could be exactly what's required if players don't mind getting wet!
If your kids just want to play something extremely fun while staying indoors, be sure to check our guide for Pass the Orange game rules.