One pocket pool, simply put, is a difficult pool game. One pocket pool rules are difficult to crack, let alone master. But this easy guide can help you through it.
The game that has several major pool legends associated with it, One Pocket Pool has been ruling hearts and tournaments for decades now. Several specialized international tournaments including the US Open One Pocket Championship as well as collective annual pool conventions like the popular Derby City Classic celebrate this game.
One Pocket Pool rules are revered globally ever since their close resemblance to chess was noted by American entertainer and pool enthusiast Rudolph Wanderone.
Let's quickly hop down to understand everything about the game, right from the basics to pro tips!
What Is One Pocket Pool?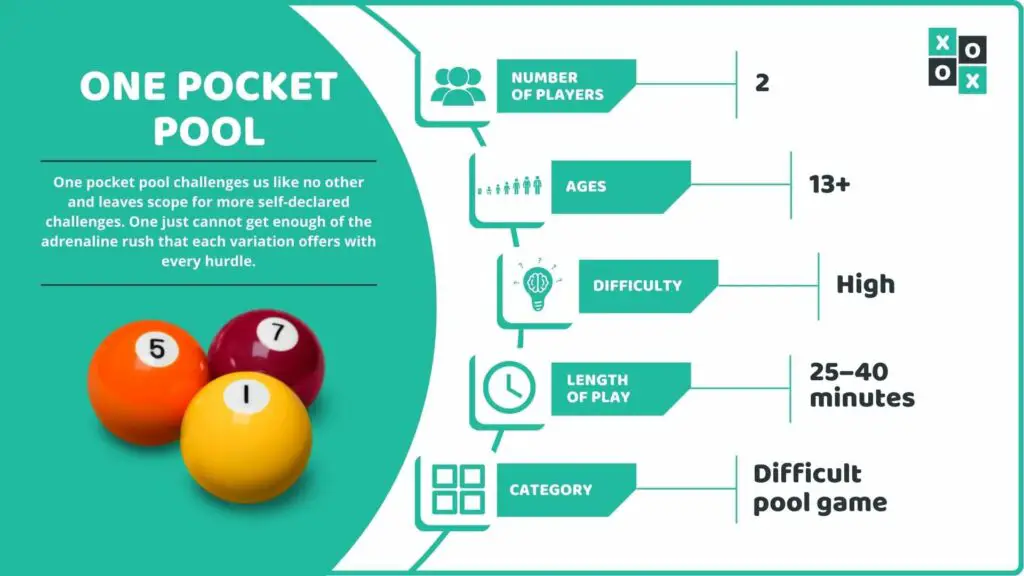 One pocket pool is one of the toughest to master, high gamble stakes, and popular billiard games that is loved and enjoyed by people from all walks of life across the globe, so much so, it has found a place in several pop-culture media outlets including movies, books, and even plays. In fact, the entire plot of the 2007 Sports Drama Turn The River is based on the one-pocket pool game.
As the name suggests, it involves assigning one pocket to each player for the entire course of the game. In a sense, it can be considered as a call-pocket game, however, one may or may not choose to call balls in the game to experiment further with complexity.
Number Of Players: 2
Ages: Experienced players, preferably 13+
Difficulty: High
Main Objective: Pocketing a greater number of object balls in the assigned pocket.
Why We Love It: One pocket pool challenges us like no other and leaves scope for more self-declared challenges. One just cannot get enough of the adrenaline rush that each variation offers with every hurdle.
Brief History Of One Pocket Pool
One Pocket Pool enjoys a rich history, thanks to its instant popularity ever since its first tournament in 1961 Whether the game's distinctive rules set it apart from the conventional pool games like the ten-ball pool or the controversies and theories associated, is still a matter of debate.
What has been unarguably accepted as a fact, however, is that a game that can beat one pocket pool in its difficulty levels and complications is hard to find.
What You Need To Play One Pocket Pool
This one's not for the newbies. You will need a tad bit of patience and skills here to make the mark. It's also why we recommend it for players who are already good at other pool games.
Before getting into the crux of the game, let's have a look at what you need to get all prepared before you get, set, and shoot.
Standard Pool Table
– A regular billiard table of about 9 ft length is used to play one pocket pool.
– Although it consists of 6 pockets, only the 2 pockets on the corners of the top rail of this table are used in the game.
– For a safe, stable, and affordable pool table option, you can always trust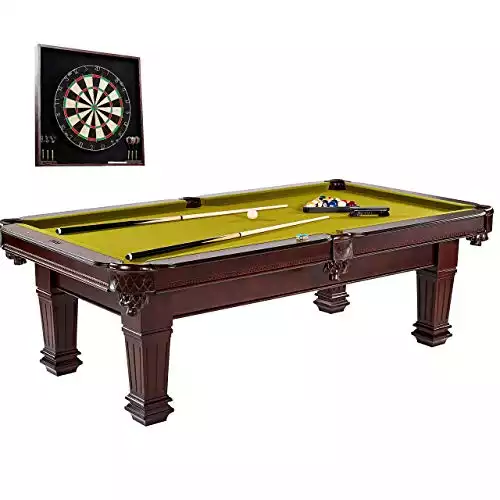 Balls
– One pocket pool is played with a total of 16 balls including 1 cue ball and 15 object balls.
– The number printed on the ball, color, and patterns on the ball is irrelevant to the game.
Rack
– A typical triangular rack, like the one used in the eight-ball pool, is used for one pocket pool.
– The difference is that the balls are placed randomly in this rack and the numbers on the center and top of the rack are irrelevant.
Cue Sticks
– Each player plays with one cue stick with a standard length of about 59 inches and tapering tips.
– It's always best to go for a cue stick that is easy to handle, suits your preferred length, is light-weight, and comes in packs of multiple sticks like that of Billiard Depot.
One Pocket Pool Rules And Guidelines
One Pocket pool is a difficult game with easy rules, which means, the gameplay is simple to understand from start to finish but players have to face several hurdles before reaching the finish. Let's understand what are the standard one pocket rules that make this game more stringent than other pool games like 9-ball and bumper.
Break
Pretty much like the other pool breaks, one pocket pool game's legal break shot consists of either pocketing a single object ball or making sure at least four object balls strike the rails. However, the importance of break shots in this game is unlike any other.
The shooter making the break is at an advantage because a single shot towards the assigned pocket can make pocketing several object balls convenient. In transverse, the player can also break with a purpose to make shots inconvenient to the opponent assigned with the adjacent pocket.
Playing The Game
One primary rule of the one pocket pool game states that each player plays to pocket more than half of the rack's balls — 8 or more object balls — in the assigned pocket.
However, since one pocket pool rules are flexible enough to accommodate players from varied skill sets and proficiencies in one single game, the winning score can be predetermined as per convenience.
With every object ball sunk in the designated pocket, the player gets to play another chance. In case the player misses, three scenarios are possible:
– An object ball is sunk in any of the remaining 4 pockets, in which case, the turn is passed on to the incoming player and the ball is respotted.
– An object ball is sunk in one of the remaining 4 pockets along with another being potted in the assigned pocket, in which case, the player continues to play by respotting the ball from the undesignated pocket.
– An object ball is sunk in the opponent's pocket, in which case, the opponent scores a point.
Handicapping The Stronger Player
'Handicap', a rule rarely found in any other pool game than one pocket or straight pool, is used to level the ground when players on different levels of pool skills compete. As the name suggests, a rule is pre-decided with an intention to handicap the stronger player or make the game more difficult for that player.
This can be done by increasing the winning threshold for the stronger player and lowering the same for the beginner. For instance, a 10-6 spot where player A (the stronger player) is handicapped by being given a higher score (10 legal pockets) to chase whereas player B plays at advantage.
Another interesting way to handicap can be allowing either only bank shots or kick shots for player A to score a ball in the designated pocket. This will not only limit opportunities but also techniques that player A can exploit to win. Player B, on the other hand, can practice with the freedom thus provided and have a better chance of winning the game.
How to Keep Score In One Pocket Pool
One pocket pool scoreboard follows straightforward rules:
1 point added for each object ball legally pocketed in the assigned pocket.
1 point subtracted as a penalty for each foul.
No changes in points when the foul is a scratch.
Frequently Asked Questions
Who is the most popular one pocket pool player?
In today's times, it is hard to beat the popularity of World Champion Dennis Orcullo, however, an evergreen name among one pocket legends is Grady "The Professor" Matthews.
How can a player get knocked out in one pocket pool?
One pocket pool rules do not allow more than three consecutive fouls, which is ground enough for a player to lose the game.
Is one pocket pool more difficult than a straight pool?
If there's one game that can challenge and beat one pocket in levels of difficulty, it is a straight pool. Both, the rules and gameplay of a straight pool are far more elaborate than one pocket.
Alternate Pool Games To One-Pocket That You Might Like
Now, the one pocket pool game isn't for everybody (although it can be played solo) (although it can be played solo). If you are a newbie or are looking for an easier party game that everyone can play, there are other options.
To practice and polish your pool playing skills, you must try out games like Cutthroat pool or bumper pool.
You can then work your way up to games that require greater skills and experience like the classics 9-ball poolor eight-ball before you finally come back, better and stronger, to take your opponent in one pocket pool head-on.
Yes, if one pocket pool has intimidated you, there are always easier pool (or billiards) games to start with.