While perfecting your pickleball game may be mostly about practicing your technique, arming yourself with one of the best pickleball paddles for spin can certainly help give you that winning edge. 
The problem is that unless you really know what you're looking for, picking the right paddle for this particular purpose can seem a little confusing.
To help you out, we tried out 15 of the very best paddles on the market to find the top 5 picks that really help the most with putting some spin on your shot. In the end, the Engage Core Pro won out as it combines all the features you need for great spin shots while still offering a winning combination of power, speed, and precision. 
If that's not the one for you, don't worry, you'll find reviews of four other top paddles in our guide below.
Top 5 Best Pickleball Paddles for Spin
As we'll discuss in more detail in the buyer's guide further below, the surface material of a paddle is the biggest factor determining how well a pickleball paddle handles spin. 
Our top five picks combine the most ideal surface and other important factors such as the grip, core material, and the size and style of the material. 
All five paddles scored highly in each of these categories, but if none of them are quite what you're looking for, we've also included a helpful buyer's guide so that you know just what to consider when choosing a new pickleball paddle for spin of your own. 
1. Editor's Choice – Engage Core Pro 
Best for Spin
Specifications: 
Material: polymer core with fiberglass surface
Dimensions (L x W x D): 11″ x 8″ x 2″ 
Weight: 10 oz
Few paddles provide all of the necessary components to help with spin in pickleball, quite like the Engage Encore Pro.
The main reason for this is the premium quality fiberglass surface material which provides a longer contact time between the ball and the paddle.
The longer the ball remains on the paddle, the more you have control over it and can really get those spin shots down to an art form.
To help with this, this USAPA-approved paddle also provides a rather excellent handle which offers the kind of comfortable grip you need to really maintain mastery over your paddle.
Elsewhere, the innovative ControlPRO polymer core helps deliver maximum power, while the wide design ensures you get the biggest sweet spot of any paddle from the Engage brand.
With all that in mind, it's no wonder the Encore Pro scored so highly in our guide to the very best pickleball paddles of the year.
What We Like:
The paddle of choice for pros such as Brian Staub and Marcin Rozpedski
Available in 10 different design options
Designed to minimize noise.
What We Don't Like:
Not as durable as other paddles making it unsuitable for heavy use
More expensive than other paddles.
-> Read More Customer Reviews Over On Amazon
---
2. Best Professional Quality Paddle – Onix Graphite Z5 Pickleball Paddle
Best for Competitive Play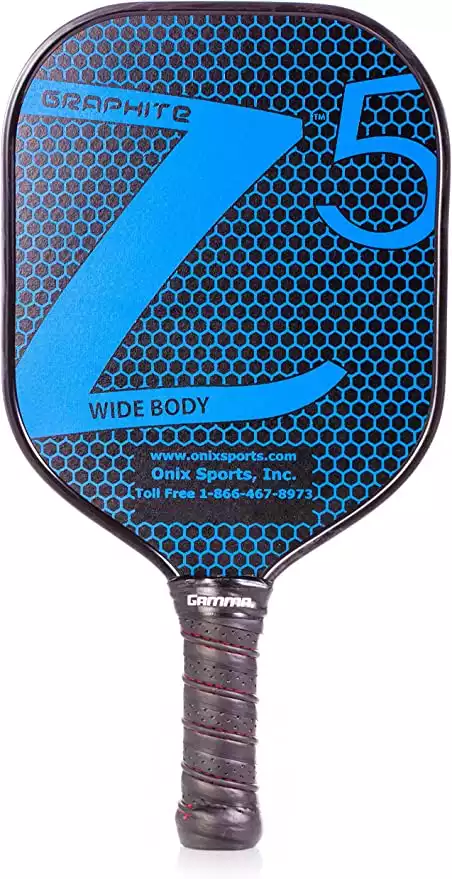 Specifications: 
Material: Graphite Carbon Fiber
Dimensions(L x W x D): 15.5″ x 8.3″ x 1.5″ 
Weight: 8.2″
Competition was fierce for the best professional-grade pickleball paddle with spin-enhancing qualities, but ultimately it was the Onix Graphite Z5 Pickleball Paddle that won out.
This is largely due to the combination of materials used in its construction.
On the outside, you've got a graphite surface that provides a substantial level of ball-to-paddle contact so that you can really perfect your spin.
On the inside, the core is made from a combination of Nomex and paper honeycomb, which offers the kind of maximum power needed for top-flight pickleball.
Adding to this is the wide-body design and a grip that is superior to almost all others on the market, a combination that leads to unbeatable control and makes it a great choice for competing against some of the best pickleball players around.
What We Like:
Attractive price for a paddle of this quality
Lightweight design improves overall play
Large sweet spot.
What We Don't Like:
It May be too much for beginners
Lacks a paddle cover.
-> See More Customer Reviews Over At Amazon
---
3. Best for Competitive Play – Selkirk Amped Pickleball Paddle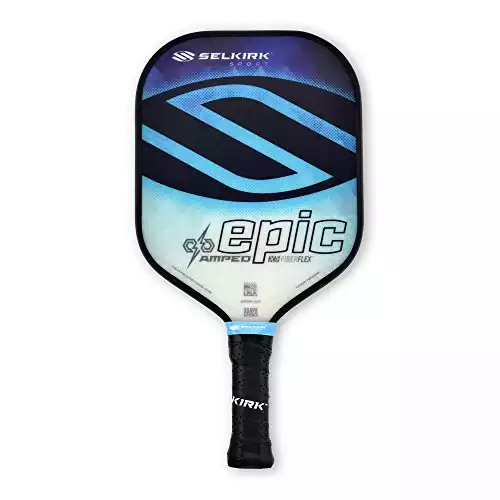 Specifications: 
Material: fiberglass surface with polypropylene core
Dimensions (L x W x D): 15.75″ x 8″x4"
Weight: 8.3 oz
The Selkirk Amped Pickleball Paddle was another top contender for the best professional-grade paddle. 
After much deliberation, we decided that while the Onix model is better suited for those playing at the very highest level, the Selkirk Amped Pickleball Paddle is still a fine option for those who may not be ready to turn pro but who are still competing in amateur leagues and tournaments.
Try it yourself, and you'll soon see why.
The quality grip and cutting-edge FiberFlex fiberglass face help to not only deliver maximum spin shots but also retaliate against your opponent's spin while maintaining absolute accuracy and control. 
Besides that, the Polypropylene X5 Core provides incredible durability, which is very important if you're a serious player partaking in fast-and-hard games regularly.
What We Like:
Chosen by professional pickleball players such as Tyson McGuffin, Enrique Ruize, Joanne Russel, and Kaitlin Christian 
USAPA approved 
A longer handle makes it a great choice for players coming from other sports such as tennis.
What We Don't Like:
More expensive than other models
Maybe too heavy for novice players.
-> Read More Customer Feedback Over On Amazon
---
4. Best Paddle for Speed – Paddletek Tempest Wave Pro
Best for Speed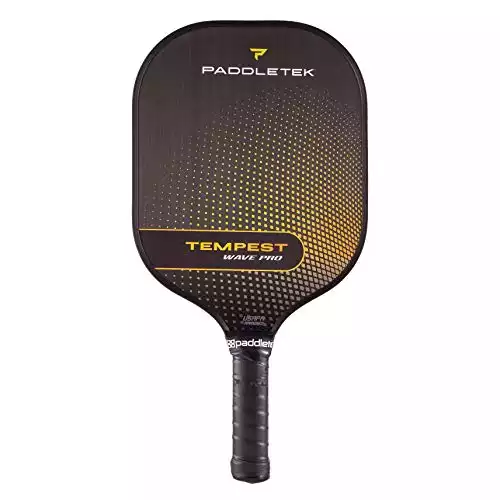 Specifications:
Material: graphite surface with Polymer honeycomb core
Dimensions (L x W x D): 16″ x 8″x4"
Weight: 7.6 – 8 oz
Adding spin to your shots is a great way to take your game up a notch, but if you really want to gain a competitive edge, then combining a masterful spin with deadly speed can really make you a force to be reckoned with.
That's why we love the Paddletek Tempest Wave Pro so much. 
With this attractive-looking paddle, Tempest has made speed a top priority, utilizing smart response technology in the construction process to ensure every hit drives hard and fast without compromising on control. 
The balanced weight also helps to really give those shots some much-welcomed swiftness, while the high-performance grip ensures that even if you're playing a long game, you'll never suffer from the kind of fatigue that can seriously throw you off your game.
What We Like:
Large sweet spot
A small edge shock guard means a greater playing surface.
Polymer honeycomb core provides exceptional power without sacrificing precision.
What We Don't Like:
Most expensive paddle on this list
Lacks a paddle cover.
-> See What Other Customers Think Over At Amazon
---
5. Best Budget Pick – Gamma Sports 2.0
Best Grip Pick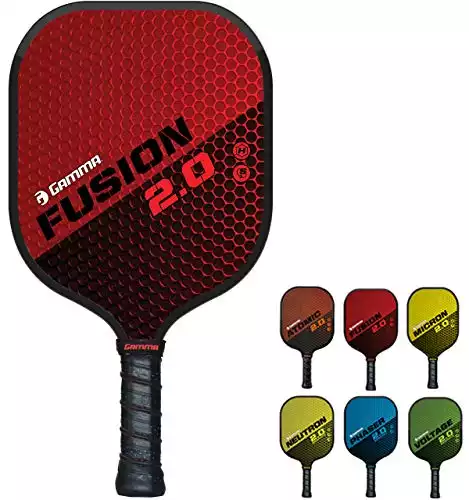 Specifications:
Materials: Fiberglass
Dimensions (L x W x D): 15.6″ x 8.4″ x 1.7″
The Gamma Sports 2.0 is a paddle that proves you don't have to spend a small fortune to get some really good spin on your shots.
OK, so it's not as cheap as some of the top wooden pickleball paddles which exist out there, but let's be honest:
If you take pickleball seriously, the last thing you want is cheap. 
Instead, what you get with this is a good-quality paddle at an affordable price, with the Aramid honeycomb core providing not only control and power but also long-lasting durability.
This midweight paddle is available in either fiberglass or graphite finishes, giving you the freedom to pick the surface that works best for you in perfecting your spin. 
Throw in a cushioned grip for added comfort and what you've got here is a great value-for-money paddle for both beginners and advanced players alike.
What We Like:
Available in 6 attractive color choices
USAPA approved
The grip is sweat-absorbent to help you maintain control.
What We Don't Like:
It can be quite loud compared to other paddles
The soft design may be off-putting to some players.
-> Find More Customer Reviews Over At Amazon
How to Choose the Best Pickleball Paddle for Spin: Your Buyer's Guide 
If you've read through our top five picks, you have started to see exactly what we looked for in determining the very best pickleball paddles to improve your spin.
If you're still unsure, or if you're not quite taken with our choices and want to find a paddle of your own, you'll find the following buyer's guide helpful.
Below, we detail the most important aspects when choosing a paddle for spin, and how each one may influence your purchasing decision.
Also Read: How to Play Pickleball
Surface Material 
Much as you'll find if you're choosing the best pickleball paddle for control, choosing one that will up your spin-game is all about finding the right surface material. 
All in all, fiberglass is the best material to look for. This is because it tends to provide a more textured surface that, in a sense, "grips" the ball and ensures that when the ball hits the paddle, it maintains contact for longer than you'd get with other materials.
When the ball is "gripped" in this way, you have better control over it, giving you the freedom to put a better spin on the ball.
Graphite tends to be thought of as too smooth a surface to be useful for this particular purpose, but since spin has become such a big trend in the pickleball world, more and more manufacturers have purposely made their graphite paddles a little rougher to improve that ball-to-paddle contact.
Shape and Size
The trick to getting really good spin is to hit the ball right on the paddle's sweet spot.
Naturally, the larger the sweet spot you have, the better chance you have of hitting it. 
As a general rule, standard-sized paddles measuring somewhere in the region of 15″ long and 8″ wide tend to offer the largest sweet spots, making these ideal candidates for players who love spin.
Grip 
Whether you're looking for the best pickleball paddle for beginners to get started or the best professional paddle to take your game to the highest level, the grip is always important.
This is just as true when it comes to spin. 
After all, a good spin is all in the wrist, and if that grip is too small, too large, or too drenched in your own sweat after an extensive game, then you're not going to enjoy the kind of quality you really need.
That's why we picked paddles mainly with 4″ – 5″ grips and gave extra points to sweat-absorbent ones.
Related: Best Pickleball Paddles for Beginners
Frequently Asked Questions 
How important is spin in pickleball?
Adding spin to your pickleball game can help you to land harder, deeper shots that are difficult for your opponents to respond to, making it an effective tactic for winning games.
What pickleball paddle for spin do the pros use?
Engage, Onix, and Selkirk are all pickleball paddle brands used by professional players, though you may also find some pickleball pros brandishing Head and other top brands.
Which pickleball paddle is better for spin – fiberglass or graphite?
Graphite is the best pickleball paddle surface for spin as it holds the ball to the paddle for longer, giving you more time and more control over your next shot.
Which Pickleball Paddle Should You Buy to Improve Your Spin?
All in all, any one of our top five picks would make a great pickleball paddle for anyone looking to improve their spin technique. 
Which one you ultimately spend your money on will ultimately come down to your own unique needs, your level of play, and simple personal preference.
If budget matters most to you, then the relatively low-cost Gamma Sports 2.0 will hold a lot of appeal.
If you're serious about taking your game to the next level and competing with the best of the best, the professional-grade Onix Graphite Z5 Pickleball Paddle will likely be just what you're looking for.
On the other hand, all that matters to you is getting the best spin-friendly pickleball paddle the market has to offer, then the Engage Encore Pro with its fiberglass surface, excellent grip, and solid construction quality is a clear winner.