Ask around at your local pickleball club for recommendations on the best pickleball paddles, and you'll probably get a different answer from everyone you ask. 
While that's great for ensuring you've got a wide range to choose from, it hardly helps when it comes to selecting just one to spend your money on.
So hopefully, this guide will help.
In this comprehensive pickleball paddles guide, you'll learn all about how factors like weight, grip and even the kind of material used can all influence the way you play and how that will ultimately impact the kind of paddle you buy.
You'll learn how to determine what size grip you need, and even what kind of pickleball paddle to buy if you need to keep the noise down.
Finally, you'll find our pick of the top 10 pickleball paddles for players of all abilities. Having tried out 15 of the best paddles around, it was the Niupipo Pickleball Paddles that earned our Editor's Choice award simply because they're of substantial quality and suitable for players of all abilities.
Editor's Choice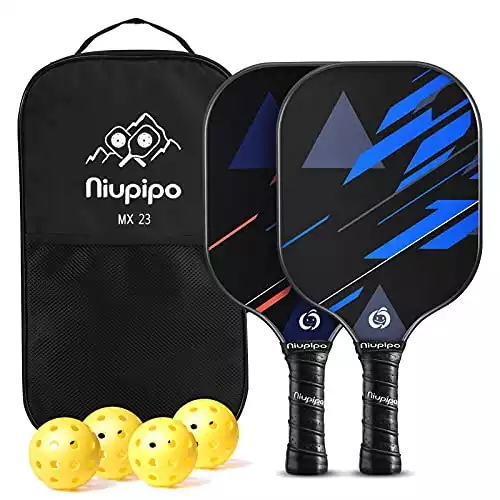 However, if that's not the one for you, don't worry, we've got plenty of alternatives.
You will find detailed reviews of each of the pickleball paddles further down below.
What to Look for When Choosing the Best Pickleball Paddle for Your Game
Ultimately, any number of paddles could be considered the best depending on numerous factors such as your size, playing experience, and style.
In other words, what's best for one pickleball player may not be the best for you.
So how do you know which paddle is actually worth handing over some cash for? 
Simple: 
You read our complete buyer's guide. 
Below, we outline exactly what to look for when choosing a pickleball paddle and explain how all of the factors we considered when making our top ten picks may ultimately influence your purchasing decision.
Weight
Speak to any number of professional pickleball players, and the majority will tell you the same thing:
The most important thing to look for in a pickleball paddle is the weight. 
How heavy your paddle is will determine everything from how that paddle feels to the level of speed and control you hit the ball with, even down to how well you play as the game goes on.
Think about it: 
A heavy paddle may not seem like too much of a burden at first, but if you're repeatedly swinging it over and over throughout the course of a game, it's going to start wearing you down physically.
This can be challenging enough for fit and active players, but if you're struggling with injuries, it may severely impact your game.
Not that heavy bats don't have their upsides. They also deliver much more power, which can be very useful in competitive games.
Meanwhile, lighter paddles provide a greater level of control, making them well suited to new players.
The 3 Weight Categories of Pickleball Paddles. 
Paddles are generally classified into three weight categories. These are: 
Lightweight – Below 7.30 oz
Midweight – 7.3 – 8.4 oz
Heavyweight – 8.5+ oz 
Which one you choose will largely depend on your style and experience.
1. Lightweight Paddles
Best pickleball paddles for control
Good choice for beginners
Faster response times when returning the ball.
2. Midweight Paddles
Good combination of power and control
Suitable for intermediate players
Good for tennis crossovers
3. Heavyweight Paddles 
Best pickleball paddles for power
Usually wood-based paddles
Good for older players or those with arm injuries which may struggle to channel enough power into their play.
Grip
After weight, the next most important factor to consider is the grip, or, to be more specific, the grip size. 
No matter how often you play or to what level, you'll need a grip that fits the size of your hand and feels right.
Use a grip that's too big, and you'll struggle to maintain control while also increasing the risk of strains, injuries, and conditions such as the dreaded tennis elbow. 
Use a grip that's too small, and there's just as much risk of wrist strain as you'll have to put more power into your swing to hit the ball properly.
That's not to say there aren't some advantages to choosing a large or small grip.
If you're coming to pickleball after previously playing tennis, for example, you'll perhaps fare better with a larger grip that more closely resembles what you're familiar with.
Large pickleball paddle grips also have the added advantage of improving stability, while smaller grips improve control and help you to put spin on the ball.
It's just that, regardless of whether it's big or small, that grip has to be the right size to fit comfortably in your hand. 
One way to do this is to buy the kind of paddle you like best and then use tape or a good-quality overgrip to customize the grip so that it better suits you.
How to Find Your Grip Size for a Pickleball Paddle
The easiest way to determine the kind of grip you need is to go by your height.
Though there's no exact science to this, it's generally accepted that the taller you are, the larger the grip you'll need.
Since pickleball paddle grips are measured in 1/8″ of an inch, this means that the following can be used as a general guide to the kind of size you'll need. 
| | |
| --- | --- |
| Height: | Grip:  |
| Below 5'2" | 4" |
| 5'3″ to 5'8″  | 4 1/8″ to 4 1/4″ |
| 5'9″+  | 4 1/2″  |
Material
Whether you're buying pickleball paddles, pool cues, or anything else, the quality of the material is always going to make a big difference. 
After all, the better the material, the better the quality of your gear, and therefore the longer it's going to last. 
When it comes to this sport in particular, however, the material of your paddle can also impact the way you play.
Most good-quality paddles are made from three types of material. 
These are: 
Wooden Pickleball Paddles
Wooden pickleball paddles tend to be the cheapest option available. 
This makes them a great choice for casual players. If your only goal is to play a few lighthearted games with friends during your next summer BBQ, then these types of paddles are well worth considering.
This is especially true when you consider that you'll also have to buy other equipment such as a good pickleball net.
On the downside, wooden paddles are also the heaviest, and this may hinder your performance.
If you're a serious player with aspirations of playing competitively, a wooden paddle is unlikely to be good enough to suit your needs. 
Graphite Pickleball Paddles
Graphite paddles tend to be the most expensive at the opposite end of the spectrum, but they're also much lighter, more powerful, and better suited for serious players.
These paddles take a Nomex, polymer honeycomb, or aluminum core and finish with a lightweight graphite face, improving performance. 
If you're really looking to take your game to the next level and compete with the best of the best, this may be the way to go.
Composite Pickleball Paddles
Offering a solid compromise between the affordability of a wooden paddle and the premium quality of a graphite option, composite paddles tend to be the most popular on the market. 
They're a great choice for players who play in leagues or at least take things more seriously than those casual backyard players, yet who aren't so invested that they need the absolute best pickleball paddle money can buy.
Composes tend to take a core made from either Nomex, polymer honeycomb, or aluminium and finish it with a surface face made from fiberglass.
Carbon fiber composite paddles also prove popular and really make a difference when it comes to improving your game. 
Related: Best Pickleball Paddle for Spin
Pickleball Paddle Shape and Size 
At first glance, all pickleball paddles may look the same. Peer a little closer, however, and you'll soon discover that there are some noticeable differences. 
The most common shape is the wide-body paddle which is the classic design with a flat upper edge and side edges that then slant inwards towards the grip.
These tend to be the standard paddles, and you really can't go wrong with one of these.
You can also get oversized paddles that sacrifice handle size in favor of a larger surface area and may make them a good choice for beginners.
Finally, some experienced players prefer an elongated paddle that is longer and more narrow than the standard paddle. These paddles can make it harder for beginners, though more advanced pickle ballers may find them helpful for providing extra reach.
Related: Looking for a pickleball paddle best suited for first-time players? Why not check out our best pickleball paddles for beginners guide.
Edged vs. Edgeless Pickleball Paddles
Some pickleball paddles come with a noticeable thick trim around the edge.
This is known as an edge guard and is designed to stop the edges of your panel from getting damaged. As you can imagine, this makes them very useful for inexperienced players who are still getting used to the game.
Alternatively, those who take their pickleball seriously may prefer an edgeless paddle that lacks this protective guard but does mean you've got more of a playing surface to work with.
Noise
Pickleball may be a fun and exciting game, but there's no denying that the constant *thwack* and *whack* The ball rallying back and forth can get pretty noisy, especially if you and your opponent are seriously on a roll.
All that noise can get a little annoying, if not to you, then at least to people around you who aren't necessarily part of the game. 
In fact, some gated communities and Homeowners Associations place an outright ban on games like Pickleball just so that they can enjoy some peace and quiet.
If you think the noise is going to be an issue for you, then it's important to go with a quieter paddle.
To do this, you should be looking at those made with polymer, as these tend to produce less noise than other options.
Color and Design
As we move down our list of priorities, the design and color scheme of your new paddle may not make that much of a difference, but that doesn't mean it's not something to keep in mind. 
Some particularly passionate players like to match the color of their paddle to their pickleball shoes or the outfit they wear when playing pickleball.
You might simply want to pick the one that looks the coolest. Either way, while it can make a cosmetic difference, design isn't going to dramatically influence your game.
Price Factors
Last but not least, we should also consider the cost.
As a general rule, the more money you have to spend, the better the paddle you get, but that's not to say that you should always spend as much as possible. 
Keep in mind that the more you get into this sport, the more things you'll have to buy.
For example, as well as a paddle, you may also want to spend money on:
Pickleball paddle covers
Pickleball balls 
Pickleball shoes
Pickleball nets
Pickleball bags.
And other essentials. 
As such, you may want to think carefully about your budget and how much you're willing to splash out on for this game.
How Much Do Pickleball Paddles Cost? It's worth mentioning that sometimes cheap pickleball paddles can be just that – cheap and not up to much beyond an occasional friendly game at a family BBQ. 
As such, we recommend setting aside a budget of at least $30 for a good paddle.
At the top end of the scale, you're looking at anywhere from $79 – $120, though we'd say that the average price for a good quality paddle is around $50 – $70.
Top 10 Pickleball Paddles in 2023
1. Editor's Choice – Niupipo Pickleball Paddles
Editor's Choice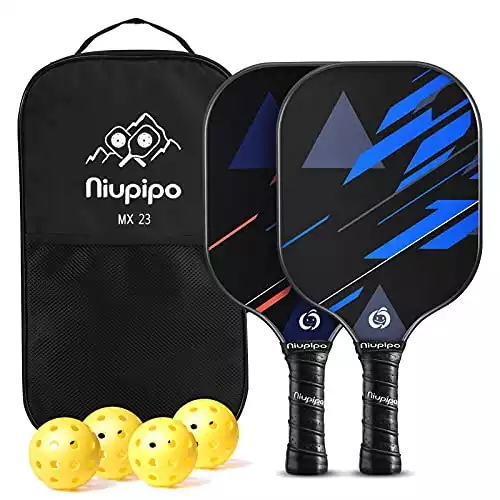 Specifications: 
Material: Fiberglass
Dimensions (L x W x D): 10.63″ L x 7.87″ W x 0.59″
Weight: 8oz
Even if you know very little about pickleball, it should be fairly obvious why we picked the Niupip Pickleball Paddles as our overall Editor's Choice.
Earning rave reviews as one of the best pickleball paddle sets around, the Niupip set contains two paddles, 4 balls, and a good pickleball paddle bag to carry them all in.
Still, it's quality, not quantity, that really counts here, and Niupip delivers in that regard too.
These midweight paddles are made from a solid Polypropylene-honeycomb core with a fiberglass face, making them as solid a choice for casual players as those who take their game a little bit more seriously.
We also like that the grip is better than most. When you're learning how to hold a pickleball paddle, getting the grip right can be a bit of a challenge, but the sweat-absorbent, cushioned grip helps you to hold on with ease.
What We Like:
Quiet paddles that don't make much noise
Paddles come with edge protection to stop the paddle from getting damaged if you drop it.
Exceptionally durable and built to last.
What We Don't Like: 
Paddles don't have individual covers
Balls are meant for indoor play only.
2. Best Professional-Grade Paddle – Onix Graphite Z5 Pickleball Paddle 
Best for Competitive Play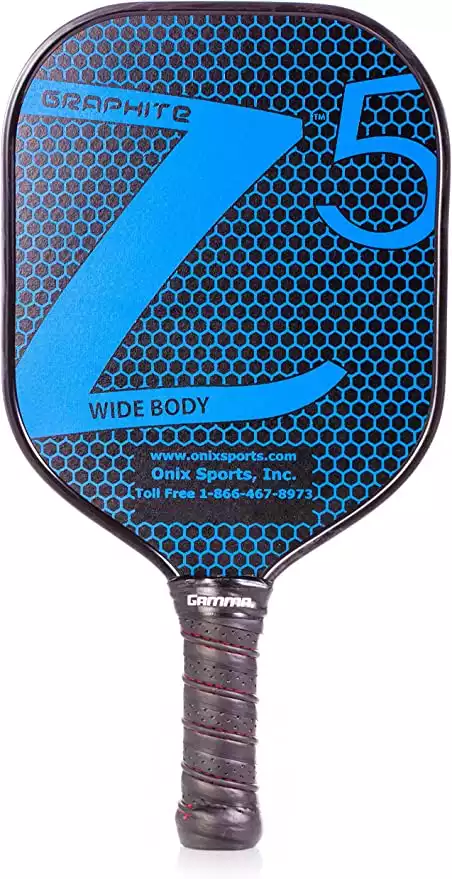 Specifications: 
Material: Graphite Carbon Fiber
Dimensions(L x W x D): 15.5″ x 8.3″ x 1.5″ 
Weight: 8.2″
Throughout the entire history of pickleball, professional players have turned to any number of different brands for their equipment.
Of them all, though, it's Onix who continue to be a mainstay of professional leagues and competitions the world over. 
The Onix Graphite Z5 Pickleball Paddle is the brand's crowning achievement, a quality, wide-body paddle that provides superior control to many others on the market.
We're also big fans of the tennis-like handle, making this a great fit for those making the jump from tennis to pickleball.
Not that you need to be a tennis player to enjoy this one. If you're serious about your game and looking for one of the best pickleball paddles for advanced players to really take your game to the next level, this may be the one to beat.
What We Like:
It comes in an array of attractive design choices
Composite core made of Nomex and paper honeycomb provides an outstanding combination of power and control.
Graphite face improves speed and maneuverability.
What We Don't Like:
It doesn't come with a cover
It may not be suitable for novice players.
3. Best Grip – Gamma Sports 2.0 Pickleball Paddles 
Best Grip Pick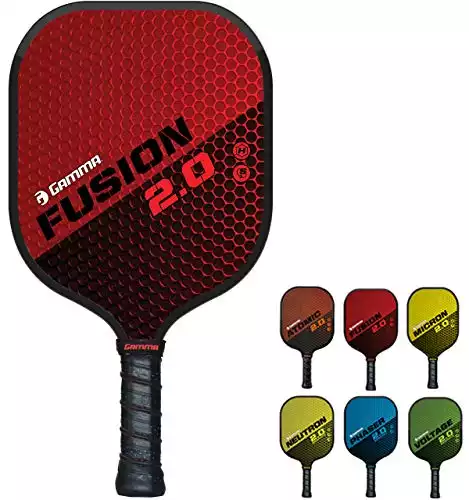 Specifications: 
Material: Fiberglass
Dimensions(L x W x D): 15.6″ x 8.4″ x 1.7″ 
Weight: 8.0oz
The fact that we've talked so much about grip in this guide should give you some indication as to how important it is to your game.
While all of the other paddles we've looked at have a good quality grip, few can quite match the Gamma Sports 2.0.
Rivaling the Head Radical paddle (more of which later) as the best paddle for intermediate players, this one has earned a slew of tremendous reviews for its ergonomically designed foam handle with a sweat-absorbing grip. This ensures it not only feels good but allows you to maintain control even when your hand starts to get sweaty.
Although this is the heaviest paddle Gamma makes, that isn't necessarily a bad thing. The midweight design is ideal for taking your game from beginner to the next level.
What We Like:
USAPA approved
Sweat-absorbent grip stops your paddle from slipping during intense games
Good paddle for spin
What We Don't Like:
Paddle is "soft" – meaning the ball doesn't pop off the face quickly. 
Louder than other paddles.
4: Best for Intermediate Players – HEAD Radical Elite Pickleball Paddle
Best for Intermediate Players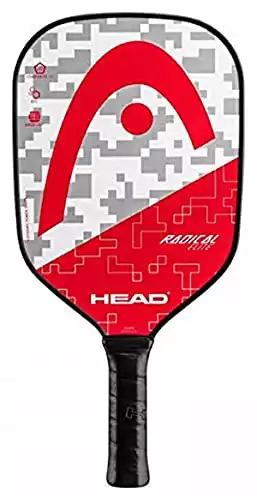 Specifications: 
Material: Polypropylene honeycomb core with fiberglass finish
Dimensions (L x W x D):  12″ x 8″ x 3″
Weight: 8.11 oz
If you're not quite at the advanced stage just yet and are on the hunt for the best pickleball paddle for intermediate players, then the HEAD Radical Elite Pickleball Paddle is definitely worth a look.
Apart from the fact that it's one of the coolest-looking paddles on our list, the Head paddle is made from a composite core with a fiberglass surface which offers those playing at club level a winning blend of control and ample power. 
Add in the composite hitting surface for optimum power and what you've got is another solid contender for the best mid-level paddle around.
What We Like:
Optimized Tubular Construction (OTC) of the polypropylene core ensures maximum performance and minimum noise.
Larger "sweet spot" than most paddles
Good option for fans of lightweight paddles.
What We Don't Like:
Lacks a head cover
May not be a great fit for advanced players
5: Best Pickleball Paddle for Beginners – Uteeqe Pickleball Paddle
Best for Beginners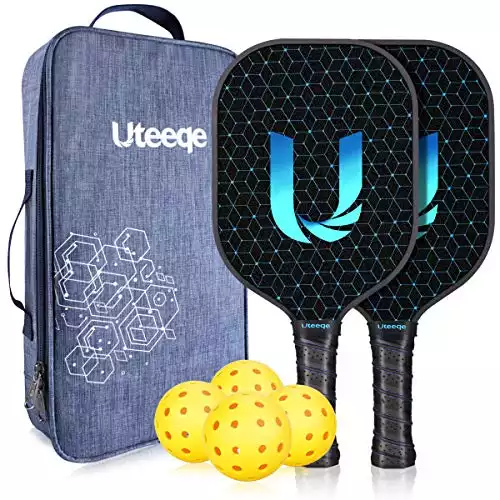 Pickleball Paddles Graphite Set - by Uteeqe
We chose the Uteeqe Pickleball Paddle because it's an all-round excellent paddle. Perfectly combines a solid mid-weight design, highly durable material, and damage-resistant edge guard into one attractive, affordable package.
Buy Now
We earn a commission if you click this link and make a purchase at no additional cost to you.
04/24/2023 08:52 pm GMT
Specifications: 
Material: Polymer Honeycomb Core
Dimensions (L x W x D):  16″ x 8″ x 4.25″
Weight: 7.8 oz
There's more to finding a good, affordable pickleball paddle than simply picking the one that costs the least.
After all, cheap pickleball paddles tend to be precisely that, with manufacturers compromising on quality in order to offer the lowest price. 
The Uteeqe Pickleball Paddle doesn't have that problem. 
It's still very budget-friendly compared to other brands, but it also proves itself to offer a winning combination of power and control, while the composite construction and textured surface help to make this an exceptional starter paddle.
What We Like:
Lightweight build ensures faster responses
A good pickleball paddle for spin
Low-profile edge guard prevents damage to your paddle.
What We Don't Like: 
Small handle may make it unsuitable for larger players
Some users report that the textured surface could be better.
6. Best Wooden Pickleball Paddle – Amazin' Aces Pickleball Paddle Set
Best Wooden Paddle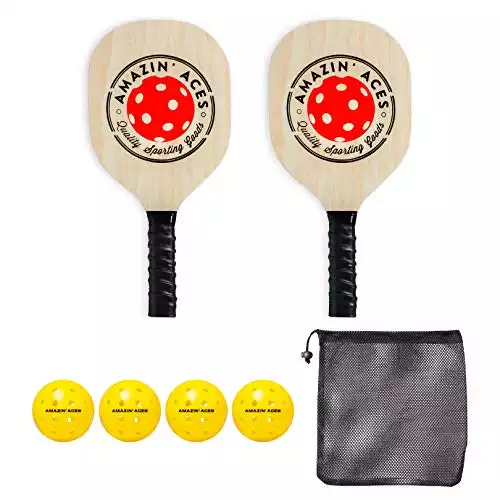 Specifications: 
Material: 7-ply wood
Dimensions (L x W x D): 11″ x 8″ x 2″ 
Weight: 10z
As we'll discuss in our buyer's guide later, the best wooden paddles can prove to be another great option for beginners and casual players. 
This is partly because they tend to be cheap paddles. Indeed, the price tag of the Amazin' Aces Pickleball Paddle Set will no doubt appeal to anyone looking to enjoy the game on a budget. 
What's more, although they lack the durability and lightweight maneuverability of a carbon paddle, they also tend to have a generously sized, wide-body design and substantial grip, all of which make it easier for newcomers to really get into the game, and all of which you'll find in this complete set from Amazin' Aces.
What We Like:
Comes with a one-year warranty
A complete pickleball set includes 2 paddles, 4 balls, and a pickleball bag
7″ plywood construction provides a solid level of power and durability.
What We Don't Like:
Not suitable for experienced players or competitions
Heavier than other paddles.
7. Best Pickleball Paddle for Spin – Engage Encore Pro
Best for Spin
Specifications: 
Material: Fiberglass Face & ControlPRO Polymer Core
Dimensions (L x W x D): 15.5″ x 8.81″ x 4.25″ 
Weight: 7.8 – 8.4 oz
The Engage Encore Pro isn't the only quality paddle making it onto our list of the best pickleball paddles for spin, but it certainly does the job better than most. 
Utilizing spin can be a very effective way of out-matching your opponents, and the Encore Pro helps with this thanks to its suitably textured surface, good grip, and wide-body design.
What We Like:
Used by pickleball professionals like Brian Staub and Marcin Rozpedski
USAPA approved
No noise paddle perfect for quiet neighborhoods.
What We Don't Like: 
Very expensive
Experienced players may find it wears out through excessive, heavy use. 
8. Best Pickleball Paddle for Control – Gamma Poly Core Pickleball Paddle
Best for Control
Specifications: 
Material: Graphite
Dimensions (L x W x D): 17″ x 7″ x .5″ 
Weight: 7.6 oz
Different pickleball players have different priorities when picking a new paddle.
For some, it's all about speed, power, and performance. For others, it's all about that spin. 
For others still, it's control that really matters the most.
If you fall into the latter camp, the Gamma Poly Core Pickleball Paddle may be the one for you.
Eschewing the standard wide-body design in favor of a long, narrow surface, this middleweight, elongated paddle is purposefully designed to ensure optimum control while the 4″ Gamma honeycomb cushion grip ensures you maintain that control no matter how long your game goes on.
What We Like:
Elongated design
Middleweight design makes it suitable for all players
Long-lasting durability.
What We Don't Like: 
Maybe too light for some larger players
Expensive price tag.
9: Best Pickleball Paddle for Casual Players – TICCI Pickleball Paddle 
Best for Casual Players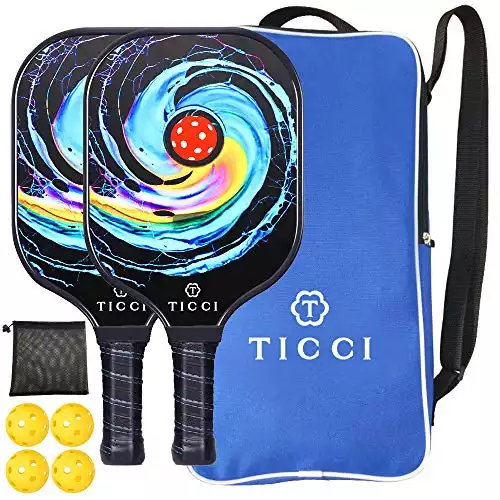 Specifications: 
Material: Graphite
Dimensions (L x W x D): 10.98″ x 7.91″ x 1.5″ 
Weight: 80z
If you're not exactly a novice but you simply prefer the occasional, lighthearted game with friends, this quality paddle may be worth your while. 
The TICCI Pickleball Paddle Set is USAPA certified for tournament play which means you're guaranteed a good quality paddle, yet it offers a weight and grip that make it friendly for newcomers, meaning you really are getting the best of both worlds. 

10. Best Pickleball Paddle Set – Niupipo Pickleball Paddles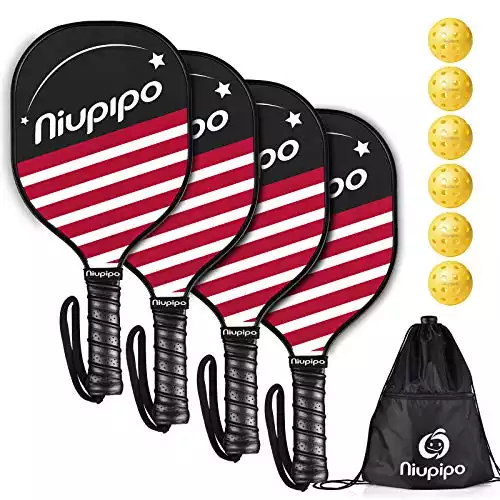 If you're just starting out and prefer to get all of your pickleball gear in one complete set, the Niupipo Pickleball Paddles Set is the one you may like best. 
Not only does it include pickleballs and a bag to hold them in, it also includes four good-quality wooden paddles with a protective finish and a solid grip.
While they may be too basic for more experienced pickleballers, this is a perfect set for those who only play occasionally.
Specifications: 
Material: Wood
Dimensions (L x W x D):  10.63″ x 7.8″ x 4.8″
Weight: 13 oz
What We Like:
Quality protective edge guard
Heavier weight makes it easier for newcomers to put some power behind the ball
Matte paddle finish reduces friction to improve control.
What We Don't Like:
Not as durable as other paddles
Some users report that the paddles have an odd smell.
Frequently Asked Questions About Pickleball Paddles
How long should a pickleball paddle last?
Unfortunately, even the best pickleball paddles don't last forever. A good quality one should last between 2-6 years depending on how much you use it and to what level. 
In other words, if you're playing seriously competitive games every week, your paddle may only last as little as 2 years, whereas casual, occasional players will get more use out of their paddle. 
What is the most popular pickleball paddle? 
Our first-placed pick, the Niupipo Pickleball Paddles set is the most popular, best-selling pickleball paddle currently on the market. 
What is the most expensive pickleball paddle?
The Gamma Poly Core Pickleball Paddle and the Engage Encore Pro Pickleball are both the most expensive pickleball paddles on our list, though there are other options such as the PROKENNEX Pro Flight Pickleball Paddle is even more expensive than that. 
What makes a good pickleball paddle?
The right weight, grip, and material are the most important factors to look for when choosing a good pickleball paddle, though material, size, and even cost should all be considered as well.
Which pickleball paddle do the pros use?
The most popular paddle brands chosen by professional pickleball players are Engage, Onix, and Head, though you'll also find the pros frequently opting for Gamma and Niupipo paddles too.
What is the Best Pickleball Paddle to Buy in 2023? Our Verdict 
All in all, then, it could be said that choosing the best pickleball paddle for you all comes down to your experience and the way you play.
If you're a beginner or casual player, the Uteeqe Pickleball Paddle earns our pick of the best starter paddle around for newcomers. 
If you're a more advanced player, the professional-grade quality of the Onix Graphite Z5 Pickleball Paddle may be the one for you. 
However, if you're simply looking for the best paddle on the market today, then the hands-down winner is the Niupipo Pickleball Paddle, a quality set that ticks all the right boxes and will no doubt help you to take your game to the next level.