Note: In order to determine which are the very best playing cards to use for all your standard card games, we personally researched, purchased, and tested each of the cards in this review article. 
Before I became as passionate about card games as I am now, I'd always assumed that any deck of cards was the same as any other. 
Oh, how wrong I was. 
The more I played, the more I learned how picking the best playing cards in terms of quality, manipulability, and design can make a major difference to a game.
The only question was how to find those cards. The more I looked, the more card companies I found claiming theirs was the best deck on the block. 
In the end, there was only one thing to do; test them all out. 
I scoured the web to find 25 of the highest-rated and best-selling playing cards and put each one through a thorough research and testing process, scoring each in several key categories.
Below you'll find the highest-scoring cards reviewed below, as well as an explanation of the steps I took to ensure I was 100% confident in crowning them the absolute best playing cards of 2023.
At a Glance: The Best Playing Cards
07/25/2023 01:29 pm GMT
Why Trust Our Review?
This review was written by Chris Skoyles, a professional writer and card games fan. Each set of cards included in this review was purchased by us to provide real user feedback.
Chris personally tested each of the cards in this guide, along with many others that didn't quite make the cut, and based his top 4 picks on each deck's quality and playing experience. 
Neither the author nor Group Games 101 was paid by any of the featured brands to include their products in this guide.
How The Cards Made Our List – My Research Process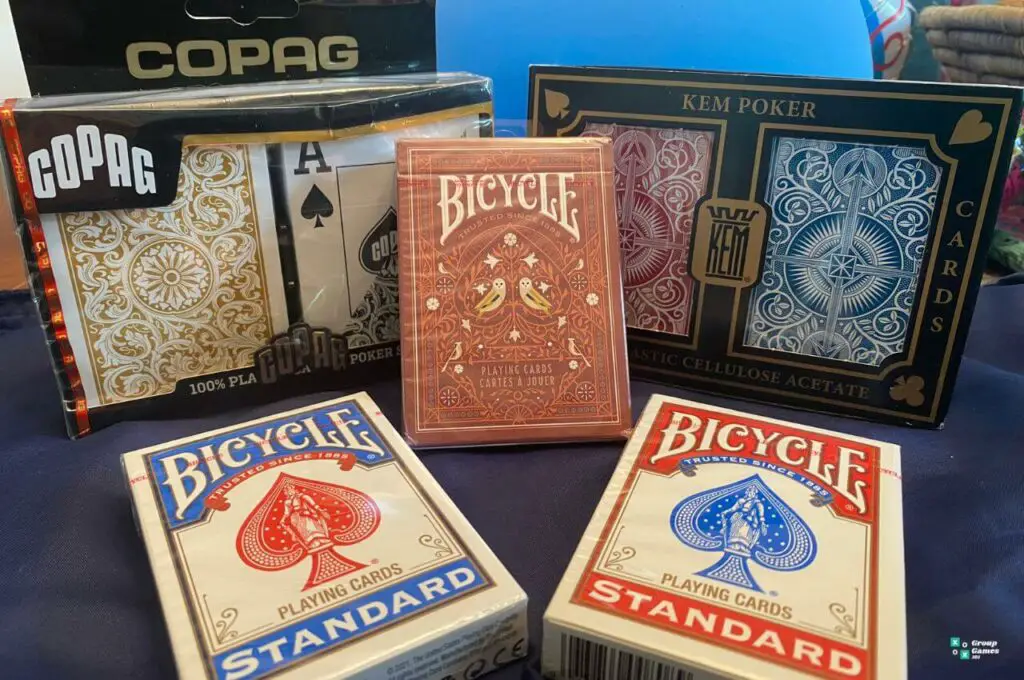 As with buying any new product these days, my research process started online. 
Of course, I scoured sites like Amazon, noting down a combination of their best-selling, highest-rated, and most positively reviewed cards, along with a handful which, honestly, just really appealed to me.
I also turned to certain niche sites that focused solely on selling high-quality playing cards, trusting that these are the type of sites where experienced, serious, and professional card players go to find elite-quality decks. 
Even after all that, I still had a list of 25 playing card decks to choose from. 
So, I did what any diehard card game fan would do:
I bought them all. 
Time to Play
As each deck started to arrive in the mail, I would try it out with a few games of solitaire, all the while making copious notes about the way the cards looked, felt, and handled during play. 
The next obvious step was to test them again, this time with my family.
My wife, daughter, and I gathered round the table to play games like The Nines and my personal favorite, Cribbage, while I took their input into what they liked and didn't like about each set of cards. 
With a whole bunch of qualitative and quantitative data successfully gathered, it was time to analyze it to find the best playing cards.
This still proved to be a tall order, and it soon became obvious that the only fair way to do this was to organize the cards into four key categories so that readers like you could pick the ones that best suit your needs. 
Making a Decision 
Within each of the four categories, I used further criteria to pick just one winner.
Best Overall
The best overall playing cards were those that scored the highest marks in terms of reputation, use in professional environments, and our own hands-on experience. 
Best Budget
The best budget-friendly playing cards were determined simply by looking at those cards that had the highest scores but the lowest cost while also factoring in personal experience of actually playing with those cards. 
Best Plastic 
Only five of my top 25 list were plastic playing cards. Those that proved to be the most durable, easy-to-handle, and resistant to the inevitable spills that come when you introduce pizza and soda into family game night duked it out to become the kind of this category. 
Most Popular
Saving the easies til last, the most popular playing cards were the ones with the most four and five star reviews on sites like Amazon and Walmart. 
Top 4 Best Playing Cards in 2023 
Kem has long been a leading name in professional-level playing cards, earning a reputation as the go-to brand of choice for top casinos worldwide thanks to a unique cellulose acetate construction that makes them practically indestructible. 
In fact, the company's cards are so tough that they were once a favorite of American soldiers during the Second World War, chosen for their remarkable ability to remain intact despite extremely hostile conditions.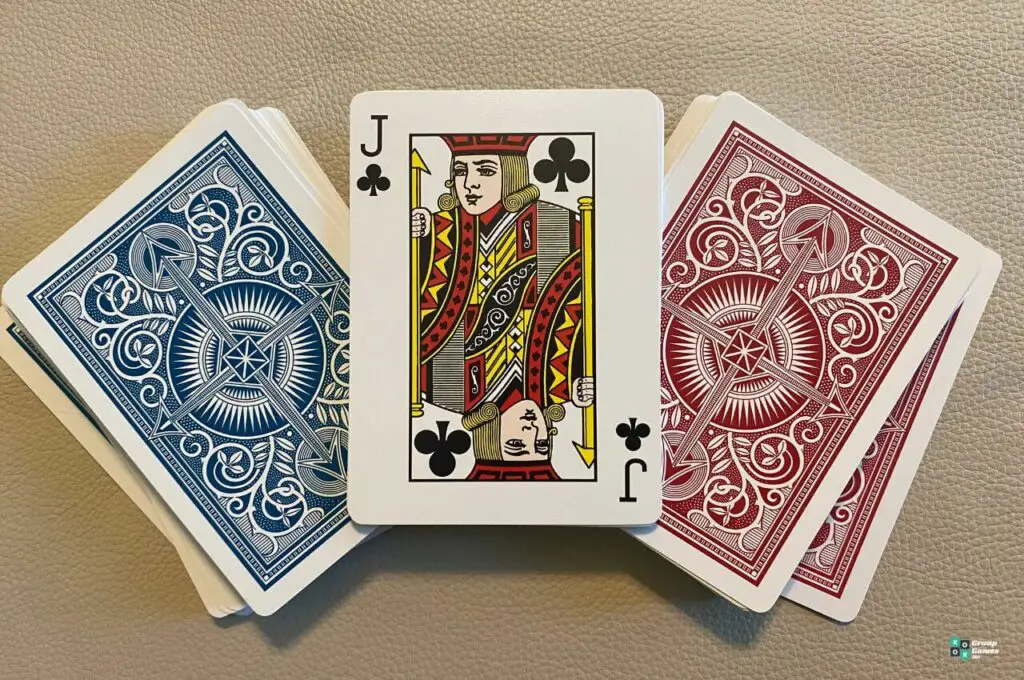 With all that in mind, I wasn't too surprised when the Kem Arrow Standard emerged victorious as the all-around best playing cards of 2023. 
Make no mistake about it, these are undoubtedly some of the most expensive poker-sized playing cards around, so if you're looking for a budget-friendly option, you're not going to find much to like here. 
However, if you're happy to spend a little extra for premium quality, you won't find much better. 
The cellulose acetate not only makes the Kem Arrows resistant to rips, spills, and other damage, but it also makes them very easy to shuffle, a combination that would make this ideal for any serious card competition.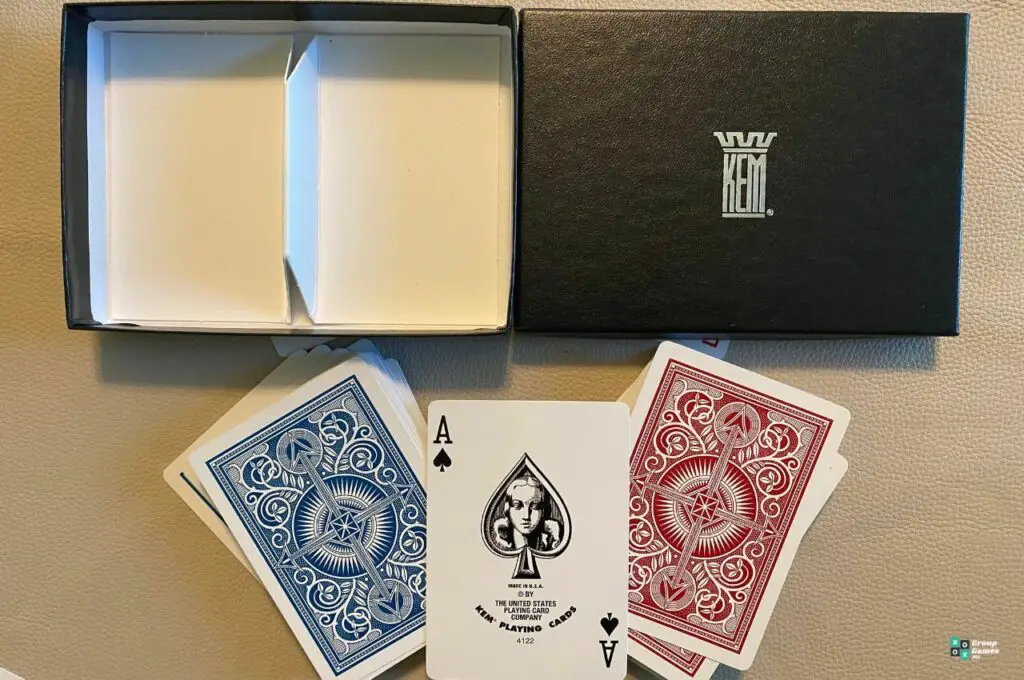 The only major downside to these cards is that I'd expect a much better case for such an expensive set. 
Both decks are stored in a cardboard case which, although relatively sturdy, is nowhere near as damage-proof as the cards themselves. 
While I can certainly see myself using these cards for years to come, I fully expect to need to replace the case much sooner. 
That niggle aside, we had a lot of fun playing with these ones and agreed that Kem Arrows are our first option for family game night.
Group Games 101 Rating: 4.5 out of 5
Before we even considered the cost factor, our family universally agreed that the Bicycle Aviary Orange Playing Cards were the best-looking deck in our top five. 
The vintage design gives these a classic, traditional feel, while the large print on the card face makes them very easy to read.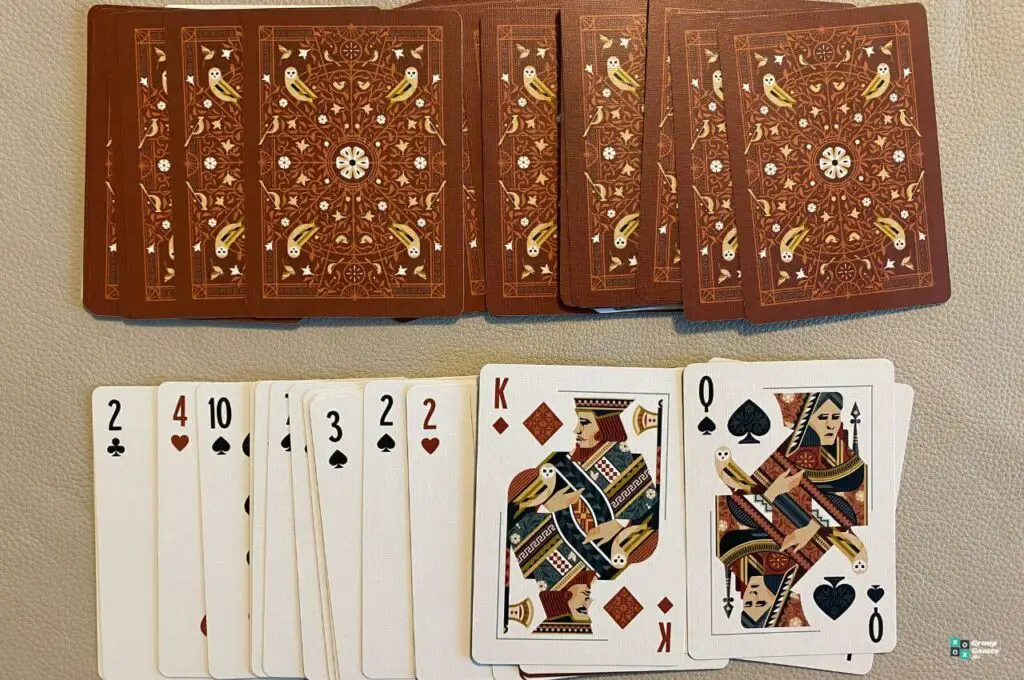 The cards boast a patented air-cushion finish, which enhances their durability without making them too slippy. 
Although our daughter found the cards trickier to handle than others, I'm confident that experienced players would have no problems with them regarding shuffling and dealing.
As with the previous pick, the only drawback is the rather thin case, which began to depreciate after just a few games. 
That said, no sub-ten-dollar card set came close to matching these ones in terms of all-round quality and style, making them a great low-cost set to have around the house for parties and get-togethers.
Group Games Rating: 4 out of 5
The first thing you immediately notice about the Copag 1546 Design 100% Plastic Playing Cards is the super tough plastic case, which has kept every card in optimum condition despite using them almost as much as the Kem Standards. 
Open that case, and you'll find two decks with a simple yet elegant design on the back and an extra-large typeface on the face for improved readability.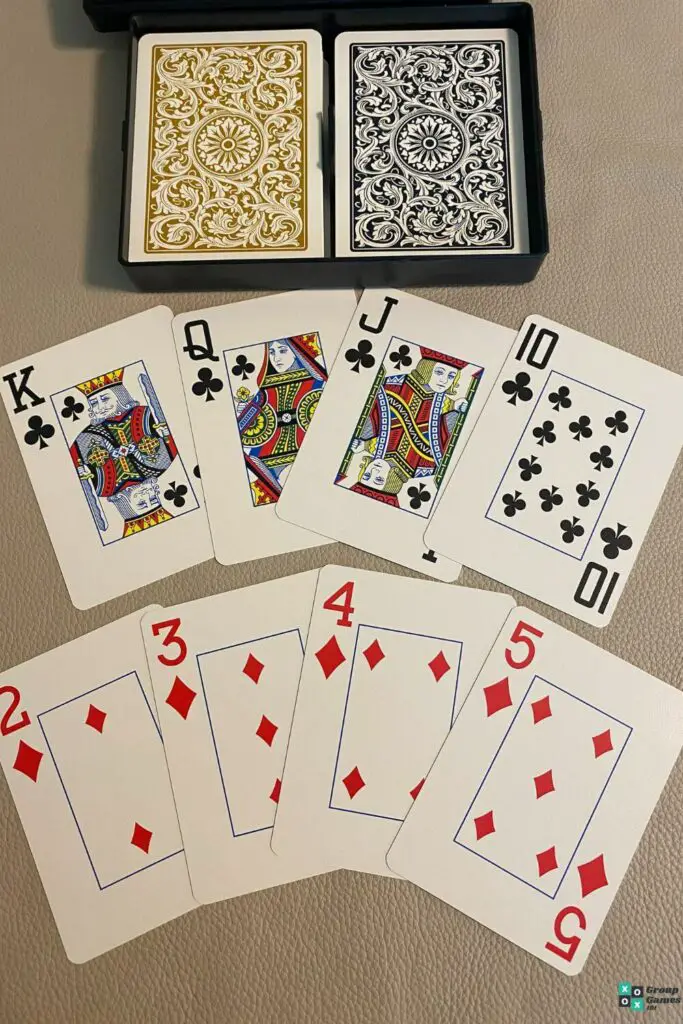 The plastic design naturally makes the cards incredibly sturdy and damage-proof. They don't bend easily, are nigh on impossible to tear, and can be wiped down easily to keep them looking at their best. 
However, the plastic design also presents a problem in that these are by far the slippiest cards on this list. At least that's what I found.
Unless you're exceptionally gentle, you'll probably find that the top few cards consistently slide off the top of the desk, which is obviously not ideal if you're trying to play a serious game. 
Still, that tough, easy-wipe plastic design and large face would lead me to recommend Copag's 100% Plastic Playing Cards to families with young children. 
Group Games Rating: 4.25 out of 5
Last but not least, we come to the Bicycle Standard Playing Cards, which earn their status as the most popular playing cards by virtue of their almost 20,000 glowing customer reviews.
Breaking these ones out of the pack, it's not hard to see why so many people love them. 
First of all, they handle like a dream. 
Despite my love of card games, I'm not the greatest card-shuffler in the world, but I found them very easy to handle, while our 13-year-old, who struggled with the other Bicycle set, likewise had no difficulty whatsoever using them. 
The card face doesn't have the largest typeface, but it's certainly large enough, while the back design has a certain appealing charm without being overly elaborate. 
Combined with affordable pricing, it's no wonder the Bicycle Standard poker cards are such a hit. 
Group Games Rating: 4 out of 5
What We Look For In a Deck Of Playing Cards
1. Packaging and Case
If you're serious enough about playing cards to read a guide like this one, you're probably just as serious about taking care of them, which is why the kind of package or case your cards come in is more important than some people might suspect. 
Over the years, I've had more than my fair share of cheap card decks stored in flimsy cardboard packets that eventually sag and rip until they're no longer fit for purpose, leaving me with nowhere to store my cards. 
As such, I paid close attention to each deck's storage case, rewarding higher marks to those I could see withstanding the test of time. 
2. Material 
Old-school paper-based playing cards are highly susceptible to damage, which explains why more and more of the top brands either protect their cards in a waterproof plastic film or simply make their cards entirely out of plastic.
This not only makes the cards more durable, but it also makes them easier to wipe down and clean, which can prove invaluable if you have children or (as happened to me more than once), an enthusiastic friend who knocks over an adult beverage and ruins your poker night.
On the downside, such cards tend to be more expensive, and they're not always as easy to shuffle as their cheaper, paper-based counterparts. 
3. Playing Card Size 
The simple truth is that larger playing cards are typically easier to identify than smaller ones. 
This makes them a great choice if kids, elderly relatives, or others with visual impairments are involved in the game. 
However, they're not so great for serious competitions, especially as some can take up so much room there's no space to lay out a proper game on your card table. 
4. Quantity
While many card games can be played perfectly well with just one deck, others, such as Canasta and Shanghai Rummy, require at least two. 
That's why you'll find more than one multi-pack in my top five and why it pays to consider the type of games you want to play before deciding which cards to buy. 
5. Design
The way playing cards look may not seem like the most important factor to consider, but it does make a difference. 
Some cards boast beautiful, intricate designs on the back and front. 
While this can certainly up your game's style points and add a professional touch for competition play, it's worth pointing out that such cards are generally more expensive than regular, old playing cards. 
What's more, I've seen some cards that went overboard with their illustrations, making them harder to read.
Frequently Asked Questions
What type of playing cards do casinos use?
Most modern casinos use standard-size plastic playing cards due to their high-quality and exceptional durability. 
Although various brands are used, Kem are generally among the most popular in the casino industry. 
How often should you replace your deck of cards?
You'll need to replace your deck once they're worn down, dirty, frayed, or otherwise damaged. 
Exactly when this occurs, all depends on how you use them and how often. 
A family playing card games once a week should find that a good quality deck can last one to two years if it's well taken care of. 
What's the best way to store playing cards?
The best way to store your playing card deck is to keep it in its original packaging and place it in a cool, dry space such as a cupboard or closet. 
Final Verdict
And so, after extensive research and testing, there's no doubt that the Kem Arrow Standard is a clear winner, earning its rightful prize as best overall playing cards in 2023 thanks to their indestructible quality and smooth playability that shows why they're so beloved in the world of professional poker. 
Still, I certainly wouldn't blame you for being put off by Kem's high price tag, and I would definitely recommend the Bicycle Aviary Orange Playing Cards for a more wallet-friendly option that plays well and looks fantastic. 
Elsewhere, the Copag 1546 Design 100% Plastic Playing Cards' slippery surface prevented them from ranking higher in this guide, though the large numbers on the card face and ability to keep them in top condition with zero effort makes them a good choice for young families. 
Finally, we found that the Bicycle Standard Playing Cards were the least slippy of all, a small but important factor that made every game much more enjoyable.