If you've ever tried shopping around for the best ping pong table, you may well have noticed that it's nowhere near as easy a process as it may first seem.
For some, it's about finding something that fits into a space at home so that we can enjoy a few lighthearted, casual games with friends or family at the weekend. 
For others, it's all about finding a table that's going to help us take our table tennis game to the next level so that we can compete in leagues and competitions, while for others still, it's all about getting the ideal table to introduce to your community center, bar, or other public establishments. 
And with an abundance of tables out there to choose from, finding the right one for the right environment can often feel overwhelming.
That's where we come in. 
We recently tried out 15 of the best ping pong tables of 2023 to find the top 5 very best of the best. 
After much deliberation, the STIGA Advantage Professional Table Tennis earned our top pick thanks to its impressive size, superior quality, and effortless assembly. However, if you find such a high-value table is a little too much for your needs right now, you'll also find four other alternatives which may be better suited.
Top 5 Best Ping Pong Tables 2023
Related: Best Ping Pong Paddle for Beginners | Best Ping Pong Balls
Selection Criteria
Later in this guide, you'll find our complete ping pong table buyer's guide, in which we'll discuss all of the important factors that you may need to consider when buying a new table. 
There, you'll read how size, quality, surface material, and durability were the most important things we looked at when making our selections, with each of our top five scoring high marks in all three categories. 
Elsewhere, ease of assembly, portability, and, to a lesser extent, factors such as accessories and pricing also helped us out. 
In the in-depth reviews below, you'll discover how each one of our choices fared in these categories, after which you can check out the aforementioned buyer's guide and our answers to your most frequently asked questions about buying a new table tennis table. 
1. Editor's Choice – STIGA Advantage Professional Table Tennis Table 
Editor's Choice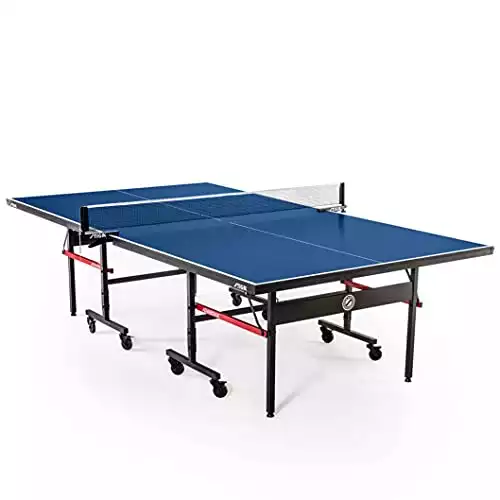 Specifications: 
Dimensions: 63″ x 65″ x 5″
Weight: 115 lbs
Surface thickness: 5/8″
Surface coating: Repeat roller coating with UV cured finish
For anyone who knows anything about table tennis, the fact that a STIGA brand table tops our list will undoubtedly come as no surprise at all.
Whether they're developing some of the best beginner ping pong paddles, turning out premium-quality ping pong balls, or launching any number of related items, the brand has earned a loyal following thanks to the expert design and exceptional quality of their ping pong products. 
The STIGA Advantage Professional Table Tennis Table is a perfect example of this. 
Though its dimensions are a little smaller than they'd need to be approved by the International Table Tennis Federation (ITTF), it's nonetheless a substantially-sized table that is ideal for recreational use at home or a public setting, as well for those looking for a solid table to practice on without the added size and expense of a tournament-standard setup. 
Still, while it might not work for competitions, the outstanding quality is up to a very professional standard. A UV cured surface material ensures that said surface is smooth and consistent and has a tournament-sized net. 
As if that wasn't enough, we also love that the table comes 95% pre-assembled, with a mere eight bolts securing it firmly in place. What's more, you can always take the table apart again and store its two separate halves once you're done playing.
All of this comes at an attractive price for a table at this level, making it a tremendous value-for-money purchase. 
What We Like:
Independent halves mean it's easy to set up the table for quick playback if practicing solo
Features self-opening legs with locking wheels for quick and easy set-up. 
Includes a safety latch system to lock the table into position and prevent it from opening unexpectedly.
What We Don't Like:
Not tournament-grade size
Price may be too much for some recreational users.
-> Read More Customer Reviews Over On Amazon
---
2. Best for Competitions – JOOLA Inside – Professional Indoor Table Tennis Table
Best for Competitions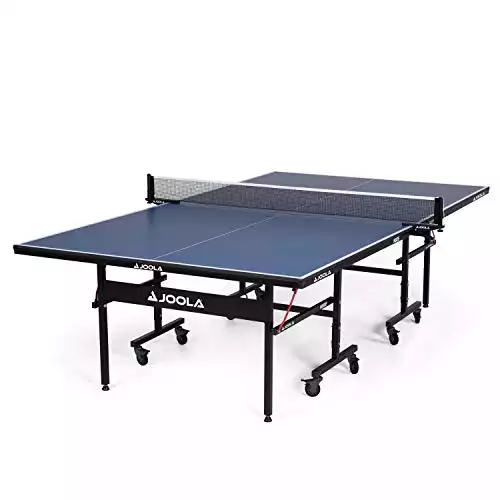 Specifications: 
Dimensions: 108″ x 60″ x 30″
Weight: 130 lbs
Surface thickness: 5/8"
Surface coating: UV cured with silkscreen printing
Competition between the aforementioned STIGA table and this JOOLA Inside – Professional Indoor Table Tennis Table was so tough that it took us a long time to decide which one would ultimately earn the number one spot on our list.
While the STIGA eventually earned the nod, the JOOLA is still a remarkable ping pong table in its own right, especially for professionals or to use in local leagues, tournaments, and other competitions. 
This is mainly due to its ITTF-approved size, putting it a cut above recreational tables and offering everything you need to ensure a competition that's delivered to officially recognized standards. 
It's also due to the tournament-grade playing surface and 72″ net and post set, both of which are built to the kind of high level that ensures they're as close to 100% damage resistant as you're ever going to get. 
Of course, none of this is surprising. 
JOOLA has long been the go-to brand for major events such as the Olympic Games, the Table Tennis World Championship, and the US Open, meaning that when you get this one, you're getting a table that's trusted by the very best of the best.
What We Like: 
It comes mostly pre-assembled, requiring no more than 10-minutes of assembly time. 
Weather-resistant surface means it can also be used outdoors
Provides a fantastic level of bounce. 
What We Don't Like:
Tournament size may be too large for home use
Heavier-than-average design may make portability an issue. 
-> See More Customer Reviews Over At Amazon
---
3. Best for Home Use – GoSports Midsize Table Tennis Game Set
Best for Home Use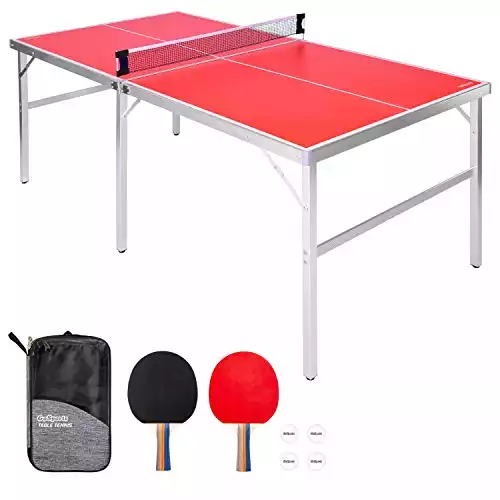 Specifications: 
Dimensions: 72″ x 36″ x 30″ 
Weight: 36 lbs
Surface thickness: 3/8"
Surface coating: Wooden surface with weatherproof coating.
Let's face it: 
Not everybody has the room in their home for a full-sized, tournament-grade ping pong table, especially if you need to fit it in alongside your favorite pool table, make room for a great darts set-up, or use other gaming equipment.
Nor does everybody have a few hundred dollars lying around to spend on a high-grade table when their only plan is to enjoy a few casual games with friends and family.
If that sounds like you, the GoSports Midsize Table Tennis Game Set may be the perfect table. 
Not only is it much more reasonably priced than the tables we've looked at so far, but at 6ft long by 3ft wide, it's also much smaller, requiring much less room in your home. 
It's also remarkably lightweight, and this, when combined with the fold-away design, makes it a breeze to pack away in a closet when you're finished playing.
Adding to the Go Sports table's appeal as a great choice for home use is that it also comes with equipment, including bats and balls. Sure, they may not be the best ping pong balls around, nor will the paddles be of a professional quality, but for getting started with recreational ping pong, they really are ideal. 
What We Like:
Very affordable price
Built on a sturdy aluminum frame for added durability
Nice level of bounce for a table of this size.
What We Don't Like: 
It doesn't feature feet locks, so the table may move around if nudged
Paddles and accessories are not of the highest quality.
-> Read More Customer Feedback Over On Amazon
---
4. Best for Outdoor Use – JOOLA NOVA – Outdoor Table Tennis Table
Best for Outdoor Use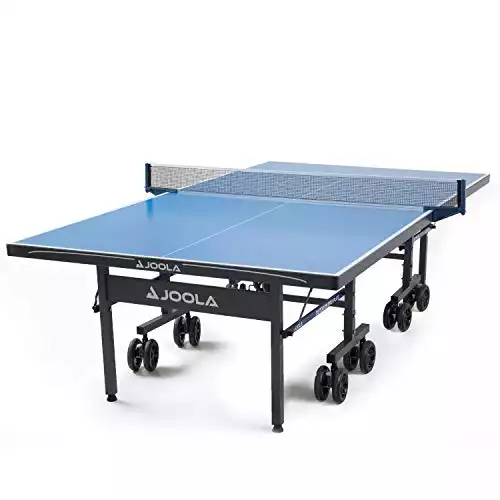 Specifications:
Dimensions: 108″ x 60″ x 30″
Weight: 173 lbs
Surface thickness: 0.23″
Surface coating: All-weather playing surface with UV cured finish
If you're planning an afternoon of BBQ and games with friends, you may be on the lookout for the best ping pong table to use in an outdoor setting.
If that's the case, the JOOLA NOVA – Outdoor Table Tennis Table is absolutely the one to go for. 
Boasting the same tournament-grade size and remarkable, professional-grade quality that you'd get with the aforementioned JOOLA Inside, this one also boasts an impressive all-weather playing surface that protects against rain and sunlight damage without impacting your performance.
Indeed, as far as maintaining excellent bounce and ball control while playing outdoors, the JOOLA Nova is just about as good as they come, thanks to its effortlessly smooth surface.
And while it doesn't come in two separate halves as the other JOOLA does, it still folds so you can set it up to play solo for those times when you're training to take your game up a notch. 
What We Like:
It comes 95% pre-assembled and requires only 10 minutes of assembly time
Made with a rust-resistant, powder-coated undercarriage so that you can continue to store this one outdoors when not in use
Features weather-proof net.
What We Don't Like:
The most expensive table in this guide
Incredibly heavy, which makes portability an issue.
-> See What Other Customers Think Over At Amazon
---
5. Best Budget Pick – Goplus Portable Tennis Table
Best Budget Pick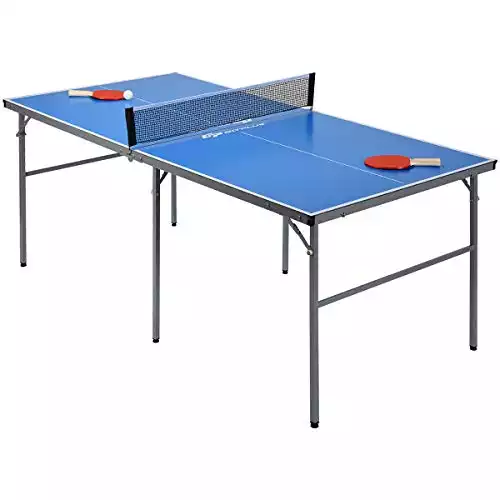 Specifications: 
Dimensions: 72″ x 36″ x 30″
Weight: 130 lbs
Surface thickness: 5/8"
Surface coating: Aluminium composite surface with anti-corrosion coating. 
Last but not least, we come to the Goplus Portable Tennis Table, a budget-friendly ping pong table that makes the ideal choice for anyone who wants to enjoy the game of table tennis without paying over the odds. 
While the small size may make it unsuitable for serious players, it does make it another great choice for setting up at home to entertain friends and family during your downtime. 
Of course, size isn't the only thing this one has going for it. The construction quality and high levels of lasting durability belie the Goplus table's low cost. At the same time, the inclusion of a net, 2 paddles, and 4 balls also help to make this a great, value-for-money starter set for beginners.
What We Like:
It comes with carry-handle for effortless portability
Accessories can be stored securely inside the table
Comes 100% fully assembled.
What We Don't Like:
It can't be set up for solo play
It doesn't feature foot locks, so it may wobble during play.
-> See More Customer Feedback Over On Amazon
How to Choose the Best Ping Pong Table: A Buyer's Guide 
If you've read through the reviews above, you'll no doubt have seen that there's much more than meets the eye when it comes to choosing the best table tennis table. 
To help you decide which one of our top five picks is right for you, we've put together the following buyer's guide, looking at some of the most important factors you'll need to consider: 
Size
The International Table Tennis Federation lists the official dimensions for a professional-sized ping pong table as 9ft (108″) long by 5ft (60″) wide by 2.6 feet (31.2″) high.
If you're looking to play professionally (or at least train for competitions), this might be the size you're going for. 
However, when it comes to recreational use at home, bigger isn't always better. 
If you have limited size, a smaller table may be a better fit for your home and allow you to play more comfortably.
Surface 
Not all ping pong table surfaces are created equally. Cheaper tables may have an inconsistently smooth surface which can affect the bounce of the ball and impact your overall performance. 
That's why we looked at only those tables that provided a consistent surface and, ideally, that featured a UV or other protective coating to keep the table in top condition and improve your play.
Keep in mind that if you're planning to take your game outside, you'll also want to look for those which promise a weatherproof coating. 
Construction Quality 
Whether you're buying a ping pong table, a cornhole board, or any other piece of gaming equipment, the construction quality should be of paramount importance. 
Keep in mind that even the most affordable tables aren't exactly cheap, so if you're spending a sizable amount of money, you're going to want the reassurance that your table is built to last. 
That's why our top picks all come from reputable brands like STIGA and JOOLA, both of whom have a reputation in the industry for creating some of the most durable, well-constructed, and built-to-last tables around. 
Nets and Accessories 
Finally, it's also worth paying attention to those extra items that you're going to need to make your ping pong playing experience worthwhile.
It's rare to find a table that doesn't include its own net (and we certainly haven't included any in this guide), but again, you'll want to consider how well that net holds up against tears and general wear. 
If a table also comes with its own paddles and balls, this may help influence your decision if you're a beginner or only playing recreationally. However, it's worth pointing out that such accessories are rarely made to the same high standards as the rest of the table, meaning more experienced players may want to disregard the included balls and paddles altogether and upgrade to better-quality products. 
Frequently Asked Questions About Ping Pong Tables
What is the minimum size room for a ping pong table?
For a full-sized table, you'd need a room that is a minimum of 19 feet in length by 11 feet in width to ensure at least five feet of clearance at the top end and bottom end of the table and three feet at either side so that you can move around the table comfortably.
How much is a good ping pong table?
If you're after a ping pong table for recreational use, you can get a good quality table for between $100 – $200. However, expect to pay between $300 – $500 or even more for an outdoor table for a more professional setup. 
What table tennis tables are used in the Olympics?
San-Ei brand tables were used in both 2020/2021 and 2016 Olympic Games, though previously brands like Joola have been used.
What is the Best Ping Pong Table of 2023: Our Verdict 
As we said right at the beginning, choosing the best ping pong table is often about choosing one that's perfectly suited to your personal preferences and circumstances. 
If you're just starting out and want a good quality, beginner-friendly table without spending much money, then our budget pick, the Goplus Portable Tennis Table may be the way to go.
If, on the other hand, you're serious about table tennis and really need a high-caliber, professional-grade ping pong table for use in tournaments and competitions, then the JOOLA Inside – Professional Indoor Table Tennis Table is pretty much a no-brainer. 
With all that being said, if you simply want our recommendation for the absolute best ping pong table money can buy in 2023, then we'd have to go with the STIGA Advantage Professional Table Tennis, a model which offers outstanding durability, professional quality, and impressive size, making it perfect for both novices and experienced players alike.