As any serious pool player will tell you, the best break cues can make a significant difference to your game, helping you improve your break shot in a way that gets you closer to victory in all of your games.
Still, they might also tell you that choosing just one good quality break cue out of the seemingly countless options out there is rarely an easy task. 
At least, it wasn't until now.
Over the past few weeks, we've tried and tested more than 30 of the best-selling breaking cues of 2023 to find the top 5 best of the best. Throughout all of our research, it was the Rage Heavy Hitter Jump Break Cue that consistently scored the highest, combining a phenolic tip, sturdy weight, and durable construction to provide optimum power and precision when striking the cue ball.
If that one's not to your liking, don't worry. We've also rounded up four high-caliber alternatives to help you find the perfect pool cue for your break shots. 
Top 5 Best Break Cues in 2023 
When putting this guide together we looked at all of the things that matter most when choosing the right model, including cue weight, materials, overall construction quality and durability, and how they tend to perform during games.
We also considered the difference between phenolic and leather tips and what impact that has on performance, and when scores were too tight to mention (as they often were!) we referred to user feedback available online as a tie-breaker.
You'll find out how all of our top 5 picks fared in the detailed reviews included in this guide, but if you're in a hurry, you can check out our brief comparison chart below. If that's still not enough to help you with your purchasing decision, you'll also find a complete buyer's guide and FAQ at the end of this guide.
1. Editor's Choice – Rage Heavy Hitter Jump Break Cue
Specifications:
Wrap: Wrapless handle 
Shaft: Hard rock maple 
Tip: Phenolic resin
Weight: 25 ounces 
Looking effortlessly cool in a stylish black finish, the Rage Heavy Hitter Jump Break Cue will show that you take your game seriously.
Beneath that sleek, minimalist design, the cue boasts a solid hard rock maple construction that contributes to its sizable 25-ounce weight. While that definitely makes this a pretty heavy break cue, it also gives you incredible breaking power, meaning once you've racked up your pool balls, they won't stand a chance against your break. 
Whether you're a semi-professional player or just want to enjoy the best possible experience when playing a game of 9-ball pool at home with friends, the Rage Heavy Hitter offers plenty of versatility.
Fully constructed, it guarantees an explosive break that sends those balls flying around the table. Take out the butt end and you've got a smaller, 42″ cue that can help you improve your jump shots, while taking out the middle section means you've got a nifty short cue that works well in tight spaces. 
Impeccably straight, smooth, and flawlessly finished, the Rage Heavy Hitter may be the closest you're going to get to finding the perfect break cue. 
What We like:
Hard rock maple construction ensures unbeatable strength and durability
Wrapless handle improves slip stroking
Flexible three-piece cue makes it great for jump shots and playing on tables where there isn't much room
What We Don't Like:
Uses phenolic resin tips which aren't as good for accuracy.
-> Read More Customer Reviews Over On Amazon
---
2. Best Competition-Grade Cue – Players JB528
Specifications:
Wrap: Matte black
Shaft: Canadian maple wood
Tip: Phenolic 
Weight: 28 ounces 
Giving major brands like Predator a serious run for their money in terms of professional-grade construction, stroke speed, and overall performance, the Players JB528 Cue is the ideal option for those who want to elevate their game to the next level.
Whether you're looking for the perfect jump cue to help you join your local league or tournament, or you're simply on the hunt for a quality cue that you can keep at home for those practice solo pool games, this sleek yet unbeatable sturdy cue ensures the kind of experience that only professional players usually get to enjoy. 
The addition of a polycarbonate ferrule ensures seamless energy transfer all the way down the shaft to the tip while also ensuring maximum protection against warping, denting, and other damage while the 100% pure maple wood shaft further enhances long-standing durability and ensures that this is a cue that's built for years of solid play.
Unfortunately, those very same features do make this one of the heavier cues you're going to come across. It's 10 ounces heavier than some of the models we've featured, and while that might be off-putting for some, it does ensure you can really get some significant power behind that ball.
Finally, we should mention that while phenolic tips aren't for everyone, they also lend themselves well to powerful performance and are the kind of pool tips preferred by numerous professionals and even world champions.
In other words then, an exceptional choice for taking on the best around at your next tournament.
Related: Top 5 Best Pool Tables Under $1,000
What We Like:
Three-piece cue comes with custom turbo lock quick release to ensure a simple-yet-secure fit
Matte black wrap improves grip
Comes with a lifetime warranty.
What We Don't Like:
High price tag 
28 oz weight may be too much for some players 
-> See More Customer Reviews Over At Amazon
---
3. Best Cue for Home Use – Gator Nemesis Jump & Break Cue
Specifications: 
Wrap: Wrapless
Shaft: Hard rock Canadian maple wood
Tip: Phenolic 
Weight: 19 – 22 ounces 
If you're looking to compete in tournaments or professional-level pool leagues, you may be better off opting for the aforementioned Players JB528 or a model from another premium brand like Predator.
If, on the other hand, your ambitions stretch no further than a few rounds of 8 ball pool with your friends, then this one may be worth your time and money.
The Gator Nemesis Jump & Break Cue comes to us from Champion Sports, a brand with a strong reputation for creating quality sporting goods. So it's no surprise to find that it boasts all of the features you'd look for in a cue.
The phenolic resin tip, natural wood shaft, and durable material around the wrapless handle all help you ensure some serious cue ball speed while the four-piece construction means you can take it apart and fit it back together in a variety of combinations to get those tricky shots.
Further adding to the Gator Nemesis' appeal as a great cue for home use is its entry-level pricing, meaning you don't have to pay over the odds to get a solid stick. 
What We Like:
Comes with free pool glove to prevent blisters during long games
Four-piece design makes it great for jump shots and tight spaces
A good weight – not a heavy cue but still heavy enough to give sufficient power
What We Don't Like: 
Those who prefer a wrap for added grip may not like this one.
-> Read More Customer Feedback Over On Amazon 
---
4. Best Beginner-Friendly Break Cue – Cuetec Graphite Series 
Specifications:
Wrap: Veltex Grip 
Shaft: SST
Tip: Tiger Everest Multi-layer tip
Weight: 18 – 21 ounces
Despite being a lighter cue, the Cuetec Graphite Series 58″ cue is still a force to be reckoned with when it comes to giving you that extra power and precision in your breaks.
The S.S.T (Super Slim Shaft) is bonded with Fiberglass 15″ Pro Taper and creates a composite coating that prevents warping or denting and provides a similar level of durability to a real, natural wood model. 
Elsewhere, the sweat-resistant Veltex grip and Tiger Everest Multi-layer combine to ensure maximum accuracy.
Despite having all that going on for it, our favorite part of this playing cue is the adjustable weight bolt system that allows you to change things up if you prefer playing with a heavier cue.
All this, plus an affordable price range makes it a great choice for beginners looking to buy a cue that offers premium features without the premium price tag.
Related: Top 5 Best Pool Table Felts of 2023 (plus Buyer's Guide)
What We Like:
Affordable cost for a high-quality cue 
Tiger Everest tip offers a great combination of power and precision
Available in stylish black finish 
What We Don't Like:
Lack of carbon fiber means this picks up more moisture than other cues, meaning you may need to keep wiping it down.
-> See What Other Customers Think Over At Amazon
---
5. Best Budget Break Cue – Cuesoul Maple Break Cue Kit
Specifications:
Wrap: Irish linen
Shaft: Canadian Hard Maple Wood 
Tip: Leather 
Weight: 19.05 – 21 ounces
While the last pick earned the title of best beginner-friendly model, it's perhaps best suited for any player who may just be starting out but already knows pool is a game for them.
The Cuesoul Maple Break Cue Kit, on the other hand, maybe your best option if you haven't yet made up your mind about pool (or about whether to use a dedicated breaking cue), or even if you just want an affordable option to keep at home for practice so that you can save that expensive cue for league and tournament games.
The first thing you notice is, of course, the striking, graffiti/tattoo-style design that ensures you're going to stand out from the crowd whenever you step up to strike those pool balls for the first time.
Still, looks aren't everything, and Cuesoul's signature budget-friendly pool cue offers better quality than its affordable price tag might suggest.
Though leather tips may not be as popular as they once were, the one included with this cue helps you hit a powerful shot without compromising on speed or accuracy.
Likewise, the Irish linen wrap reduces the chances of slip, helping you maintain ultimate control at all times.
As you might imagine given its budget-friendly cost, the Cuesoul may not provide the same kind of durability that you'd get from a professional-grade model, but it's still highly damage-resistant and utilizes a tough M/18 stainless steel joint to hold the cue in place no matter how forceful you are with those breaks.
What We Like:
Affordable price range
Comes with billiard towel, carry bag, and joint protectors
What We Don't Like:
Leather tip is glued on so it can't be replaced.
-> Find More Customer Reviews Over At Amazon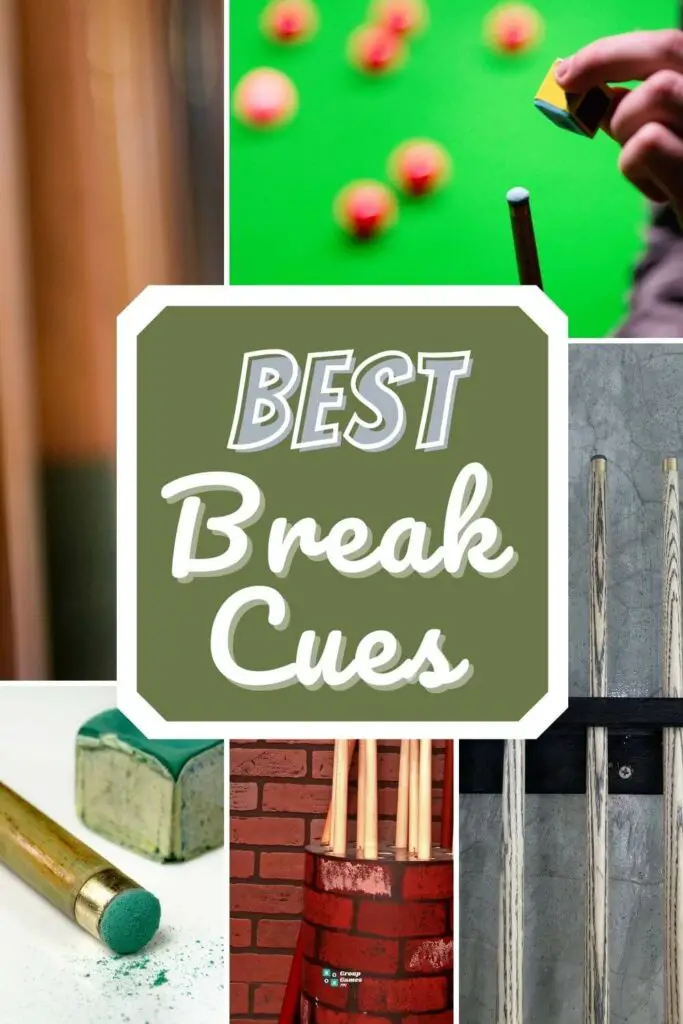 How to Choose the Best Breaking Cue: A Buyer's Guide 
On the whole, any one of our top five picks would make a suitable option for improving your breaks, but if you're still not sure which one to choose, here are a few things you might need to consider:
Cue Weight: 
As a general rule, the heavier your cue, the harder you can hit that ball without having to put too much of your own physical power behind it. The lighter the cue, the more accuracy you get. With that in mind, if you're confident that you can land your breaks on point every time and simply want as much power as possible, go for a heavier option in the 23-30 ounce range. If you struggle to maintain accuracy and power at the same time, a cue with a balanced weight between 18 – 22 ounces may be more suitable. 
Tip: 
Phenolic tips have proven increasingly popular in recent years as they help ensure maximum energy transfer from tip to ball, again giving you more power. However, leather tips also have their fans as they tend to improve accuracy.
Since we're focussing purely on breaking in this guide, most of our top five picks came with tips made from phenolic material. 
Wrap: 
The wrap describes the area around the handle of your cue. Those with an Irish linen or similar wrap promote better grip, so if you find that a sweaty palm keeps messing up your shot, this may be a better option than a wrapless cue which generally makes for a smooth, slicker, speedier shot. 
Shaft:
As you might have already worked out, Canadian maple wood is our preferred option for most cues simply because a maple shaft provides unbeatable durability while still being lightweight enough to maneuver. While other options do exist (such as carbon composites) and tend to be cheaper, they're also nowhere near as tough, meaning you might have to replace your cue before too long. 
Frequently Asked Questions
Do you really need a breaking cue?
Although you can get away without one, breaking cues are designed to ensure you can put as much power as you need behind your break shot without wearing down or damaging your regular cue, so it may be a good investment if you want to keep your cues in the best possible condition.
Can I play with a breaking cue for an entire game of pool?
The old saying "just because you can, doesn't mean you should"  definitely applies here. Technically, there's nothing to stop you playing a full game with one of these cues, but since they're built more for brute force than accuracy, you may find they're not so great for potting, making them pretty useless for games like one-pocket pool. 
Are heavier pool cues better?
In general, a heavy cue means that you don't need to put too much of your own strength behind your break – the weight of the cue does all the work for you. so in that regard, yes, they're generally better, particularly for those who struggle to get an accurate shot while still driving the cue with force.
Final Thought: What are the Best Break Cues to Buy in 2023?
As with most game equipment, choosing the absolute best cue for breaking in pool is largely a matter of personal preference and how serious you are about the sport.
If you're looking for something that will help you win those all-important league games, then the Players JB528 Cue should at least be on your radar even if it's high price tag can be a little off-putting.
If you're looking for nothing more than to play some quality 10-ball pool at home, then the entry-level pricing, durable cue construction and sizable weight makes the Gator Nemesis Jump & Break Cue a good choice.
If, on the other hand, you're simply looking for the absolute best breaking cue money can buy in 2023, then the Rage Heavy Hitter Jump Break Cue is undoubtedly the one to beat. Boasting an impressive level of power without giving too much away in terms of accuracy, this is everything you could ask for in a quality cue. It even looks the part, making it the perfect choice if you want to show people you mean business the next time you step up to the table.