Choosing the best bocce ball set to buy is all dependent on how you're going to use it. If your goal is to play with your friends and family, then you'll have very different needs from those serious players looking to play in a league or tournament.
While that may be useful to know, the problem is that it's often hard to differentiate between the two types of sets and determine which one is right for you and which is better left to the pros. 
That's why we put 15 of the very best bocce ball sets through their paces to find the top 5 options for your next get-together. 
The GoSports Backyard Bocce Set earned our Editor's Choice award because it contains all of the essentials in one high-quality, great value for money option. Don't like it as much as we do? Don't worry; you'll also find four other high-quality alternatives in our guide further below. 
Top 5 Best Bocce Ball Sets 2023
There's a lot to think about when choosing the best bocce ball set. Yes, the size and quality of the balls is a hugely important factor, but since we're talking about a complete set here, the design and quality of the carry-bag or case also matter, as do the inclusion of important accessories such as a measuring tape. 
All five of our top picks scored the highest marks in at least two out of these three key areas, though if you decide that none of them are quite what you're looking for, we've also included a handy Buyer's Guide to help you find the set that's best for you. 
1. Editor's Pick – GoSports Backyard Bocce Set
Editor's Choice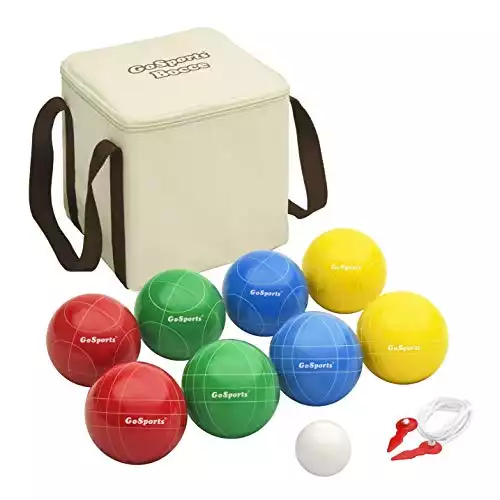 Specifications: 
Bocce Ball Size: 90mm
Bocce Ball Material: Poly-Resin or rubber
Color: Red, blue, yellow, and green
The GoSports Backyard Bocce Set really is the ultimate choice for casual bocce ballplayers.
The highlight is the set of 8 multi-colored balls, 4 of which have a circle cut design and 4 of which are square cut. What this means is that you've got the freedom to try out both sets and choose which option works best for you. 
Speaking of options, GoSports also offers this set in a variety of alternatives. 
While the hard resin set we're looking at here is the best choice for outdoor use, you can always swap it for the set with soft rubber bocce balls if you're playing bocce ball indoors.
Personally, we prefer this one as we love playing our bocce ball games out in the open during BBQs with friends or family gatherings, and they're perfect for this. 
That said, if you read our How to Play Bocce Ball guide, you'll know that you need more to play than just a good set of balls. 
You also need a smaller, white ball known as a Pallino. GoSports don't let us down with this and include the standard 40mm Pallino, all wrapped up in a highly durable premium canvas bag with two straps which makes it easy to carry and store. 
What We Like:
Ideal size and weight for bocce ball newcomers
It also comes in a light-up LED option for nighttime play
Affordable price.
What We Don't Like: 
Color on the balls tends to fade 
The rubber set includes a different type of bag, which isn't as durable as the canvas bag that comes with the resin set.
-> Read More Customer Reviews Over On Amazon
---
2. Best for Adults – Rally and Roar Bocce Ball Set 
Specifications: 
Bocce Ball Size: 107mm
Bocce Ball Material: Resin
Color: Red and Blue.
While any one of the other four sets in this guide would make a great choice for playing bocce ball with young children, the 107mm Rally and Roar Bocce Ball Set is unique in that it proves to be the optimum set for those adults-only games.
The main reason for this is all due to the size of the bocce balls themselves. 
At 107mm in diameter and weighing 2.15 lbs, they're bigger and heavier than most of the others that we've looked at, and this definitely has its advantages.
If you've ever tried to play a game of bocce ball with your grown-up friends using a small, lightweight child-friendly set, you'll soon appreciate how much extra speed and power this additional size and weight really has.
Sure, it may mean that you still need a smaller set if these are too big for your young ones, but if it's just you and your fellow adults, the Rally and Roar set is ideal.
What We Like:
Regulation size means you're playing with a set similar to those used in professional play.
Includes Pallino, measuring tape, and water-resistant canvas bag
Highly durable set that's built to last.
What We Don't Like: 
Many users complain about the lack of support for the balls inside the carry-bag
Not the best choice for playing with children.
-> See More Customer Reviews Over At Amazon
---
3. Best for Travel – ApudArmis Bocce Balls Set
Specifications: 
Bocce Ball Size: 90mm
Bocce Ball Material: Poly-Resin
Color: Red, blue, yellow, and green
Unlike other sets we've looked at, the best thing that makes the ApudArmis Bocce Balls Set stand out the most isn't the Bocce Balls themselves but the carry case they come in. 
It's firm, sturdy, and doesn't tend to sag or become easily misshapen once the balls are packed away. 
This in itself is a big selling point, but what's more, is that the bag is also compact enough for easy storage while also featuring two sizable and very strong carry handles which make it a breeze to pick up and move around. 
Together, all these qualities help to make the ApaudArmis set the best bocce ball set for travel, ensuring you'll have no problem if you want to store it in the car or pop it away in storage in your RV and take it with you on vacation. 
That said, the bocce balls themselves are as good quality as you're going to find at this price range. 
Built from premium quality poly-resin, they don't crack if accidentally dropped on hard surfaces, while the waterproof coating means the quality won't suffer if it starts to rain. 
What We Like:
Includes Bocce ball instructions and rules, Pallino, and measuring rope
Good size for children
Great for use on the beach.
What We Don't Like: 
Higher cost than other sets
Not regulation size.
-> Read More Customer Feedback Over On Amazon
---
4. Best Budget Pick – Franklin Sports Bocce Ball Set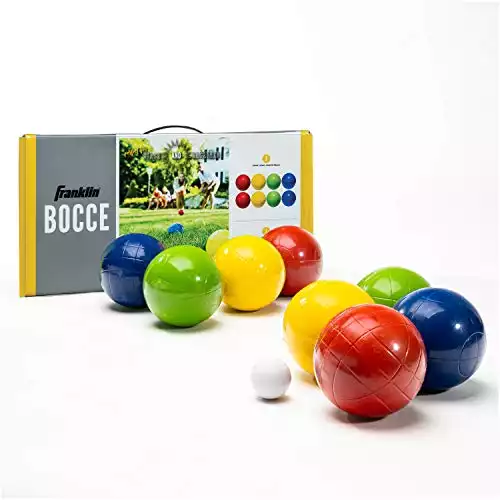 Specifications: 
Bocce Ball Size: 90mm
Bocce Ball Material: All-weather resin
Color: Red, blue, yellow, and green
If you're curious about trying out Bocce ball but don't want to spend a serious amount of money on a game you might not stick with, the Franklin Sports Bocce Ball Set may be for you.
The main reason we love them is that, for the price, they're incredibly durable.
Whether you're buying bocce ball sets, a brand new pickleball paddle, or just about any other type of sports and leisure equipment, quality and durability always need to be a top consideration.  
While none of the sets on this list are poor quality, Franklin Sports have placed extra emphasis on crafting balls that are built to last. 
The all-weather resin material is incredibly tough, ensuring that not only will they not crack if dropped, but also that they'll continue to serve you well for years to come. 
They're also specifically designed for all-weather use. If you're fed up with water ruining your bocce ball sets, or too much heat and sunshine causing the colors on lesser-quality balls to fade, this may well be the set to choose.
What We Like:
It comes with a sturdy carry case and Pallino
Multiple colors mean up to 8 people can play at once
Suitable for both indoor and outdoor use
What We Don't Like:
It doesn't include measuring tape
Some users report that the box packaging falls apart, but the actual carry case is fine.
-> See What Other Customers Think Over At Amazon
---
5. Best 100mm Set – AmazonBasics Bocce Ball Set
Specifications:
Bocce Ball Size: 100mm
Bocce Ball Material: Poly-resin composite
Color: Red and green
The AmazonBasics Bocce Ball set is basic by name and basic by nature, not that this is necessarily a bad thing. 
The set includes 8 balls (4 green, 4 red), a standard-sized Palino and measuring tape, ensuring you've got everything you need to get started at an affordable price.
The highlight of this one is the inclusion of 100mm balls which provide an excellent compromise between the 90mm beginner options included in most family-friendly sets, and the heavier 107mms you'll get for more professional players.
If your family or friend group are well-versed in the ways of Bocce but you still need to include the occasional newcomer, these 100mm balls are the perfect solution.
What We Like:
Includes durable canvas case
Affordable price
Includes measuring tape
What We Don't Like:
It only includes two colors making it suitable only for 2-4 players
Not as durable as other balls. 
-> Find More Customer Reviews Over At Amazon
How to Choose The Best Bocce Ball Set: A Buyer's Guide 
If you've read through our top five picks and decided that none of them are quite perfect for you, the following buyer's guide outlines all of the most important factors that you may want to consider when shopping for a set that's better suited to you, your environment, or the group you're playing with.
Bocce Ball Size and Weight
Bocce balls typically come in 90mm, 100mm, 107mm, and 115mm sizes, with 107mm being the regulation size used in competitions and tournaments.
In other outdoor games like spec tennis or pickleball, the temptation might be there to go right for the regulation gear to ensure you're playing with the right gear, and the same might apply to bocce ball if you take your game seriously and have ambitions of competing. 
However, if your only goal is to have fun with your friends and family, you might be better off with the smaller, 90mm balls as these are lighter and easier to use, especially for children. 
Construction Quality 
As we mentioned earlier, construction quality is an important factor regardless of the game you're playing. It doesn't matter if it's Croquet, Cornhole, or anything else; if you're spending money on equipment, you want to be sure that it's not going to break and that you'll continue to get plenty of enjoyment out of it for a long time to come.
With Bocce Ball, however, quality and lasting durability are especially important. Read reviewers of lesser-quality sets, and you'll find tales aplenty from people whose balls cracked or even completely shattered when another ball knocked into them. 
As such, you're going to need a set made from at least premium quality poly-resin composite to ensure you can play as hard and fast as you like without worrying about your balls being damaged.
On a related note, weather-resistant coatings also play a big role, not just in ensuring that the colors don't fade but also in preventing rain and sunshine from impacting the construction. 
Bag Size, Style, and Quality
While the balls themselves may be the most important factor, don't underestimate what a difference the bag or carry case can make when choosing the best set. 
At a bare minimum, the case should be made from durable canvas that is strong enough to support the weight of your entire set.
That said, it's much better if that bag has some kind of sturdy, supportive internal structure to prevent balls from rolling around, which can damage the quality and cause the bag to sag.
Finally, if you're planning to take your set to the park or away on vacation, be sure that the handle is both big enough to hold in your hand and strong enough not to break when carrying it around.
Additional Accessories
Since we're talking about the best Bocce Ball sets here and not just the balls themselves, it's also worth looking at what accessories are included.
Almost all Bocce ball sets will include the Pallino. If you find one that doesn't, it's unlikely to be worth the money. 
The inclusion of a measuring tape or rope will also make your life much easier when playing.
Frequently Asked Questions About Bocce Ball Sets: 
What is the best bocce ball set to buy?
If you're a casual player, the superior quality and affordable price of the GoSports Backyard Bocce Set is our recommendation for the best bocce ball set to buy. If you're looking to play professionally, the range of pro-grade sets made by St. Pierre is well worth a look. 
What size are professional bocce balls?
Regulation size professional bocce balls are 107mm in diameter, though some brands do offer tournament-quality balls in 115mm sizes too.
What is the difference between 90mm, 100mm, 107mm bocce balls?
A 90mm ball is smaller, lighter, and easier to handle, which is why balls of this size are generally reserved for casual, recreational use. 100mm balls pack a bit more of a punch and are best for more seasoned players, while 107mm are best for playing in leagues and tournaments
Which is the Best Bocce Ball Set Should You Buy?
By now, you've got all the information you need to help you make an informed choice when it comes to buying the best bocce ball set for you, your friends, and your family. However, if you're still looking for a few final recommendations, here they are: 
If you're just starting out with Bocce Ball and want to keep your costs down while you see if the game is for you, the Franklin Sports Bocce Ball Set earns our vote for the best budget set on the market right now.
For those adults-only gatherings that require something a little more substantial than you'd get with the child-friendly kits, the larger, heavier balls included in the regulation-size 107mm Rally and Roar Bocce Ball Set are the way to go.
Yet, for the best all-around value-for-money set, look no further than our number one choice, the GoSports Backyard Bocce Set. The 8 premium quality balls, the well-made bag, and accessories all make this the perfect choice for any social get-together.