While the classic game of cornhole may be tremendous fun, the task of picking the best cornhole boards to play on is usually anything but fun. 
There's a huge range of different boards out there, all in a variety of different sizes and designs, which can make picking just one a tough choice.
To help make that choice much easier, we tried out 15 of the best cornhole boards to find the year's top five models. 
Ultimately, it was the best-selling GoSports Solid Wood Premium Cornhole Set that proved to be our editor's choice thanks to its exceptional quality and size, but if that's not the one for you, don't panic, we've got four more excellent alternatives to show you as well. 
Top 5 Best Cornhole Boards in 2023 
Related: Best cornhole bags
Selection Criteria
More than anything else, quality was the biggest factor we considered when choosing our top five choices. Thus, picking those models that weren't just well-made, but most importantly made to last, with weather-resistant qualities also earning extra marks. 
Beyond that, size and aesthetic appeal were also important factors, while cost had a minimal yet still significant impact on our final results. 
Later in our cornhole board buyer's guide, you'll discover why we considered each of these factors to be so important, along with our answers to your most frequently asked questions. 
For now, though, let's get into our top five reviews:
1. Editor's Choice – GoSports Solid Wood Premium Cornhole Set
Editor's Choice
Specifications:
Dimensions (L x W): 4ft x 2ft
Material: 100% solid wood
When a cornhole set has over 6,000 reviews commenting on its exceptional quality, you've no choice but to sit up, take note, and try it out for yourself.
So, try it out we did and found that the GoSports Solid Wood Premium Cornhole Set more than lives up to the hype. 
The two American-made cornhole boards are constructed from 100% premium USA pine wood frames and plain, solid wooden surfaces, with zero plastic or other composite materials involved. 
To us, that alone says everything you need to know about how durable and hardy these boards really are, guaranteeing years of use without them being damaged or battered by overly-enthusiastic cornhole players. 
We also love that the surfaces are completely plain. While that may look a little boring to some, it does mean that you can completely customize them to your liking by adding decals or painting them however you please, ensuring you get maximum enjoyment out of playing this all-time American classic.
What We Like:
Includes Board carry case, 8 bean bags, and tote bag for your bean bags
Regulation size
It has open sides making it easy to retrieve bags after each turn.
What We Don't Like:
Most expensive set
The surfaces could do with a little extra sanding down.
-> Read More Customer Reviews Over On Amazon
---
2. Best ACA-Approved Boards – ACA American Cornhole Boards & Bag Set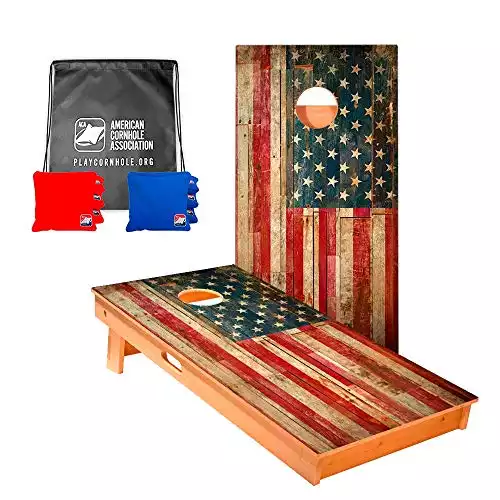 Specifications: 
Dimensions (L x W): 4ft x 2ft
Material: Baltic birch wood with vinyl print surface
While other boards in this guide may be regulation size, the ACA American Cornhole Boards and Bags Set is the only set to feature boards officially designed and made by the American Cornhole Association, the sport's governing body here in the USA.
That means that, when you choose this one, you're playing with the same kind of board used by the pros. Indeed, the ACA insists that the game's top-flight players have personally tested and approved this one, and when you see the quality of it, it's not hard to see why.
The half-inch baltic birch wood is remarkably strong and weather-resistant, making it an ideal choice no matter the climate where you live. 
Meanwhile, the vinyl print ensures a completely smooth surface, ensuring the 8 included bean bags slide across the board much more smoothly than on their rougher, wooden-surfaced counterparts. 
All this is put together with grade-A, Made in the USA construction quality, ensuring that you only have to buy these once to get boards that are likely to last a lifetime. 
What We Like:
Choice of 4 impressive surface designs
Smooth, side handles for easy carrying
Includes 8 bean bags and a tote bag.
What We Don't Like:
It doesn't include a carry case for the boards
Expensive price tag.
-> See More Customer Reviews Over At Amazon
---
3. Best Design – Slick Woody's Signature Cornhole Set
Specifications: 
Dimensions (L x W): 4ft x 2ft
Material: Baltic birch tops and poplar hardwood frames with laminated vinyl finish
Aesthetic design is, of course, all about personal preference, but if you're anything like us, you'll love the fun, bold appearance of this Slick Woody's Signature Cornhole Set. 
The lively, retro-cool look of these boards ensures they'll be a big hit when it comes time to play games with your adult friends at your next summer BBQ. 
Still, looks aren't everything, and Slick Woody's certainly haven't compromised on quality either. 
Like the other two boards before it, these are 100% real wood, combining baltic birch tops with poplar hardwood frames to ensure lasting durability, while the vinyl print not only ensures a smooth playing surface but is all fully weatherproof, meaning you'll enjoy the same playability regardless of temperature or humidity. 
What We Like:
Endorsed by 7-time Cornhole World Champion Matt Guy
Printed with UV inks to stop the vinyl design from fading in the sun
Includes 8 cornhole bags.
What We Don't Like:
No carry case or tote bag
Side handles are cut at an awkward position making it more difficult to carry. 
-> Read More Customer Feedback Over On Amazon
---
4. Best Boards for Beginners – EastPoint Sports Cornhole Game Set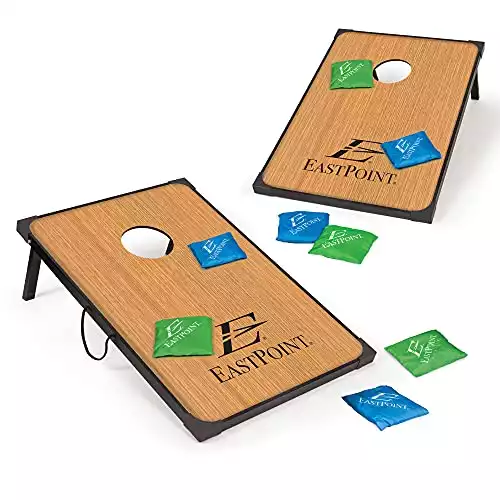 Specifications: 
Dimensions (L x W): 3 ft x 2 ft
Material: Plywood surface with reinforced plastic frames.
It's worth noting that not everyone is looking to pay top dollar for a premium, regulation-size cornhole board.
If you're just learning how to play Cornhole, or you simply want something simple and inexpensive to enjoy a few games with the kids, a smaller board will more than suffice. 
That's where the EastPoint Sports Cornhole Game Set really comes into its own. 
The plywood-and-plastic construction doesn't provide the same kind of lifetime durability that you get with a real wood set, but it's still one of the strongest, sturdiest boards you will get for this kind of money.
OK, so this may not be the least expensive board around (we'll get to that in a moment), but the attractive price, smaller boards, and effortless setup mean beginners will be able to get started with this classic game with no hassle at all.
What We Like:
Boards come with carrying handles and mesh bag for easy portability
Reinforced corners for extra support
Includes 8 high-quality bean bags.
What We Don't Like:
Not weatherproof
Bags are supposed to be stored inside the boards when not in use but tend to fall out too easily.
-> See What Other Customers Think Over At Amazon
---
5. Best Budget Pick – GoSports Portable Size Cornhole Game Set
Best Budget Pick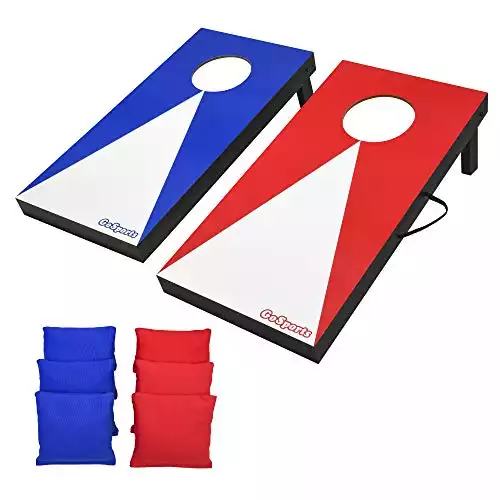 Specifications: 
Dimensions (L x W): 2 ft x 1 ft
Material: Weatherproof plastic
If our last pick was still a little too expensive for you and you really are looking to get the best cornhole board possible for the least amount of money, then the GoSports Portable Size Cornhole Game Set may be the one for you.
Our pick of the best budget cornhole boards in 2023, this small set takes its portable size quite literally and is dwarfed by the larger regulation boards.
Not that this in itself is such a terrible thing. 
The 2 ft x 1 ft design makes it the perfect choice for young children, and while adults may prefer a larger set for playing outdoors, the smaller size also makes it a good option for playing cornhole indoors where space may be limited. 
If you do take it outside, you'll find that the UV and water-resistant plastic does an impressive job at standing up to the elements and is as strong and sturdy as you could hope for in a board primarily aimed at younger players.
What We Like:
Both boards attach together with room to store bags inside for easy transport.
Lightweight yet durable design
Low cost.
What We Don't Like:
It only includes 6 bean bags instead of the standard 8 
Not suitable for adults 
-> Find More Customer Reviews Over At Amazon
How to Choose The Best Cornhole Boards: A Buyer's Guide 
If you've read through our top five reviews and still can't decide which one to spend your money on, the following buyer's guide may help.
Below, we've outlined the key factors we considered when determining our picks and how each one may influence your final purchasing decision.
Material
Whether you're buying a cornhole board, a pool table, or even a pickleball paddle, nothing matters more than quality. After all, if you're spending hard-earned money on gear and equipment, the last thing you want is to be saddled with something flimsy that's going to fall apart after just a few uses.
When it comes to cornhole, quality is determined partly by how well the manufacturers built their boards but mainly by the quality of the material they used.
Wooden boards tend to be far superior to their plastic counterparts, with baltic birch and pine offering exceptional durability. While this does make them significantly more expensive, spending a decent amount now on a high-grade board means that it's doubtful that they'll need replacing for at least a good few years.
Wooden boards are also easier to customize with unique decals and paint, though on the downside, they tend to have a rougher surface which can prevent the bean bags from sliding along them properly and may need sanding down before you play.
Plastic cornhole boards tend not to be as durable nor as customizable. However, they are typically lower in cost, making them an ideal entry-level option for beginners or anyone on a budget.
Board Size
Many of the best cornhole boards come in a regulation size of 4ft x 2ft. This provides a large enough surface to score many points without being so big that the game is no longer a challenge. 
That said, it is possible to buy much smaller models. While these are generally cheaper, they're also nowhere near as fun for adults and are best used only if you're looking for the best cornhole board for kids.
Open vs. Closed
Cornhole boards tend to build one of two ways, either with The first kind feature known as a closed base. This means that panels surround the bottom of the board at the back and sides. 
This can add extra support but means that you'll need to reach into the board's hole to retrieve bags after each turn.
Personally, we prefer open-style boards in which the sides and back remain exposed so that you can simply reach underneath to grab your bags. 
Design
The look of your new cornhole boards may not impact the way you play, but since they do come in a wide variety of design choices, it's still an important factor to consider.
Given the game's popularity at July 4th celebrations, you'll find a ton of boards with the American flag printed on the surface, while boards adorned with sports team logos and colors also prove hugely popular. 
The best part is that if you don't find a design you like, you can always buy a plain wooden board like the GoSports Solid Wood Premium Cornhole Set and either paint it yourself or buy ready-made vinyl decors to give your boards a unique look. 
Frequently Asked Questions About Cornhole Boards 
What type of wood is best for cornhole boards?
While various wood types can be used to make cornhole boards, baltic birch and pine are well-known for their superior durability, making them a perfect choice. 
How far apart do cornhole boards need to be?
Official cornhole rules state that boards should be 27 ft apart, and this is what you'll find in proper tournaments and competitions. If you're playing casually, you may want to reduce this to between 20 ft – 24 ft. 
What size is an official regulation cornhole board? 
ACA rules state that an official regulation cornhole board should be 4ft in length by 47.5″ – 48″ (around 4 ft) in length by 23.5″ – 24″ (2 ft) in width.
What is the Best Cornhole Board to Buy in 2023? Our Verdict 
If you've read this entire guide, you've hopefully got a good idea of what to look for when it comes to choosing the best cornhole boards for you, your family, and friends. 
You've also had a good look at the five boards considered to be the best on the market in 2023, but if you're still undecided as to which cornrhole board set is worth your money, let's wrap things up today with a few recommendations. 
Our budget pick, the GoSports Portable Size Cornhole Game Set, is not only the best option for those looking to spend as little as possible but also the best cornhole board set for kids, for those who simply want to enjoy a few lighthearted games in small, indoor spaces. 
At the opposite end of the scale, the ACA American Cornhole Boards and Bags Set is a remarkably high-quality, professional-grade set designed and tested by the American Cornhole Association, all of which make it the perfect choice for anyone who takes their cornhole board seriously.
Still, while the ACA set almost made it to the top, it was pipped to the proverbial post by the GoSports Solid Wood Premium Cornhole Set, an outstanding set made in the USA from 100% wood that is built to last a lifetime, ensuring you and yours get to enjoy this All-American game for many a year to come.