So, you're eager to start practicing your pool game at home but find most professional-grade tables are out of your price range, while those you can afford just aren't good enough. Sound familiar? Then this guide to the top 5 best pool tables under $1,000 is for you.
We spent more than 40 hours trying out 20 of the year's best-selling mid-range tables to determine our top 5 picks. Ultimately, it was the Fat Cat Trueshot 6 ft. Pool Table which earned our Editor's Choice award as it scored highly in all the areas we look for when choosing a good quality table:
Size, durability, materials, and, of course, playability. 
And if that's not the one for you? Don't worry, we've picked an assortment of tables to suit every space, budget, and level of ability.
Our top 5 Best Pool Tables Under $1,000
DISCLAIMER: Keep in mind that at time of writing these 5 items listed below were each priced below $1,000 on Amazon, however may no longer be the case.
A lot of thought and careful consideration went into determining our top 5 best pool tables. They had to be big enough to allow for good quality play while still fitting into most reasonably-sized rooms. They had to be built to last, and they had to use materials that allowed for a better playing experience.
These pool tables also scored points if they came with accessories such as cues, balls, etc, though this was less important than the quality of the table itself. 
Throughout this guide, we've provided in-depth reviews of each of our top 5 picks so that you can see how each one fared in each category, though if you don't have time for that right now, you can check out our brief comparison chart below.
Further on, you'll also find our comprehensive buyer's guide and frequently asked questions to help you find the best pool table under $1,000 that's best for you and your home.
1. Editor's Choice – Fat Cat Trueshot 6 ft. Pool Table 
Specifications:
Height: 32″
Length: 76″
Width: 43″
Weight: 114 lbs 
Accessories: 2 x pool cues, full set of pool balls, rack, chalk, and cloth dust.
Straight away, the first thing you notice about the Fat Cat Trueshot 6 ft. Pool Table is how strikingly attractive it looks. It's slim, lightweight design comes in a cool, all-black finish, guaranteeing that it's going to be a talking point no matter where you put it. 
Still, we all know that looks aren't everything and it's really quality that counts. Thankfully, the Fat Cat Trueshot scores high marks in that regard too.
Manufacturers GLD products have built a strong reputation for creating solid yet affordable game room products, catering to everyone from fans of darts games to foosball and yes, pool. 
The Trueshot is arguably their flagship product, boasting a highly scratch-resistant cloth surface which, as you'll see in our buyer's guide, ensures plenty of speed and power behind your shots without compromising smoothness and precision. 
The addition of a table brush is also very welcome, ensuring you can keep that cloth surface in pristine condition for longer. 
On the downside, it is only 6 feet in length and you'll certainly find bigger tables out there, but otherwise what you've got here is a solid, sturdy, yet slim table that should provide hours of fun for adults and young ones alike.
What We Like:
Superior quality with added padding around the table edge for improved gameplay.
The compact size makes it suitable for smaller spaces
Folds away for easy storage
Attractive design.
What We Don't Like: 
Serious players may want to upgrade to better quality pool cues and balls.
-> Read More Customer Reviews Over On Amazon!
---
2. Best Large Pool Table – Rack Orion 8-Foot Pool Table
Specifications:
Height: 32″
Length: 96″
Width: 53″
Weight: 253 lbs
Accessories: 2 x pool cues, pool balls, rack, chalk, and a cloth brush
As you go through this list, you'll no doubt notice that many of the best pool tables under $1,000 tend to come in at around the 6-6.5 foot range. 
While that's great for those rooms where space is an issue, it can be a little disappointing if you're looking to enjoy the same experience that you'd get from playing on a full-sized, professional-grade table.
This is the main reason why we love the Rack Orion 8-Foot Pool Table. As the name implies, it stands an impressive 8 feet in length and just shy of 4.5 feet in width. Add to that the K-66 rubber bumpers, woolen-blend felt and scratch-resistant rail coating, and what you've got here is a great choice for those who take their pool seriously and want the same kind of gameplay you'd get in league competition.
Further adding to the Rack Orion's status as the best large pool table at this price range is its superior build quality, super-thick 1″ MDF deck impressive strength, ensuring that you can lean across the table for those trickier shots without worrying about the whole thing caving in on you.
What We Like:
Large size makes it a great choice for bigger game rooms
Rack will send you an extra free cue and chalk on request
Easy to assemble
Lifetime warranty makes this a worthwhile, long-term investment.
What We Don't Like:
Maybe too big for children. 
-> See What Other Customers Think Over On Amazon!
---
3. Best Budget Pick – Hathaway Fairmont Portable Pool Table
Specification:
Height: 32″
Length: 76″
Width: 43.25″
Weight: 115 lbs 
Accessories: 2 x pool cues, pool balls, rack, chalk, and a cloth brush
At first glance, the Hathaway Fairmont Portable Pool Table looks very similar to our top-ranked pick, the Fat Cat Trueshot. It's a fair comparison. Both boast a svelte, lightweight design, both can fold away for easy storage and both come with 5″ top rails lined with premium-brand cushions to ensure fast, smooth, high-quality game play. 
So why choose the Hathaway Fairmont over the Fat Cat Trueshot? Simply put, because it's less expensive.
At first, we were tempted to say 'cheaper,' but that's really not the case. Though this is a great option for budget-friendly pool players or those just starting out in the sport, it's by no means a cheap table. Well made with premium-blend wool felt for improved performance and chrome-plated corner castings for added support, this table is worth every penny and then some.
What We Like:
Comes With integrated leg levelers to ensure a smooth playing surface
Good, 6-foot size suitable for kids and adults alike
Arrives fully assembled so that you can start playing straight away
Made in the USA – a sign of quality craftsmanship and manufacturing.
What We Don't Like:
Pool cues are a little too small for adult players.
-> See More Customer Feedback Over On Amazon!
---
4. Best Multi-Game Table With Pool – Fat Cat Original 3-in-1 Flip-Game Table
Specifications:
Height: 32″
Length: 72″ 
Width: 32″
Weight: 141 lbs
Accessories: Cues, balls, plus table tennis and air hockey accessories.
So, you love playing pool but other members of your family love table tennis or air hockey. 
Well, they say you can't please all the people all the time, but with this Fat Cat Original 3-in-1 Flip Game table, you can come pretty close.
As we've already seen, GLD's Fat Cat brand is well renowned for the exceptional quality of their pool tables and that's certainly evident here with a table that combines a solid wooden frame for long-lasting durability, an effortless approach to switching between games, and all the equipment you'll need to play each of the three games.
Admittedly, it's not the biggest on this list, meaning it might be better suitable for kids and teenagers than adults, but if you're looking for an affordable, quality table that you can use for some solo practice after the rest of your family have finished their big air hockey tournament, then this one is a worthy contender.
What We Like: 
Comes with motorized air hockey and table tennis making it a great value-for-money game table
Solid and heavy ensuring lasting durability
Easy to assemble.
What We Don't Like 
Better suited for kids more than adults
Some owners report that GLD's shipping methods could be improved to reduce damaged parts. 
-> Find More Customer Reviews Over At Amazon!
---
5. Best Pool Table With Automatic Ball Return – Mizerak Dynasty Billiard Table
Specifications:
Height: 10″
Length: 69.87″
Width: 34.75″
Weight: 283 lbs 
Accessories: 2 x cues, full set of billiard balls, triangle, chalk, and cloth brush.
If you're looking for a table that best gives you that authentic pool hall feel, the Mizerak Dynasty Billiard Table should definitely be on your radar.
Not only does it come with the classic green cloth which ensures both a classic look and years of use, but it's also one of the few pool tables under $1,000 that comes with automatic ball return, meaning you no longer have to go fishing through those net pockets before racking up your pool balls for the next game. 
Elsewhere, we love the incredible bamboo laminate exterior which not only enhances that classic style we talked about earlier but also provides solid support.
We'd also be remiss if we didn't talk about the excellent rubber cushions and double-sealed MDF play-bed which enhance the playing experience and help to make this a great choice for serious players to practice on.
What We Like:
Rail integrated pockets and ball return system make setting up your next game a breeze
Solid cross-supports for improved sturdiness and support
Black corner accents complement the classic design and absorb impact.
What We Don't Like:
Accessories are of sub-standard quality and will likely need replacing.
-> Read More Customer Feedback Over On Amazon!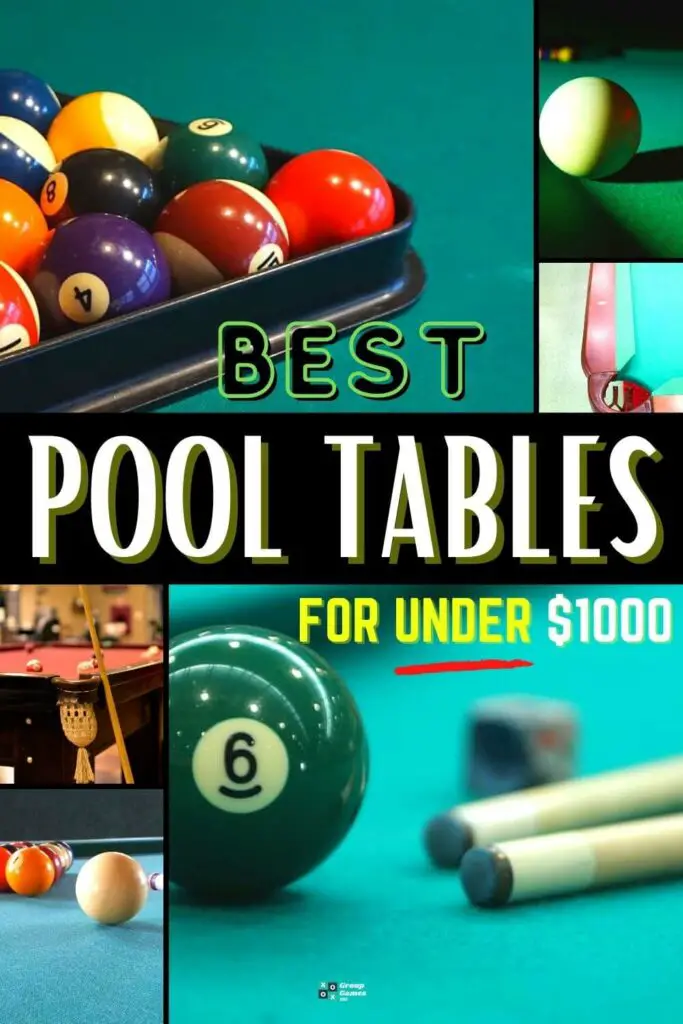 How to Choose the Best Pool Table Under $1,000
So, you've seen what we consider to be the 5 very best pool tables available for less than $1,000, but how did we decide on these 5 out of the countless options out there? Here's the key factors we considered:
Pool Table Size 
While there are plenty of small tables around, most of them are -let's be honest- little more than kids toys. While that might be great if all you want to do is teach your young ones the basics of 8-ball pool rules, most of those small tables won't be much for them when they get older and out-grow them. What's more, if you're planning a more grown-up game night, they're not much good at all.
Legs and Frame
It goes without saying that you want your pool table to be highly durable, ensuring that you'll be able to continue enjoying it for years to come. 
So, while this may seem obvious, don't underestimate what a difference in the quality of your table's legs and frame can make.
As part of our research we came across plenty of tables that had plastic legs. While they looked amazing, we instantly ruled them out. After all, if you need to lean over the table to get that particularly tricky shot then there's always a chance those plastic legs could buckle, destroying the whole table.
Likewise, a good quality table with a slate frame and cross-beams will provide plenty of structural support, ensuring your table stands firm year after year.
Playability
Whether you're playing a quick game of cutthroat pool just for fun or getting stuck into a serious game of 10-ball pool, it's easy to think of your performance at the table as being all a matter of skill.
While that's true to some extent, the quality of your table can make a difference.
A good quality woolen-blend cloth cover, for example, helps to ensure that the balls move smoothly and with speed across the table, all without sacrificing precision. You'll also want to look for cushions made from natural gum or rubber, providing a quality rebound without causing the table to vibrate on impact and disrupting the position of your balls.
Three Questions to Ask Yourself When Buying an Affordable Pool Table
The criteria above explain how we picked our favorite tables, but how do you determine which sub-$1,000 pool table is best for you?
On the whole, there are three key questions you'll want to ask:
1. How Much Space Do I Have?
That 7+ ft pool table may be a thing of beauty, but if you just don't have space for it you may need to choose a smaller size.
Before you buy any table, it's best to measure your room, keeping in mind that as well as fitting the table in there, you'll also need space all the way around to make it easy to play.
2. Who Will Be Playing?
Is this a table for you and your friends to hang out around on a Friday night? If so, a good-sized 6+ ft table should be more than sufficient. 
If this is a present for your children, on the other hand, then you're going to have to go smaller. 
3. How Serious Am I About Pool?
While we love all of the pool tables featured in our guide, we have to admit that the accessories they come with -particularly the balls and cues- leave a lot to be desired.
If you're only goofing around for fun, then this might be good enough. Otherwise, you might want to consider how you can make your budget stretch to buying better quality equipment to match your brand new table.
How to Make a D.I.Y Pool Table
Frequently Asked Questions
How much space do I need for my pool table?
Pool tables in all different sizes, but as a general rule, you should aim to have at least 5 feet of space around all sides of the table. This will give you enough room to use a standard 57″ cue without hitting the walls. 
Is a 6ft pool table big enough for adults?
Pretty much yes. A lot of the best pool tables under $1,000 that you'll find in homes and even many bars and pubs are around the 6ft – 6.5ft size and are more than suitable for adults to play on.
Can you vacuum a pool table to keep it clean?
Though technically you can vacuum a pool table, you'll need to use a vacuum that has a very light setting, otherwise, you risk damaging the felt. This is why many of the best pool tables come with a brush to keep the cloth clean without resorting to picking up your Dyson.
Final Thought: Which is the Best Pool Table Under $1000 in 2023?
If you've read this far, you've likely reached the same conclusion we did:
Determining the best pool table for under $1,000 is ultimately all a matter of taste and space. 
If you've got the room for it, the Rack Orion 8-Foot Pool Table really does offer exceptional quality and is a great choice for serious league players who want to practice on a table that offers pretty much the same experience as you'd get in an official professional competition.
If you think you might want to occasionally change things up a bit or you need an affordable way to ensure everyone in the family gets to play their game, then the Fat Cat Original 3-in-1 Flip Game table, with its ability to flip effortlessly between pool, table tennis, and motorized air hockey, is definitely the one to go for.
On the other hand, if you're looking for what is simply the best all-round pool table for under $1,000, then we doubt you'll find better than the Fat Cat Trueshot 6 ft. Pool Table, a table which not only offers professional quality play on a reasonably-sized 6 ft table but also offers a cool, contemporary look that's sure to impress.