If your regular game night is starting to feel a little stale, introducing any one of the best game buzzers in this guide is guaranteed to help liven things back up again. 
Whether you're hosting your very own TV trivia night, recreating your favorite TV shows like Jeopardy, or even looking for a way to spice up games like Catch Phrase, each one of these buzzers will give the occasion an extra dose of fun while also making it much easier to tell who got their answers in first. 
While there are countless options out there, the three buzzers we're about to look at consistently proved themselves to be the very best of the best, with the MyMealivos Xl Buzzer earning our editor's choice thanks to its striking design and prominent size. 
Below, we'll take an in-depth look at that particular buzzer, as well as two popular alternatives. We'll also offer a complete buyer's guide to help you determine which is the best game buzzer for you. 
3 Best Game Buzzers
1. Editor's Choice – MyMealivos XL Buzzer 
Specifications:
Dimensions (w x h): 5.9″ x 6.29″ 
Material: ABS Polymer
Number of buzzers: 2 
The first thing that really drew us to the MyMealivos XL Buzzer is just how different they look from most other buzzers on the market. 
Looking like something straight off the set of America's Got Talent or a hit TV game show, their striking appearance alone can make your next fun game night or entertaining trivia evening feel all the more special. 
Still, it isn't just the look that we like. 
This two-pack of bumper-sized buzzers is also larger than average, with a thick, bright red button that simply requires a gentle press to light up the X shape on the front and makes a loud and clear buzzing sound. 
Although somewhat expensive, considering you only get two buzzers, this is nonetheless a great value-for-money set that will certainly up the fun factor of your favorite game.
What We Like:
Also available in gold design
Durable material ensures long-lasting use
The battery operated so easily.
What We Don't Like:
It only includes two buzzers
The buzzing sound is the same for both buzzers.
-> Read More Customer Reviews Over On Amazon
---
2. Best Budget Buzzers – Learning Resources Answer Buzzers
Best Budget Option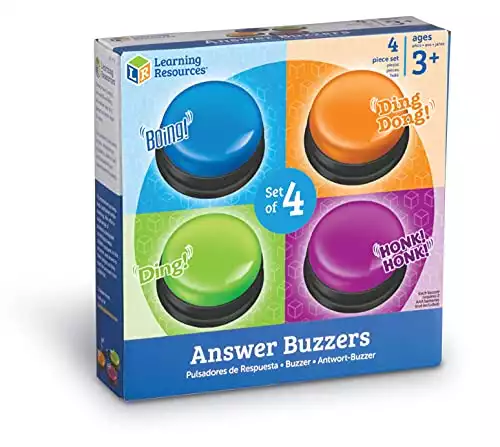 Specifications:
Dimensions: (w x h): 3.5″ x 3″
Material: Polymer plastic
If you'd rather save your money to invest in new board games like Watch Ya Mouth or Gobblet Gobblers while still enjoying all of the fun of using buzzers on game night, this next set may be just the ones for you.
Available at a fraction of the price of other products, the Learning Resources Answer Buzzers are undoubtedly the best budget-friendly buzzers around right now. 
This is partly because they come from Learning Resources, a reputable brand known for creating high-quality products that are built to last. 
It's also because the buzzers themselves are great fun. 
Each of the four comes in its own unique color with its own distinct sound, meaning you'll have no problem telling exactly who buzzed in. 
Loud and bright, these are the ideal bargain set for money-conscious game fans.
What We Like:
Long-lasting battery life 
Low cost
Lightweight yet durable design.
What We Don't Like:
The battery compartment can be tricky to open
Some users were unhappy that the volume was too loud. 
-> See More Customer Reviews Over At Amazon
---
3. Best for Parties – Learning Resources Recordable Answer Buzzers
Specifications:
Dimensions (W x H): 3.5″ x 3″
Material: Polymer plastic
Last but by certainly no means least, the Learning Resources Recordable Answer Buzzers are ideal for parties, classroom environments, or really any situation that calls for something extra special. 
A higher-priced (but still affordable) upgrade on the last Learning Resources pack we just looked at, these customizable buzzers include a unique feature that allows each participant to record their own sounds. 
Doing so is as simple as pressing the small record button on the side of the buzzer and speaking into it. That sound can then be used in place of the standard buzzer noise, adding an extra element of fun to whatever game you're playing. 
What We Like:
Records up to seven seconds of audio
Recommended by speech therapists as a learning and therapy tool
What We Don't Like:
Buzzers require a little extra pressure to work
The battery compartment can be tricky to open.
-> Check Other Customer Reviews On Amazon
How to Choose the Best Game Buzzer: A Buyer's Guide 
If you've read through our top three reviews and still can't decide which game buzzer to purchase, the following buyer's guide may come in handy.
Below, we've outlined the key factors that are important to consider when choosing the best buzzer to spend money on. 
Quantity 
While it's possible to buy solo buzzers, most popular options come in sets of either 2 or 4 buzzers.
While the former may be fine if you're planning an event with only two players or two teams, anyone playing with a larger group may find the four-pack sets a much better deal. 
Distinctive Buzzers 
If you're hosting a lively game with lots of players, it can sometimes be difficult to tell exactly who buzzed in, especially if it's a close call. 
If that's a problem you frequently face, you may want to look for options that use distinct sounds and colors for each buzzer so that you'll have a much easier time identifying which player got to their buzzer first. 
Size 
One of the reasons why we love the MyMealivos XL Buzzer so much is that it's pretty big compared to other models on the market. 
This can prove invaluable if you're playing in teams and want to be sure that everyone has access to the buzzer, or simply if you're playing with children who may find a larger buzzer easier to play with. 
Quality 
It doesn't matter if you're buying game buzzers, dartboards, ping pong balls, or anything else; quality will always be a significant deciding factor. 
After all, there's nothing more likely to put a dampener on the evening than having everyone get excited about using a new buzzer only for it not to work. 
That's to say nothing of the amount of money you'll likely waste if you pick a low-quality set. As such, it's essential to buy models made from durable materials such as polymer plastic and sold from a brand with a reputation for creating high-quality products. 
Frequently Asked Questions About Game Buzzers
Who makes the best game buzzers?
Learning Resources is one of the leading manufacturers of high-quality game buzzers, though MyMealivos also makes some striking-looking products. 
Can you alter the volume on a game buzzer?
Generally not. While there may be some higher-priced models that offer this feature, most tend not to.
What kind of batteries do game buzzers take?
Most popular game buzzers require 2 or 3 AAA batteries. 
What is the Best Game Buzzer to Buy in 2022?
For the most part, any one of our three picks could be considered to be the best game buzzer on the market in 2022, though the one you buy will ultimately depend on what's most important to you. 
If you like the idea of adding a truly unique touch to game night, the customizable Learning Resources Recordable Answer Buzzers will likely appeal as they allow every participant to record their very own buzzer sounds. 
If you're looking to keep your costs down, the Learning Resources Answer Buzzers offer the perfect combination of high quality and low cost.
That said, if you simply want a recommendation for the very best game buzzer around right now, it has to be the MyMealivos Xl Buzzer, thanks to its stand-out design, large size, and loud buzzing sound.