To the untrained eye, all ping pong balls look pretty much the same. However, look a little closer, and it quickly becomes apparent that the very best ping pong balls around boast qualities that make them far superior to anything else on the market. 
Whether it's the affordable price tag of those low-cost balls that are perfect for recreational use (but sadly not much else), the impressive material and all-round production quality, or those designed to help improve your performance when competing at the highest level, there's much more to choosing balls than first meets the eye.  
To help you decide, we put 15 of this year's best ping pong balls through their paces to pick out the five very best of the best. 
Ultimately, it was the competition-grade PRO SPIN Ping Pong Balls that earned our Editor's Choice pick, thanks to their ITTF-approved size and construction, incredible durability, and overall value for money. 
If you don't like the look of those, don't worry. We've also picked our four other top options to help you find the perfect ping pong balls for you. 
Top 5 Best Ping Pong Balls in 2023
Related: Best Ping Pong Paddles for Beginners | Best Ping Pong Tables
Selection Criteria
One of the most important factors we looked for when determining the five very best ping pong balls around was the all-important star ratings. 
As we'll discuss in more detail in the buyer's guide at the end of this article, the higher the star rating, the better quality the ball, which is why you'll typically find most of our list features products with the highest 3-star rating. 
However, that's not to say that lesser stars are always a bad thing. In fact, they may prove to be just what you're looking for if you're only playing for fun or warming up at home for your next big competition. 
Beyond that, the material, size, and weight all influenced our decisions. 
We'll discuss how each of our top picks fared in those categories below, after which you'll find the aforementioned buyer's guide, our answers to your most frequently asked ping pong ball questions. and our final recommendations on how to choose the right ball for you.
For now, though, let's get into our reviews: 
1. Editor's Choice – PRO SPIN Ping Pong Balls 
Editor's Choice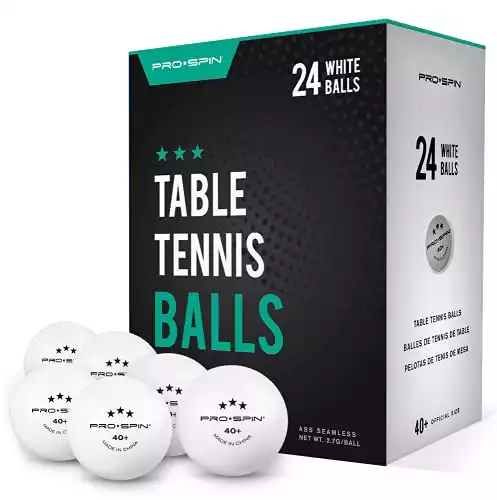 Specifications: 
Star Rating: 3
Size: 40+
Weight: 2.7g
Material: Polyplastic
When it comes to picking the perfect ping pong balls, the PRO SPIN Ping Pong Balls do tick all of the right boxes. 
The International Table Tennis Federation (ITTF) 40+ seal of approval and ideal 2.7g weight means they're a top choice for playing professional-quality table tennis in a league, tournament, or even just at home. In contrast, the weight itself ensures they're lightweight enough to ensure maximum performance yet strong enough to withstand powerful strikes.
Speaking of strength, the seamless polystyrene plastic material provides outstanding durability, so no matter how hard you slam and smash them, they're going to keep on performing at their best. 
What we really like about these balls, however, is the value for money. 
Although they're far from the cheapest on the market, they're far from the most expensive either, and the fact that you get a pack of 24 deluxe-quality balls for such an attractive price makes them a must-buy for many a ping-pong player.
What We Like:
Approved by USATT (USA Table Tennis)
Environmentally-friendly materials
Customer reviews report excellent spin and control.
What We Don't Like:
The seamless design may negatively impact the speed
Several customers report packaging damage when these are shipped. 
-> Read More Customer Reviews Over On Amazon
---
2. Best for Training – Joola 3-Star Training Balls
Best for Training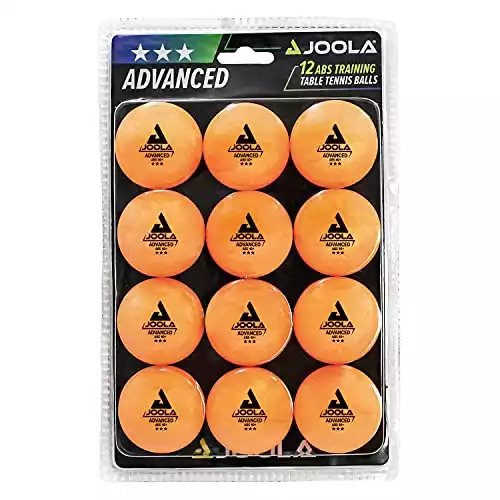 Specifications: 
Star Rating: 3
Size: 40mm
Weight: 2.9g
Material: ABS Plastic
Whether you're trying to perfect your pool technique, master your darts technique, or turn up your table tennis skill level, practice and quality training counts for a lot in any game you play.
That training also requires the right kind of equipment, which is where the Joola 3-Star Training Balls really come into their own. 
The first thing we like is that these are orange in color rather than the traditional white, making them much easier to track as they bounce around the table. 
Then there's the impressive quality of utilizing an ABS plastic that means they're strong enough for hitting against hard surfaces if you're practicing those serves in a solo setting. 
Speaking of quality, all of this comes from Joola, a brand with an enviable reputation for quality that has made them the go-to providers of ping pong balls for major events such as the Olympic Games and US Open.
What We Like:
It comes in an affordable pack of 12 balls
Offers consistent bounce
Excellent for control and power. 
What We Don't Like: 
Not 100% round, which means they're unsuitable for professional play
Lack the ITTF-approved 40+ mark. 
-> See More Customer Reviews Over At Amazon
---
3. Best for Competitions – PRO SPIN Orange Ping Pong Balls
Best for Competitions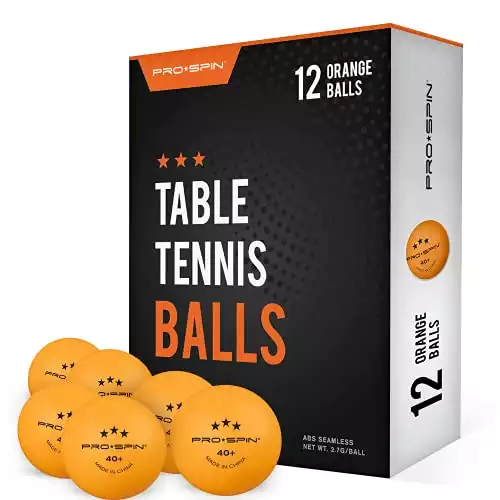 Specifications: 
Star Rating: 3
Size: 40mm
Weight: 2.7g
Material: ABS Plastic
While the Joola balls we just looked at would be a great option when it comes to practicing for that big competition, when it finally comes time to step up to the table and take home the trophy, you're going to need something a little more substantial. 
With that in mind, we recommend the PRO SPIN Orange Ping Pong Balls as the best on the market for competitions, tournaments, and professional leagues. 
This is primarily because of their competition-grade size and weight, boasting that all-important 40+ stamp and, at 2.7g, fitting neatly into the approved weight for official tournaments.
Yet it's also because each ball undergoes extensive testing to ensure it passes the highest quality control standards set by both the ITTF and USATT, meaning you're guaranteed to get through multiple games without having to stop play because an inferior ball is damaged. 
What We like: 
Excellent spin
The orange color makes it easier to see the ball
Comes with a 1-year 100% money-back guarantee. 
What We Don't Like:
The balls don't bounce as well as others
The PRO Spin brand tends to have numerous problems with packaging during shipping.
-> Read More Customer Feedback Over On Amazon
---
4. Best Budget Pick – Mapol Premium Ping Pong Ball 50-Pack
Best Budget Pick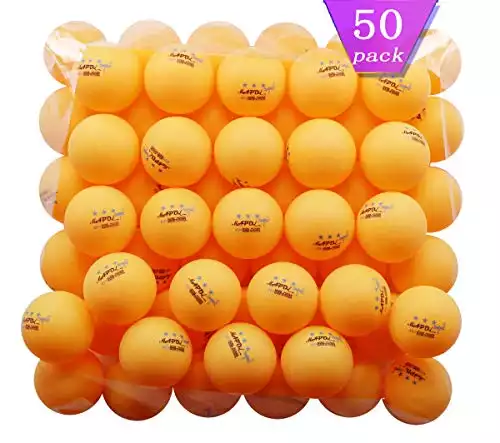 Specifications: 
Star Rating: 3
Size: 40.1″- 40.25″
Weight: 2.7g – 2.85g
Material: Polystyrene
There's much more to picking the best budget ping pong balls than simply opting for the ones with the lowest price tag. 
Indeed, if you scroll onto our next pick, you'll find them at half the price of the Mapol Premium Ping Pong Ball 50-Pack, though you'll also find that that rock-bottom price only provides you with three times less than the number of balls you get here and that they're nowhere near as high quality.
So, what really matters in terms of budget-friendliness isn't just the cost but the all-around value-for-money, and it's for that reason that we really love the Mapol pack. 
Available for a few dollars less than some of the 12-packs we've looked at so far, this one gives you no less than 50 balls, all built to three-star standards and all roughly, though not exactly, up to competition standards. 
That may be the one downside to this pack in that they really are a mixed bag in the truest sense of the world. While the lack of uniformity and consistency may be a problem in a professional setting, for clubs, youth centers, and other settings where you're likely to go through a high number of balls yet still want a top-quality product, the Mapol 50 pack is tough to beat. 
What We like:
Solid construction with durability you wouldn't expect at this price range
Strong performance with good bounce and control
The orange color makes the ball easier to follow.
What We Don't Like:
Below-average spin 
The lack of consistency may be a problem in some settings. 
-> See What Other Customers Think Over At Amazon
---
5. Best for Recreational Use – Franklin Sport Table Tennis Balls
Best for Recreational Use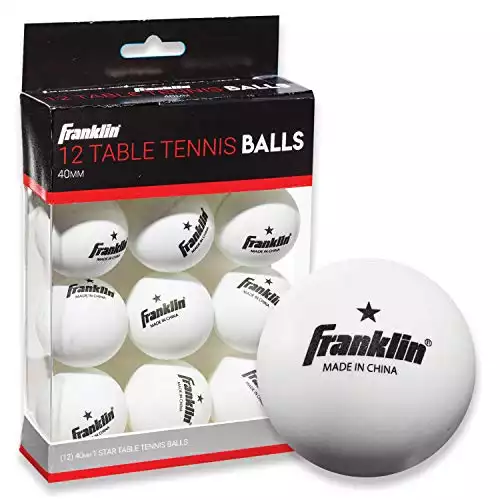 Franklin Sports Table Tennis Balls - White Table Tennis Balls
Ideal for playing with family and friends
Though they may not be a great fit for serious players, Franklin Sport's ping pong balls ensure maximum enjoyment for casual ping pongers.
Buy Now
We earn a commission if you click this link and make a purchase at no additional cost to you.
07/25/2023 01:34 pm GMT
Specifications: 
Star Rating: 1
Size: 40mm
Weight: 2.7g
Material: ABS Plastic
If you've been paying attention to the specifications we've been listing, you'll notice that the Franklin Sport Table Tennis Balls are only 1-star, putting them a few pegs down from the kind of professional-level balls we've been looking at so far. 
While that may be off-putting for some, it may be pretty ideal for others. 
Indeed, if you've just bought your first beginner-friendly ping pong paddle and you're ready to try out table tennis for the first time, or if your ambitions reach no further than a few casual games with friends at the weekend, these recreational-quality balls will do just fine. 
That's partly due to the cost. Though they deliver nowhere near the kind of value for money you'd get with the aforementioned Mapol set, they are the cheapest set you'll find, with a standard pack of six white balls costing about the same as a cup of coffee. 
A novelty set, these ones also glow in the dark, adding an extra sense of fun if you're having a party or really want to switch things up from the same old game of billiards you tend to play every Friday night.
What We Like:
Built to official ITTF standard size
Nice bounce
Decent weight makes them ideal for newcomers to control easily.
What We Don't Like:
Not as durable as other balls
The seamless design may limit spin.
-> See More Customer Feedback Over On Amazon
How to Choose the Best Ping Pong Balls: Your 2023 Buyer's Guide 
If you've read our review of 2023's best ping pong balls and still can't decide which ones to spend your hard-earned money on, the following buyer's guide may help.
Below, we discuss all of the important factors that we considered when picking our top 5 from our initial pool of 15 and outline how each of these factors may ultimately influence your purchasing choices. 
Star Ratings 
It can't have escaped your attention that all of the ping pong balls we've looked at have star ratings. These ratings aren't a judgment call on our part but rather a common practice in the world of table tennis to give you some indication of their quality and the type of setting a particular ball would be best suited for. 
1-Star balls, for example, often tend to be cheaply made and not as durable as their higher-rated counterparts, but they also tend to be pretty low cost and make a great choice for casual and recreational play. 
2-Star balls are a little higher-up on the quality scale and are best suited for serious and semi-serious players who want a good ball for practicing without paying extra for the highest rated ball.
3-Star balls are the crème de la crème of ping pong balls, designed to the highest industry standards and typically approved for use in tournaments and competitions. This makes them the ideal choice for professional (or aspiring professional) players, though it does mean you'll likely have to pay a bit more. 
Size and Weight 
Look around for long enough, and you'll find table tennis balls that come in all shapes and sizes, though we preferred to stick with those that meet -or at least closely match* the official size standards as laid out by the International Table Tennis Federation.
The ITTF states that for balls to be officially approved, they should be 40mm in diameter and weigh between 2.67 and 2.77 grams.
The reason the majority of our top picks are in this size range isn't just to make them better suited for competitions and serious play, but also for the simple fact that they tend to perform better, offering a superior level of spin, bounce, and control than other balls. 
Material
Once upon a time, most balls were made from celluloid, though this wasn't exactly environmentally friendly, nor did it offer the kind of performance you get with the polystyrene and ABS plastic balls you get today.
Celluloid balls still exist, and they're by far the cheapest option you're going to find. However, they're also not that great for playing with and better suited for beer pong and other group party games rather than actual table tennis. 
If you're serious about ping pong or at least want a quality playing experience, ABS and polystyrene are the way to go. 
Color
Just as table tennis balls technically come in all shapes and sizes, they also technically come in a huge variety of colors, though again, multi-colored balls are best kept for those summer afternoon games of beer pong or as a cheap kids toy.
For actual ping pong, you'll want either white or orange, both of which are approved by the ITTF. 
While there's nothing wrong with white balls, we tend to prefer those with an orange finish as they're much easier to follow as they bounce across the table and thus better for beginners. 
Frequently Asked Questions About Ping Pong Balls 
What Does 40+ Mean on Ping Pong Balls?
If you see a 40+ on your ping pong balls, it means that they are at least 40mm in diameter and are officially approved by the International Table Tennis Federation (ITTF). 
What star ping pong balls are best?
3-star ping pong balls are the very best you can get. The ITTF won't approve balls with less than 3-stars, and they're also highly durable, very responsive, and typically up to tournament-regulation size. 
What ping pong balls are used in the Olympics?
3-star balls made by a Chinese company called Double Happiness Sports were used in the 2020 Tokyo Olympics, though previous brands like San-Ei and Joola have been used. 
What are the Best Ping Pong Balls to Buy in 2023?
By the time you reach this point in our guide, you'll be armed with all the knowledge and insight you need to choose the best ping pong balls for you, but you'll also probably have learned that determining exactly what constitutes "the best" is all a matter of your personal priorities.
If you're looking for the best cheap ping pong balls around, the Mapol Premium Ping Pong Ball 50-Pack gets our budget-friendly pick as you get 50 premium 3-star balls for less than the cost of many 12-ball packs.
If you're planning to improve your game or get ready for a big competition, the Joola 3-Star Training Balls' optimum performance and maximum durability make the ideal choice for home practice. 
However, if your only priority is picking up the absolute best of the best, then the PRO SPIN Ping Pong Balls are the ones to go for as they combine superior quality, ITTF and USATT approval, and fantastic levels of spin and control all in one value-for-money package.