Halloween party games for kids can mean many different things, but this post will cover them all. From outdoor Halloween party games to the best Halloween party games for preschoolers and everything else you could possibly imagine! 
As a Mom of three, it has fallen to me many times to provide Halloween entertainment for my children and their friends. 
Trick or treat only takes so long; it's also cold, busy, loud, and a great test of patience, so if you fancy something a little less stressful this Halloween, then this is undoubtedly the guide for you. 
My children range in age from elementary to high school, so I have tried and tested several Halloween party games over the years. Two of my children live with additional needs, so I will be dedicating a section to the most inclusive Halloween party games I can find. 
To begin, we're going to look at the best Halloween party games for Families.
Related: Halloween Trivia Questions | Thanksgiving Game Ideas
Indoor Halloween Party Games for Kids 
Most of us spent Halloween 2020 in lockdown; some of us may have stuck a movie on, others were more creative and came up with some spooktacular games to play together as a family.
I was one of those annoyingly organized Moms (even a broken clock is right twice a day!), so here are a few party games I found, including the ones we did and the ones we nearly did!
Pin the Nose on the Witch 
As well as Pin the Nose on the Witch, we attempted Pin the Tail on the Cat and Pin the Wings on the Bat. 
I drew the large main character free-hand on a sheet of A3 card and drew 1 kind of accurately sized nose, tail, and set of wings to use as templates for more pin-ons. Sticking a blob of sticky tack on each pin-on when completed. 
There are plenty of places online to help with the drawing of characters. 
This type of Halloween party game is suitable for kids of all ages and abilities and can be great fun for parents too! They're free and can be re-used every year. 
Halloween Trivia 
Devise your own quiz customized to your kids' ages and abilities. 
Topic ideas could be Halloween throughout History, Halloween Fun Facts, Halloween Movies, Halloween Candy, Halloween Traditions, and Halloween General Knowledge. 
Playing trivia together as a family can be a great bonding experience, as well as a way to throw in a little education without it being dull. 
Pass the Scary Parcel 
What kids don't like to play pass the parcel? The concept is simple to follow, and you can tweak the game to allow the child who needs their spirits lifted a little to be the winner. This is not necessarily cheating.
Use some Halloween wrapping paper and stick a small piece of candy between each layer – this is an affordable way of prolonging the game and ensuring every child gets something. 
The main prize could be a spooky soft toy, Halloween book, large candy treat, or a game from the bottom of this post. 
Spot the Difference 
If you have the time and energy to draw similar pictures, then go for it. If not, you can purchase this game, Halloween-specific. I find that an individual game can sometimes come as a welcome break for more introverted children. 
Our Pick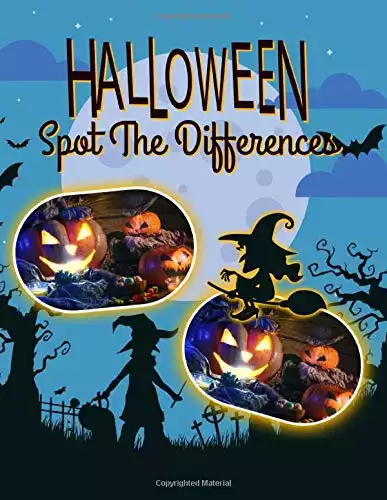 Halloween Bingo
Love it or hate it, Bingo is a game that can certainly create tension and excitement in equal measures. 
I drew up separate grids for my children, each with the same Halloween symbols but placed in different squares. We had:
Spiders
Cats
Witches Hats
Pumpkins
Webs
Skeletons
Bats
Ghosts
But, you could do whatever you liked. I always find ClipArt a great site to use, and you could get the kids involved with the party prep while helping to develop their art skills by doing this together. 
I randomly called a different symbol until someone had a straight line of symbols on their game card. They were then the winner of that round. This game can be played over and over, with prizes given to the winner as encouragement. 
Halloween Party Games for Preschoolers 
Here are a few Halloween game ideas for the very youngest family members to enjoy this year. 
Games can be a great way to teach and develop key skills such as patience, observation, and turn-taking, as well as strengthening family bonds. 
Hot Potato 
Games like Hot Potato (see Hot Potato rules) are excellently energetic party games for younger kids that can certainly be tweaked for Halloween by swapping the potato for a creepier item. 
Just make sure that the item is soft, as younger kids can throw with force! A soft Halloween plush toy would be a good idea. 
Person in the Middle 
This is a game where the name can change depending on the person in the middle and the costume they're wearing for Halloween. Whether it be 'Skeleton in the Middle,' 'Witch in the Middle,' or 'Monster in the Middle,' the concept will be the same. 
The person in the middle must try to intercept the ball being thrown by the players surrounding the circle. You can find the rules for Monkey in the Middle here.
Donuts on a String
If you're concerned with the lack of candy your kid may consume this Halloween, increase their chances of a real sugar-high by providing it on a string. 
Donuts on a string is great fun for preschoolers, and at this time of year, you may find local bakeries selling Halloween-themed treats to use in place of donuts. 
Or, you could bake your own.
Halloween Treasure Hunt 
To burn off the donuts, why not organize a Halloween Treasure Hunt? 
For preschoolers, it would be an idea to limit hunting to one specific room or outdoor area so that you can ensure safety. 
Halloween Party Games for Older Kids 
You're never too old to enjoy Halloween – even if your child proclaims to be beyond all this, I am pretty sure one of the following games could entice them out of their lair for the evening. 
Lair of the Spider 
If you don't mind a bit of (or a lot of) mess, then Lair of the Spider is an excellent game for kids of all ages, although maybe slightly too challenging for very young children. 
Shoot the Skeleton 
Another slightly messy game, but one that's sure to get even the grumpiest teen involved, is Shoot the Skeleton (find out how Brandy created her version of the game at Brandys' Happy Home).
Walk the Web 
You can make this game as simple or complex as you like to suit all ages. Learn how to construct the game here. 
When walking the web, older children could have to do it on one foot, while dancing, or with one arm raised to make it a little more complicated – and fairer if playing with children of different abilities. 
5 Second Rule 
With a little time, you could create your own Halloween-themed 5 second rule game. Use your cell phone stopwatch tool, and devise some simple spooky questions to test your older kids Halloween general knowledge. 
Players have 5 seconds to provide 3 answers, and questions could be, for example:
Q:#1 '3 horror movies beginning with S', 
Q: #2′ 3 things a witch would say, 
Q: #3′ 3 spooky animals', 
Q: #4′ 3 other words for a Ghost'.
A: #1 Scream, Scary Movie, Saw. 
A: #2 Abrakadabra, Hocus Pocus, Vamoosh. 
A: #3 Cat, Bat, Spider. 
A: #4 Ghoul, Phantom, Spirit. 
Halloween Party Games for ALL Kids 
Here is my favorite section of all. 
Every child should enjoy Halloween, regardless of any challenges they may have. 
I have researched long and hard, used my own experiences, and spoken to other Moms in my additional needs Moms circle to come up with what we believe to be the best of the best inclusive Halloween party games.
Remember that if you've met one person with a disability, you have met one person with a disability. No one rule fits all. Below are general ideas that you can adapt to suit your own child. 
There are some valuable tips to make parties more Autism Friendly here. 
And, you can find tips to help with party planning for kids with physical limitations here. 
Candy Corn Guessing Game
Most children will be able to attempt a turn at a candy corn guessing game. You don't have to hop, skip, or jump, nor do you have to stand center stage and perform. 
However, if you have a child on the Autistic Spectrum, I urge you to make sure you are 100% right in your claim of the number of candy corns because if you're wrong, they will know! 
Make Pumpkin Slime
I have a romantic notion that this recipe for pumpkin slime could ensure the slime stays within the pumpkin, but it likely won't! However, this is a great Halloween sensory activity for all children. 
If your child struggles physically or socially or would like some time out during your Halloween party, this is a great way to still have them included while letting them enjoy things in their own way. 
Halloween Tin Can Bowling 
If your child uses a chair or mobility aid, or they struggle developmentally to join in with larger group games, then Halloween tin can bowling could be a great game to play. 
You could make this more visually appealing by using glow sticks around the tin top and more inclusive by limiting the play to one or two children at a go. 
Graveyard Play 
A simple container filled with dirt can provide hours of fun for our creative kids this Halloween. Find out how to make this great here, but to make it more Halloween-specific, you could add in small skeletons and name it a graveyard. 
Halloween Party Game Ideas – Video
Great Halloween Games to Buy This Year 
Not everyone is into DIY party games, so here is an excellent selection of the best Halloween games to buy this year. 
I hope you at least have some inspiration on Halloween party games for kids this October now you have read this guide.