Would you like to replace classic Christmas gifting with something fresh and exciting? My Christmas Dice Game rules explain one of my favorite alternatives.
Christmas Dice Game is an excellent gift-swapping party game for everyone willing to participate. Old or young, friends or family – you don't need any special skills to enjoy it.
The game is quite similar to Secret Santa and White Elephant (see the official White Elephant rules for comparison) in that everyone gets a surprise present in the end.
But the mechanism of swapping in this game, also known as Christmas Roll the Dice, is very different. As you can probably guess, it has much to do with dice.
This Christmas Dice Game rules guide will cover the following:
What is the Christmas Dice Game?
What you'll need to play the Christmas Dice Game
Christmas Dice Game rules
How to play Christmas Dice (Video Tutorials)
FAQs
Continue reading and learn how to play the Christmas Dice Game. 
What is the Christmas Dice Game?
Christmas Dice Game is a simple yet thrilling game centered around a pool of secret gifts. Each present finds its recipient based on the number rolled on the dice.
Number of Players: 3+
Ages: 5+
Difficulty: Easy
Length of Play: 10 – 45 minutes
Category: Gift exchange party game
Similar to: Secret Santa, Yankee Swap, White Elephant
Main Objective: Exchange secret presents based on the numbers on dice.
Why We Love It: Christmas Dice Game is probably the most dynamic and unpredictable among all the gift-swapping games.
What You'll Need to Play Christmas Dice Game
To play Christmas Dice Game, you'll need the following things:
DIY Christmas Dice Game Board
Dice (one for each player)
Secret presents
Our Pick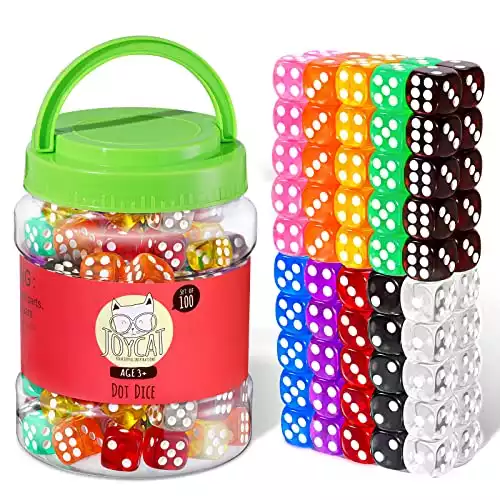 Christmas Dice Game Rules and Instructions
Christmas Dice Game is a perfect activity for a Christmas party at your home or workplace. 
It can be very quick or relatively lengthy, depending on the number of players involved. But since the game requires some preparation, I suggest you start planning it well in advance.
Starting the Game
The Christmas Dice Game involves some crafting. But don't worry – it's not difficult, and you won't need any special skills or accessories to pull it off. 
All I am talking about is creating a poster/board with the basic scheme that the players will use to determine what they should do with the presents.
The Game Board
The Game Board works like a manual that describes the meaning of each number (amount of dots) on the dice.
You can draw it on a piece of paper or cardboard – or even use a whiteboard/chalkboard if you have one. Just make sure that it's large enough for everyone to see.
Here's a quick tutorial:
Draw lines to divide the paper/board into six even rows.
Create one column across all the rows in approximately one-fifth of the paper's/board's width from the left.
In each cell of the column, draw a different number of dots starting from one (top cell) all the way up to six (bottom cell). 
The six rows represent the six sides of the die. Now you need to fill them with the instructions that must be followed if the corresponding number appears on the die:
Keep your gift
Steal anyone's gift
Everyone passes the gift to the left
Everyone passes the gift to the right
Make two other players swap gifts
Unwrap your gift
Note: There are dozens of other variations on the instructions above. Feel free to modify them as you wish – or even come up with your own house rules!
You can decorate the game board around the outer edges with festive ornaments, LED lights, or stickers if you want to. Just make sure the content remains clearly visible. 
The Presents
Besides the gameboard, you will also need some presents for this gift-swapping game. Every participant will, therefore, bring one neatly wrapped (unrecognizable) gift.
There are no strict rules for what type or value of gifts you should use. Ideally, you should all agree on some standard criteria and then just use your fantasy and creativity.
Maybe you can find inspiration in my White Elephant Gift Ideas list.
How to Play Christmas Dice Game
Once you have your game board and presents ready, all the participants will gather for the game itself. This is how the Christmas Dice Game proceeds:
First, everyone needs to get hold of one gift. You can let the youngest player pick first or assign numbers to the gifts and then draw numbered cards. It's up to you.
Sit in a circle and keep the game board somewhere nearby. 
One by one, throw your dice and follow the instructions on the game board.
Once a player unwraps their gift, they can keep it and leave the game.
The game continues until the last gift is unwrapped.
Christmas Dice Game Scoring 
In the Christmas Dice Game, there is no scoring, and there are no winners and losers, either. 
Or maybe it's more accurate to say that EVERYONE IS A WINNER in this game since each participant receives their gift at the end.
How to Play Christmas Dice Game – Video Tutorials 
How to create your Christmas Dice Game board:
Example of how to play the Christmas Dice Game:
Frequently Asked Questions
What if you end up with your own gift in the Christmas Dice Game?
This is possible, especially if you're playing with fewer players. You can resolve this by agreeing that you will not unwrap your own gifts (instead, keep them until the next turn). 
Can you start the Christmas Dice Game with the gift you brought?
Yes. Some people like to start the game with their own present, and it's a perfectly viable alternative to picking each other gifts at the beginning. 
Can you play Christmas Dice Game with more presents?
Yes, as long as you have an equal number of presents for all the players. So, if four of you play, you can use four, eight, or twelve gifts in the game to make it fair for everyone.
Other Similar Games to the Christmas Dice Game (Our Guides) 
There are a few other great Christmas-themed party games you should try. Check out our guides to some Christmas Dice Game alternatives below:
Secret Santa game (guide coming soon)