Boggle is the perfect icebreaker for any house party. This game will put your vocabulary to the test.
This unique word game was invented by Allan Turoff and first published by Parker Brothers.
Similar to Boggle, Phone Phever and Pun Intended also make perfect party games. To win, create unique words from jumbled-up alphabets!
What is Boggle?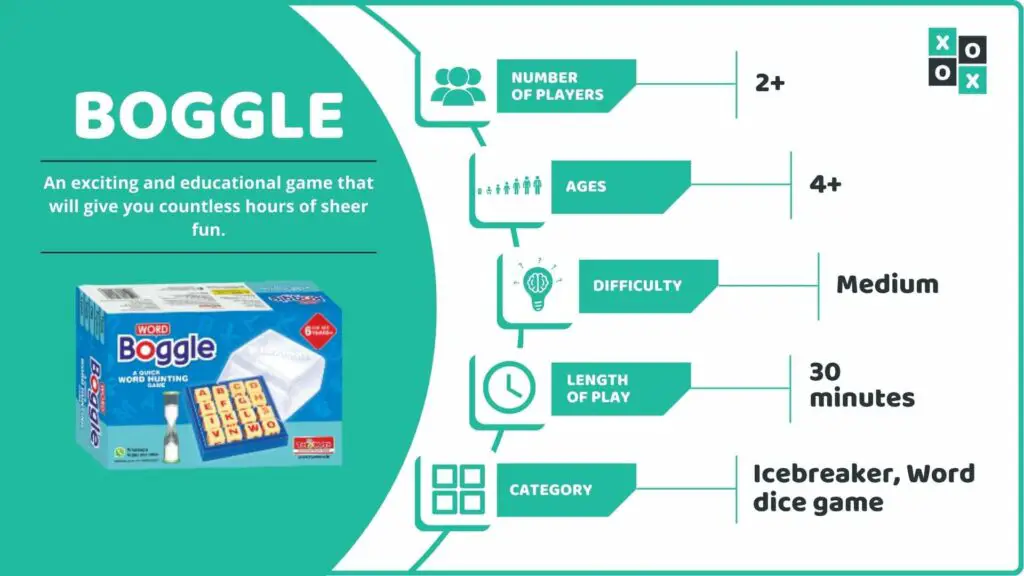 Boggle is a hilarious word-making game that requires exceptional vocabulary. Players will have three minutes to create as many words as possible from a few jumbled-up letters.
Try to create long words with more letters to score more points.
At the end of the game, the person with the highest score will win!
Number of Players: 2 or more
Ages:  4+
Length: 30 minutes 
Difficulty: Medium
Similar to: Chiyr Spelling Game, Phone Phever and Pun Intended
Main Objective: Try to create as many unique words as possible from a group of jumbled letters.
Why We Love It: An exciting and educational game that will give you countless hours of sheer fun.
What You'll Need to Play Boggle
You will need some simple tools to play this game. First of all, you need to have sixteen-letter cubes, a grid, a dome box, and a three-minute timer. Besides, you will require a pencil and paper.
That is all, and now you can gather all the players and start playing Boggle. 
You may like to buy the Boggle Game Set, which includes:
Mr. Dice pouch.
16 letter cubes.
A grid box
A dome Box
A sand timer.
Shake up the letters in the grid box, set the timer, and spot words as fast as you can.
Our Pick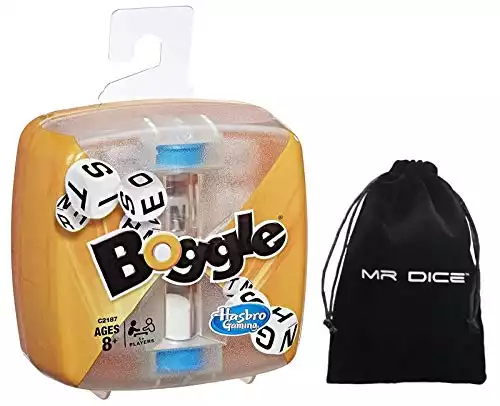 Game Setup
Make sure you have all the necessary components of the game. Setting up Boggle is very easy and should not take more than five minutes.
First, get your grid box and load it with the 16 letter cubes. And a pen and paper to write the words.
Then, cover it with the dome box and keep the timer close.
Once all the players are ready, shake up the cubes and keep the box down so that everybody gets a clear view.
That's it. You are good to go!
Boggle Rules and Gameplay
Rules
There are some strict rules to play Boggle. It may seem a little challenging to remember all of them at first, but you will get used to them with a couple of games.
The rules for playing Boggle are as follows:
Each word should be of at least three letters.
Words that have the exact spelling but different meanings will be counted only once.
You cannot repeat any words.
You can use both singular and plural forms of the same word.
The QU cube counts as two letters.
The 'M' and 'W' cubes must be underlined for identification.
Try to keep these simple rules in mind while playing to increase your chance of winning.
Gameplay
When all the players are ready with their pencils and paper, the letter cubes are shaken inside the closed grid box. 
Then, start the three-minute timer and remove the cover of the box to reveal the letters.
Write as many words as you can following the rules.
You cannot use any letter more than once, and the consecutive letters of your words must be adjacent to each other horizontally, vertically, or even diagonally.
You are allowed to write any word from the English Dictionary. You can use any form of tense. Besides, you are also allowed to write words within another word. For example, you can write 'water' and 'ate.' They will be counted as two different words.
However, you cannot write any proper noun such as America or London.
After each round, all the players have to show their word sheets to each other. Everyone will check if any of their words match with someone else's. All the players have to cut out a word when it matches with another player.
That way, players will be left with only unmatched words, and no two players shall have the same word.
Boggle Scoring and Winning the Game
When the time is up, all the players have to stop writing.
Next, each player will say one word that they have written, and all the players who have written the same word have to cut it out.
Now, one-by-one, all the players will say one of their words, and whoever has written, it will cut it out. This continues until no common word is left for any two players.
So, the players are left only with the unique words that they have written. Points will be awarded based on these unmatched words.
The point system of Boggle is as follows:
Each 3 and 3 letters word will earn you one point.
A 5-letter word will award you two points.
A 6-letter word will give you three points.
A 7-letter word will award you five points.
And finally, any word with eight or more letters will give you eleven points.
The player to earn the highest points after the final round is the Winner.
How to Play Boggle the Dice Game – Video Tutorial
Frequently Asked Questions About Boggle
Is there any universal strategy to win Boggle?
There is no such strategy that will ensure a victory for you. However, some strategies will give you an advantage over others. Try to write long and uncommon words. If you write one eight-letter word and your friend writes ten three-letter words, you will win. Memorize some long words before your next game of Boggle.
Is there any player limit to Boggle?
There should be at least two players to start. However, there is no upper limit to this game; you can play with as many players as you want.
Can we write two synonyms in Boggle?
Yes, you can use synonyms in Boggle as long as you follow all the rules. You can write multiple words with the same meaning. But you cannot write a word twice that has the exact spelling but different meanings.
Similar Games to Boggle
Word-making games are both fun and educational. You may not realize, but Boggle can significantly enhance your vocabulary.
There are many similar games out there that you can play to learn some new words and phrases. For more similar games, explore our list of word games like Wordle.
Some of the other popular word games are BladderBash and Name 5 Game. These are all exciting party games that will help you learn new words and enhance your thinking abilities.
To learn more about educational word games, check our collection of group games.