Pick Up Sticks is the perfect idea to kill some leisure time. Pick Up Sticks can be a real game. Do not believe us? Check out our Pick Up Sticks rules to learn more about the game.
Before there were cellphones and video games, people used to scatter a pile of sticks on the floor and pick them up for fun. Now, you can relive those moments with your family. Just likethe Name 5 Game, Pick Up Sticks might seem too easy at first – but you will see how hard this game can turn out to be.
What is Pick Up Sticks Game?
Pick Up Sticks is one of the simplest indoor games. All it requires is a couple of players and a bundle of sticks.
You throw a pile of sticks on the ground. Then, pick out as many sticks individually as you can from the pile without moving another piece to win this game.
It may not seem to be much fun, but it can be one of the most challenging indoor games. 
Number of Players: 2 or more
Ages:  6+
Length: 10 minutes
Difficulty: Medium
Similar to: Tri-ominos | Jacks Game | Marbles
Main Objective: Try to remove each stick from the bundle without disturbing any of the other sticks.
Why We Love It: Simple game that does not need too much equipment and can be played anywhere.
What You'll Need to Play Pick Up Sticks?
A few dozen sticks and an opponent is all you need to play Pick Up Sticks. People often use matchsticks.
You might like to get the Pressman Giant Pick Up Sticks Set, which contains 30 wooden sticks of various colors and a case for a better feel.
Keep a pen and paper close to you in case you may want to note down scores.
The Pressman Classic Picks Up Sticks set would make a great addition to your indoor games collection.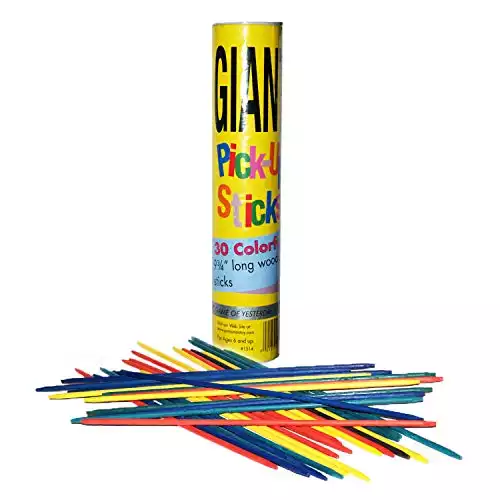 Pick Up Sticks
Buy Now
We earn a commission if you click this link and make a purchase at no additional cost to you.
12/27/2022 04:21 pm GMT
Game Setup
As there are not many components for playing Pick Up Sticks, there is not much to set up either.
You will need some sticks, a flat surface, and an opponent to start a game. Make sure the area where you spread the sticks is flat and stable.
And you can start playing!
Pick Up Sticks Rules and Gameplay
Rules and Points System
Ideally, thirty sticks of five different colors are black, red, blue, green and yellow. Six sticks of one color and each set have different values:
Black = 25 points
Red = 10 points
Blue = 5 points
Green = 2 points
Yellow = 1 point
When a player picks up a red, blue and green stick, respectively, their points for those three sticks will be doubled.
Many do not follow a point system while playing Pick Up Sticks, but it makes this game more interesting.
Gameplay
One of the players will start the game by throwing the bundle of sticks on the ground or any other flat surface.
Now, the same player will start to pick up the sticks, one at a time, without moving any of the remaining piles. If someone accidentally moves any other stick, their turn will come to an end.
The following players will decide if they want to continue with the same sticks formation or re-throw them. The primary goal is to collect as many points as possible before the turn ends.
Players will continue to pick up sticks unless their turn ends. If players run out of a bundle, they will get the chance to re-toss the bundle and continue their turn until they accidentally move any other stick. Do not forget to note down your score before re-tossing your sticks.
As per the Pick Up Sticks Rules, if you successfully pick up one of the black sticks, you can use it to scatter other sticks which are close to each other. It will make it easier for you to pick up the isolated sticks. This is why the black stick is often referred to as the 'Master Stick.'
Pick Up Sticks Scoring and Winning the Game
Before starting the game, decide the number of rounds you want to play.
Focus on collecting maximum points on each round. The player to win a majority of the rounds will be the winner.
You may also play one round in each game. Of course, you have to collect more points than your opponents to win the game.
How to Play Pick Up Sticks- Video Tutorial
Frequently Asked Questions About Pick Up Sticks
How many sticks should be used for playing Pick Up Sticks?
According to the rules of Pick Up Sticks, there should be thirty sticks of five different colors. However, you can play this game with any number of sticks. Just remember that too many sticks will make it impossible to separate each of them.
On the other hand, significantly fewer sticks will make the game too easy. Therefore it is better to play this game with approximately thirty sticks.
While playing Pick Up Sticks, is there any limit to using the master stick?
Once you have successfully picked the black stick, you can separate other sticks on every round. There is no limit to it.
Can I use more than two fingers on my turn while playing Pick Up sticks?
You are allowed to use only one hand while playing. You are free to use as many fingers as you want, and make sure you do not move other sticks. 
Is there any strategy to pick up the master stick at the beginning in Pick Up Sticks?
There is no particular strategy that will help you to pick up the master stick as its position will vary from game to game.
One tip is to try to keep the master stick on top of the pile while throwing them. 
This way, it can fall apart from the rest of the bundle. It increases your chance of getting the master stick.
Great Games to Pick Up Sticks
There are so many indoor games available, but if you want to play something as challenging as Pick Up Sticks, try Straight Dominoes. It is a classic indoor game that you can enjoy with your friends and family.
Anybody who loves playing Pick Up Sticks and looking for similar games, pay attention. Jacks game might be what you are looking for. It is an easy-to-learn game that you can play in any group, pairs or even solo. All you need is a bouncy ball and a set of jacks.
For more challenging game ideas, do not miss our latest collection of exciting indoor group games to play.