For any occasion that you find yourself with company, there is a small group game that you'll be able to bust out to entertain your guests.
There are plenty of games to pick from, some that will keep youngsters amused for hours and some that you can join in with your pals at parties.
Related: 50 Big Group Games | Minute to Win it Games | Office Party Games
You can even enjoy some games with the whole family, with a vast assortment of games that we have, there is sure to be something for everyone.
If you're looking for ideas for a fun activity with your kids whether they're young or old, or with your adult pals then check out our list of 55 small group games for any age.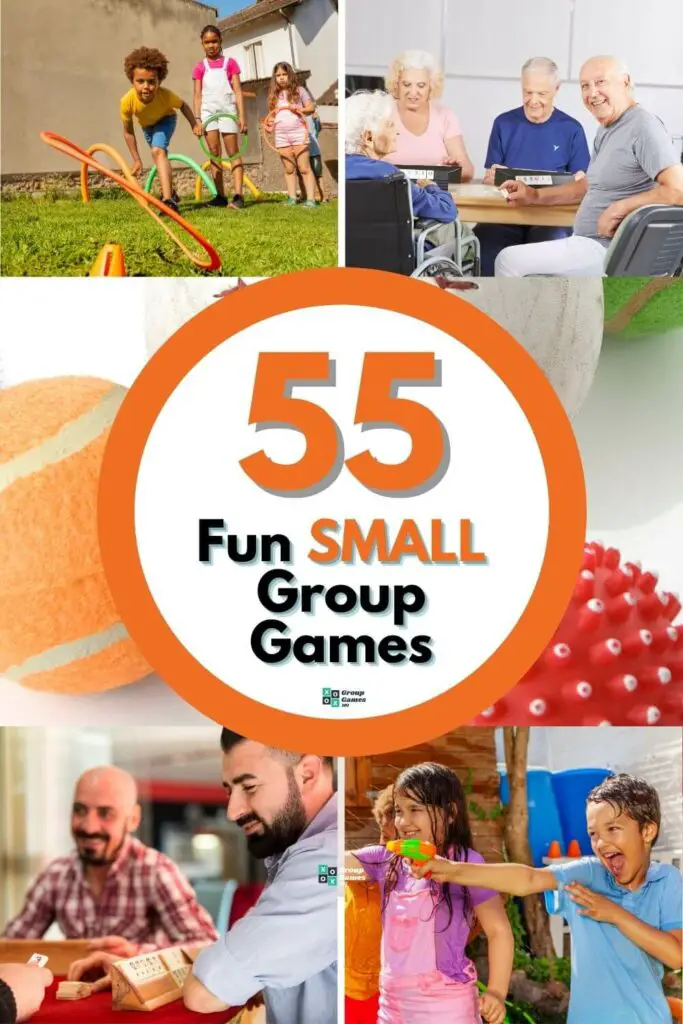 Small Group Games for Kids
1. FIBBER
Game Objective: Fibber is the game in which the player at the end is able to get rid of the most cards whilst having the least amount of 'noses' at the end. Players do this by 'Fibbing' to other players about the cards that they have, hence the name. Players have a 'Nose; which expands every time they're caught fibbing.
Why it's Fun: Fibber is the game in which the true victors are the bluffing experts. Kids will love how silly everyone looks with their Pinnochio like noses.
Buy it: Spin Masters develop Fibber which comes with everything that your kids will need to start playing immediately.
2. SPLENDOR
Game Objective: Splendor is a strategy game that is all about resource gathering and point building to become the winner. The gameplay is very involved so make sure that players read the rules carefully before play. The gist is that players stake their turns either collecting gems or purchasing development cards. They use strategy to build up their prestige points. The player with the most prestige points at the end wins the game. 
Why it's Fun: This game is a more mature board game for kids and gives a perfect platform for more strategic board games when they get older.
Buy it: The only thing that you'll need to begin playing is the official board game of Splendor.
3. APPLES TO APPLES
Game Objective: Apples to Apples is a game where players compete to get the most 'Green Apple' cards at the end of the game. Players use their creativity and compete to match a 'Red Apple' card that they have in their hand to a 'Green Apple' card. The judge picks the card that they find the most hilarious. The judge also changes every turn, so everyone has the opportunity to pick cards.
Why it's Fun: Players will love the responses that their friends come up with, especially if there's a 30 seconds time limit.
Buy it: Everything that you'll need for a successful game of Apples to Apples is available from Mattel. 
4. AZUL
Game Objective: A tile game, Azul rules require players to collect patterned tiles to design the wall of a palace. Points get given depending on how many rows and the design of the tiles used for the wall. The player with the most points at the end is the winner, with scoring based on the tiles used.
Why it's Fun: Definitely a game for those who like to design aesthetically pleasing patterns. Compete to see who has the best design. 
Buy it: There are many different sets of Azul, with Plan B Game having a set that includes some potentially nice designs.
5. DOMINOES
Game Objective: Dominoes is a simple game to understand once you know the rules.
Mix up all the tiles and allow participants to take 6 tiles each with the rest left face down in the 'bone pile'. The highest double tile starts and players match the value on one of the sides of the tile with one of their own tiles. If a player can't go, they pick up another tile from the 'bone pile'. The winner is either the first person to use up all their tiles, or if all players are 'blocked' then the lowest total number on the remaining tiles wins.
Why it's Fun: The tile game that started it all, Dominoes has adapted over the years into a game that kids will still love today.
Buy it: As you can imagine, you can buy dominoes in pretty much any style possible, with this set from Spin Masters fitting the bill nicely.
6. TRI-OMINOS
Game Objective: Tri-ominos have game pieces shaped like a triangle which makes the game more complicated. Match tiles together based on the numbers on their corners, and count up the total value of the tiles that they play. Play on until a player hits 100 points as they then become the winner.
Why it's Fun: A tile game that is more unpredictable than the game that it's based off, it's also slightly harder so provides kids a challenge.
Buy it: You can buy Tri-ominos in a smaller travel set, but all that's needed is the standard
7. I TELL A LIE
Game Objective: A classic icebreaker small group game that is ideal for kids, especially as a game to play at slumber parties. Players take turns to tell 2 truths and a lie, and the other players need to successfully guess what the lie is. Keep it friendly, but you can make it competitive by adding in a scoring system. 
Why it's Fun: I Tell A Lie is a game where kids can really learn about their friends and peers on a new level, whilst being great fun as well.
8. COLORAMA
Game Objective: Colorama is a matching game where players roll a dice and match what appears on the dice with what is on the board. One dice has a color on it while the other has a shape. Players use what they roll as their target to put on the board.
Why it's Fun: Colorama is a small group game that aids kids in their development and education, whilst being easy for them to understand as well. 
Buy it: Ravensburger has developed different games for a long time, with Colorama being one of many that they produce.
9. HEADS TALK TAILS WALK
Game Objective: A matching game, where players match the animal's head with its body. Tiles start face down, but if they get a pair wrong there is a forfeit. If this happens, then the offending player must act like the animal they've created. So if a horse head and a chicken gets drawn they neigh like a horse and walk like a chicken!
Why it's Fun: In this small group game, the most entertainment is what happens when players pick cards that don't match.
Buy it: The official game of Heads Talk Tails Walk is available from the developers Think Fun.
10. SNAIL'S PACE RACE
Game Objective: Be the player who's snail crosses the finish line first. Players take turns rolling the dice and whatever color the dice lands on that snail moves forward one space. Have a series of races to see who becomes the overall winner.
Why it's Fun: A simple game that can really lead to some tense finishes. Replace the game dice with a normal one to mix-up the gameplay for your kids.
Buy it: Another game from Ravensburger, Snail's Pace Race is available from their store.
11. RACE TO THE TREASURE!
Game Objective: A small group game that has a bit of strategy involved too. Rather than compete with one another, kids work together to create a path to reach the treasure before the ogre does. They must collect three keys on their way to the treasure as well. 
Why it's Fun: Usually, kid's games involve being competitive. Race To The Treasure is the opposite as teams are only successful if they work together. 
Buy it: Peaceable Kingdom makes Race To The Treasure and you can purchase through their store. 
12. HOOT OWL HOOT
Game Objective: Players work as a team to make sure that the owls are back in their nest before the sun rises. Play a color card and move an owl to that space until all owls are at the end into the nest. Draw a sun card and the game becomes one step closer to daytime. If all the suns get drawn, then the players lose the game.
Why it's Fun: Hoot Owl Hoot encourages kids to discuss strategies and decide as a team which owl is best to move at each time. The game also encourages communication as well.
Buy it: Another game made by Peaceable Kingdom, Hoot Owl Hoot you can also purchase from the same makers.
13. HOUSE OF CARDS
Game Objective: Split a small group of players into 2 teams and give them both teams a deck of cards each. Set a timer for 5 minutes as this is plenty of time. Teams need to attempt to build a house of cards using just the supplied deck, stop the timer after 5 minutes. Whichever team has built the highest house are the winners. 
Why it's Fun: A game that is also played with players older than kids, this game encourages teamwork and can be rewarding seeing how high the house can go.
Small Group Games for Adults
1. CONQUIAN
Game Objective: Conquian is a version of Rummy where players compete to become the first to form a meld of 10 cards. Melds are a sequence of 3 or more cards of the same suit that follow numerically. The player who manages to meld 10 cards first wins the game.
Why it's Fun: Rummy is a timeless game with many different rules that have derided from it, with Conquian being harder then the standard game.
2. FIVE CROWNS
Game Objective: Rummy with a twist – 5 suits rather than 4. Five Crowns adds in the 'star' suit and also has a scoring system that depends on the cards that each player has after playing 11 rounds. Players create Sets and Runs to get rid of their cards, with the player with the least score at the end of 11 rounds winning.
Why it's Fun: Adding in another suit gives Five Crowns a fresh spin that you can't get with other card games.
Buy it: You'll need a specific Five Crowns deck of cards to play as there is another suit added in.
3. POKER
Game Objective: Be the player who is able to win the most chips at the end of the game. Poker is ideal to play in a small group due to its length. Players get cards and decide whether they are good enough to win the chips that are in the middle. It's important to know the ranking of each hand of cards while playing. You can also lie about your hand, which is 'bluffing' to win the chips.
Why it's Fun: The stereotypical game to play with a group of your closest pals, get some beers and chips in to really complete the poker experience.
Buy it: Everyone should own their own poker set, complete with enough poker chips and a handy steel travel case.
4. BLACKJACK
Game Objective: Play with your pals to beat the dealer in this casino classic. The dealer draws 2 cards out to each player initially, with the goal to make 21. Players then get asked by the dealer to 'stick or twist', where they can get another card if they want to get closer to 21. Anyone who's cards totals over 21 has busted and is out. The remaining players then go against the dealer, with the winner being who gets the highest total either 21 or lower.
Why it's Fun: Blackjack is a good game to play if you and your friends like to gamble. You can still play with alcohol shots rather than money to keep it friendly, however.
5. MONOPOLY
Game Objective: Become the player with the most cash and assets at the end of the game. Starting with $2000, players go round the board buying certain landmarks so they can place houses and hotels to charge players. Pick up cards along the way to help boost your chances.
Why it's Fun: Possibly one of the most well known board games in existence. Monopoly proves to your friends and family that you can become a property tycoon. 
Buy it: Pretty much any type of Monopoly is available depending on what you're a fan of, but otherwise, go for the standard Monopoly set.
6. PICTIONARY AIR
Game Objective: Players get into teams to draw pictures of objects. Points get given out depending on if your teammates can guess what players draw. There is a time limit that teams have to guess the picture and the team with the most points are the winners.
Why it's Fun: The retro game of Pictionary brought into the future. This excellent updated version uses smartphones and tablets rather than pen and paper.
Buy it: Regular Pictionary is no longer in production so these can get very expensive, but Pictionary Air is a lot more affordable.
7. TRIVIAL PURSUIT
Game Objective: Either individually or in teams, players answer questions on 5 separate categories to win at Trivial Pursuit. They fill up their game pieces with different colored segments. Players cap off the win by answering 5 questions successfully from each category.
Why it's Fun: The ultimate game of knowledge. If you and your pals are constantly wowing each other with your random facts you can put it to the test in this general knowledge game.
Buy it: The categories of Trivial Pursuit does depend on the version in which you choose. Go for the Trivial Pursuit standard edition as it has the most balanced questions for everyone.
8. THE NOT SO NEWLYWED GAME
Game Objective: Each couple writes down between 5-10 questions to ask other couples before the game begins. They take turns to ask each couple a question about their partner, and the goal is for them to attempt to get the same answer to gain a point. The winners are the couple who has the most answers that are the same at the end of the game.
Why it's Fun: Best played with other couples. This game shows who knows their partner best and who hasn't been listening to their significant other.
9. BOCCE BALL
Game Objective: Played with 2 teams, players bowl a ball at a designated smaller ball called the jack. Bocce Ball is in frames of 8, with points given at the end based on whose ball is closest to the jack at the end. Decide on how many frames to play beforehand, and give the team with the most points the victory.
Why it's Fun: A slow methodical game, it is active enough to be good exercise whilst also not being strenuous enough to disclude players depending on fitness.
RELATED: See our Bocce Ball Rules guide.
Buy it: There are many Bocce Ball sets, Ropoda has a set that comes with everything needed.
10. KANJAM
Game Objective: Kanjam has 2 teams compete to throw a flying disc into a 'kan' to score points. Points get given if the disc is able to hit or go into the kan, with the team getting to 21 points the winners. Like other games, there need to be 2 clear points between the team as well, otherwise, the game continues until there are 2 points.
Why it's Fun: As the game is throwing a disc into a can, it's easy to adjust the difficulty based on skill level by going closer or further away to throw.
Buy it: Kanjam has its own official set so that you and your pals have exactly what you need to start playing.
11. SPEC TENNIS
Game Objective: Best played with doubles. Spec Tennis is a small group game in which players score points to win a game, eventually winning enough sets so that they win the match. Participants play Spec Tennis on a smaller court to Tennis so is far more fast paced but easier to get the ball over the net.
Why it's Fun: For players who enjoy tennis and ping-pong, Spec Tennis is kind of like the middle child of these two games.
Buy it: It probably doesn't come as much surprise, but you'll need a good quality racket and specialist ball to start playing.
12. HORSESHOES
Game Objective: Horseshoe is a game with a simple premise. Players throw horseshoes onto or as close to a wooden stake as possible to gain points. Points get given based on how close to the stake players get, with more points awarded if a player gets their horseshoe onto the stake. The first player or team to 21 points wins.
Why it's Fun: A game that is easy to learn but hard to master Horseshoes is slow-paced as it requires players to be accurate and intricate with their throws.
Buy it: For beginners, it's a good idea to start out with plastic Horseshoes before moving on to the heavier steel types.
13. SPIKEBALL
Game Objective: Using a trampoline, players team up against another pair in Spikeball to bounce the ball to score points. Depending on where the ball ends up and which team is at fault for failing to return the ball, players get given points. Like the scoring system in Kanjam, players compete to get to 21 points with 2 clear points between their opponents' scores.
Why it's Fun: Spikeball is fast and furious, so players will need quick reflexes and a good eye to be successful at this one.
Buy it: Spikeball is the brand name, with the official name being Roundnet but Spikeball has the equipment necessary to be able to play.
Small Group Games for Elementary Students
1. SEQUENCE FOR KIDS
Game Objective: In Sequence for Kids, the goal is to match cards with what's on the gameboard to make a sequence of 4. Players cannot match tiles if another player has already placed their chip on a tile. The winner is the player who has a sequence of 4 first. 
Why it's Fun: A very easy game for kids that is perfect as a starting point for teaching young kids about board games.
Buy it: There are different versions of the Sequence for Kids that you can buy, but Jax has a design that your kids will enjoy.
2. MEMORY
Game Objective: Kids match cards by remembering where they are in a random sequence faced down. Memory the game has different pictures for players to find, and they take it in turns to try to find the pairs. The winner is the player with the most pairs at the end of the game. 
Why it's Fun: Sometimes the simplest small group games are often the most entertaining. It should encourage your kids to improve their memory as well.
RELATED: See our guide to learn how to play Memory the game.
Buy it: Although you can play this game with a deck of cards, kids will more likely enjoy this set from Wonder Forge instead.
3. POP THE PIG
Game Objective: Each player feeds the pig hamburgers equal to the amount that gets rolled on the dice. As the name of the game might suggest, Pop The Pig continues until the pig's belly 'pops'. That player is then eliminated and the game continues until there is only one player left who becomes the winner. 
Why it's Fun: Pop The Pig is a surprisingly tense game which is also hilarious for older kids and adults to join in with as well.
Buy it: Goliath are the makers of the Pop The Pig set and include everything including the plump pig itself.
4. CANDYLAND THE BOARD GAME
Game Objective: Another easy game for young kids to play, Candyland is a race where players compete to be the first to enter Candyland. Players use shortcuts and hurdles to get to the end first, determined by cards that they pick up along the way.
Why it's Fun: Every kid wishes that they were in Candyland, but we're certain that they'll make do with this fun alternative instead.
RELATED: How to play Candyland guide.
Buy it: Like many board games, Candyland comes in different versions, including kid favorites such as a Disney Princess version.
5. FROG PARTY GAME
Game Objective: The winner of this game is the first player to be able to reach the frog party first. Do this by combining two frogs together so that they make the sum of 10. Players take it in turns adding 2 numbers together to make 10 so that they can move their frog up the board.
Why it's Fun: An ideal way to encourage preschoolers to learn basic math skills whilst having great fun whilst doing it too.
Buy it: Game developer Orchard makes the The Frog Party Game, although different versions are also available.
6. SHOPPING LIST
Game Objective: A memory game where kids compete to be the first person to find all the items that are on their shopping list. Like Memory, place tiles face down and have pictures of food on them. Players can add it to their shopping trolley once they've found a food item on their list. If they pick a tile that they don't need it must get placed back face down.
Why it's Fun: Alongside the obvious advantages this will give kids with their memory, they can play the game again and again.
Buy it: Shopping List is a game made in Britain and you can buy from the Orchard game store.
7. PICTURE DOMINOS
Game Objective: Follows the same rules as the grown up version of dominoes. The only difference is that there are pictures instead of dots, making it easier for kids to count the numbers. Match each picture with the one that's in play, first to get rid of their picture tiles wins.
Why it's Fun: Regular dominos can be a tad too difficult for preschoolers. This version can teach them the basics and move them onto the more difficult game later on.
Buy it: eeBoo creates a version of Picture Dominoes which ticks all the boxes for your kids to play.
8. IN THE RIVER
Game Objective: An active game and all that you'll need is a line using a rope to mark where players stand. Line up players on one side of the line which is now the bank of the river. Shout 'in the river' and all players have to jump over the line while shouting 'on the bank'. Mix up when shouting out each command like telling players to jump in the river when they're already in the river. If players jump at the wrong command then they are out. Continue until one player remains.
Why it's Fun: In The River is a good training drill or to teach kids discipline. It will also help with their listening skills.
9. MONKEY IN THE MIDDLE
Game Objective: Choose a player to start in the middle of the other participants. Blindfold that person and spin them around with their finger pointed out. Whoever they end on is the target and the player in the middle has to do something to make them laugh. If they get them to laugh in 2 minutes then the targeted player is the one in the middle next. If not, then the person in the middle has another go.
Why it's Fun: A great way for kids to prove how funny they are to their friends. It's hilarious to see what everyone comes up with to make other players laugh.
10. THE LAUGHING GAME
Game Objective: A similar game to Monkey In The Middle, except rather than getting just one person to laugh the goal is to get the rest of the small group to laugh. Everyone gets a turn to do something funny in an attempt to make the others laugh. Get all participants to agree on who was the funniest at the end.
Why it's Fun: Laughter is very contagious, and nothing backs this up more than this game.
11. SARDINES
Game Objective: Sardines is like hide and seek in reverse because one player hides and all the other players attempt to look for them. Everyone splits up to look. However, rather than the game being over when the player gets found, that player joins the hidden original player in their hiding spot. This goes on until the last player finds everyone else.
Why it's Fun: If you have a large space with many potential hiding spots then this game is ideal for kids.
Small Group Games for High School Students
1. UNO
Game Objective: Be the first player to be able to get rid of your cards. Create a pile of cards in the middle by matching either the number or color while trying to avoid the wildcards. Don't forget to say 'UNO' when you're down to your last card. 
Why it's Fun: The best part of UNO is that it's gameplay is absolutely timeless. All ages will enjoy, but give your preschool children a head start by introducing UNO to them early.
Buy it: All that you need to start playing is this UNO deck from Mattel.
2. DUNGEONS AND DRAGONS
Game Objective: Four heroes go on a quest in an attempt to complete challenges set by a Dungeon Master. Players decide what action they would like to take when prompted, and roll a dice to see how effective each action is. The Dungeon Master is in charge of letting players know the consequences of their actions and if they are eventually successful or not.
Why it's Fun: Dungeons and Dragons has a very passionate fanbase due to the tenseness and randomness that each game ends up turning into.
Buy it: A starter set for Dungeons and Dragons is a good place to begin, but you can buy other expansions to keep the game fresh for longer.
3. RISK
Game Objective: Risk encompasses a political map of the world that players attempt to conquer before the other players. They achieve this by using their turn to take over territories, or add reinforcements if they get targeted or attacked.
Why it's Fun: Risk is one of the most popular war games on the market, with games potentially lasting hours to decide a winner.
Buy it: There are loads of different versions with different art styles. Start with the standard Risk before moving onto the more niche versions.
4. PANDEMIC BOARD GAME
Game Objective: Pandemic is a big strategy game. Players cooperate in an attempt to eradicate a deadly disease before humanity gets wiped out. Players need to keep the disease under control whilst they develop treatments for 4 deadly diseases. 
Why it's Fun: One of the more dramatic board games on this list, Pandemic emphasises team spirit as the only way to win is to rely on your teammates.
Buy it: You can purchase Pandemic in many different varieties with different strategies needed.
5. GLOW BATTLE
Game Objective: Kids do battle with glow-in-the-dark foam weapons. There aren't any specific games played with Glow Battle, but allow their creativity to flow or incorporate them into existing games.
Why it's Fun: The foam weapons are completely harmless, so you know that kids have a safe option to, well, bash each other with.
Buy it: Starlux does a Glow Battle set that comes with enough foam weapons to play a small group game with.
6. NERF GUN BATTLE
Game Objective: Similar to Glow Battle in the sense that there isn't any particular game played with Nerf Guns. They do make an excellent accompaniment to any other small group game and ideal to keep kids entertained if they're stuck in on a rainy day.
Why it's Fun: NERF guns are surprisingly powerful, but as they fire out foam darts you don't need to worry about any physical damage done to one another.
Buy it: There are 100's different NERF guns to choose from that come in all different shapes, sizes, and styles.
7. HORSE
Game Objective: HORSE is a game in which players compete to make basketball shots that get slightly more difficult each shot. Players agree which shot they all need to make such as the distance, and every player that is unsuccessful with their shot gets a letter added to HORSE. If they get to HORSE, they are out and once there is only one player left, they are the winner.
Why it's Fun: Although you can play a variety of sports, basketball is the most common. Use it to try to refine your or your friend's basketball skills.
8. FOUR SQUARE
Game Objective: Four Square is a traditional schoolyard game, where the aim is simple. Needing at least 4 players to start. Players all stand in a designated square and eliminate others by getting them to fail to bounce the ball out of their square and into another one.
Why it's Fun: All that's needed to start up a game is a ball, an open space and a small group. Four Square is also a good way to improve upon hand-eye coordination too if you use a smaller ball instead. 
9. TRUTH OR DARE
Game Objective: Players sit in a circle and one player asks someone else if they want to do a 'Truth' or a 'Dare'. If 'Truth' gets picked, they must answer honestly whatever question gets asked. If 'Dare' gets picked, then they must do a dare that the group decides upon. Failure to answer or to complete the dare means that the player has to do a predetermined forfeit. 
Why it's Fun: A classic party game or a perfect game to play at slumber parties. Try to keep it friendly with everyone involved as the game is about having fun after all.
Small Group Games for College Students
1. AIR HOCKEY
Game Objective: In Air Hockey players compete to become the first player to score 7 points. Do this by hitting a puck into the small gap on your opponent's side of the table.
Why it's Fun: A game beloved by college students all over the country. Air Hockey is perfect to play in teams of 2 for a tournament as games are so quickly paced and any skill level has a good chance of being successful.
2. SHUFFLEBOARD
Game Objective: Shuffleboard is a game in which players compete to slide a puck to the other side of the table, and this happens 4 times each round. Points get calculated based on where the pucks have ended up in relation to your opponent's pucks as well.
Why it's Fun: Another College classic. Shuffleboard can help players improve their hand-eye coordination.
3. 9 BALL POOL
Game Objective: Possibly the most popular pool game to play, 9 Ball Pool has a simple goal for players. Be the first to pot your balls before your opponents, finishing with the black ball for victory.
Why it's Fun: There are almost guaranteed to be a couple of Pool tables in any bars that college students like to frequent, as Pool is the ideal bonding game. There are also so many different games that you can play on a Pool table as well.
4. 301 DARTS
Game Objective: Best played in a tournament format, in 301 Darts players start on a score of 301 and attempt to become the first to get down to 0. Using 3 darts per go, participants get a score that gets deducted from their total until they get down to an even number below 40. They can then finish the game by hitting the 'double' around the outer ring.
Why it's Fun: Similar to pool, any college bar worth its salt will have a dartboard set up for a range of great games to play in your small group.
5. FLIP CUP
Game Objective: Players stand in a line, usually in 3 separate teams. They all have a plastic cup filled with an alcoholic drink in front of them. The first player drinks the liquid, turns it over onto the edge of the table, then attempts to flip the cup back upright. Once the player is successful, the next one along does the same thing until everyone on their team has done so. The first team to all complete the flip wins.
Why it's Fun: The ultimate combination of speed and precision, Flip Cup gets played in either team or against one another.
Buy it: The stereotypical red party cup is perfect for this game so we recommend getting a set of them.
6. RAGE CAGE
Game Objective: All players get in a circle and fill up as many cups of alcohol as possible to put in the middle. 2 cups get left empty, and start on opposite sides of the circle. Rage Cage is a race around the table, where players have to bounce a ping pong ball into their cup. Once done, they then pass the empty cup and ping pong ball to the player on their left. If a player gets left with both cups, then they must drink a cup from the middle of the table whilst the game continues.
Why it's Fun: A smaller and easier version to start up then Beer Pong, Rage Cage relies on the most successful players to be able to handle the pressure. 
7. RIDE THE BUS
Game Objective: A player forms the cards face down into a diamond formation consisting of 13 cards. Another player starts at the beginning where someone overturns the card. They then need to choose a path to the other side of the diamond by guessing if the next card is 'higher' or 'lower' than the previous. If they're wrong, then the deck is reset and the next player tries, with the first player to get to the other side the winner.
Why it's Fun: Ride the Bus is a simple game where players only have to worry about 1 goal. Incorporate a drinking punishment for those who fail to reach the end.
8. NEVER HAVE I EVER
Game Objective: Players sit in a circle, and one player starts by stating to the group something that they have never done. They state 'never have I ever…' and anyone in the circle who has done the thing needs to drink.
Why it's Fun: A game where you may find out some potentially interesting things about your group of pals. Great as an icebreaker, although make sure that there is an honor system before playing.
9. CARDS AGAINST HUMANITY
Game Objective: Very similar to the kids game Apples to Apples, except with way more risque topics and answers instead. Players get given a statement with blanks, and they must pick an answer from their given deck that will make the other players laugh the most. Whoever gets the most laughs keeps the card with the statement, and whoever has the most of these cards at the end wins. 
Why it's Fun: The ultimate small group game for those with either a dark sense of humor or who like to be controversial.
Buy it: Cards Against Humanity comes in many, many, many versions so pick the one that you think will find the most amusing. You can buy expansion packs to keep gameplay fresh.
So there you have it, 55 small group games guaranteed to keep anyone of any age entertained and that includes the age groups of people we may have missed out on.
Looking for big group games to keep even bigger groups amused? Then why not have a look at our guide to 50 Big Group Games to Entertain any age group which includes lots of hilarious suggestions.
Or if you're specifically looking for games that you can play outdoors, check out our list of Outdoor Games which include more small group games for both kids and adults. 
And of course, for those times where you're looking for something to do with the kids when they're stuck inside, have a look at our guide on 45 Indoor Group Games for Kids.