Christmas is just around the corner. How about turning the traditional gift shopping spree into a fun game? This White Elephant rules guide will teach you how it's done. 
If you're like me, Christmas fills you with both joy and stress. Although I love gifting my friends and relatives, I find it incredibly difficult to come up with the right presents.
But White Elephant is a real game-changer. The light-hearted gift exchange game you may also know as Dirty Santa or Yankee Swap turns the whole stress into fun full of surprises. 
In this guide, I will primarily focus on the game's basic rules. If you're looking for gifts, definitely check out our epic list of 101 White Elephant Gift Ideas for inspo. 
This White Elephant rules guide will cover the following:
What is White Elephant?
What you'll need to play White Elephant
White Elephant rules
Video Tutorial – How to play White Elephant
FAQs
Other similar games to White Elephant (our guides)
Read on and learn how to play White Elephant. 
What is White Elephant?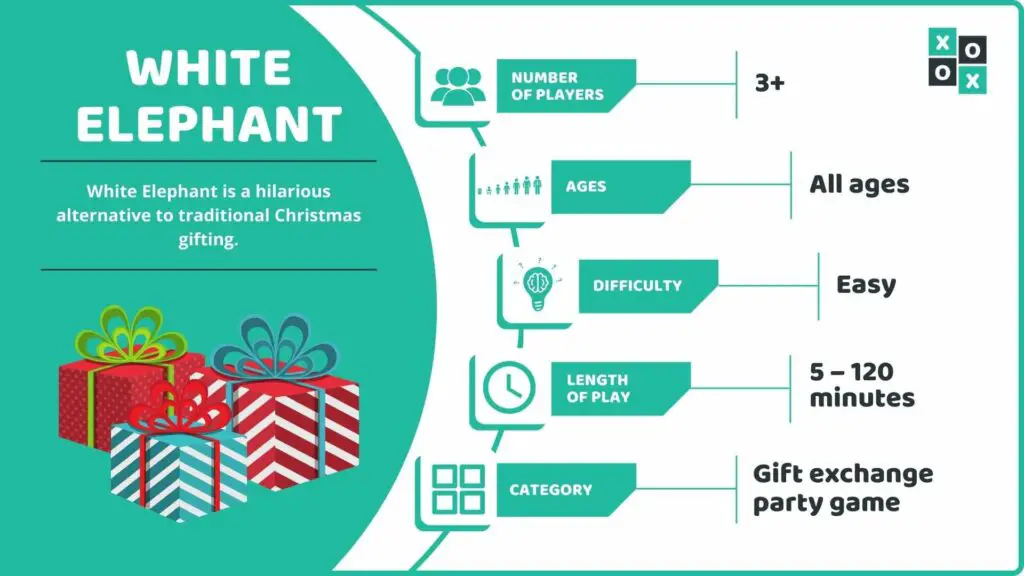 Do you like surprises? Well, no gift can surprise you more than one that was not even intended for you to receive! In White Elephant, players create an entire pool of surprise gifts.
Is there anything more exciting than opening a gift that can basically contain anything? And how about being allowed to fight for another gift you might like better?
This game is funny, heart-warming, and even a bit mischievous – a perfect addition to a bowl of Christmas punch and trays of cookies. 
Number of Players: 3+
Ages: All ages
Difficulty: Easy
Length of Play: 5 – 120 minutes 
Category: Gift exchange party game
Similar to: Secret Santa
Main Objective: Surprise your friends or relatives with the most unexpected gifts.
Why We Love It: White Elephant is a hilarious alternative to traditional Christmas gifting.
Related: White Elephant gift ideas
What You'll Need to Play White Elephant
White Elephant gives you all the freedom in the world regarding picking the right gifts. 
In general, however, the main organizer or initiator of the game will hint at the general type or value of the gifts players should use to make the game fair for everyone. 
Besides the gifts, you will also need some gift boxes, bags, or wrapping paper. Ideally, the gifts should be perfectly unrecognizable when wrapped.
Our Pick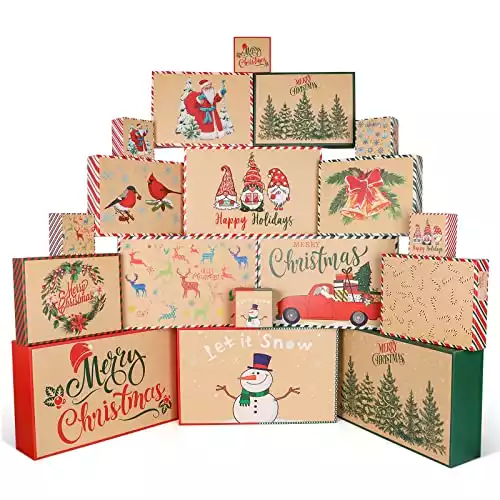 Our Pick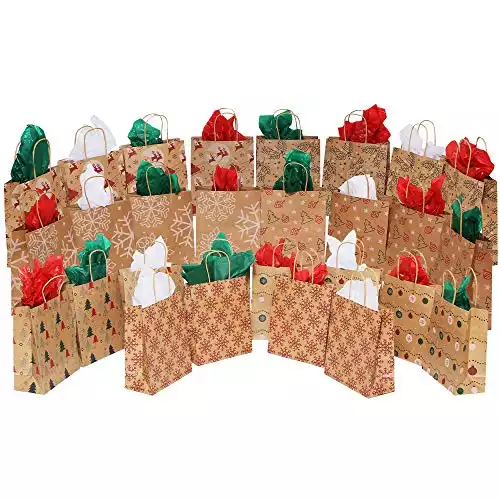 White Elephant Rules and Instructions
In White Elephant, players create an entire pool of surprise gifts. They then pick one of them each in an order they draw on numbered cards. 
When they finally unwrap their presents, they can either keep them or try to steal a present they like more from one of their friends, following several basic rules.
Starting the Game
The game of White Elephant starts with preparation. The organizer (initiator) of the game should call a meeting or email all the participants with the basic instructions.
This should happen at least seven days before the main part of the game (the gifting), so everyone has enough time to prepare.
The game organizer should set out a few basic rules for the participants to follow when searching for the presents to contribute to the game.
Here are a few examples of the instructions you may consider:
The gifts should be handmade only.
The gifts should not be cheaper than $5 or more expensive than $15. 
The gifts should all be eatable.
The gifts should all be unisex…and so on.
You can also agree on a particular theme for your presents (e.g., Christmas decorations, rock'n'roll, movies, cooking, etc.) depending on the general interests of your group. 
How to Play White Elephant
Agree with all the participants on a date you will meet in person. It can be an ordinary Friday evening, an official office party, etc. This is how the game proceeds:
The participants follow the organizer's instructions and get one suitable gift each.
They wrap this gift neatly and, most importantly, unrecognizably. If your item has a specific shape, it is better to hide it in a box or gift bag. 
The participants put their gifts in a common pile in the center of the room.
Create paper cards with numbers corresponding to the total number of participants. Players draw the numbers from a hat/bowl/box to determine their order. 
Now create a line or circle where everyone stands or sits in the correct order. 
Ensure that everyone has a clear view of the pile with the gifts from their position.
Player number one now picks one gift and opens it in front of everyone. 
The following player has two options: pick another gift from the pile OR steal the previous player's gift.
If your gift was stolen, you can also pick a new one or steal a gift from another player.
Each gift can only be stolen once "per turn" (i.e., avoid stealing the same gift back and forth, this would ruin the fun)
Each "turn" lasts up to three swaps (it would be endless otherwise…).
Once everyone has their turn, the first player is allowed to swap their gift for another opened gift. 
Each player can only be robbed once.
White Elephant Scoring 
The only score you're getting away from White Elephant is the gift you manage to capture. The game ends when no player wants to/can swap their present anymore. 
How to Play White Elephant – Video Tutorial 
White Elephant Frequently Asked Questions
How many times can an item be stolen in White Elephant?
That's up to you. Sometimes people do not impose any limits on stealing. But usually, each gift can only be stolen up to three times. Then it stays with its current holder. 
Why is the Christmas game called White Elephant?
The game's name refers to the same term defining an item of questionable value to its owner, which can have some value to others. 
Does everyone get a gift in White Elephant?
Yes! All the participants of this game eventually obtain a gift. 
Other Similar Games to White Elephant (Our Guides) 
Are you looking for more great ideas to help you spread the festive mood? Check out some of the following tips:
Christmas Saran wrap game (guide coming soon)
Secret Santa game (guide coming soon)