This Scattergories rules guide will outline everything you need to know to learn how to play Scattergories, including game set-up, scoring, and even video instructions.
Scattergories is a classic family game that has been in production since the late 1980s. Known for its appeal among the masses, this game is an ideal group game for your next party. 
Continue reading to find out everything you need to know about how to play Scattergories. 
What is Scattergories?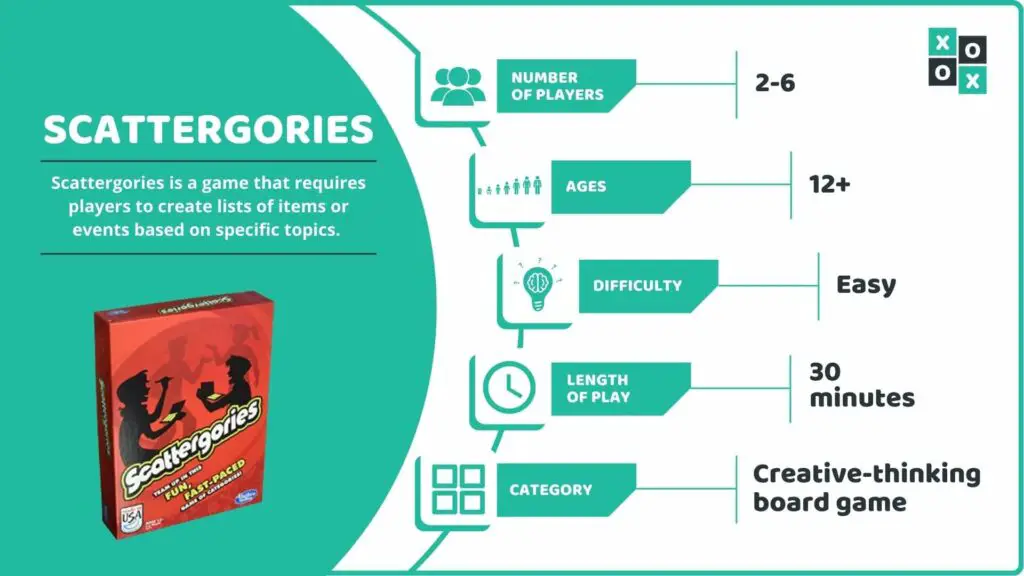 Scattergories is a game that requires players to create lists of items or events based on specific topics. 
Players or teams compete to see who can come up with the most unique answers for specific categories within the game. 
Creativity earns players more points for each category based on a specific letter identified by the roll of a die at the beginning of each round. 
Number of Players: 2-6 Players or Teams
Ages: 12+
Difficulty: Easy
Length of Play: 30 Minutes
Similar to: Outburst, Family Feud, Catch Phrase, Pictionary
Main Objective: Earn the most points by thinking of specific items within each category that no one else has written down on their score sheet. 
Why We Love It: The game of Scattergories is a family favorite played time and time again. Despite evolving changes in popular culture, the categories are broad topics that apply to a wide range of players and can be enjoyed over many years. 
A Brief History of Scattergories
First released in 1989, Scattergories is an ever-popular game. There are several different editions available. The 30th Anniversary Edition is available for purchase and has the same categories as the original game. There are also throw-back logos on the playing folders.
What You'll Need to Play Scattergories
There are few components needed to enjoy a game of Scattergories. The original game box contains everything needed to begin playing. 
Be sure to have a pen or pencil for each player to write with before starting.
The original box contains: 
20-sided letter die
6 folders
Answer pad
48 category cards
3-minute sand timer
Instruction manual 
Our Pick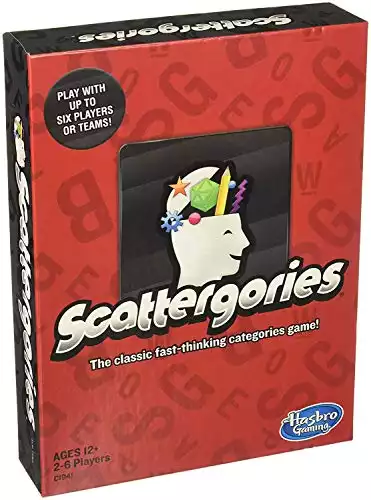 Scattergories Area of Play
Scattergories set up is easy. You can play this game anywhere you can roll a die. Each player or team takes a play folder and pencil. Inside, players put the category cards and answer pad. 
Decide which list to use first, and place that list on the top of the stack in your folder. 
With the timer and die on the table and playing folder in hand, you are ready to play Scattergories! 
Scattergories Rules
After set-up, the first player selected will roll the 20-sided letter die. The chosen letter will be used in the first round. 
Start the timer immediately; then, players work quickly to write down answers for the first column before the timer stops. 
Looking at the same list, players will come up with answers that must begin with the specified letter. 
There are 12 categories on each list, and some examples are Items in a suitcase, things with tails, and sports equipment. 
For the previously mentioned categories, for instance, if the die landed on the letter "S," a player might answer swimsuit, skunk, or soccer ball. 
Using the same list but a different letter each time, follow the same gameplay for all three rounds. Each player or team will gain points for thinking of the most creative example for each category. 
Additional Rules
It is important to note that each answer must begin with the specified letter. Articles such as a the or an do not count. 
Players also cannot use the same answer more than once for a specific category. 
You can use a first or last name when addressing a person as long as it begins with the correct letter. For example, Washington, George and George Washington are both suitable answer responses. 
If a player has a questionable response to a category, all teams or players can vote to determine if the answer will be accepted. If there is a tie, the answer is automatically removed.
How to Keep Score in Scattergories
All players must stop writing when the timer signals. Taking turns, teams or players read aloud their answer responses. If any player(s) have the same answer as someone else, everyone must cross that answer off the sheet. It is no longer worth any points. 
If a player has an acceptable answer that no one else has listed, the player circles that answer, and it will be worth one point. All players do this for each satisfactory answer that was not otherwise thought of by another player.
Players tally points for each round and list their scores on the top of each column. At the end of the game, the player with the most overall points wins. If there is a tie, play another round to see who wins. 
Players can agree to add extra points for using alliteration within each answer. An example would be allowing Fred Flintstone to count for 2 points instead of one. 
You can also use shorter increments of time for each round to make the game more challenging. 
How to Play Scattergories – Video Tutorial
Frequently Asked Questions 
Is Scattergories easy to learn? 
Scattergories is very easy to learn; however, this thinking game requires a certain amount of background knowledge, so it would be hard for younger children to think of examples and write answers for each category. 
Sacttergories Jr. is an alternative option for smaller children. 
How do you play Scattergories at home?
Play Scattergories at home around a coffee table, dining table, or another surface. Because there are relatively few game pieces needed, it would be easy to play this game almost anywhere. 
What are the categories in Scattergories?
Some of the categories are colors, things you don't want in the house, seen at a concert, on a menu, found at the beach, song titles, nicknames, comes in pairs or sets, and many more. There are 8-12 lists (depending upon which edition you purchase) with 12 categories on each. 
Alternative Games Similar to Scattergories
If you enjoy thinking games, you may want to try playing Balderdash (see Balderdash rules). This group game is played with a selection of cards. Each card displays an unfamiliar word and its definition. Players take turns creating made-up definitions for each word to see if they can fool their opponents. 
Another exciting party game is Taboo. Players race to get their teammates to try to guess a specific word. The catch- they cannot say any of the forbidden words while guessing!
Family Feud card game is another great option for crowds of all ages. Designed after a popular game show, players try to determine the most popular answer for specific questions. Two teams, or families, compete to earn the most points. 
If you are looking for more similar options, check out our game guide for Blank Slate rules.