Failed dates are the best sources of crazy stories that can make you laugh even years later. This Red Flags game rules guide explains how they can be turned into a game.
Whenever I expect a visit from friends or same-generation relatives, I try to surprise them with a new party game (check our top game night ideas if you need more inspiration).
One of the latest we've tried is Red Flags. It certainly didn't disappoint us. The game centers around the not-so-successful date experiences, and it's great fun. 
Its rules closely resemble the likes of Cards Against Humanity (see Cards Against Humanity rules) – but despite its somewhat kinky topics, Red Flags is less profane than other games. 
This Red Flags game rules guide will cover the following:
What is Red Flags?
What you'll need to play Red Flags
Red Flags game rules
How to play Red Flags (video tutorial)
FAQs
Other similar games to Red Flags (our guides)
Learn how to play Red Flags with my step-by-step instructions below.
What is Red Flags?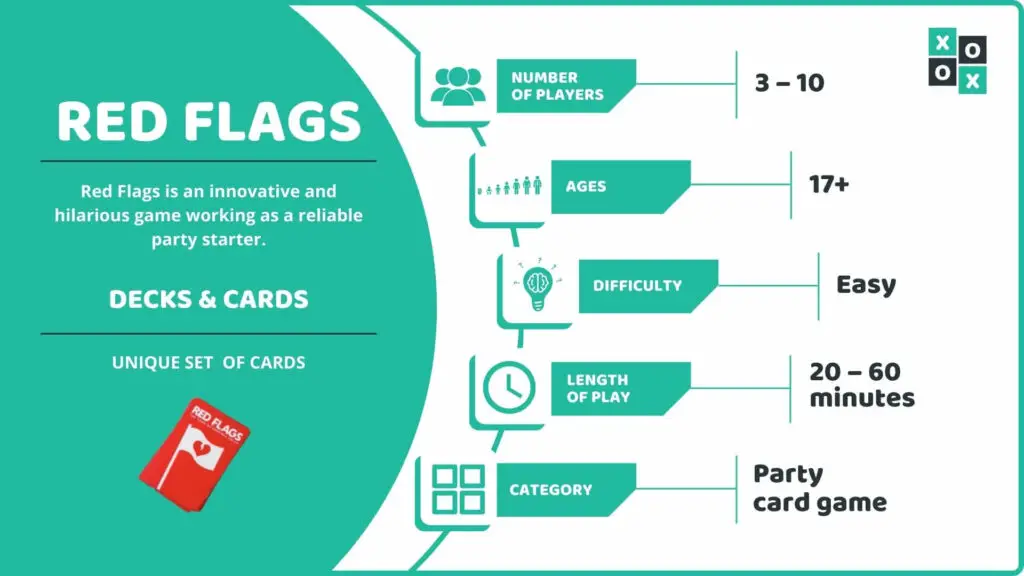 'Red Flags' is a term we use to describe certain situations or details signalizing we might be heading to a disaster. 
In terms of dating, this can be anything from weird appearance to disturbing ideas, funny smells, or offensive jokes – and that's precisely what this game is all about.
To play Red Flags, you don't need special gaming skills or experience – just a good sense of humor and a bit of spare time, making it an ideal choice for all players.
Number of Players: 3 – 10
Ages: 17+
Difficulty: Easy
Length of Play: 20 – 60 minutes
Category: Party card game 
Similar to: Cards Against Humanity, You've Got Problems, If You Had To 
Main Objective: Be the first player to win seven cards.
Why We Love It: Red Flags is an innovative and hilarious game working as a reliable party starter.
What You'll Need to Play Red Flags
The game of Red Flags can be played only with the original Red Flags cards set containing: 
175 Perk cards
225 Red Flag cards
Set of instructions
Tip: Once you get bored with the original set, upgrade it with some of the Red Flags expansion packs like Dark Red Flags or Nerdy Red Flags.
Our Pick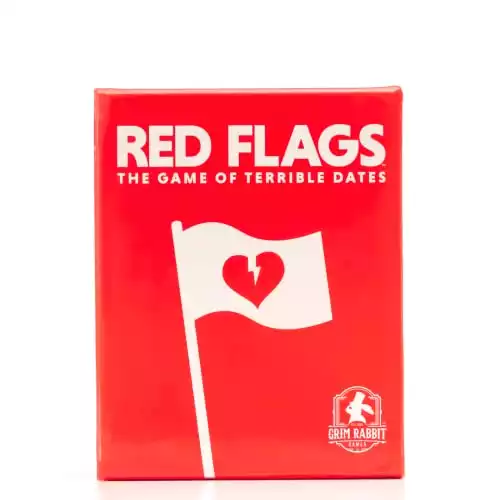 Our Pick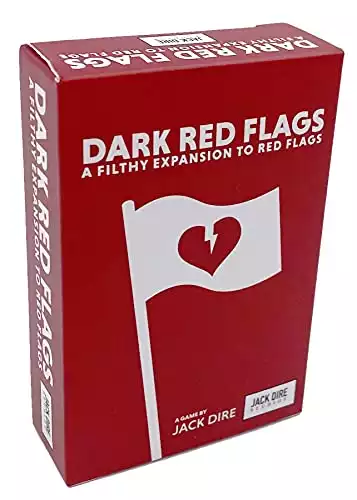 Red Flags Game Rules and Instructions
In Red Flags, players set up scenarios for their single friend represented by the Judge. Then they spoil the ideas of their opponents, trying to persuade the Judge to accept their proposal.
Starting the Game
First, unbox the contents of the game set. There are two types of cards:
White 'Perks' cards
Red 'Red Flag' cards
Separate them and shuffle both decks individually. Place the piles face-down side by side to the center of the table.
Choose a player who will act as a Judge. This role will pass from player to player in the next rounds. 
The Judge does not need cards to play the game. Everyone else draws four white cards and three red cards, keeping them face down in front of them. What do they represent?
Perks cards contain various desirable qualities of a date, like being extremely wealthy, sporting fabulous hair, or presenting you with the best gifts. 
Red Flags are the opposites – things you would hate about your date, like a terrible smell, sneezing with an uncovered mouth, or being a serial killer.
As I'll explain shortly, the combinations of these two will create absurd dating settings that will compete for the Judge's favor during the game.
How to Play Red Flags
Each competing player (starting from the one to the Judge's left) chooses two of their Perks cards and presents them to the Judge as proposed traits of their next date.
Next, each player picks one of their Red Flags and adds it to the opponent's cards sitting to their left. 
When each player has three cards in front of them (two white + one red), the Judge reviews them and picks the least offending scenario according to their preferences.
Whoever presented the Judge with the best scenario wins the round and keeps their Red Flag card on the side as a reminder of their victory.
Red Flags Scoring 
The ultimate goal of all the involved players is to collect seven cards indicating they won the Judge's favor seven times. Whoever achieves this first wins the game. 
You can also do a quicker version if you don't have enough time (or energy) to play a full game:
Simply play two rounds around the table (so that everyone gets to be the Judge twice) and check who won the most cards.
How to Play Red Flags – Video Tutorial 
Red Flags Game Frequently Asked Questions
Can you play Red Flags with two people?
No. Since one of the players must be a judge while the others compete in creating dating scenarios for them, the game does not make sense if only two people play it. 
Three players are a minimum requirement, but I'd advise you to gather at least four or five players for real fun.
Is the Red Flags game appropriate for children?
No. Although the Red Flags game is not as profane as many other party games, it discusses some sexual topics that are not fit for kids. All players should be at least 17 years old. 
Can you play Red Flags repeatedly?
Sure, but in my experience, if you play this game repeatedly with the same opponents, it gets a bit boring since you already know all the cards. Get an expansion pack for fresh fun. 
Other Similar Games to Red Flags (Our Guides) 
If you're looking for some Red Flags alternatives, check out our guides to the following party games:
You've Got Problems (guide coming soon)
Bad Choices (guide coming soon)