Everyone knows that children learn best through play. This is why the Fly Swatter Game and similar variations have become so popular across classrooms nationwide. Continue reading to discover the Fly Swatter Game rules and instructions. 
This interactive learning game develops hand-eye coordination, following directions, problem-solving, and more. By swatting flies, kids learn word recognition, number sense, and numerous other skills critical to their academic development.
This Fly Swatter Game rules guide will cover the following:
What is the Fly Swatter Game?
What you'll need to play the Fly Swatter Game
Fly Swatter Game Rules
How to play Fly Swatter Game (Video Tutorial)
FAQs
Read on to learn how to play the Fly Swatter Game! 
What is the Fly Swatter Game?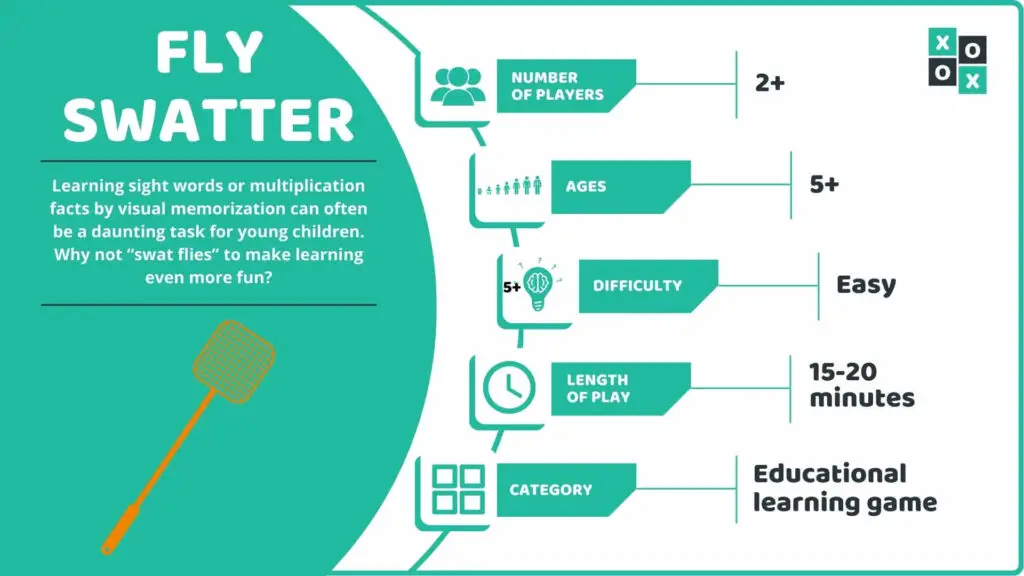 Use fly swatters to make learning more engaging for your children. Ultimately, students use fly swatters to swat at numbers, letters, blends, pictures, or more, to practice skills needed to strengthen their mathematic and reading development. 
Number of Players:  2+
Ages: Recommended for ages 5+
Difficulty: Easy
Length of Play: 15-20 minutes
Category: Educational learning games 
Similar to: Spot It, Mathswatters Addition and Subtraction Game, Pop for Sight Words
Main Objective: Collect the most flies to win the game!
Why We Love It: Learning sight words or multiplication facts by visual memorization can often be a daunting task for young children. Why not "swat flies" to make learning even more fun?
What You'll Need to Play The Fly Swatter Game
The Fly Swatter Game is easy to make on your own using basic materials found around the house, such as index cards, a marker, and fly swatters for each player. 
Ready-made fly swatter games are available, such as Sight Word Swat. Everything you need to play is included in this box. 
Our Pick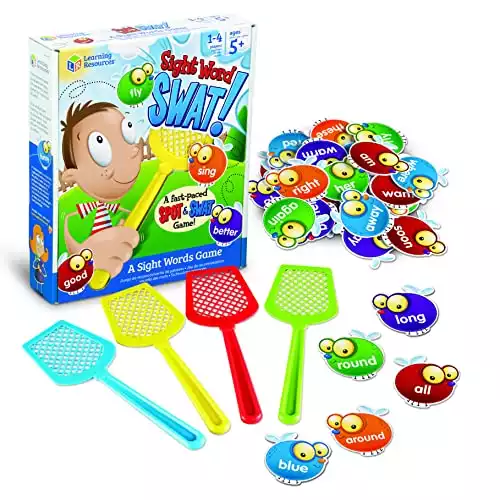 Sight Word Swat is a Learning Resources game designed to help children learn to read commonly used words by sight.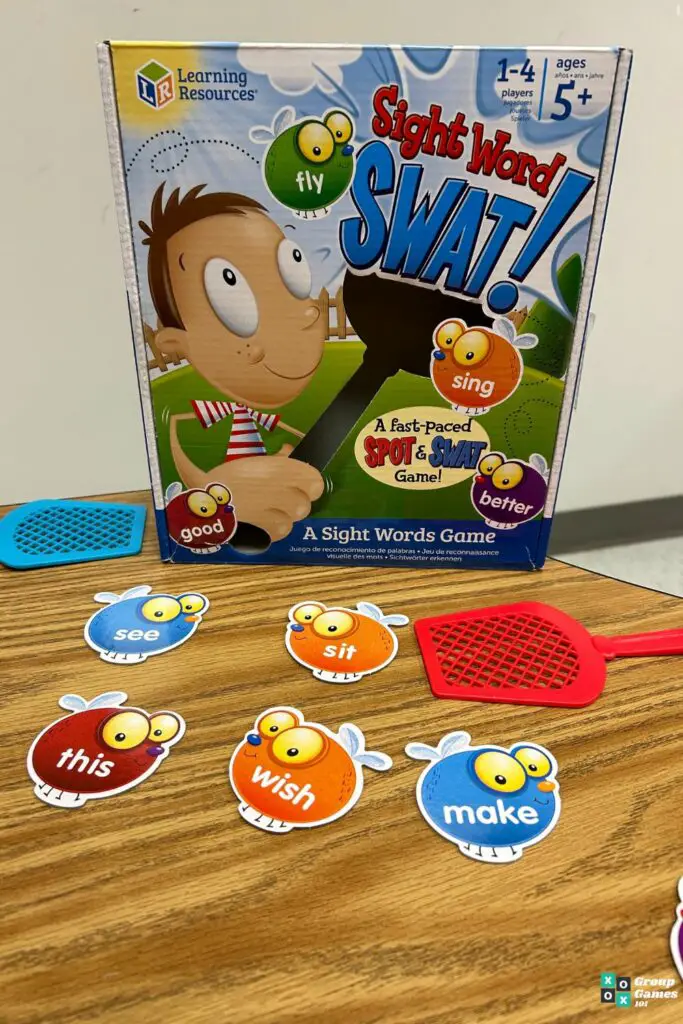 Area of Play
Create a spacious area for children to swat flies. You can use the walls or the floor based on your preference. 
Place a variety of "fly" cards all around the playing area. There are many different skills you can reinforce using this fun activity. 
I prefer to handwrite problems or words on index cards because they are the perfect size for students to swat. 
Fly Swatter Game Rules
Give each child a fly swatter. Read aloud a fly card, and the first child to correctly swat the fly gets to collect and keep the card. 
Continue calling out problems for the children to read, swat, and collect. 
Game-Play Options
Sight words
Math facts
Vocabulary words
Alphabet Letters
Numbers
Shapes
You can also put letters on the actual fly swatter, so the students can use their letters to build new words. For example, I placed cards around my classroom with word parts such as -elp, and -ilk. 
Students had different letters on their fly swatter (such as h or m) to see which letter correctly completes the word.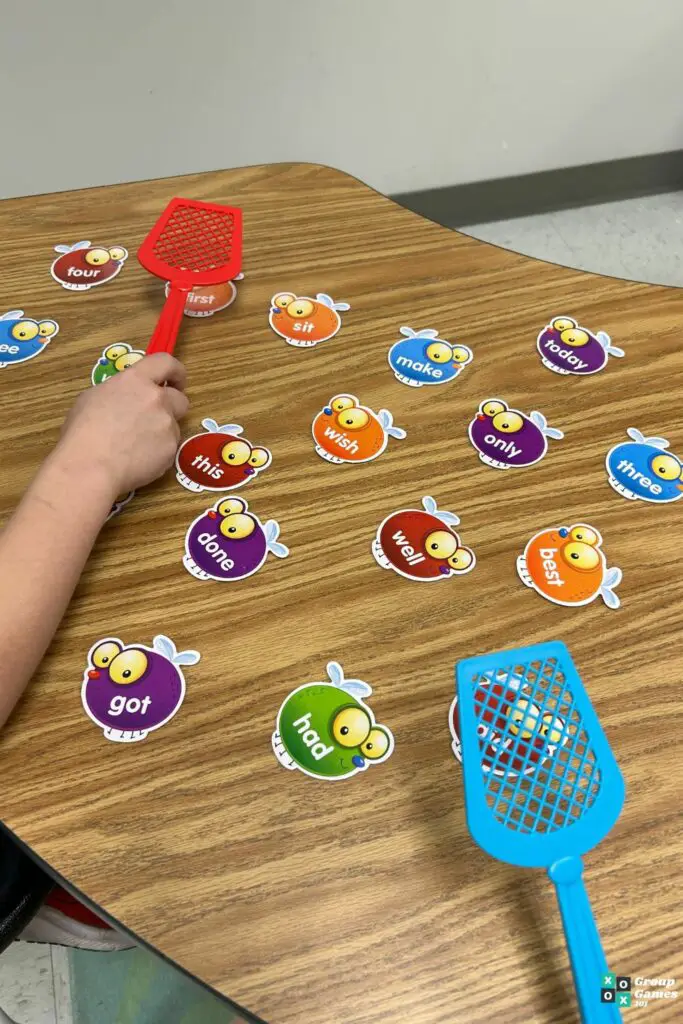 Game-Play Variations 
An alternative variation includes calling out individual words for each player to make the game less competitive. 
Another idea is to include a timer so the kids must try to swat the word before the timer (10 seconds or so) runs out!
How to Keep Score in the Fly Swatter Game
Scoring is simple! The child who collects the most flies wins the game. 
You can make the Fly Swatter Game even more engaging by adding points to each fly card. The students will have to add up their points collected at the end of the game to determine their scores. The highest score wins!
How to Play the Fly Swatter Game – Video Tutorial
Frequently Asked Questions 
How do you play the word swat?
It is easy to make your own version of the Fly Swatter Game at home! Write a variety of words individually on index cards and randomly spread them out on the table or floor. Have your child use a standard fly swatter to "swat" the word you say aloud. 
What is a fun way to teach sight words?
Sight Word Swat is a fun game to play with your children to help them read sight words. Additionally, use any traditional board game such as Candy Land– write sight words on all the game board spaces, so your child has to practice reading them each time they land on a space. 
What is the fastest way to teach sight words?
It is difficult to determine a rate for sight word recognition because everyone learns at their speed. However, playing fun games such as the fly swatter game, using flashcards, and reading books with your children regularly will help to promote early sight word development.
Other Games Similar to the Fly Swatter Game (Our Guides)
Be sure to try out these fun-filled educational games with your young learners:
Mathswatters Addition and Subtraction Game (Guide coming soon)
Pop for Sight Words (Guide coming soon)